As an Amazon Associate we earn from qualifying purchases.
You might know them as scalloped potatoes, or you might know them as potatoes au gratin.  Whatever you call them, this classic potato dish is a wonderful side for hearty meats and cold nights. 
What are Cheesy Potatoes Au Gratin?
Potatoes Au Gratin are a preparation of potatoes made with cream, milk, and cheese baked in the oven as a simple casserole. The name "Au Gratin" means to scrape or grate. This refers to the browned crust on top, resulting from the bake of the cheese or the addition of breadcrumbs.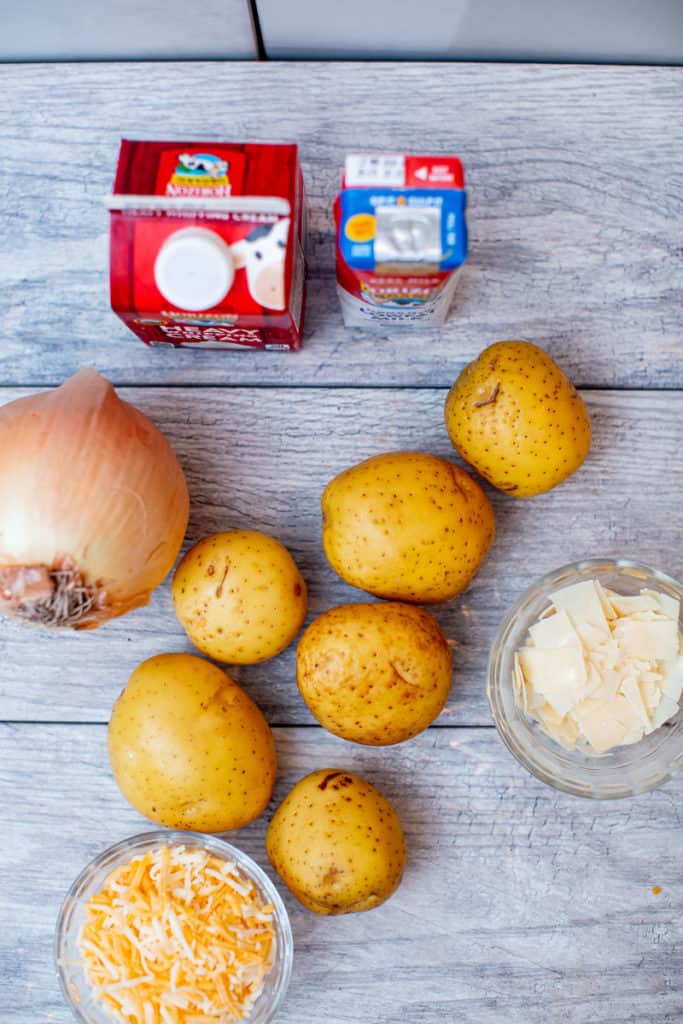 Differences Between Potatoes Au Gratin vs Scalloped Potatoes  
Traditionally, Potatoes Au Gratin has cheese and a crispy crust on top while scalloped potatoes do not have cheese. 
That said, here in America, we love adding cheese to everything. It didn't take long before people were adding cheese to the scalloped preparation, effectively removing the distinction between the two. 
Our Approach
Slice the potatoes as thin as you can and layer like a casserole or lasagna. Because we're baking these potatoes, you are really going to want to make sure they cook all the way through. 
Few things will spoil your experience more than biting into a raw undercooked potato because it was cut too thin. When it comes to layering, we're going to alternate layers of seasoned potato, onion, and cheese ensuring each layer is getting all of the flavors. 
What Makes Good Au Gratin Potatoes 
To make a good cheesy potatoes au gratin you must have a cheesy crusty top. That is the whole point of this preparation! To ensure this happens without burning, you are going to want to do a couple things:
Cover your dish with foil until the finishing step
Use a cheese that actually melts and browns (cheddar or gruyere are good options)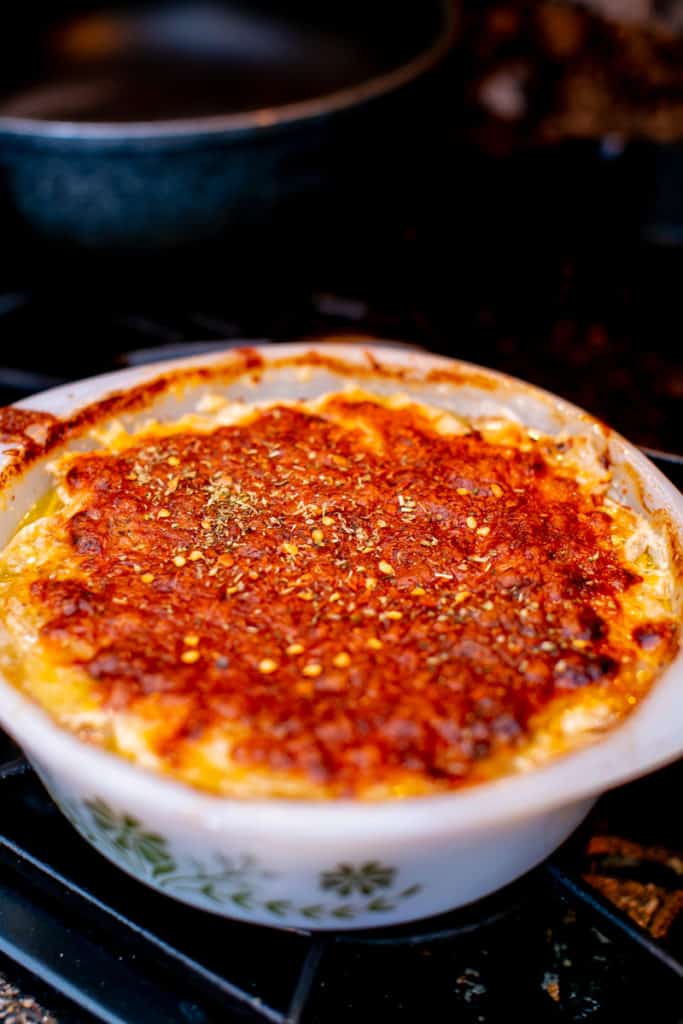 Developing Flavors
Again, we want you to think of this dish as a casserole or lasagna more than baked potatoes. To develop more flavor, you will want to ensure more flavor is added in each layer. 
For example, it is critical to salt and season each layer before proceeding to the next. If you only season the top of the dish, it will not properly affect layers below it. Doing this will result in bland potatoes. 
A few good ways to increase the flavor of your potatoes are to add garlic or chopped herbs to the layers. Alternating garlic, rosemary, and thyme would be a wonderful combination of aromatics that will give some more dynamic flavors to your dish.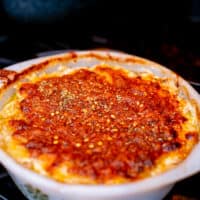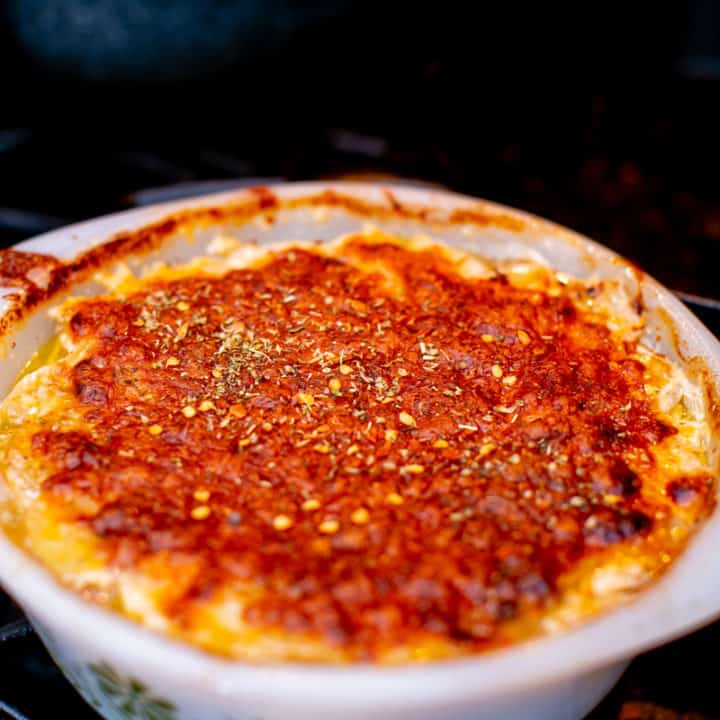 Ingredients
6

potatoes

1

onion

1.5

cup

cheese for layers

½

cup

cheese for topping

½

cup

breadcrumbs

¼

cup

cream

¼

cup

milk

Salt and pepper to taste

Seasonings and herbs to taste

(garlic, rosemary, thyme)
Instructions
Preheat your oven to 400°F

Slice your potatoes to 1/8th – 1/16th of an inch thick

Slice you onions as thin as you can. Be sure to create long, thin slices, rather than chopping into small pieces.

Layer potatoes in your casserole dish overlapping like roof shingles

Layer onions

Add a pinch of salt and pepper, along with any additional seasonings/herbs

Layer of cheese

Repeat steps 4-7 until you have reached the top of the dish

When all layers are done pour in milk and cream

Cover with foil and bake for 60 minutes covered 

Uncover and add breadcrumbs and cheese for topping

Bake for an additional 20 minutes uncovered or until top is browned 

Serve
Nutrition
Calories:
292
kcal
|
Carbohydrates:
35
g
|
Protein:
11
g
|
Fat:
12
g
|
Saturated Fat:
7
g
|
Polyunsaturated Fat:
1
g
|
Monounsaturated Fat:
3
g
|
Cholesterol:
36
mg
|
Sodium:
247
mg
|
Potassium:
746
mg
|
Fiber:
4
g
|
Sugar:
3
g
|
Vitamin A:
385
IU
|
Vitamin C:
33
mg
|
Calcium:
234
mg
|
Iron:
2
mg