As an Amazon Associate we earn from qualifying purchases.
It's hard not to love a homemade garlic Alfredo sauce – it's a ubiquitous Italian classic. When it comes to having a range of go-to pasta sauce recipes, you absolutely must have a bolognese, pesto, and of course, Alfredo! 
For me, just the thought of fettuccine Alfredo conjures up feelings of nostalgia with TV dinners, learning how to cook for the first time, first dates, and fancy dinner parties. 
What is an Alfredo Sauce?
Alfredo sauce is a thick creamy white sauce made with butter, flour, milk or cream, and garlic. It is often topped or combined with Parmesan and sweet spices, like nutmeg. 
You may be shocked to know that what many think of as Alfredo sauce is actually a French imposter! What many (myself included) grew up on is actually much closer to a French sauce called a mornay, rather than Alfredo.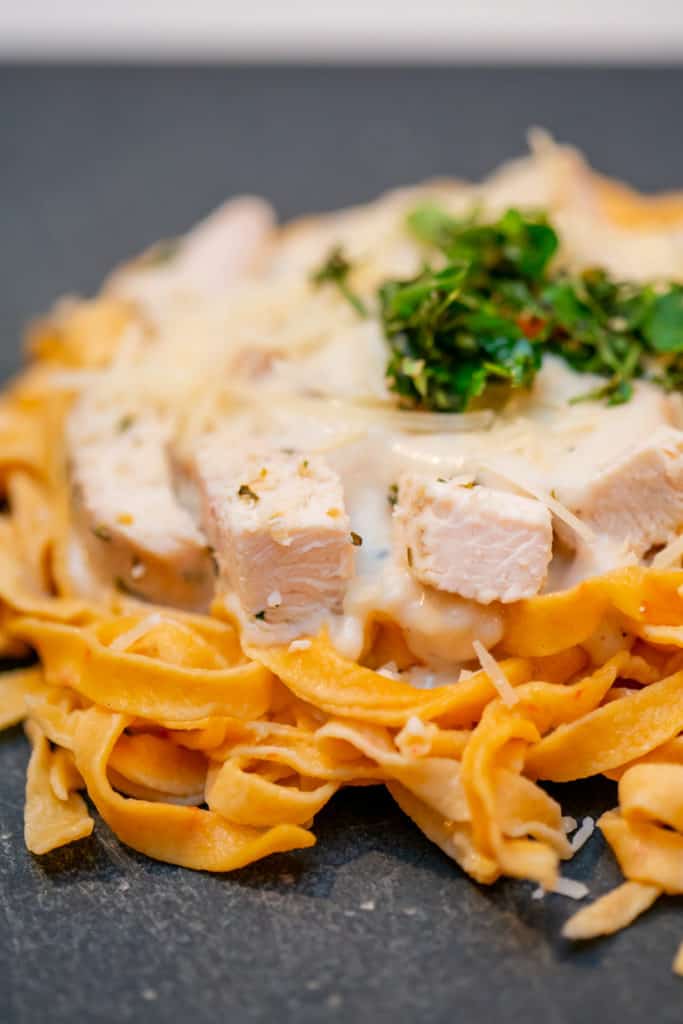 Differences Between Alfredo, Bechamel, and Mornay 
When it comes to various sauces, there are important differences between Alfredo, bechamel, and mornay. While they all look somewhat alike, the process for making them is not. If you're new to sauces, don't be intimidated by these foreign-sounding words. Once you know what differentiates each, you'll be able to tell them apart like a pro. 
Alfredo has no liquid dairy components (no milk, no cream). It gets its richness from young parmesan cheese and heavy amounts of butter. There is no milk or cream in an Alfredo. 
Bechamel is a classic French mother sauce made from a light roux of flour and butter. If you don't know what a roux is, don't worry – I'll explain that soon! It is then diluted with milk or cream and often seasoned with sweet spices like nutmeg. There is no cheese in a bechamel.  
Taking a bechamel and adding cheese to it makes a mornay sauce. This makes it perfect for pasta dishes like fettuccine or macaroni and cheese (the real kind). 
My Approach to Alfredo Sauce
History lesson and French sauces 101 aside, what I'm out to do is replicate that white gold goodness from my childhood. This is the mornay style Alfredo (which here forward, I'll just be calling Alfredo). My approach will be to break down the Alfredo and distill its parts down to the core.  
What Makes a Good Alfredo Sauce
A good Alfredo sauce needs to taste of garlic, parmesan, and cream. It needs a texture between cream and silk. This is definitely one of those "come for the flavor, stay for the texture" kind of sauces. Adding Alfredo to chicken, pasta, vegetables, or pizzas should turn the decadence dial up to 11.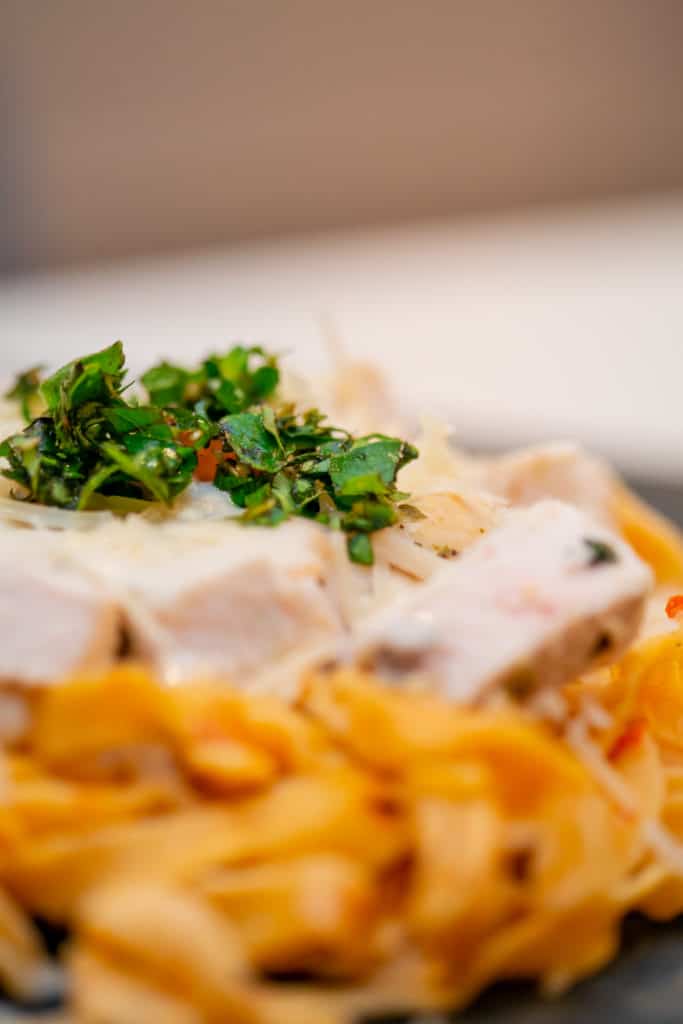 The Challenge with Alfredo
You may have seen other recipes online claiming you need to use cream to make your white sauce. The challenge with this is that cream (especially heavy cream), is not something most households have on hand. Heavy cream is also expensive, and it can't quite be used on everyday food (like your morning cereal). 
My Solution
With my method, I am focusing on the ingredients you are most likely to have in your kitchen. This means I need a substitute for cream. Whole milk is a great alternative, though any non-skim milk will do. 
That said, if you really want to go all out and use cream rather than milk, just cut the milk in half to make up for the limited amount of water from the switch. 
Flavorful Additions
My #1 recommendation to up your Alfredo game and make it more flavorful is roasted garlic. The high fat content of Alfredo sauce makes fat-soluble flavors like garlic meld seamlessly through the entire dish. You can roast the garlic in olive oil for 20-30 minutes at 350°F or until golden brown. 
My second recommendation to elevate your white sauce is herbs, like fresh basil or parsley. Because Alfredo is so rich and heavy you want to bring some balance of freshness to the dish. 
My third recommendation is alcohol. This does pull me a little farther away from an Alfredo, but a splash of sherry, vermouth, or white wine really helps bring some sophistication to your sauce. It will also introduce subtle flavors notes of fruit, vanilla, and other spices. 
How the Thickening Process Works
There is a little bit of cooking magic that happens in this dish, and that is with your butter and flour. I will be making what the French call a "roux" (pronounced like "roo"). The purpose of a roux is to thicken things like my Alfredo sauce. 
The magic comes from two things: heat and fat. When you heat up flour in a liquid, the molecules expand out like little pieces of velcro sticking to each other and literally hold your sauce together. 
Next comes the fat. Fat is really critical, as it allows the compounds in your dairy products to stick to the flour as well. Think of the fat as a little magnet that gets stuck in your flour and attracts the fats magnets in your milk, cream, or cheese. 
This is why it is critical you do not use skim milk. With skim milk, there is less fat in the dairy and less magnets for your ingredients to bind and meld to.   
What Pairs with Alfredo Sauce? 
Classic pairings for a homemade garlic Alfredo sauce are fettuccine and chicken. I highly recommend it in place of a standard pizza sauce as well! 
Simply put, when it comes to planning out or discovering new pairings, you will want to ask yourself this: "Would this food be good with melted parmesan?" If you'd put melted cheese on it, you can cover it with Alfredo.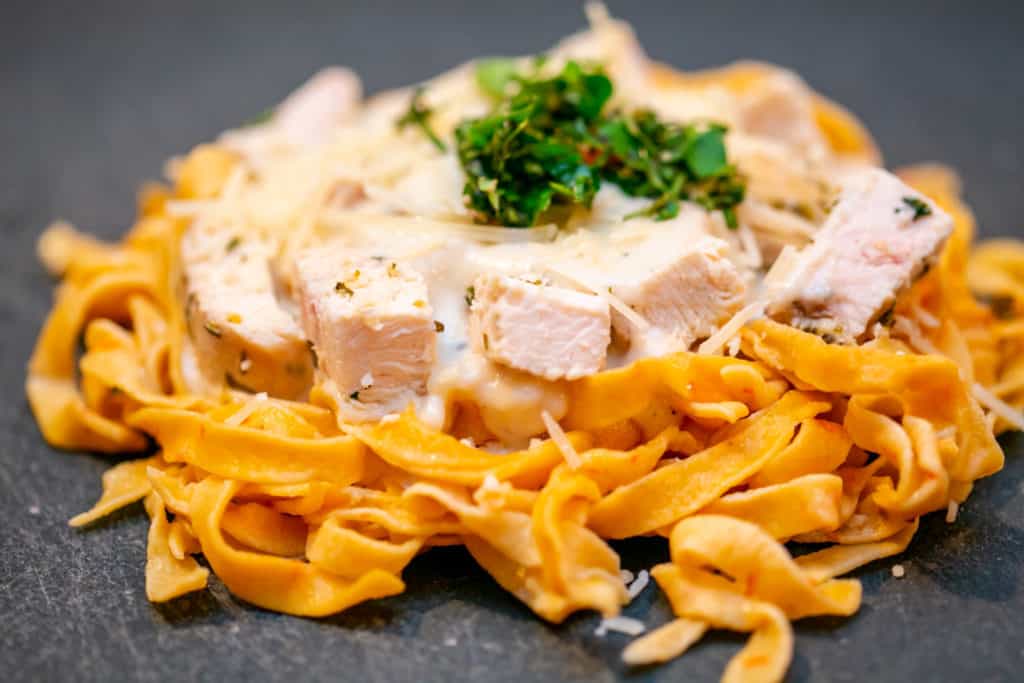 If you want to go the more complicated route, you can pair based on richness. With this, you would pair in one of the two ways:
Pair for balance, like fresh green beans and Alfredo.
Pair to be heavily opinionated, like mac and cheese with Alfredo. Doing this maximizes the overall richness of the dish. 
Let me know in the comments below what your favorite dishes are with Alfredo, and what twist you like putting on this homemade classic!
Tools Required
There are only 3 main tools needed to create an Alfredo sauce:
Medium saucepan
Wooden spoon
Measuring Cups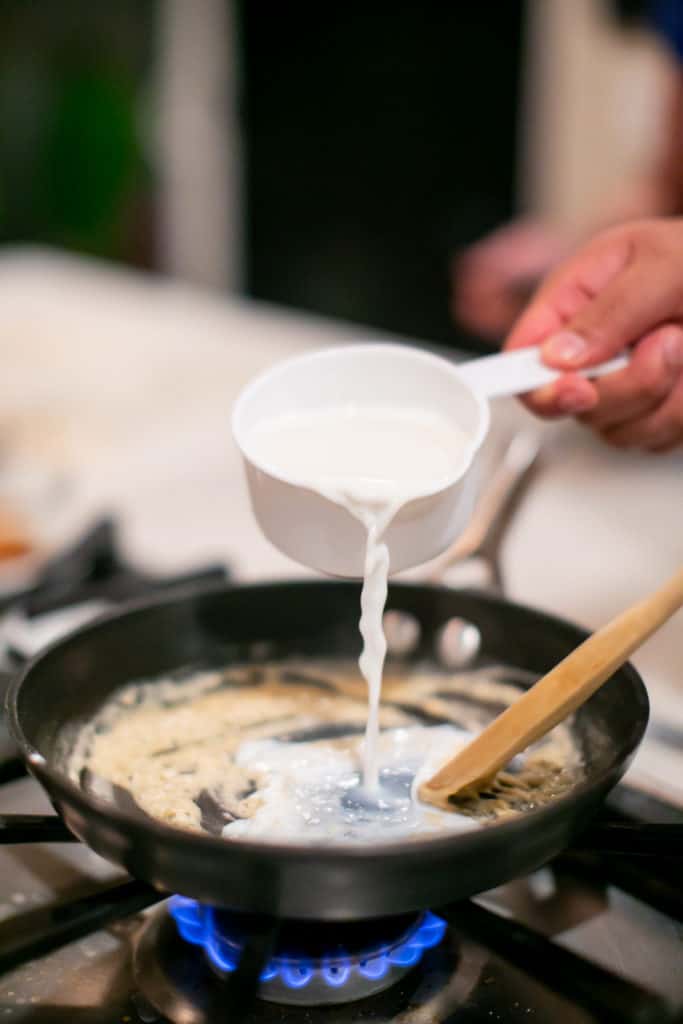 Medium saucepan
A saucepan is a pan with raised sides and ideally a nonstick or low stick bottom. For example, you would NOT want to use a cast iron pan here. If you have a rondeau pan at home, you can use that as well.
Wooden spoon
Since you are using a nonstick or low stick pan, you will want to use a wooden spoon. Metal spoons damage pan coatings. 
Measuring cups 
A lot of the magic in a roux comes from exact proportions, so measuring out your ingredients here is crucial. I can typically eyeball ingredients, though when it comes to perfecting a roux, I take the time to measure it out.
How to Make Homemade Garlic Alfredo Sauce
Ingredients for Alfredo Sauce 
When it comes to ingredients for my Alfredo sauce, you won't need much. Again, I'm trying to keep it to the ingredients you already have in your kitchen. I'm even going to simplify my recipe more by keeping all ingredients to even counts, so you can easily scale this recipe up and down.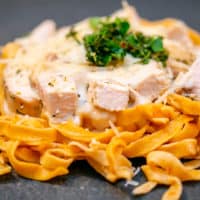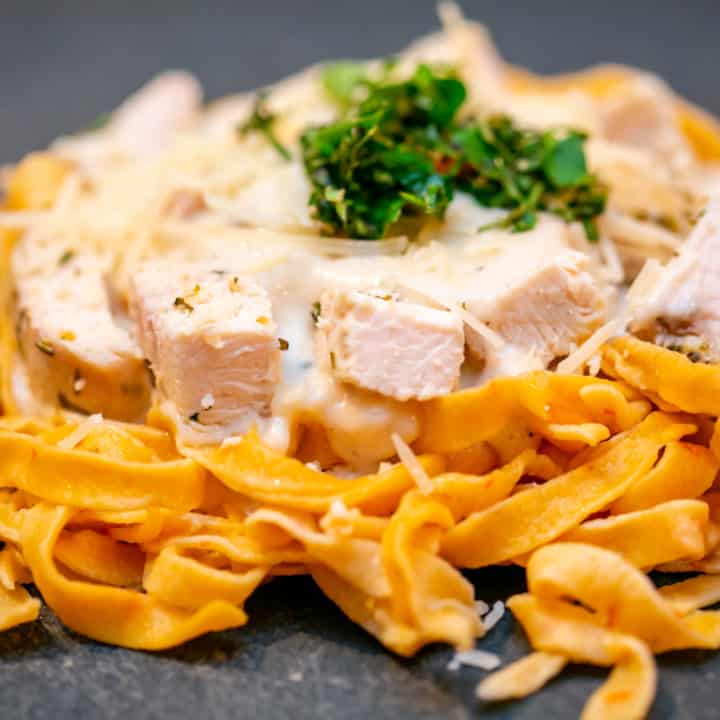 Ingredients
2

cups

milk

non-skim recommended

2

tablespoons

butter

2

tablespoons

flour

2

cloves

garlic

2

dashes nutmeg

optional

Parmesan to taste

Salt and pepper to taste
Instructions
Mince fresh or roasted garlic. Set this to the side.

Add butter to a medium sauce-pan.

Heat a medium sauce-pan on medium-high heat.

Wait for the butter to fully melt and add flour. When the butter fully melts and before it turns brown, add flour and stir vigorously with a wooden spoon. This creates a basic roux. 

Add milk. When the roux is just starting to take a light brown color, while stirring, slowly add the milk.

Keep stirring. Be patient and continue stirring. You are waiting for the sauce to thicken (timing will depend on your stove). After a few minutes of stirring, your sauce will begin to magically thicken (it is hard to miss this). 

Turn heat down to low and add other ingredients. Add in garlic, nutmeg, salt, and fresh cracked black pepper to taste. 

Top your dish with the Alfredo sauce. Add parmesan to finish.
Nutrition
Calories:
145
kcal
|
Carbohydrates:
10
g
|
Protein:
5
g
|
Fat:
10
g
|
Saturated Fat:
6
g
|
Polyunsaturated Fat:
0.4
g
|
Monounsaturated Fat:
2
g
|
Trans Fat:
0.2
g
|
Cholesterol:
30
mg
|
Sodium:
92
mg
|
Potassium:
198
mg
|
Fiber:
0.3
g
|
Sugar:
6
g
|
Vitamin A:
374
IU
|
Vitamin C:
0.5
mg
|
Calcium:
157
mg
|
Iron:
0.2
mg
Beginner's Guide to Making Sauces