As an Amazon Associate we earn from qualifying purchases.
Sweet and tangy flavors are a common pairing, especially on meats. When it comes to making chicken, one of my go-to methods for flavoring it is with a pineapple teriyaki sauce. It's simple to make, adds moisture to the chicken, and allows me to pair quite a few side dishes with it.
What is Pineapple Teriyaki Chicken?
Pineapple teriyaki chicken is chicken that has been marinated in a pineapple flavored teriyaki sauce. It is what you might typically get at a Hawaiian BBQ place. This is not the same as the teri chicken from your local sushi bar or the Pan Asian version from Panda Express.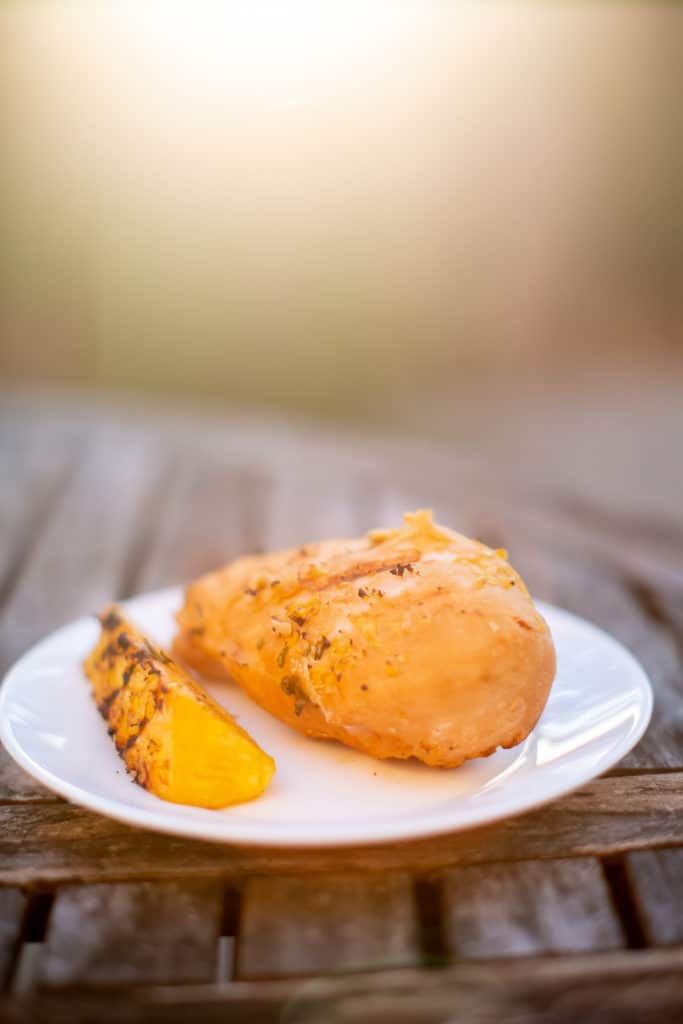 Ways to Cook Teriyaki Chicken
When it comes to cooking chicken, there are several ways you can do so. A few methods are:
Baking the chicken in an oven
Grilling the chicken on a BBQ
Using a sous vide for the chicken
For my simple teriyaki chicken recipe, I'm going to sous vide the chicken.
Cooking Chicken with a Sous Vide
If you are new to cooking, don't be intimidated by this weird sounding word. Using a sous vide for cooking is actually one of the easiest tools out there! Plus, it's almost impossible to overcook your food. When it comes to chicken, there are so many ways to overcook it using an oven, toaster oven, or BBQ, which is why a sous vide is ideal.
One of the main downsides to sous vide is the time it takes to cook your food. Let's face it – 2+ hours of cooking per meal is not always ideal. That time doesn't have to be time wasted, though! Since sous vide cooking is self-contained within a freezer bag, you can take full advantage of this time for some wonderful results.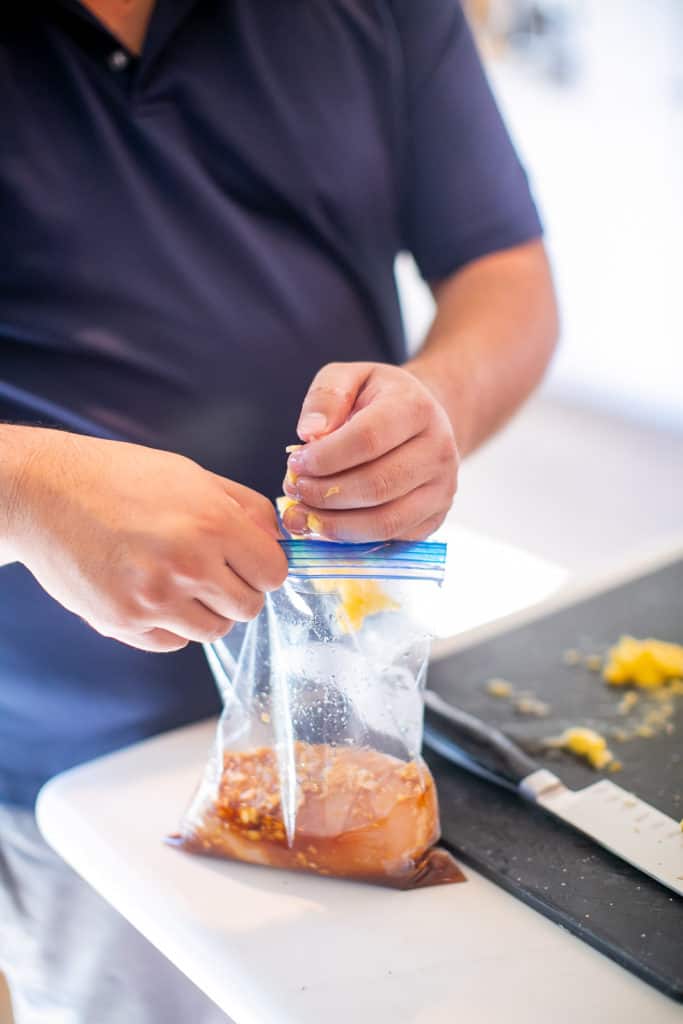 The Importance of Pineapple for Flavor and Cooking
While you may be thinking the addition of pineapple is just for flavor (to make it sweet and tangy), that is only half the case. Pineapple also serves as a critical chemical factor in cooking as well. That is why I think it is perfect for sous vide cooking!
Pineapple contains bromelain, which is a special enzyme that breaks down protein. If you look at commercial chemical tenderizers at your supermarket, they will say bromelain as the main ingredient. Most of the time, that bromelain will come from pineapple (or it might also be from papaya). 
In short, what I have is a perfect opportunity to marinate and tenderize my meat while it cooks. This ensures I get a deep flavor, and I'm maximizing my time. That two hours of cook time is now 2 hours of flavor penetration and protein tenderizing.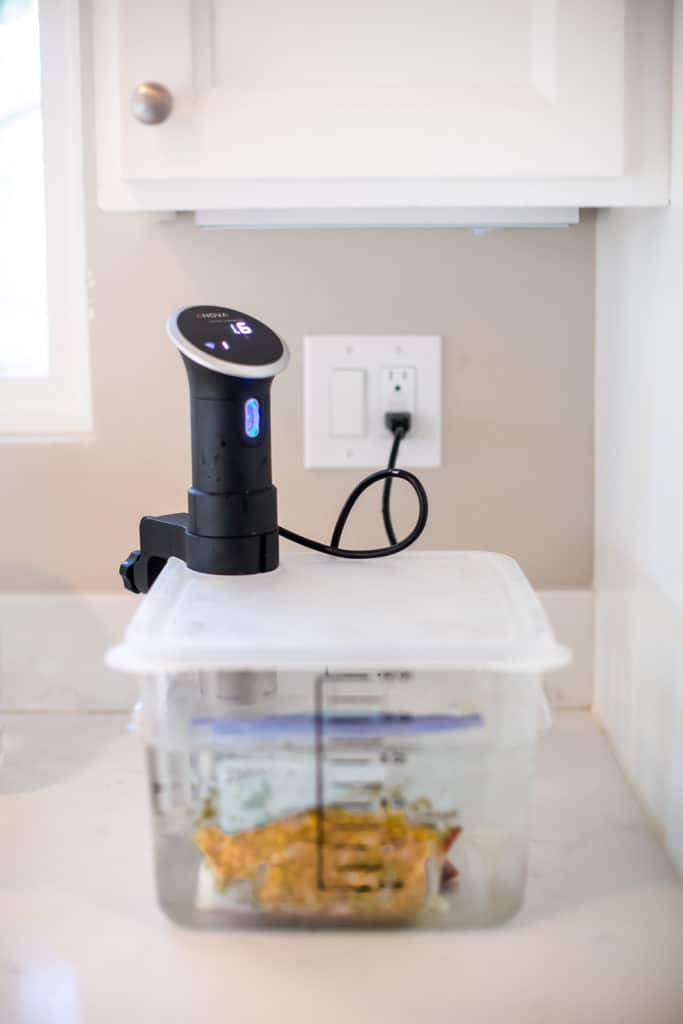 Tools Required
To take advantage of the sous vide cooking technique, you will, of course, need a sous vide. My personal model is the 900W Anova with bluetooth which allows me to heat water quickly and control the temperature on the go. Here are the tools you will need:
Sous Vide precision cooker from Anova or similar model
Ziploc freezer bags

I will use the submerge method to get the air out of the bag

Something to sear the meat with: skillet, grill, blow torch, etc. 
How to Make Pineapple Teriyaki Chicken
When it comes to making this simple pineapple teriyaki chicken recipe, the only non-negotiable here is the fresh pineapple. Canned pineapple is unlikely to contain the bromelain enzyme due to the pasteurization method used in canning. 
For this recipe, I bought a fresh whole pineapple so I could grill and eat the rest. In reality, you only need a small amount of fresh pineapple, so you could easily buy the pre-cut ones at the store. Again, avoid canned pineapple.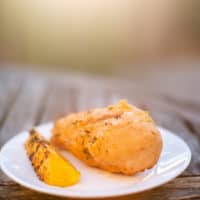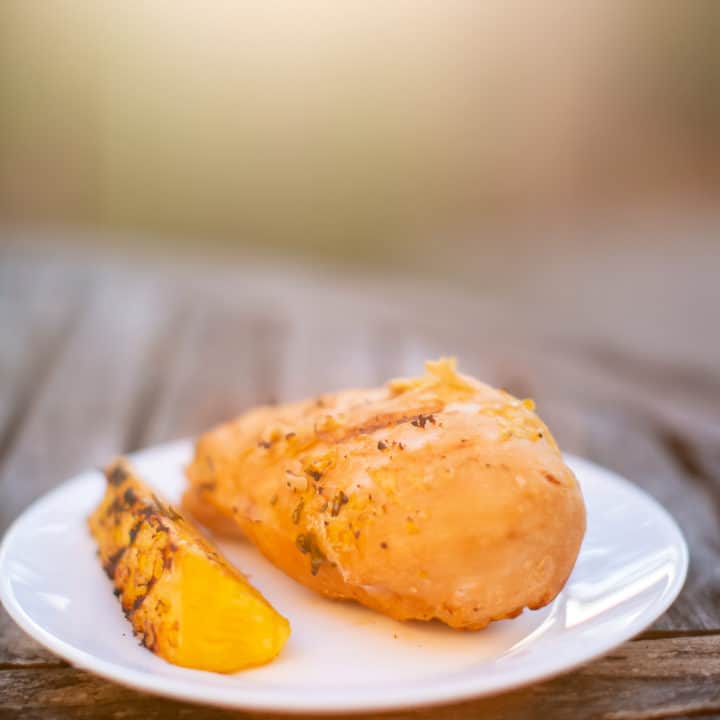 Ingredients
2

chicken breasts

2

tablespoons

crushed pineapple

fresh

1

tablespoon

soy sauce

1

teaspoon

sesame oil

1

tablespoon

sugar

1

tablespoon

rice vinegar

1

teaspoon

ginger
Instructions
Mince ginger

Cut the pineapple and crush it

Fill up your sous vide container with water

Get a Ziploc bag and check for leaks by filling it with water and see if any water comes out

Empty the ziploc bag of all water

Place all ingredients into the bag

Leaving the open part of the bag dry, submerge the rest of the bag into a container full of water to get air out. Then, seal the bag.

Set your sous vide for 140°F and start it. Let it come up to temperature before placing your bagged chicken in.

Cook chicken in sous vide for 2 – 2.5 hours

Remove from sous vide and bag and dry thoroughly with paper towel

Sear on grill / skillet or with a blow torch for about 3 minutes. With searing, you want to go fast and not let the grill or skillet get too hot as the sugars burn around 400°F. Flip the chicken constantly. 

Serve
Nutrition
Calories:
315
kcal
|
Carbohydrates:
9
g
|
Protein:
49
g
|
Fat:
8
g
|
Saturated Fat:
2
g
|
Polyunsaturated Fat:
2
g
|
Monounsaturated Fat:
3
g
|
Trans Fat:
0.03
g
|
Cholesterol:
145
mg
|
Sodium:
765
mg
|
Potassium:
878
mg
|
Fiber:
0.3
g
|
Sugar:
8
g
|
Vitamin A:
75
IU
|
Vitamin C:
4
mg
|
Calcium:
16
mg
|
Iron:
1
mg
8 Beginner Cooking Tips I Wish I Had Known