As an Amazon Associate we earn from qualifying purchases.
Over the last few years in San Diego, I've been getting a new wave of breakfast and brunch restaurants. One of the big trends across each is the prevalence of a dutch baby or "german" style pancake. Today I'll look at a classic recipe for a dutch baby so you can skip the brunch lines and enjoy these sweet treats anytime you want. 
What is a Dutch Baby?
A Dutch Baby or "German" pancake is an egg leavened baked pastry similar to a popover or yorkshire pudding. The name Dutch baby is not Dutch in origin and is most likely a misnomer deriving from the German word for Gemeran – "deutsche".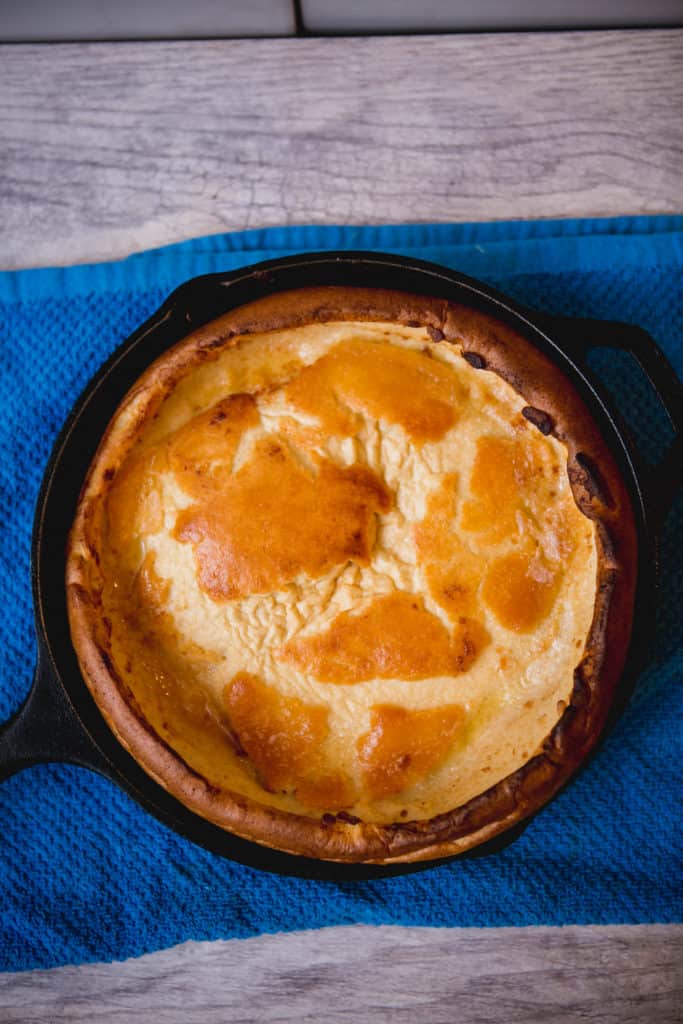 What makes a Dutch baby different from a Yorkshire Pudding or Popover?
Unlike a Yorkshire Pudding, a Dutch Baby is not commonly served savory. Visually, a Dutch Baby is made in a large shallow vessel like a skillet, where a Yorkshire Pudding or Popover is made in small deep individual tins. 
The Challenge with a Dutch Baby
The most challenging part of a Dutch Baby is temperature management. Just like with popovers and puddings, the batter must not be cold going in and the tin must remain piping hot. If either gets too cold your batter will not leaven and you will end up with something closer to a dense pancake. 
My Solution to Temperature Management
To keep your temperatures up, you are going to need to work fast. 
With your eggs, I recommend running them under warm water for a couple minutes to bring them up to temperature. 
With your milk, you can microwave it for 15 seconds at a time until warm. 
With your pan, I'm going to heat it in the oven using the butter to tell me when the pan has come to temperature. 
Now when you add all your ingredients together, there won't be anything cold to shock the heat out of the dish.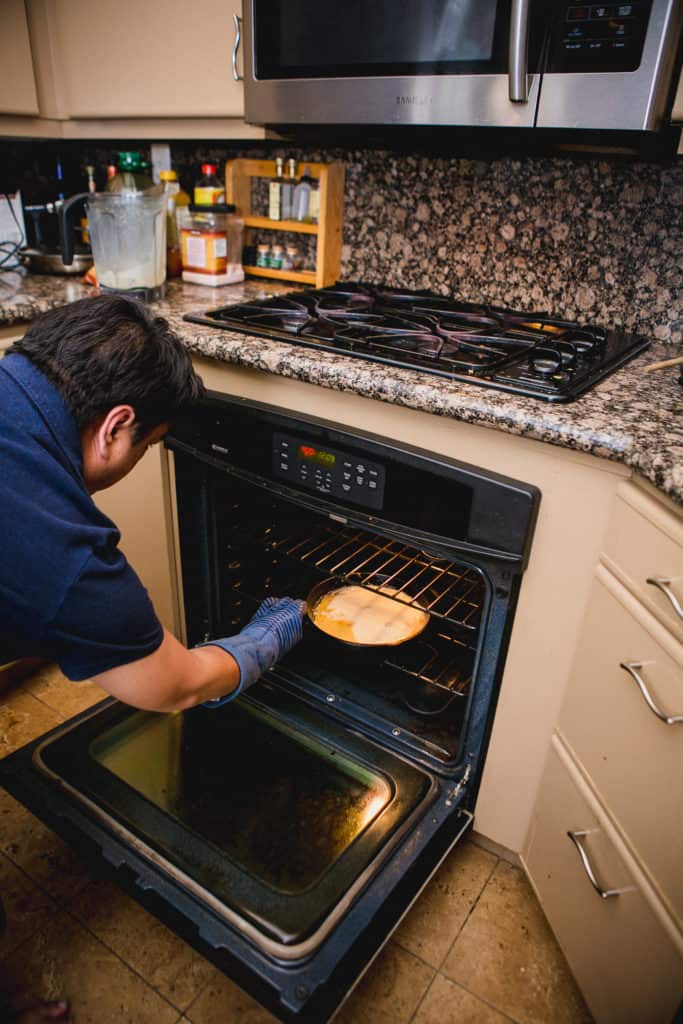 Flavor Additions 
The most traditional serving of a Dutch Baby is with butter, powdered sugar, and lemon. For my version, I'll be using slices of my spiced Merlot poached pears that I made for another recipe. You can use any baked or fresh fruit that you prefer. One of the most popular variations I see is with baked spiced apples.  
Tools Required
Dutch babies are baked, so you can use a rondeau pan, a cast iron skillet or Dutch Oven to cook it in. Outside of that, a blender really helps mix the batter up quickly and evenly but is not required.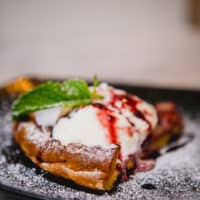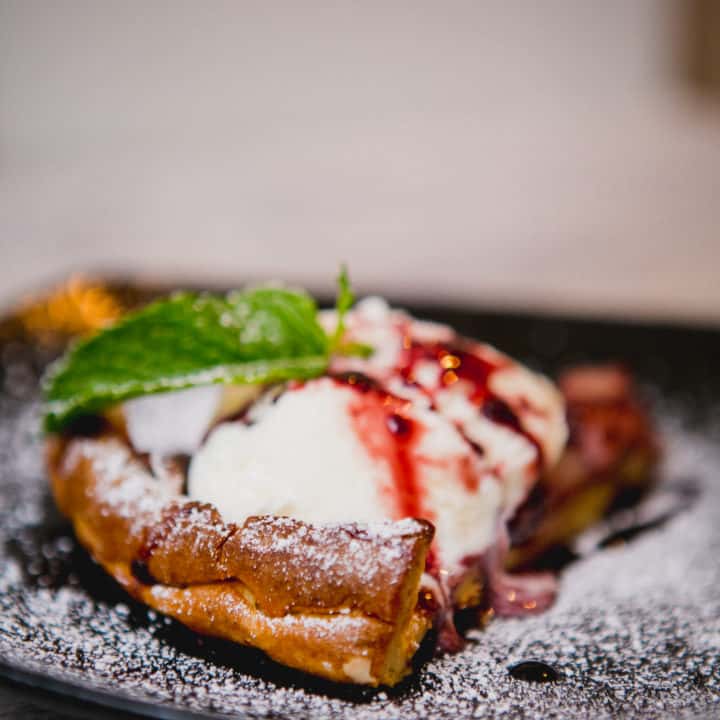 Ingredients
3/4

cup

milk

3

eggs

3/4

cup

flour

1

tablespoon

sugar

3

tablespoons

butter

1

teaspoon

cinnamon or to taste

1

teaspoon

nutmeg or to taste

1

tablespoon

powdered sugar or to taste
Instructions
Let milk and eggs come to room temperature, or run eggs under warm water and microwave the milk to bring it up faster. Do not use cold ingredients!

Preheat Oven to 400°F

Place butter in a cast iron skillet and place skillet in oven 

Mix eggs, milk, flour, sugar, cinnamon, and nutmeg in blender until combined (it will be the consistency of thin pancake batter or paint) 

As soon as the oven is to temperature and the butter is melted (do not let brown), pour batter into skillet 

Bake for 25 minutes 

Cut and serve immediately
Nutrition
Calories:
172
kcal
|
Carbohydrates:
17
g
|
Protein:
5
g
|
Fat:
9
g
|
Saturated Fat:
5
g
|
Polyunsaturated Fat:
1
g
|
Monounsaturated Fat:
3
g
|
Trans Fat:
0.2
g
|
Cholesterol:
101
mg
|
Sodium:
88
mg
|
Potassium:
97
mg
|
Fiber:
1
g
|
Sugar:
5
g
|
Vitamin A:
344
IU
|
Vitamin C:
0.02
mg
|
Calcium:
58
mg
|
Iron:
1
mg