As an Amazon Associate we earn from qualifying purchases.
Grilled pineapple has to be one of my favorite desserts of all time. I classify it as a dessert rather than a snack because of the added sugar you coat the pineapple with. If you have ever been to Brazillian Barbeque you should know what I am talking about. Beautifully tangy, sweet, spicy, and juicy – I could easily eat a whole pineapple if it's done like this grilled pineapple recipe.
What is Grilled Pineapple?
Grilled pineapple is pineapple that is grilled on a barbeque with sugar and spices to deepen the flavor. Does it have to be grilled? Technically, no, though the flavors are more intensified on the grill. If a grill is not an option for you, you could just as easily pull this off in your oven under the broiler, just as long as you keep a close eye on it so the sugar doesn't burn.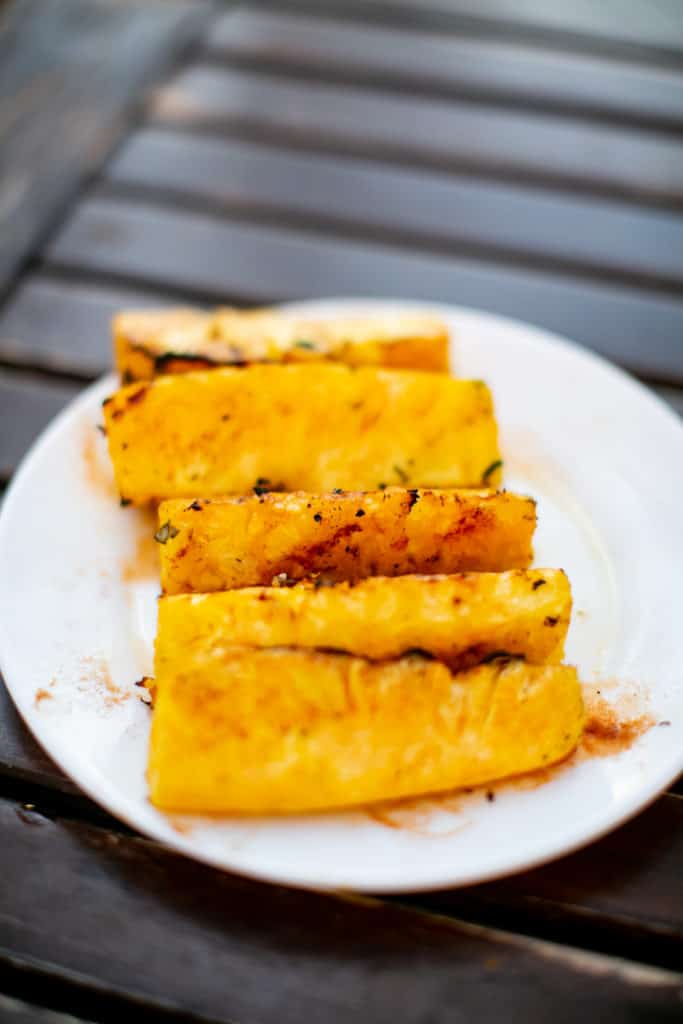 My Approach to Grilled Pineapple
My approach is going to mimic the kind of pineapple you get a Brazillian Barbeque. This means mine will be made with a brown sugar and cinnamon sugar mix. It also means that my pineapple will be the perfect pairing or follow-up to deliciously salty and fatty meats. 
Qualities of a Good Grilled Pineapple 
A good grilled pineapple has to have the caramelization of the sugar coating along with the caramelization of the actual sugars in the pineapple as well. The pineapple should just be starting to break down as it cooks. This makes it soft and juicy when you bite into it. Finally, it is best to serve between warm and room temperature. 
The Challenge with Grilled Pineapple
There are two main challenges with this grilled pineapple recipe: one with the prep and one with the cook.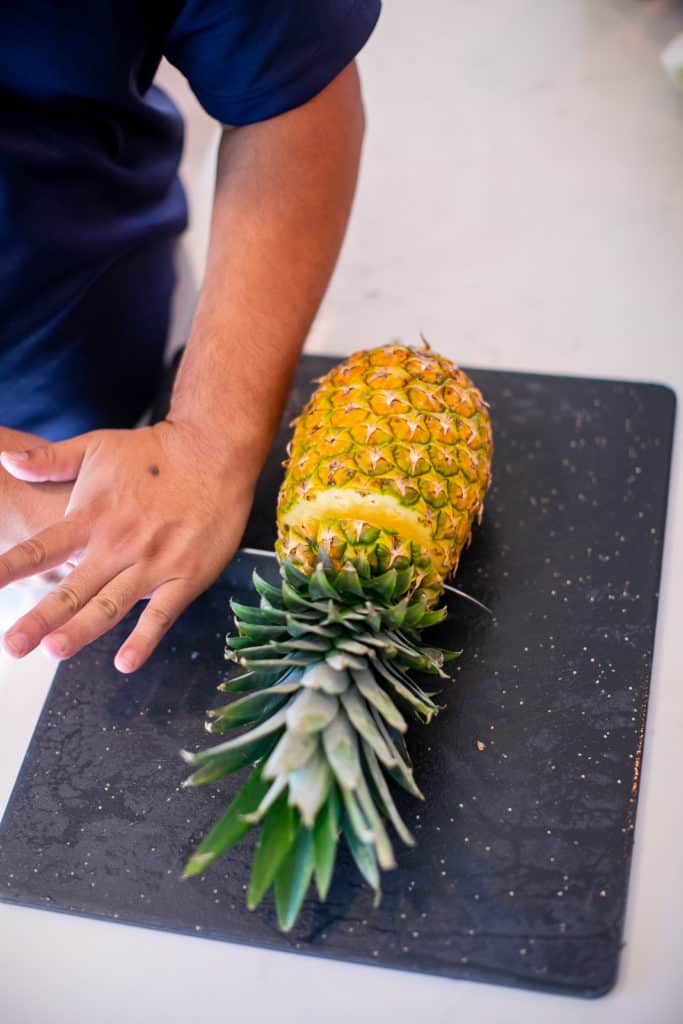 When it comes to prepping, cutting a pineapple open is the biggest problem. You want to remove the top, bottom, skin, and eyes all while losing the absolute minimum amount of pineapple for eating. 
With cooking, the challenge arises because you're cooking sugar. Sugar easily burns, so if you don't monitor it, you risk your pineapple going from sweet to burnt pretty quickly. 
My Solution
The main advice I can give you is do not leave your grilled pineapple alone. Sugar burns, so any black char is literally just charcoal and a flavor that you don't want and can't get out. Monitor it as you're barbequing to ensure the pineapple turns out to be a beautiful golden color.
Developing Flavors
My number one goal is caramelization of the sugar in the dust mix along with the sugars within the pineapple itself. Here are some tips for how to develop and enhance the pineapple and sugar flavors:
Use fresh cinnamon and toast it. If you have cinnamon sticks and a Microplane, this is ideal! Freshly toasted cinnamon is one of the best spices you can add to pineapple. 
Double glaze your pineapple. After the initial coating of sugar and cinnamon caramelizes, you can re-dust with more to thicken the coating and increase the candy-like flavor of the dish.
A potential addition to kick this up would be to use vanilla sugar. You can make vanilla sugar by saving the casing of a vanilla bean and storing it in a Tupperware with granulated sugar
Spice it up. Want something a little more south of the border? Add some chili powder to the mix to give your pineapple a literal kick. 
Items to Serve with Grilled Pineapple
The amazing thing about this dish is it goes with so many dishes. You can have it in salads, in drinks, on the side with meat, or in desserts. Or, you can just eat it on its own (which is my personal favorite way to eat it!). 
If I'm not eating it plain, I love to make my grilled pineapple a garnish for a refreshing and tropical Mai Tai!
How to Make Brown Sugar Grilled Pineapple Slices
When it comes to making the cinnamon sugar, 1 part cinnamon to 1 part sugar is my recommendation for an ideal ratio. 
While I am giving you measurements for a single grilled pineapple in this recipe, I like to make my cinnamon sugar in batches so I can use it for baked goods and other desserts as well. So, feel free to double or triple this recipe if you want to store your cinnamon sugar for other recipes.
Cutting the Pineapple
As mentioned earlier, cutting the pineapple is the trickiest part of this dish. Cutting a pineapple can be a pretty daunting task if you have never done it before.
I recommend the following process: 
Use a chef's knife
Cut off the crown (top) of the pineapple
Cut the skin off the pineapple trying to save as much of the pineapple as possible 
Cut the eyes out with a paring knife
Cut the bottom of the pineapple off
Cut the pineapple into spears 
Cut out the core / pith from each spear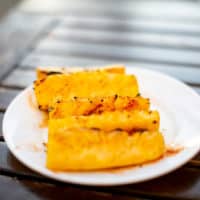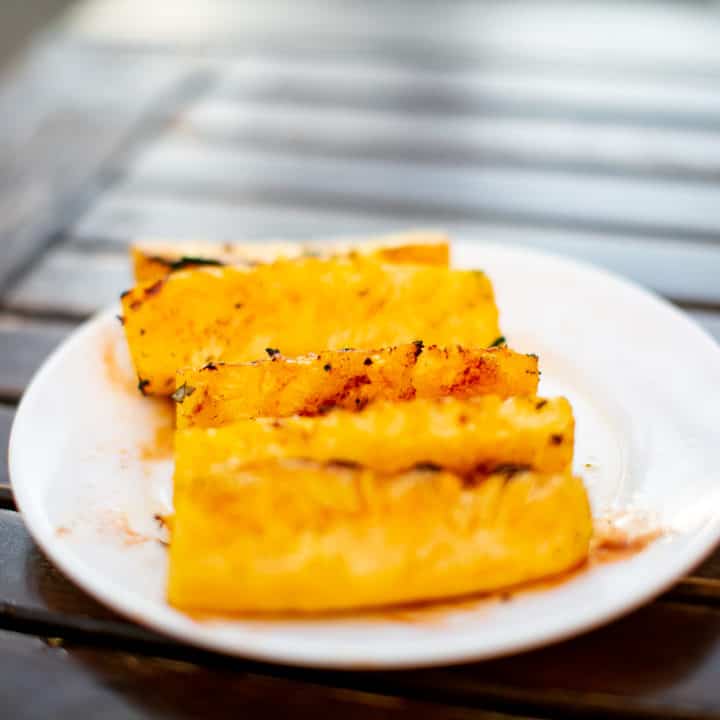 Ingredients
1

pineapple

2

Tablespoons

golden brown sugar

2

Tablespoons

cinnamon
Instructions
Cutting the Pineapple
Use a chef's knife

Cut off the crown (top) of the pineapple

Cut the skin off the pineapple trying to save as much of the pineapple as possible 

Cut the eyes out with a paring knife

Cut the bottom of the pineapple off

Cut the pineapple into spears 

Cut out the core / pith from each spear
Grilling the Pineapple
Mix cinnamon and sugar

Cut pineapple into spears

Sprinkle cinnamon and sugar on pineapple until all sides are coated 

Grill 5 minutes per side on indirect heat or until browned. Sugar will melt between 320°F and 360°F. Your grill will likely get far hotter than this, so you want to try to cook indirectly to reduce the chance of burning your sugar. 
Nutrition
Calories:
146
kcal
|
Carbohydrates:
39
g
|
Protein:
1
g
|
Fat:
0.3
g
|
Saturated Fat:
0.04
g
|
Polyunsaturated Fat:
0.1
g
|
Monounsaturated Fat:
0.04
g
|
Sodium:
4
mg
|
Potassium:
272
mg
|
Fiber:
5
g
|
Sugar:
28
g
|
Vitamin A:
143
IU
|
Vitamin C:
108
mg
|
Calcium:
74
mg
|
Iron:
1
mg
8 Beginner Cooking Tips I Wish I Had Known