As an Amazon Associate we earn from qualifying purchases.
It is no surprise that as the weather cools down I start favoring heartier dishes. Fall and winter is the time for soups, chilis, and stews. When it comes to stews specifically, Beef Bourguignon is perhaps the most famous stew (or infamous, depending on who you ask). While the name may sound fancy, the dish is, at its heart, a textbook example of techniques for developing flavors and textures. 
What is Beef Bourguignon?
Beef Bourguignon, or simply called Beef Burgundy, is a "traditional" french stew preparation utilizing beef, carrots, onions, mushrooms, herbs, and Burgundy wine.  I say "traditional" in quotes, because the dish does not appear to go back that far in history. It actually only goes back to the turn of the century.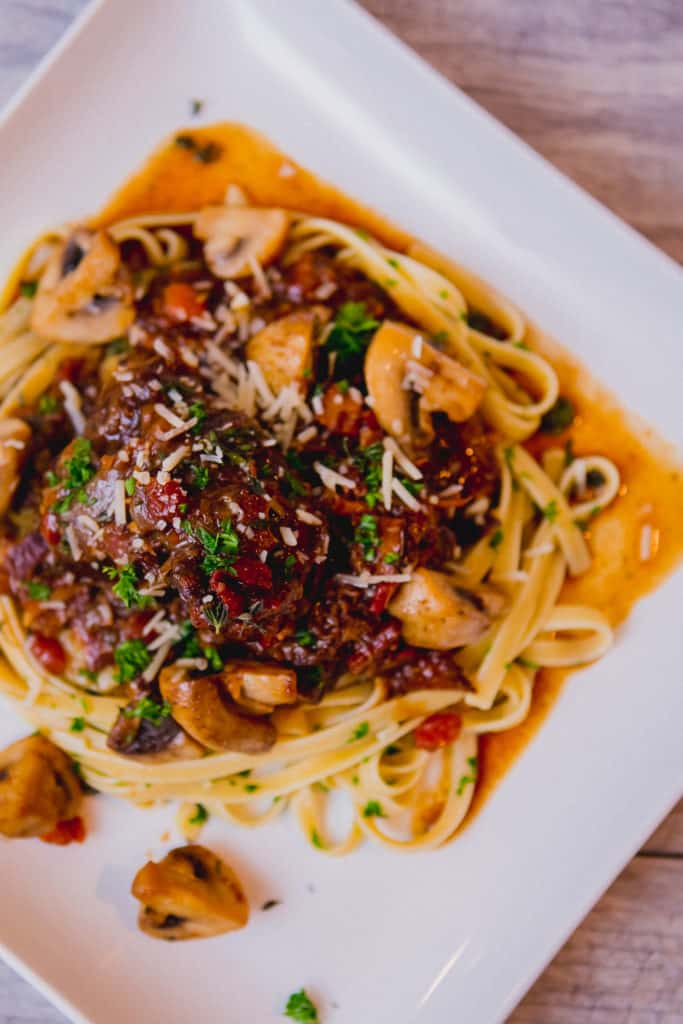 Additionally, the naming that suggests the dish is made under a Burgundy style of preparing beef may, though this actually be a misnomer for the use of Burgundy wine, not the origins of the recipe. Needless to say, the dish has left its cultural and culinary mark and is a hallmark of French Cuisine (traditionally or not). 
My Approach to Beef Bourguignon
I'm going to be breaking down the steps to this classic beef stew so you can recognize their contribution to the final product and use those skills in other dishes. I'll also do a bit of simplification to the recipe. 
In my recipe, I'll be using a pressure cooker to speed up the cook time. This is not necessary, and the dish can be made in a closed pot with 2 times the cook time. 
Good preparation is necessary, as there are many ingredients and some tight time frames for cooking everything. I'll be outlining steps to prepare the ingredients to make them ready to add, as well as maintain food safety from cross contamination.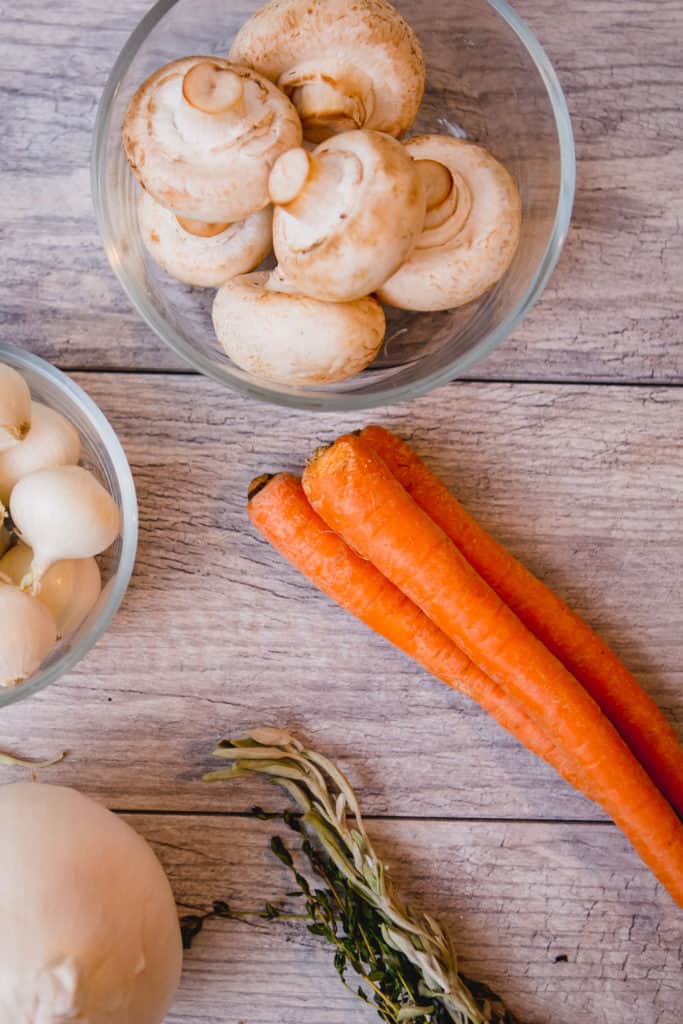 Here are some helpful tips that I use when making Beef Bourguignon:
Have all of your ingredients out before you start cooking. You do not want to be searching for ingredients, struggling to cut or wash things, or measuring in the middle of cooking. 
Cut vegetables first and meats second. It is very important you always cut your vegetables first so they are not contaminated by raw meat or things that have touched it. This goes for any time you are using the same knives and cutting boards. 
Use Medium – High heat cooking to develop flavor. You will use this heat setting when cooking the mushrooms, bacon, and beef.
Use slow cooking to develop texture with the pot lid on. Slow cooking in liquid will allow the connective tissues in the meat to dissolve. This will both tenderize the meat and thicken the soup. 
Reduce by cooking on high heat without a lid. Reducing the liquid concentrates the flavors, which is what you want in this hearty dish. 
What Makes a Good Beef Bourguignon?
What makes a good Beef Bourguignon is the development of layers of flavor and texture. From the beef I choose to the timing at each ingredient is added, each has a meaning and purpose. 
The Challenge with Beef Bourguignon
The most notable challenge with Beef Bourguignon is the sheer number of steps needed to prepare the dish. Beef stew does take quite some time to put together, so I'm going to try to simplify the steps. I'll also eliminate other steps that are not necessary, and then break down the phases of cooking piece by piece.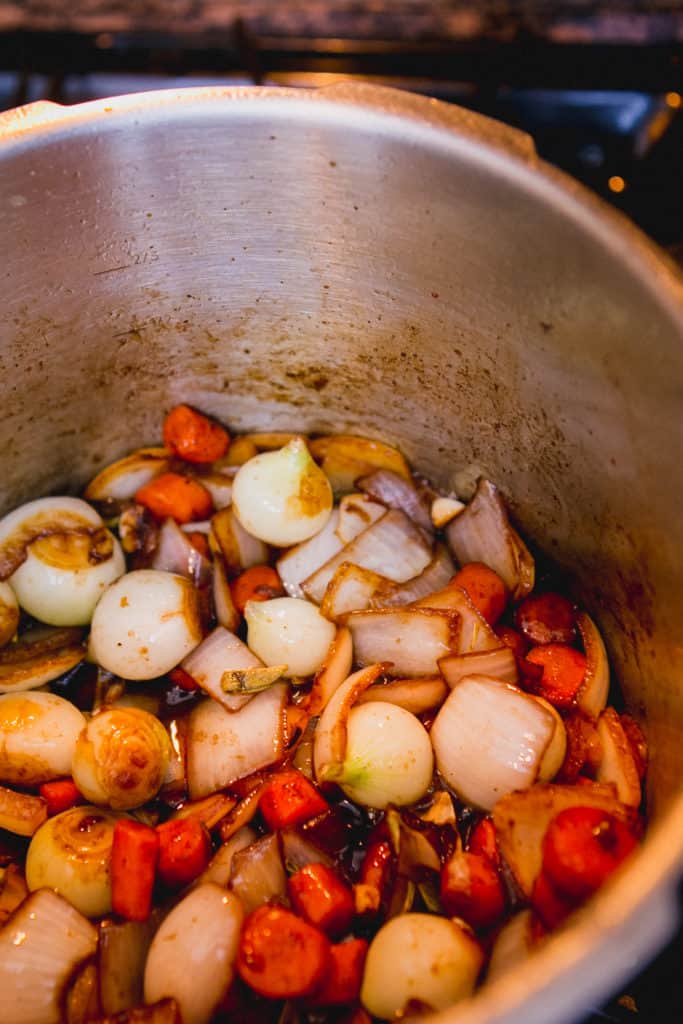 Pairings with Beef Stew
When it comes to pairing your Beef Bourguignon, the most popular sides are noodles or potatoes. I will be preparing mine with simple fettuccine and topped with herbs and a bit of cheese.
If you are more of a potato person, then garlic mashed or herb roasted potatoes make amazing sides here. For a less conventional preparation, try toasting a baguette or ciabatta and topping it with some of the stew for an open faced sandwich. 
Tools Required
I'm going to try to keep this a one-dish recipe, so choosing that dish is critical. I highly recommend using either a rondeau pan, traditional dutch oven or a pressure cooker (like I'll be using). Past this, you will need your standard tools, such as a chef's knife, wooden spoon, and measuring spoons and cups.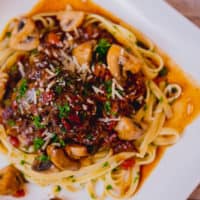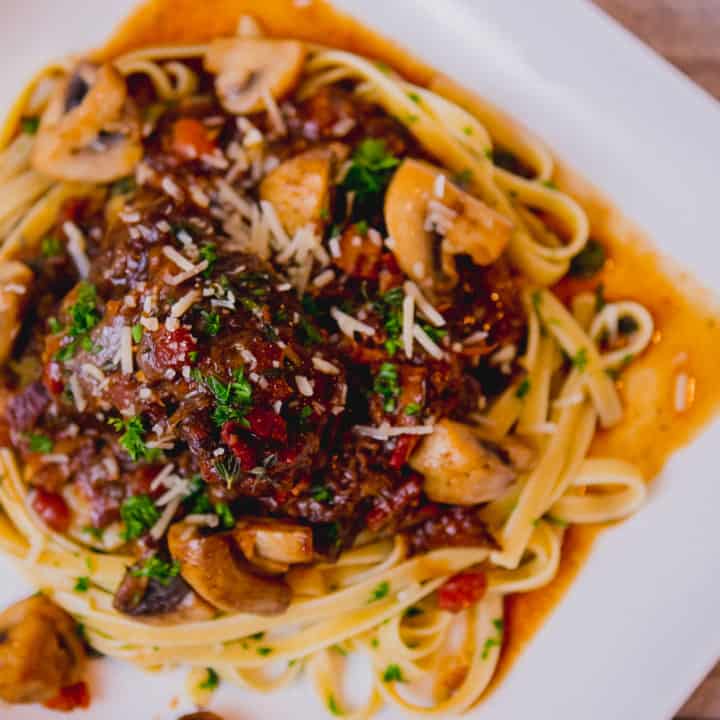 Ingredients
3

tablespoons

butter

6-8

mushrooms

1

tablespoon

olive oil

2-3

pounds

chuck steak

½

pound

thick cut bacon

2

carrots

(full sized, not baby)

10-12

boiler onions

1/2

white onion

6-10

cloves

garlic

1

bunch

parsley

1

tablespoon

flour

2

cups

beef stock

½

bottle

red wine

(preferably Burgundy (Pinot Noir varietal, but really any red will work))
Instructions
Preparation
Get measuring devices, pot, wooden spoon, and knife

Get all ingredients out and make easily available, including opening wine bottle

Wash vegetables
Cut your vegetables first so they do not contact any of the meat
Cut parsley and set aside 

Peel carrots, onion, garlic

Cut onion into 1 inch pieces and set aside 

Mince garlic 

Cut carrots 

Cut mushrooms into quarters and set aside
Cut the meat after you are done with the vegetables  
Slice bacon into ¼ inch strips 

Break down chuck into 2-3 square inch pieces and season with salt liberally 
Medium-High heat cooking phase
Place a heavy bottomed dutch oven or pressure cooker on stove on medium high heat 

Saute the mushrooms in olive oil and butter for 5 minutes, remove and side aside 

Add the bacon until fat is rendered out and bacon crisp, remove and set aside 

Sear the beef on each side 
Slow cooking phase
Add the flour and cook for 2-3 minutes to eliminate the raw taste 

Add the onions, garlic, carrots, bacon 

Add the beef stock and wine 

Cover and cook at high pressure for 2 hours, or if not using a pressure cooker 3.5-4 hours (until beef is fork tender) 
Reduce liquid 
Depressurize and remove lid 

Add mushrooms and herbs in 

Cook on high under open air for another 30 minutes or until your stew has the consistency of gravy

Serve and Enjoy 
Nutrition
Calories:
360
kcal
|
Carbohydrates:
13
g
|
Protein:
19
g
|
Fat:
24
g
|
Saturated Fat:
10
g
|
Polyunsaturated Fat:
2
g
|
Monounsaturated Fat:
11
g
|
Trans Fat:
1
g
|
Cholesterol:
71
mg
|
Sodium:
294
mg
|
Potassium:
648
mg
|
Fiber:
2
g
|
Sugar:
5
g
|
Vitamin A:
2207
IU
|
Vitamin C:
15
mg
|
Calcium:
53
mg
|
Iron:
3
mg
Beginner Guide to Cooking Meat