As an Amazon Associate we earn from qualifying purchases.
When it comes to chips, I'm all about the tortilla chips and a side of fresh pico de gallo or a spicy homemade guacamole. I never really thought I'd get on board with the vegetable chip craze that was happening, but my mind was instantly changed once I tried this eggplant chips recipe.
I had used eggplant for other recipes before, and when I learned that they also worked well as a tasty snack, I liked this vegetable even more. This eggplant chips recipe is crispy, earthy, smoky, and filled with an umami flavor that will have you coming back for more.  
What is an Eggplant Chip?
Eggplant chips are thinly sliced and seasoned pieces of eggplant that have been oiled and baked or fried until crisp. These chips should be very similar to kettle-style potato chips with a hard crunch and snap.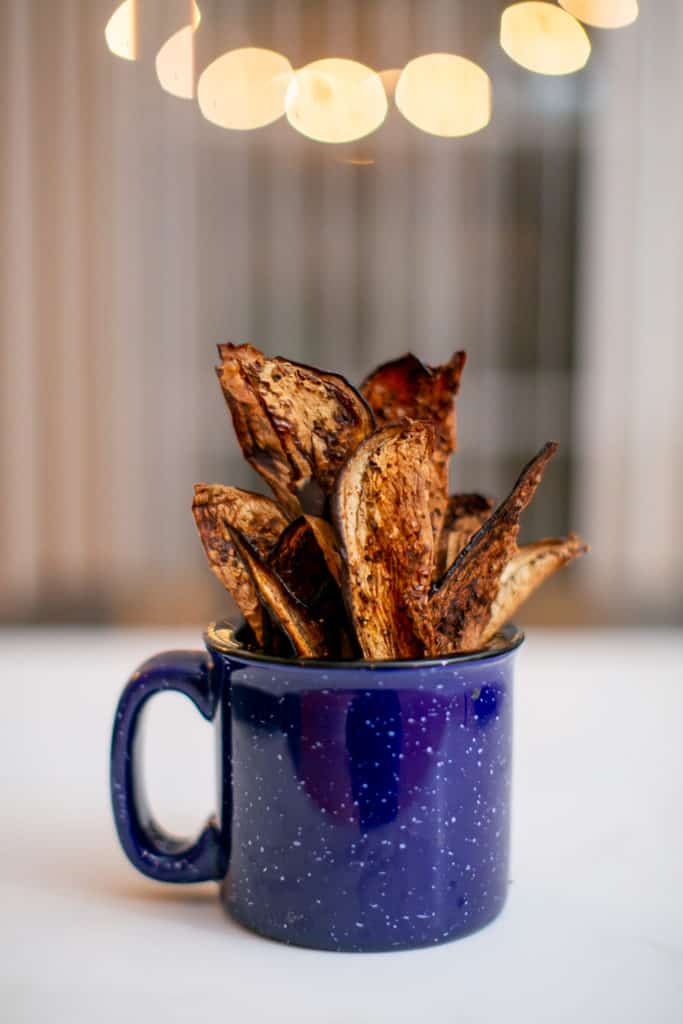 The Challenge with Eggplant Chips 
The main challenge with baked eggplant chips is to keep them from getting burnt. Eggplant can get a really bitter and off-putting flavor when burned. That said, I will be cooking mine very low and slow. Basically, I'm dehydrating the eggplant in the oven or toaster oven. Do not get impatient and crank the heat up, because this can ruin your chips completely.
Flavorful Additions
When it comes to chips, the seasoning is really up to you. I highly recommend barbecue flavors, as they naturally pair well with eggplant. 
You will have quite a few flavor options open to you, due to the low and slow cooking method I am using. At 275F, you will not risk any burning any sugar, garlic, or herbs, so this allows you to easily use them for seasonings.  
Pairing Ideas 
I think meat is the best item to pair with these eggplant chips, especially rich fatty and preferably grilled or BBQ'd meat. Doing a backyard barbeque or grilling up some burgers, these chips will make an excellent side dish. This is such a tasty snack you can cook for your game night, whether you're playing cards or playing billiards. Have a good time and pair it with a cold beer!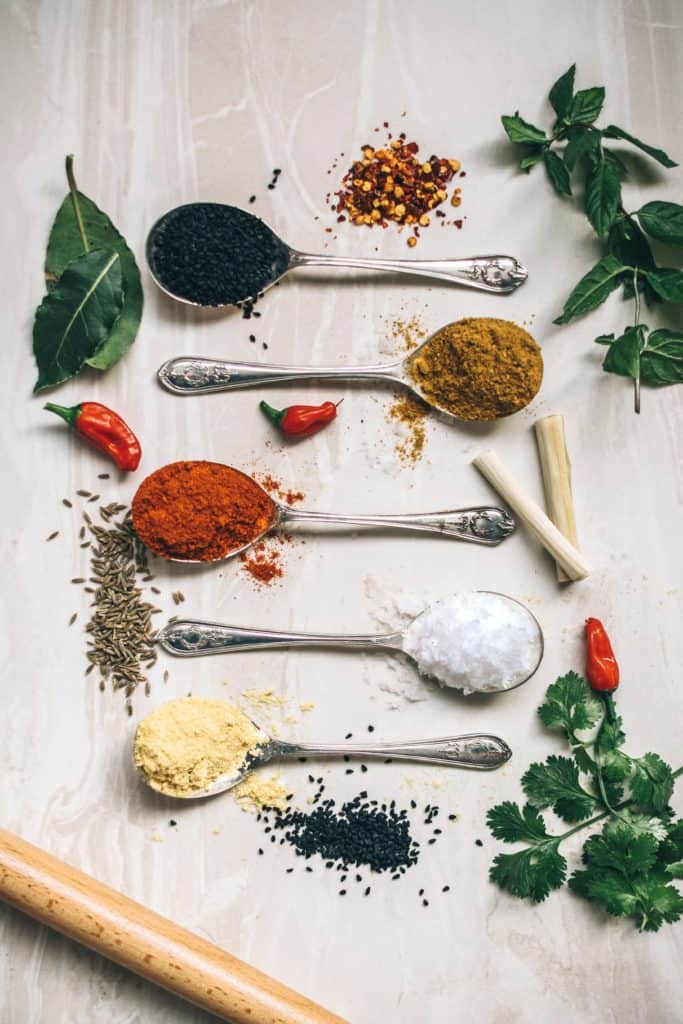 Tools Required
You won't need too much to make this eggplant chips recipe. A good chef's knife, cutting board, parchment paper, and a baking sheet or tray are the only tools you'll need.
Normally I recommend a chef's knife for most recipes because it is an all-purpose utility knife.  With these eggplant chips, it is critical the knife is sharpened because I am cutting the eggplant by hand and very thin. This means you will need steady, clean cutting strokes.
If you do not have a good chef's knife or are not comfortable with cutting such large pieces, you can cut the eggplant in half to make it easier to work with.
As an alternative to cutting the eggplant with a knife, you can use the slicer on a food processor, v-slicer, or mandolin to cut ¼ inch strips.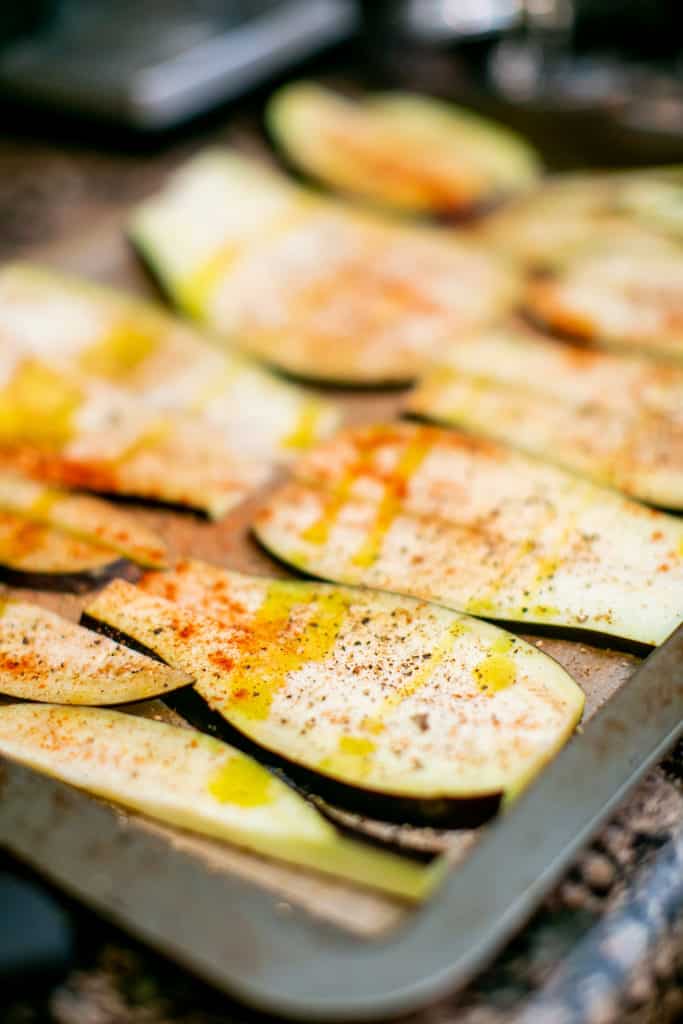 How to Make Eggplant Chips
This is about as easy as cooking gets. All you need is the eggplant, your seasonings of choice, and some olive oil. When it comes to selecting your eggplant, I use traditional aubergine eggplants. This recipe can also work with thinly sliced long Asian style eggplants as well. 
For my specific seasoning, I recommend mesquite-smoked powder. I realize this might be hard to find in the stores since it's more of a specialty item, so if you plan on using this, I suggest buying some online in advance. The BBQ mesquite flavor goes extremely well with the meaty-ness of the eggplant!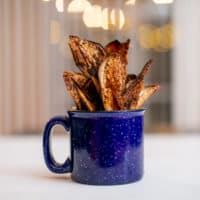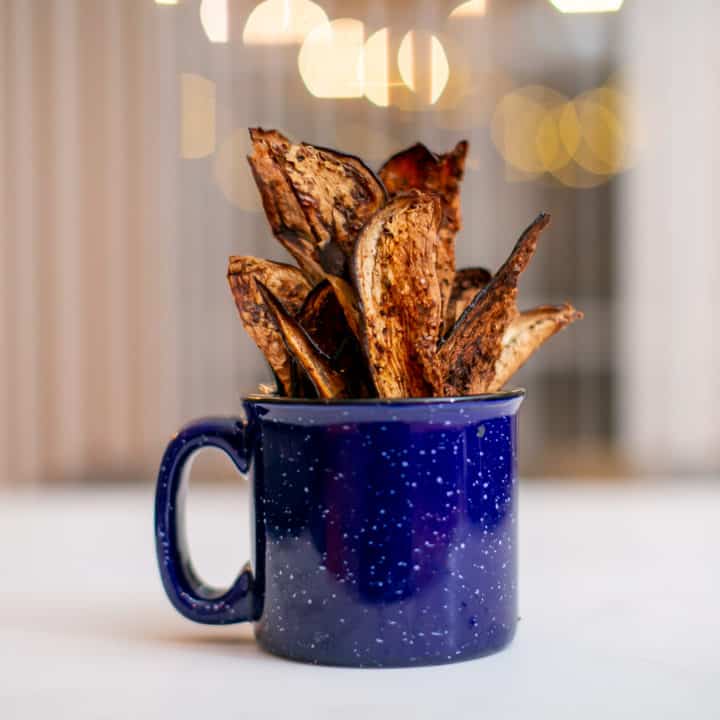 Ingredients
1

Eggplant

3

tablespoons

Olive Oil

Sea Salt + Pepper to taste

Paprika to taste

Optional

Mesquite Smoked Powder to taste

optional
Instructions
Preheat oven to 275F

Wash eggplant

Slice into 1/4 inch slices the long way

Place eggplant on a baking sheet lined with parchment paper

Season with salt and pepper and any other seasonings of choice 

Place in oven for about 1 hour or until crisp
Nutrition
Calories:
121
kcal
|
Carbohydrates:
7
g
|
Protein:
1
g
|
Fat:
11
g
|
Saturated Fat:
1
g
|
Polyunsaturated Fat:
1
g
|
Monounsaturated Fat:
8
g
|
Sodium:
3
mg
|
Potassium:
262
mg
|
Fiber:
3
g
|
Sugar:
4
g
|
Vitamin A:
26
IU
|
Vitamin C:
3
mg
|
Calcium:
10
mg
|
Iron:
0.3
mg