As an Amazon Associate we earn from qualifying purchases.
My fiance's mom loves to make desserts, and one of the desserts she's always told me is so easy to make is no bake cheesecake bites. They're great for parties or family gatherings, and it's simple to add various flavorings to them. After trying hers a couple times and seeing how addicting they really are, I decided to try making them.
What is a No Bake Cheesecake?
A no bake cheesecake is one where you don't have to bake it in an oven and it does not require eggs. All of the ingredients are ones that do not need to be cooked in any manner to be eaten.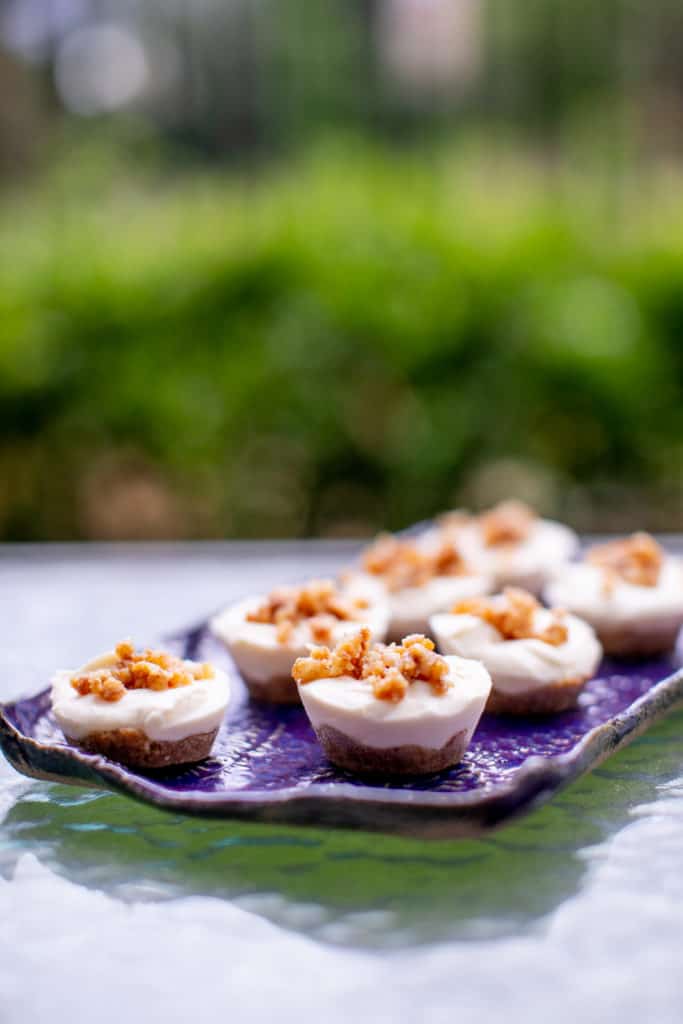 Rather than making one big cheesecake, I'm going to be making cheesecake bites. Personally, I like the bites more because it allows you to have several mini servings of a cheesecake. I find cheesecake to be pretty rich, so having a small bite of it is more preferable.
My Approach to a No Bake Cheesecake Bites
For my no bake cheesecake, I'm going to break it down into 3 main components:  
Oreo crust
Cheese filling
Topping
I chose to do an Oreo crust for me mainly because I had a box of Golden Oreos and I was looking for something to use them for before they went stale. Because Golden Oreos mainly have a vanilla flavor, they work really well as a crust and don't overpower any other flavors you have in the dish. If you don't have Oreos, you can substitute them with graham crackers. 
What Makes a Good No Bake Cheesecake
When it comes to making this type of cheesecake taste good, the key is making sure it has a light texture. Since you are not using egg and instead you're using cream, it can be easy to have it naturally taste heavier . You want to be careful to not go overboard on the amount of cream you use.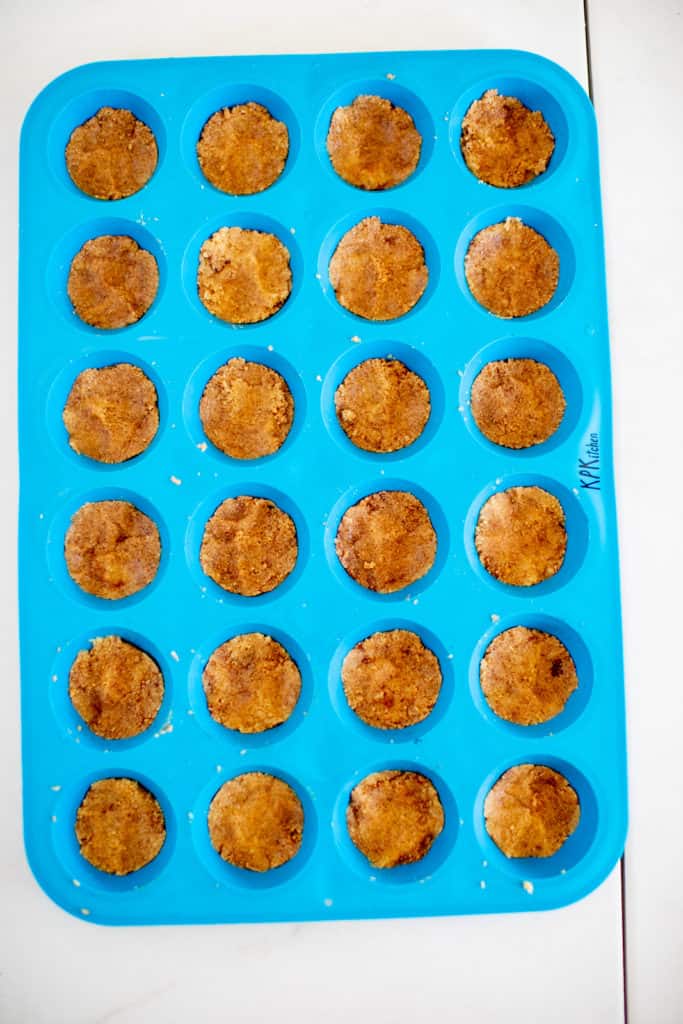 Additionally, the cheesecake should not be too sweet. As you'll see in the ingredients, there is a good amount of sugar in this. To balance out the sweetness, I'm going to add citrus into my cake. I'm a huge fan of key lime, and I happened to have key lime juice in the house, so that's the citrus flavoring I went with. Lemon juice also works really well. 
The Challenge with Bakeless Cheesecake Bites
This biggest challenge with making a bake-free cheesecake is when you need to combine the cheese filling and the cream together. When you do this, you need to fold the cream into the cheese. You do not want to mix them together. 
My Solution
To fold, you'll want to take the bottom layer and place (or fold) onto the top. It's important to do this so you don't pop all of the air bubbles that you spent time making with your cream. This is a similar process to when you're making a souffle. 
Flavorful Additions
As mentioned, I'm adding key lime citrus juice to my cheesecake to balance out the sweetness in it. Additionally, I'm going to add macadamia nuts as a topping to bring in a subtle crunch and texture. Some alternative additions are:
Lemon juice
Strawberry jam
Blueberries or raspberries
Walnuts
Roasted coconut
Chop the nuts quickly with a nut chopper.
Tools Required
You'll need the following tools for this dessert: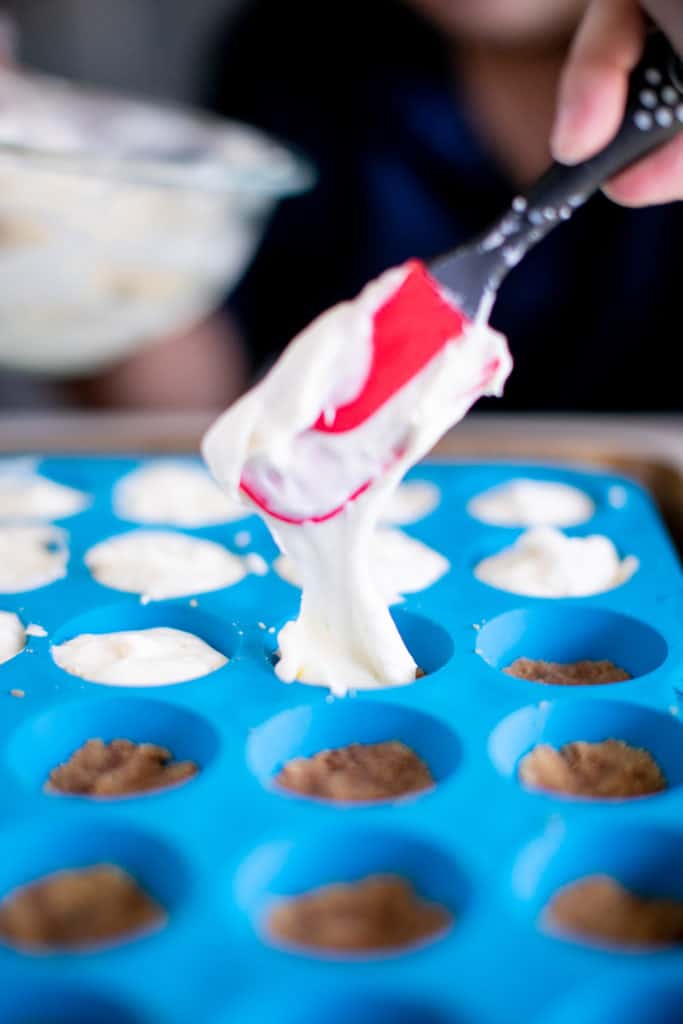 2 mixing bowls
Mixing spoon
Whisk
Spatula
Measuring cups
Silicon muffin baking tray (if you don't have a silicon tray, you can use a metal muffin baking tray with paper cupcake liners)
Food processor (you can also use a Ziploc bag for this part if you don't have a food processor)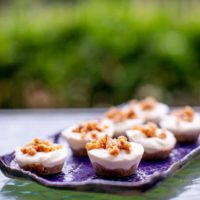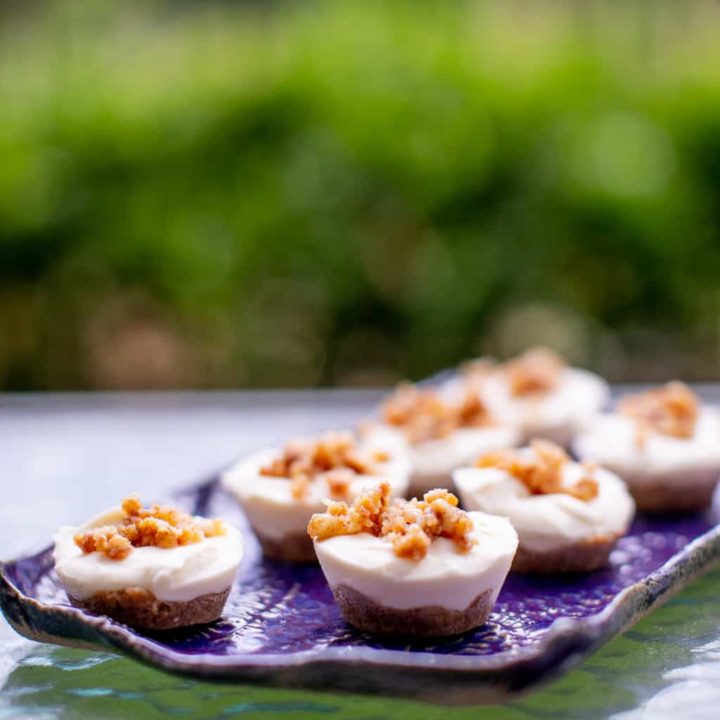 Ingredients
Oreo Crust
2/3

cup

oreos

(about 8 oreos)

1/4

cup

brown sugar

1/4

cup

butter
Cheese Mix
1/2

block cream cheese

1/3

cup

granulated white sugar

1

tablespoon

sour cream

1

teaspoon

lemon juice

1/2

teaspoon

pure vanilla extract

1

tablespoon

key lime

(optional)
Cream Mix
1/3

cups

heavy cream or heavy whipping cream

1

tablespoon

confectioners' sugar
Toppings (optional)
12

macadamia nuts blitzed

(optional)

Fresh fruit

(optional)
Instructions
Make the crust by blitzing Oreos, butter, and brown sugar in a food processor. Or if you do not have a food processor, place in a ziploc bag and start to crush by hand.

Press evenly into mini muffin tin and put in freezer

Make the cheese mix by adding the cream cheese, granulated sugar, sour cream, and vanilla extract into mixing bowl

Add the citrus juice and or zest into mixing bowl (optional) 

Mix until there are no lumps in the cheese mixture and place to the side

Make your cream mix by adding heavy cream and powdered sugar into another mixing bowl (very important, must be clean) 

Whisk until stiff peaks form 

Fold the cream mix into the cheese mixture (do not mix it in or you will pop the air bubbles!)

Spoon into molds

Add any additional toppings

Set in fridge for 6 hours or overnight

Enjoy

Depending on your mold if you are having trouble getting them out, you can freeze for 30 minutes then they will be stiff enough to force out. Then just let them warm up a bit at room temp for 30 minutes or so and you can serve. 
Nutrition
Calories:
117
kcal
|
Carbohydrates:
14
g
|
Protein:
2
g
|
Fat:
7
g
|
Saturated Fat:
4
g
|
Polyunsaturated Fat:
0.4
g
|
Monounsaturated Fat:
2
g
|
Trans Fat:
0.1
g
|
Cholesterol:
15
mg
|
Sodium:
101
mg
|
Potassium:
50
mg
|
Fiber:
0.3
g
|
Sugar:
11
g
|
Vitamin A:
170
IU
|
Vitamin C:
0.3
mg
|
Calcium:
35
mg
|
Iron:
1
mg
8 Beginner Cooking Tips I Wish I Had Known