As an Amazon Associate we earn from qualifying purchases.
Why do you need a nut chopper? Modern nut choppers are multi-use compact tools in the kitchen that can do much more than pulverizing almonds and walnuts.
There are many different designs and features to consider when it comes to the best nut chopper on the market. You can use many appliances, from spice grinders to blenders to chop nuts, so let's take a look at what makes each unique. 
My Top Nut Chopper Reviews
Utility is everything when it comes to nut choppers or light food processors. While it isn't that difficult to chop up nuts (they aren't tough), any appliance you buy needs to justify the space it takes up in your cabinet or on your counters. 
My favorite, the Ninja QB1004, is an absolute workhorse for a nut chopper that can moonlight into a light ice-crushing blender. So, if you don't want to read all of my reviews, go with the Ninja QB1004. Otherwise, read on to see my top recommendations for appliances that can chop nuts.
Brand
Round Mandoline Nut Chopper
Product
Product
Product
Brand
Round Mandoline Nut Chopper
Product
Ninja QB1004 Blender and Food Processor
My favorite option for a nut chopper is the Ninja QB1004 Blender/Food Processor. The Ninja QB1004 is a powerhouse unit when it comes to value. Not only can it chop, dice, and blend nuts, but it can also crush ice. That should give you an indication of how powerful this blender is. 
With 450 watts of power, you can make quick work of even the hardest nuts. While not the strongest blender on the market, it is very respectable for its compact size and more than twice as strong as the other nut choppers on this list. 
Along with being a blender, this is also a food processor. If you're looking to save space in the kitchen using multi-functional tools, this Ninja appliance can chop food, blend drinks, and make soups. 
There is only one area the Ninja QB1004 cannot tackle: shredding. Unlike a traditional food processor with plates and a hopper, the Ninja only supports the included blades. If you can live with shredding cheese and vegetables by hand, then the QB1004 by Ninja is an excellent option to take care of the rest of your everyday kitchen needs. 
Granularity is controlled by a simple on/off pressure switch, and you can quickly tap it for a coarse chop or hold it down to blend and puree. One convenient feature is that the multiple container bases come with lids that allow you to prep and store food before you need it. 
Pros
High power 450-watt motor
Works as a blender and food processor
Compact design works well for small kitchens and limited counter space
Store food in the bases with the included lids 
Cons
Plastic drive shaft and parts are strong enough for occasional heavy use but will not last under sustained heavy load
No attachment to shred food like a traditional food processor is included
No motor overload protection (if you force the motor too hard, it will burn out) 
Ninja Food Chopper Express Chop
If you can push a button, then you can use the Ninja Food Chopper. The Ninja Food Chopper Express is a no-frills chopping and food processing machine. 
Manual pulsing allows for control over the granularity. Just load it up with the nuts you want to chop, push the button, and stop when you achieve the granularity you want. 
A nice feature of Ninja Choppers is the prep and store lids that come with each container. With the included tops, it is easy to prep your food in advance and seal it with the included lids for later use. You can store a maximum of 16 ounces in the included chopping vessel.       
Pros
Quick and easy to use 
Dedicated chopping unit, can chop nuts, vegetables, even meats 
Very compact, great for small kitchens with limited space for appliances
Storage lid allows you to chop and save
Cons
No shredder option 
Plastic parts won't be a problem with nuts or vegetables but won't last forever 
Liquids can get up into the space around the drive socket, which can be difficult but not impossible to clean 
Ninja offers other packages with more utility and power if you want to do more than chop
Ninja Food Chopper Express Chop with 200-Watt,...
200 watt power pod.
Effortlessly mince, chop, grind and blend a variety of ingredients for easy meal preparation or...
Perfect for garlic, onion, zest, spices, herbs, cheese, bacon crumbles, nut chopping, chocolate,...
Round Mandoline Nut Chopper
The Round Mandoline Nut Chopper takes inspiration from the shredder family of food processors. The Round Mandolin Nut Chopper can make quick work of nuts for a fine or coarse "chop." 
Unlike the two Ninja devices and the Cuisinart chopper, the Round Mandoline Nut Chopper is manual rather than electric. While this might initially be seen as a downside, manual appliances will oftentimes last longer since there are no motors or electric components in them that can break.
While you won't have fine-grain control of the end product, you will see tons of utility from the shred and slice settings. Unfortunately, there is no dedicated chopping function in the Mandoline Nut Chopper since food is hopper-fed into the rolling dies. 
You can "grate" food, so nuts will still end up fine and powdery, but this wouldn't be a great option if you want to use the chopper for other foods like onions or tomatoes for salsa.  
Additionally, this chopper does not come with any sort of built-in storage like all of the other devices on my list. So, as you chop nuts, you'll need a bowl or container for them to be immediately chopped into.
Pros
Can slice, shred, and grate
Safe large hopper, big enough for white potatoes and keeps your hands away from blades
Manually powered with no motors to wear out 
Cons
No dedicated chop setting
No control in size other than the two included shredding blades
Many parts and a hopper system make this a bit harder to use for a new cook 
Round Mandoline Drum Slicer Rotary Cheese Grater...
HEALTHY AND USEFUL - This round drum slicer blades are made of high quality stainless steel, other...
EFFORTLESS AND SAFE - With a big hopper and sharp blades, this round drum slicer can grate and slice...
MULTIPLE FUNCTIONS IN ONE TOOL- This round drum slicer has 3 easily interchangeable drum blades for...
Prepworks by Progressive Nut Chopper with Non-Skid Base
The Prepworks Nut Chopper is purpose-built and does precisely what it says it does. If you need to chop nuts without any fuss, this is the right tool for your kitchen. You can process nuts fast, efficiently, and reliably. 
Similar to the Round Mandoline Chopper, this unit is manually powered. This means you need to use a bit of elbow grease to get the job done, but you won't need to worry about burning out or replacing an expensive motor over time. 
Unlike the Round Mandoline Chopper, the Prepworks chopper does have a clear base that you can chop and grind your nuts directly into. This base has a capacity of 1.5 cups (12 ounces), which is slightly smaller than the Ninja Food Chopper Express.
Just be careful not to overload the hopper, as the more you put into the top, the more force you'll need to chop.   
Pros
Simple mechanical design is compact and cost-effective 
Made to chop nuts, it does exactly what you think it does
Manual operation, few parts to break, power is what you can put into it
Cons
Only 2 settings: coarse and fine 
Cannot shred or slice
Tiring to use when processing large batches 
Prepworks by Progressive Nut Chopper with Non-Skid...
NUT CHOPPER: This nut chopper is great for chopping all different type of nuts & seeds: almonds,...
PATENTED DESIGN: This nut chopper features fine to coarse grinding options & a patented elliptical...
FOOD PREP MADE EASY: We offer kitchen accessories that make food preparation faster, easier & more...
Cuisinart SG-10 Electric Spice-and-Nut Grinder
Super compact, the Cuisinart SG-10 Spice and Nut Grinder is perfect for those looking for a dedicated spice and nut grinder. With a simple push of the button, you can chop or grind spices and nuts to your desired granularity. 
Like the Ninja Food Chopper Express Chop, it has a 200 watt motor, so you won't have any issues chopping most nuts. Even though it's not as powerful as the Ninja QB1004, this Cuisinart Electric Grinder is not meant to be a food processor like the Ninja. 
The biggest downside of this grinder is its capacity. It can only hold 3.17 ounces, which is much smaller than all of the other devices on my list, except for the Round Mandoline which does not include a storage unit at all. 
Pros
Stainless steel construction will not absorb flavors 
It can be used as a grinder for spices
200-watt motor is plenty to chop nuts or spices
Cons
Capacity is less than 4 ounces
Not airtight, so when grinding very fine power, some can get out
Features to Consider for Nut Grinders
When looking at nut choppers and grinders, I am looking for something that can create big chunks for a pie or salad down to fine powders for baking or kinds of butter. With every appliance I add to my kitchens, I also need to be thinking about what other use cases it can solve for us. 
Space is always at a premium in the kitchen, so frequently, I want something that can "do it all" or at least do enough to justify the space. If it is too much of a hassle to clean, prep, or use, then chances are you won't use it. 
| Product | Wattage | Capacity | Electric or Manual |
| --- | --- | --- | --- |
| Ninja QB1004 Blender | 450 watts | 16 – 48 ounces | Electric |
| Ninja Food Chopper Express Chop | 200 watts | 16 ounces | Electric |
| Round Mandoline Nut Chopper | 0 watts | N/A | Manual |
| Prepworks by Progressive | 0 watts | 12 ounces | Manual |
| Cuisinart SG-10 | 200 watts | 3.17 ounces | Electric |
Granularity Control
The most important thing in a nut chopper, or any chopper, is how big or small it can chop. The unit must be able to chop coarse and fine. Granularity can be achieved manually through a pulse setting or mechanically controlled with blade or grinder settings. Ideally, parts will not need to be swapped out or capped by too few settings. 
Utility
Few people are looking for appliances that can only perform one function in their kitchen nowadays. Nut choppers are no exception. When you buy a nut chopper, you are looking for what else it can do. Can you make salsa, can you chop onions, does it blend, does it shred, can it grind? The more utility a chopper has, the more it justifies space in your cabinets and on your counter. 
Ease of Use
Anything with blades needs to be safe and efficient to use to justify having it in your kitchen. If the product is not intuitive or difficult to manipulate, you won't use it. All of the choppers I reviewed are easy to use, and both of the Ninja on/off systems are the easiest to use.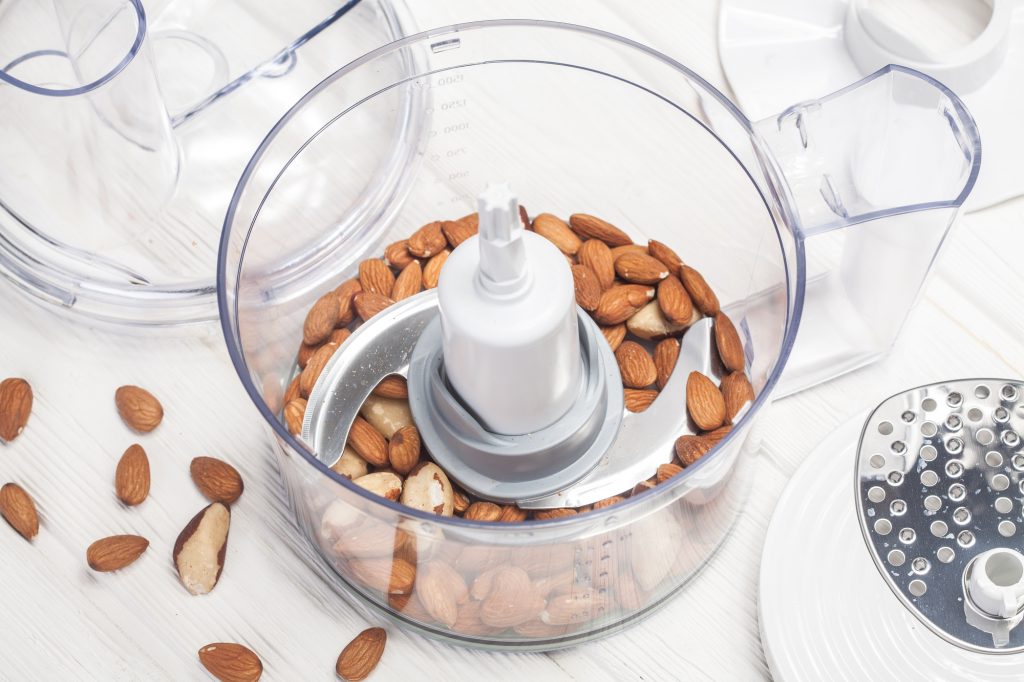 Frequently Asked Questions
Can Nut Choppers Be Used to Chop Other Foods?
If your nut chopper has a spinning blade assembly like a food processor, then it can be used to chop other vegetables. Some units are even powerful enough to chop meat and crush ice! Metal driveshafts are the best for heavy-duty usage, but even plastic ones can be powerful enough to do light ice work. 
Can You Use a Coffee Grinder to Chop Up Nuts?
A coffee grinder can be used as a nut chopper if you want finely chopped results. In fact, coffee grinders excel at fine powdery results (a nut is much softer than a coffee bean). Be aware you aren't getting halves or course chops as I think of them for salads and baked dishes. 
What Cookware Do You Actually Need?
Conclusion
I spend so much time processing food on a cutting board, from nuts to vegetables to meat. With modern nut choppers and food processors, I can ditch the cutting board and manual knife work for a quick and easy solution that will save time.