As an Amazon Associate we earn from qualifying purchases.
If you're a Millennial, chances are you've had a White Claw (or at least have seen them at a social gathering). This alcoholic sparkling water seemed to become an instant hit overnight, and for a while, it was almost impossible for stores to keep this brand on the shelves.
Due to its popularity (and the fact that my wife has also jumped on the White Claw train), I thought it was time to make a simple White Claw cocktail recipe to see if I could enhance this drink.
Why I'm Making a Lime White Claw with Vodka Cocktail
As mentioned above, my wife is a fan of White Claws. They're easy drinks to sip on after a day of work or when I'm hanging out with friends on the weekend. Personally, I think they're a little boring, so I wanted to see if I could take the lime flavored White Claw and turn it into a better tasting cocktail.
A White Claw cocktail involves using your favorite White Claw flavored drink (I'll be using the lime flavor) and mixing it with a variety of ingredients to create a fun mixed drink. A White Claw is basically made up of seltzer water, citrus, and alcohol.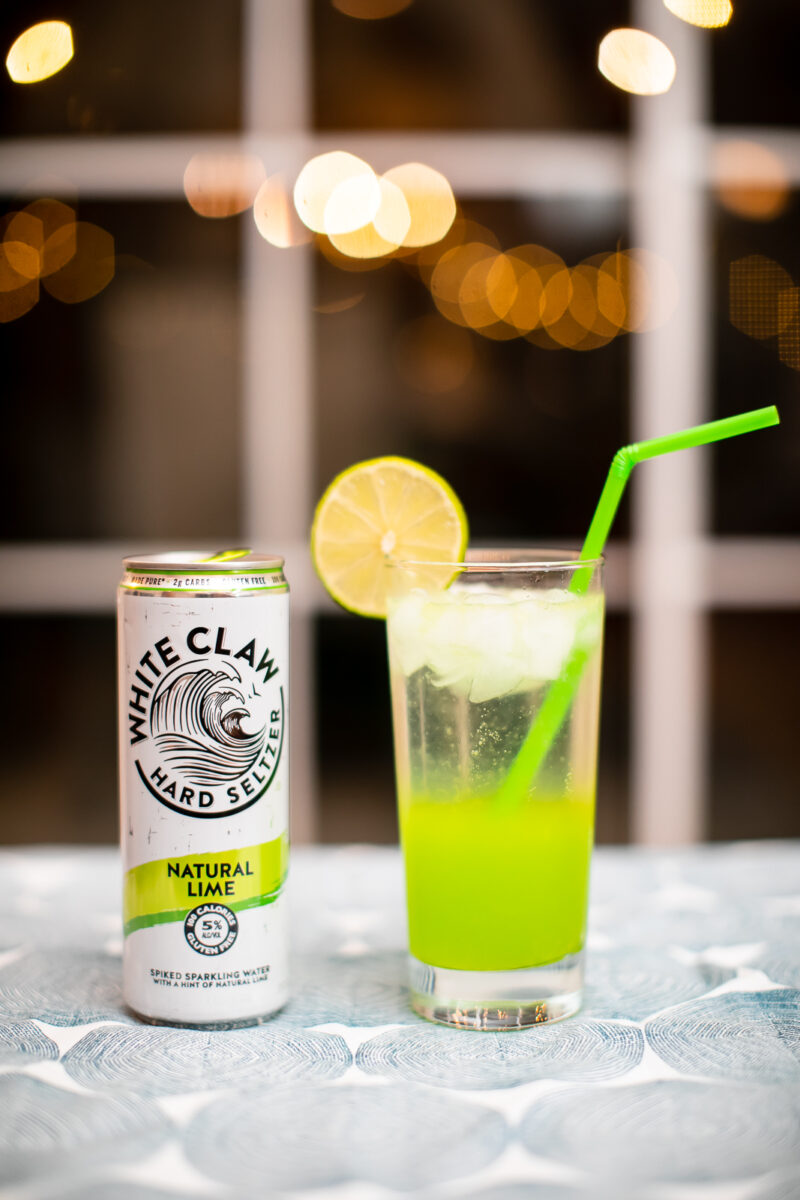 Ingredients
In making this cocktail, I'm going to play to those strengths by adding ingredients that enhance the current flavors.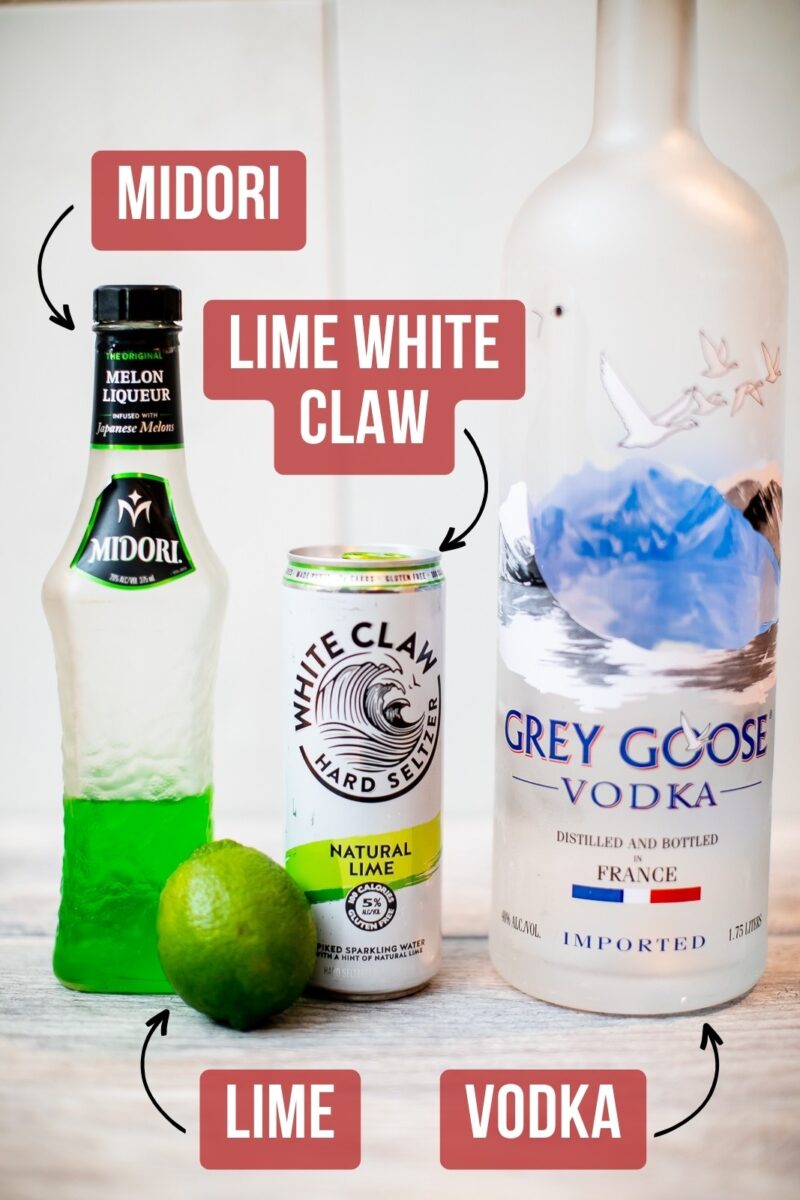 A Lime White Claw is going to be the base of this cocktail. I chose lime because it taste like real fruit, and lime is a common cocktail ingredient, so it should mix well. 
Midori is a melon liqueur. It also adds a subtle fruit, sweetness, and some much needed bright green color which makes the layers on this drink much more distinct and interesting!
Vodka is the alcohol I chose to add because White Claw is pretty tame in flavor, and other spirits are likely to overpower it. 
Lime adds acidity, which helps to balance out the drink. If you can, use the juice from an actual lime rather than lime juice in a bottle to give your drink that fresh citrus flavor. Bottled lime and lemon juice have preservatives and are flat and stale compared to the real fruit. I will also use part of the lime as a garnish for the cocktail, so you might as well get a real one.
Ice is not required, but drinking this cocktail on the rocks definitely adds to the refreshing nature of the cocktail.
Recipe Instructions for Lime White Claw Cocktails with Vodka
Step 1: Pour Midori and Vodka into a Shaker
I want to use a cocktail shaker because this will be a refreshing citrus cocktail. The agitation and aeration from shaking ensure as much of the citrus flavor is dispersed into the drink.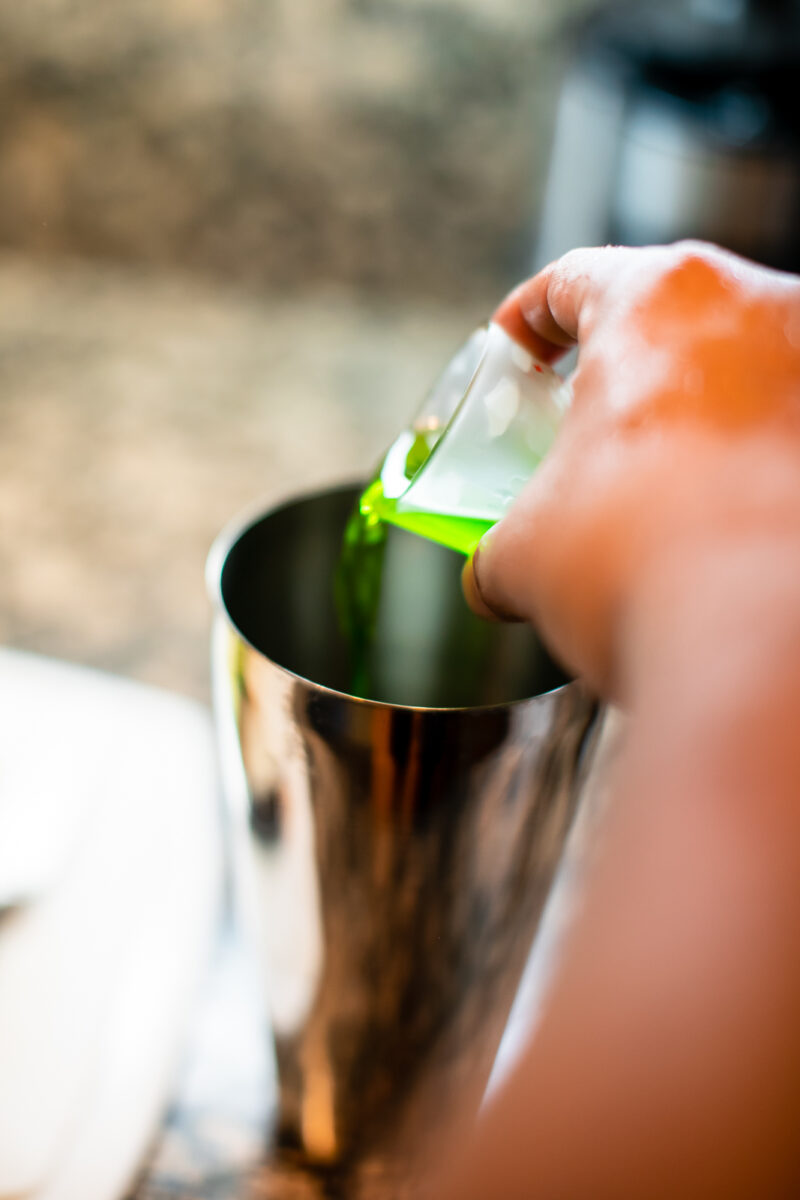 Step 2: Cut the Lime in Half
Cut the lime in half through the equator to make it easier to juice. For the garnish, citrus wheels look more impressive than wedges, which is why you'll want to cut it this way. 
If you cut it through longitudinally, you may want to quarter the lime to juice and garnish. 
Step 3: Slice the Lime
Slice 1 full circular round of the lime, no more than ¼ inch thick. This will be used to garnish the drink. After you have your wheel of lime, cut perpendicularly through just the skin and pith to make it easier to place the wheel on the glass.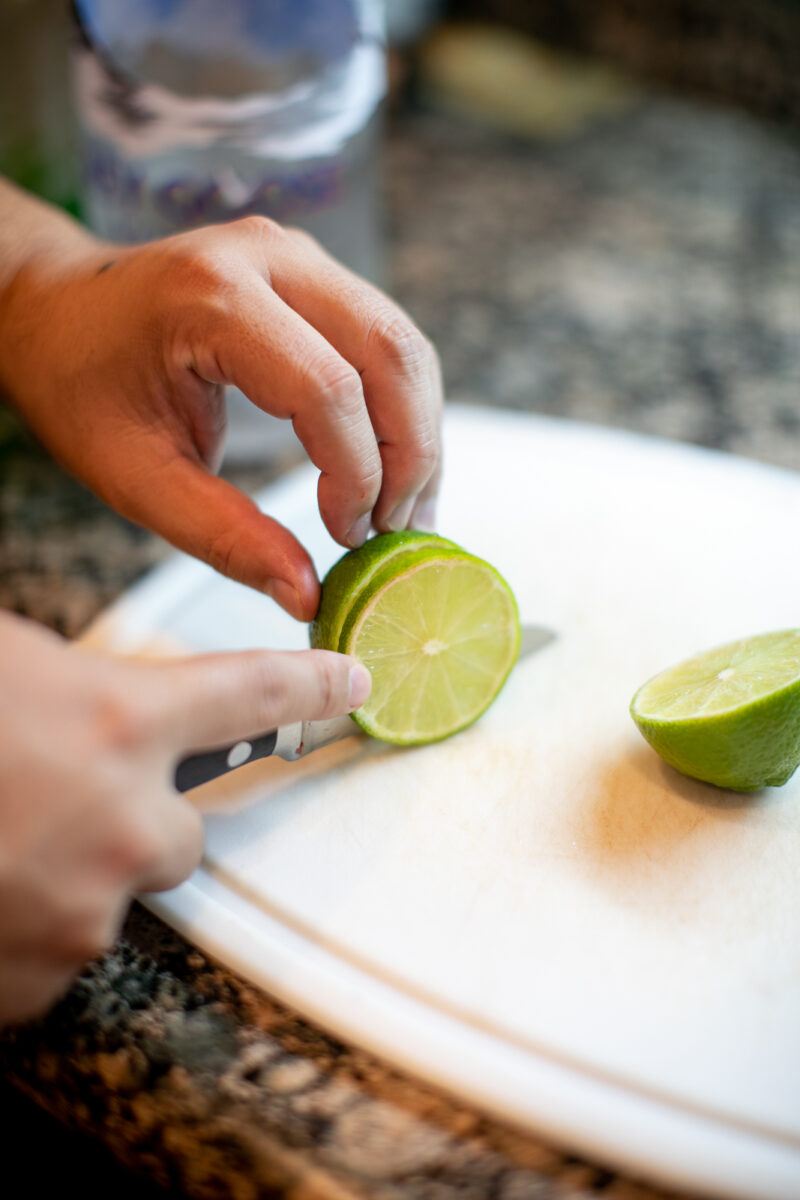 Step 4: Juice the Lime
Use a metal spoon to juice the lime directly into the shaker. If you do not have a spoon, you can juice the lime by squeezing it. 
Step 5: Add Ice
Fill your glass ¾ full with ice and then pour it into the shaker. I want enough ice to fill the glass but keep enough space still for the cocktail. I use the drinking glass to size out what needs to go into the shaker. If you pick out too much ice, you can always leave the extra in the shaker. 
Step 6: Shake 10 times
The shaker should get very cold after 10 shakes. Make sure you hold both sides of the shaker firmly so it won't open, spilling your cocktail everywhere. 
Step 7: Pour the Mix
This recipe makes about 2 servings in a standard Collins glass, so you can pour it evenly into two glasses. If you are using a different glass type it makes about 1.5 White Claw cans worth.  
Step 8: Add the White Claw
I am pouring the vodka / Midori mix in first as it is denser and will sink to the bottom of the glass below the White Claw. This layering is due to a higher specific weight.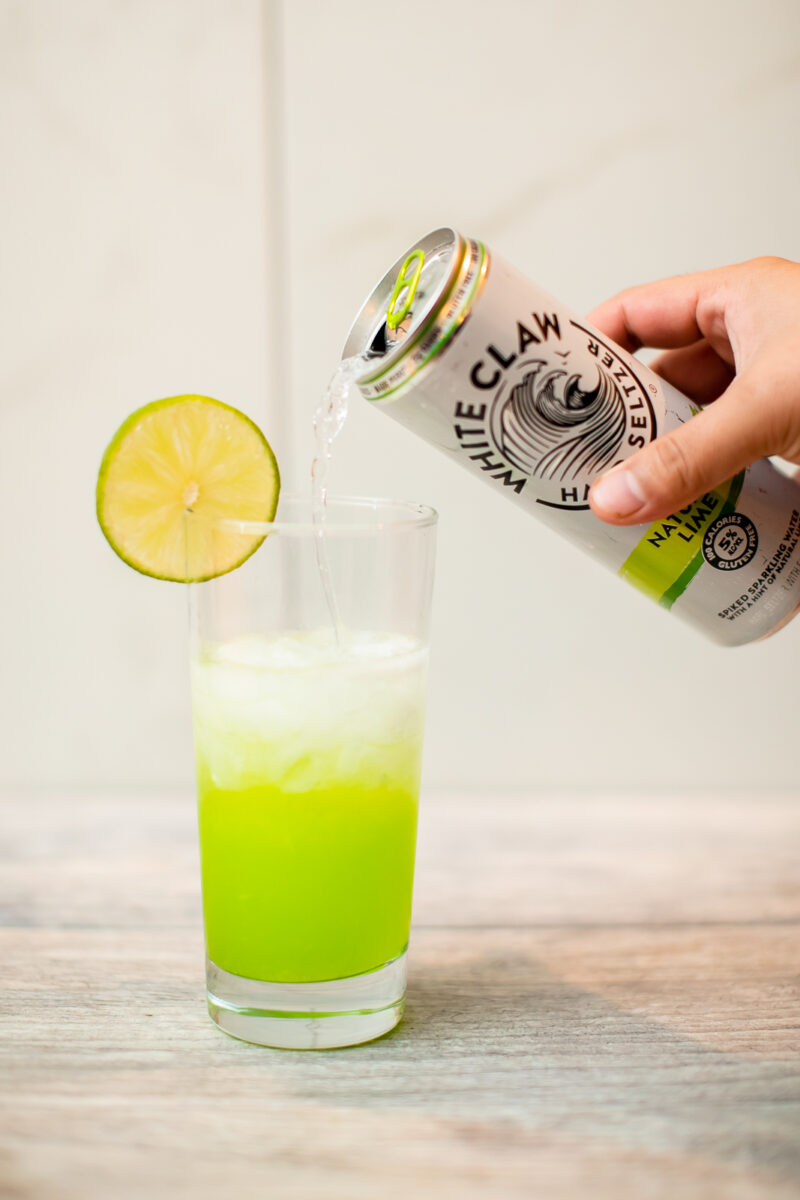 Step 9: Garnish and Enjoy
Place the cut side of your lime wheel onto the glass to finish your presentation. If you made a lime wedge, you'll still want to give it a slight snip with a knife or scissors to make it stay on the glass. 
Substitutions in the Recipe
The big question is, can you substitute other flavors of White Claw or even other hard Seltzers in this recipe? Yes, you can! The idea of a seltzer cocktail is to treat the seltzer as its components. 
So, for example, a lime White Claw is essentially lime juice, lime oil, seltzer water, and flavorless alcohol. Most other hard seltzers will have a similar combination of ingredients, so you can easily replace a White Claw with your favorite brand.
Lime White Claw Cocktail with Vodka Tips
On its own, White Claws have a very mellow flavor (they're essentially sparkling water with alcohol). In order to make a good cocktail with this drink, you really need to reinforce the flavor of the White Claw. 
In my case, I chose the lime-flavored one, so I want to focus on that and add more lime and citrus flavorings to the drink. If I chose the raspberry claw, I'd pivot and focus on other berry flavors to add to the cocktail.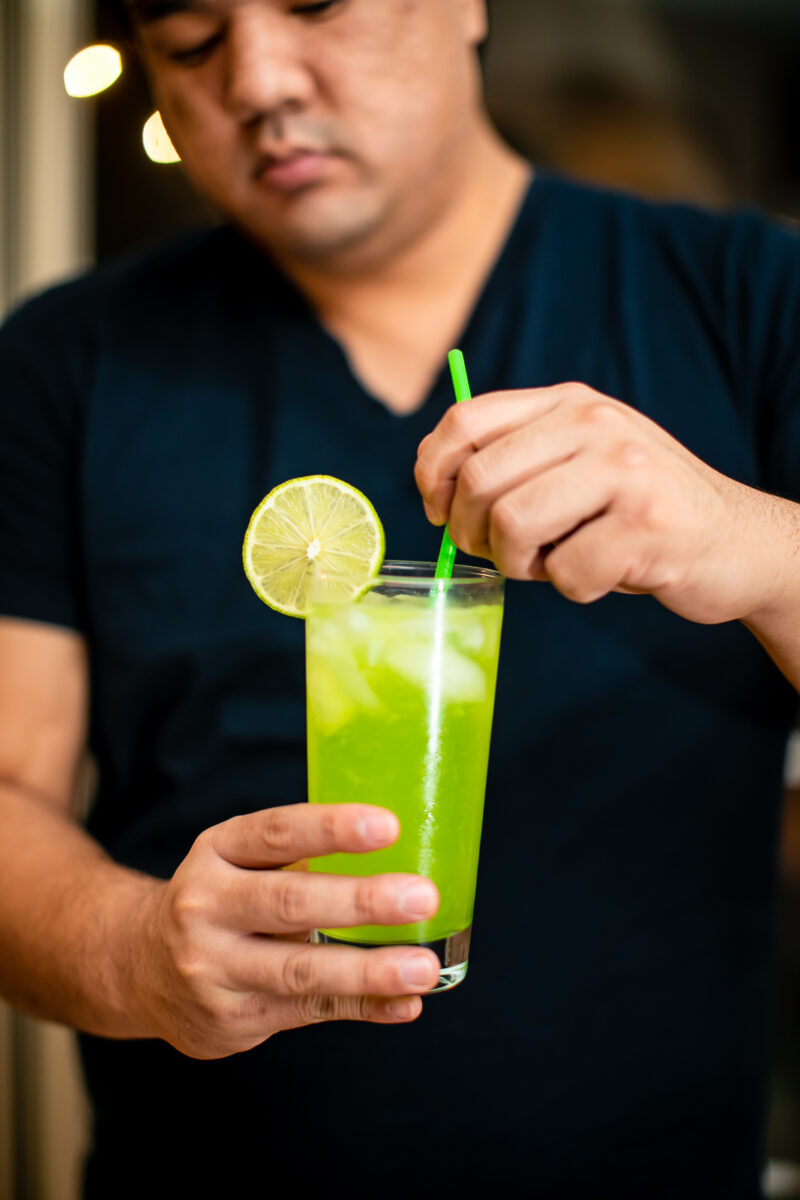 When it comes to making chilled citrus drinks, you want to shake rather than stir when combining all of the ingredients. This is because it better distributes the citrus throughout the drink.
Since this cocktail is focused on the lime flavor, the following foods would work well with it:
Related Questions
What Kind of Alcohol is in Lime White Claws?
Lime White Claws contain gluten-free, neutrally flavored malted grain alcohol. This would be similar to any other malt beverage like Smirnoff Ice.
The main difference between White Claw and its other malt brethren is it happens to have very little added sugar.
Is White Claw Just Vodka?
No, White Claw is not Vodka. White Claw contains gluten free malted grain alcohol. Vodka is not a malted grain alcohol, so White Claw cannot be Vodka. 
How Do You Make White Claws Good?
The main issue with many White Claws is that the flavor profile can be weak or artificial tasting. To make your White Claw taste better, you can add in the juice or essential oil of whatever the flavor is.
For example, if you have a lime White Claw, add some fresh lime juice and lime zest to the mix, and it will bring a ton of life and complexity to your drink.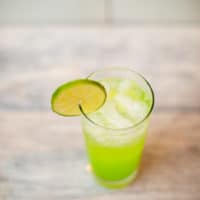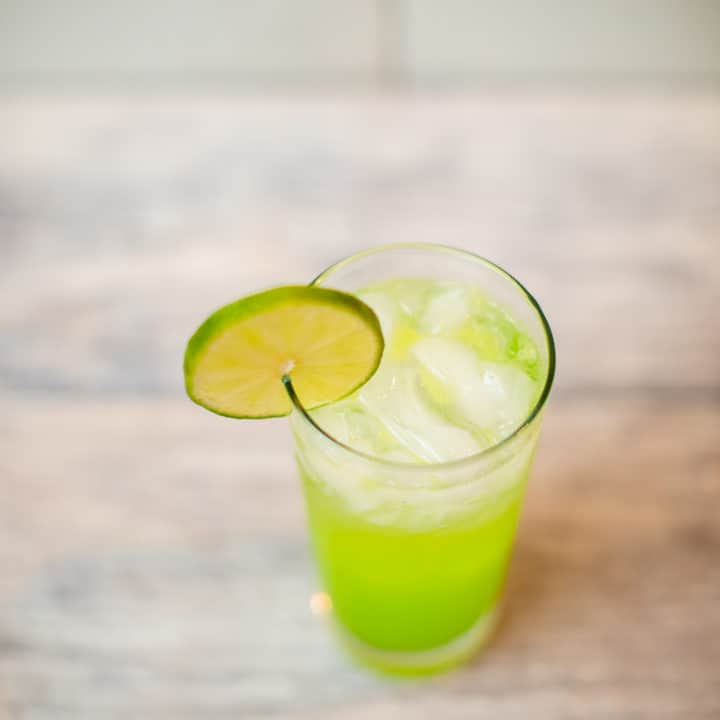 Ingredients
1

can

Lime White Claw

2

shots

Midori

2

shots

vodka

1

whole

lime

1

handful

ice
Instructions
Pour Midori and vodka into shaker

Cut the lime in half 

Slice 1 full circular round of the lime, no more than ¼ inch thick – this will be used to garnish the drink

Juice the lime into shaker

Fill your glass ¾ full with ice and pour into the shaker

Shake 10 times

Pour evenly into the 2 glasses

Top each glass with White Claw

Garnish with lime and enjoy responsibly
Notes
In order to make a good cocktail with this drink, you really need to reinforce the flavor of the White Claw. 

In our case, we'll add more lime and citrus flavorings to the drink

When it comes to

making chilled citrus drinks

, you want to shake rather than stir when combining all of the ingredients. This is because it better distributes the citrus throughout the drink

If you don't have a White Claw, you can use other hard seltzers as well
Nutrition
Calories:
231
kcal
|
Carbohydrates:
20
g
|
Protein:
1
g
|
Fat:
0.1
g
|
Saturated Fat:
0.01
g
|
Polyunsaturated Fat:
0.02
g
|
Monounsaturated Fat:
0.01
g
|
Sodium:
1
mg
|
Potassium:
35
mg
|
Fiber:
1
g
|
Sugar:
17
g
|
Vitamin A:
17
IU
|
Vitamin C:
10
mg
|
Calcium:
11
mg
|
Iron:
0.2
mg
Beginner's Guide to Mixed Drinks and Cocktails