As an Amazon Associate we earn from qualifying purchases.
Today we'll be making a simple Japanese white sauce recipe. Before we dive in, let's get one thing straight. This sauce is far from what you'd call authentically Japanese. Traditionally, the thing I love about Japanese food is its minimalistic approach to flavors and ingredients. Most traditional dishes are made from a few ingredients with nothing to hide behind. 
Sauces, in particular, are not too common in Japan, especially ones made up of so many ingredients. All that said, there is no hard and fast rule when it comes to more modern Americanized and fusion interpretations of Japanese cuisine. Being of Japanese descent, I like to think of the dual nature of Japanese cuisine like this.  
What is a Japanese White Sauce?
Our Japanese white sauce recipe is based on the white sauce given to patrons of teppanyaki style restaurants (such as Benihana where they cook food on a big flat iron grill in front of you). The servers might say the sauce is just for meat or just for vegetables (depending on where you go), but the reality is it goes well on everything.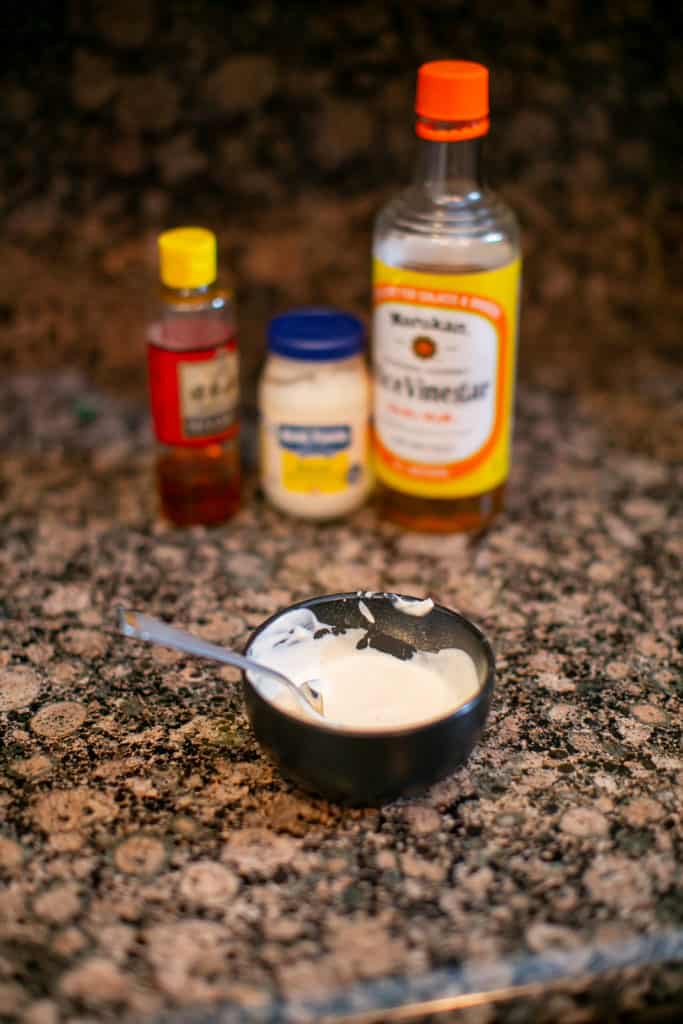 You might also have heard Japanese white sauce referred to as "yum yum sauce." I've asked teppanyaki restaurants why it's commonly referred to this way, and they respond by sharing that it's because when you try the sauce, you say "yum!" I don't know if that's the real reason for the name, but I thought it was clever. 
What Makes a Good Japanese White Sauce
Good Japanese white sauce should be rich, not too thick, and just a tad sweet. As I stated above, you want this sauce to go on basically anything you could find in a teppanyaki restaurant. That means it should go on steak, shrimp, zucchini, onion, fried rice, and so on. 
Pairings with Japanese White Sauce
Grilled meats and vegetables all pair with Japanese white sauce. Chicken, zucchini, and mushrooms are my favorites for this sauce.  
Tools Required
Making the sauce is very easy. You just need a dish to mix everything into and some measuring spoons. Once you make this a few times, you will probably be able to eyeball the ingredients, allowing you to forego using measuring spoons.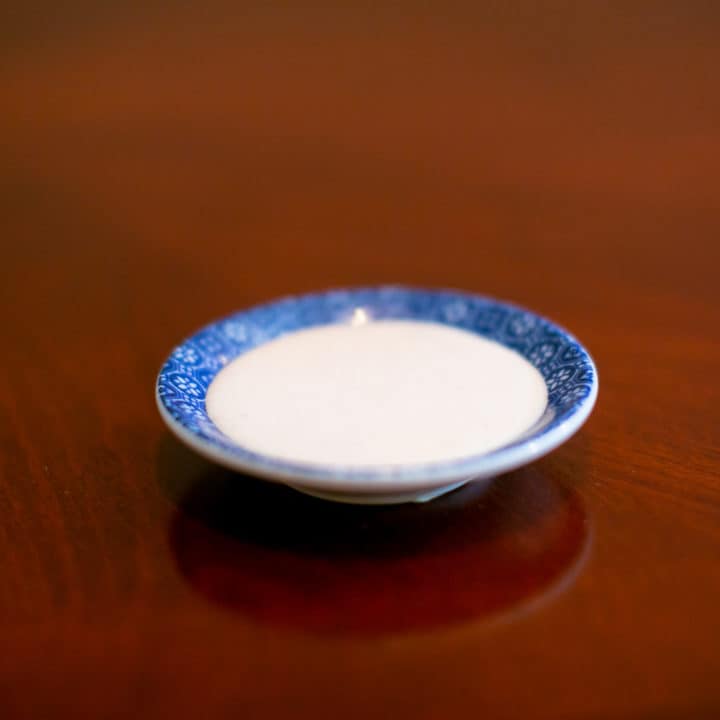 Japanese White Sauce
Total Time:
1 hour
5 minutes
Ingredients
3 tablespoons mayo
1/2 teaspoon tomato paste
1/2 teaspoon ginger finely chopped
1/2 teaspoon garlic powder
1/4 teaspoon sesame oil
1 teaspoon rice vinegar
1/2 tablespoon water
1/3 tablespoon melted butter
1/4 teaspoon sugar
Instructions
Put butter into microwave in 15 second intervals until melted 
Combine all ingredients in a bowl
Stir well until blended
Cool for 1 hour in fridge
Serve on top of food