As an Amazon Associate we earn from qualifying purchases.
Confession time – I do not like pre-made pasta sauces. Ever since living in San Diego, I have basically sworn the stuff off. They are normally fairly dilute and often over herbed or over sugared. 
Sure, you may not have time to stew your own tomatoes for hours on end, but I'll bet you have 20 minutes while your pasta cooks or 3-5 minutes in your microwave in a pinch. For my article today, I am doing a simple marinara sauce recipe using canned tomatoes. 
What is a Quick and Easy Marinara Sauce?
A quick marinara sauce is a tomato based sauce that can be easily cooked in under 30 minutes. There is no stewing, no simmering, and no pressure cookers – you can just heat it and enjoy. 
My Approach to an Easy Marinara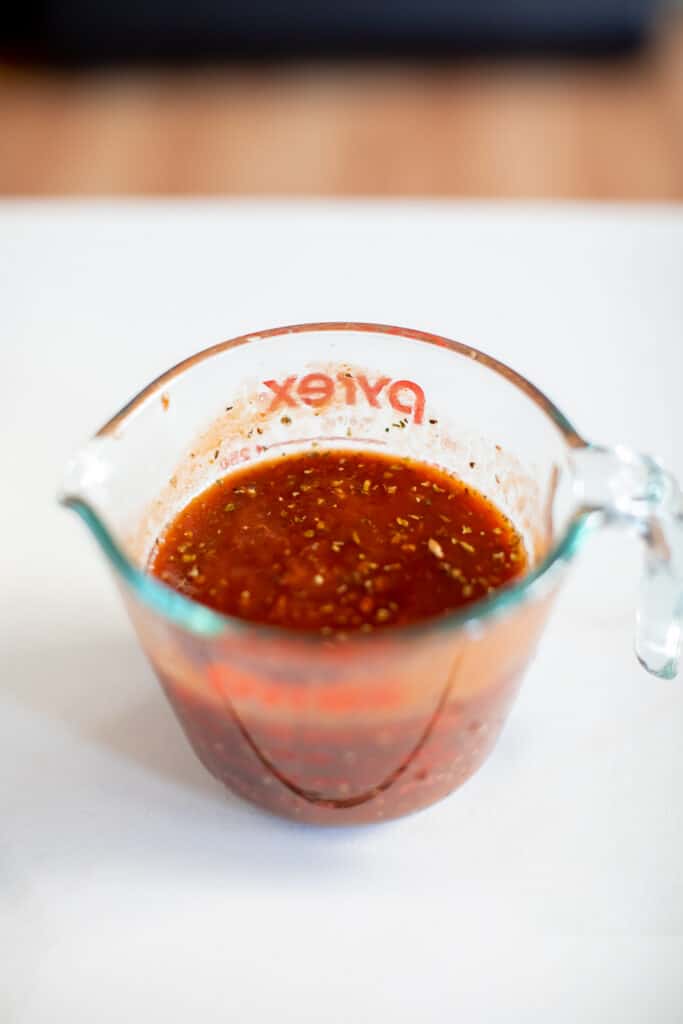 When it comes to an instant marinara, I want a recipe that can be easily thrown together with little to no technique, skill, or time requirement. 
Basically if you can measure, you can make this recipe. I am not planning to go win awards with this sauce. What I want is for my Beginner Food cooks out there to ditch the jars and start taking control of their sauces.    
The Challenge with Quick Marinara Sauces
The challenge in developing this recipe came from making the measurements as simple as possible. Ideally, I wanted to make this recipe in a way where all you needed was a can of tomato sauce and then 1 measuring spoon for everything else. I actually tried the recipe this way, and the sauce came out pretty good! 
But, I wanted to balance out the flavors a bit more, and that ended up with me needing to use 2 different measuring spoons in order to get the right flavors dialed in. So, certain ingredients will be measured with a tablespoon and others with a teaspoon. 
Developing Flavors
I'm going to do this section a bit different today since I am developing a flavor profile more than any actual cooking. You could almost say this is more like a cocktail recipe than a sauce. Let's break down how each ingredient will help develop the sauce: 
Tomato sauce: This is the base for everything I'm doing. You can use any canned tomatoes, from diced, to stewed, to crushed, to whole. Just expect that anything that still has pieces of tomato in it will need to cook much longer to break down and not taste like it came from a can. As a note, don't use tomato paste as it has like no liquid in it. 
Balsamic vinegar: This adds fruit complexity as well as more acidity and sweetness. 
Worcestershire sauce: Sound a little crazy to add English sauce to an Italian dish? It isn't when you consider one of the main ingredients of Worcestershire sauce is anchovy, providing a much needed umami kick in an instant sauce. The tamarind extract also goes a long way with the balsamic for fruit complexity. 
Olive oil: This mostly adds richness. Again, I'm cooking this so fast you aren't going to be able to develop the same kinds of texture that a stewed sauce can have. You will get some flavor from olive oil, but it's beyond tertiary in a sauce like this. 
Sugar: This will make your sauce richer and less acidic as long as it melts and incorporates in. 
Oregano and Basil: Outside of tomato, these herbs are the flavor I associate with Italian food.
Fennel: This is a very common Italian herb with a mild licorice flavor. This will complement the tamarind and balsamic. 
Salt: This enhances all flavors, especially those of tomatoes.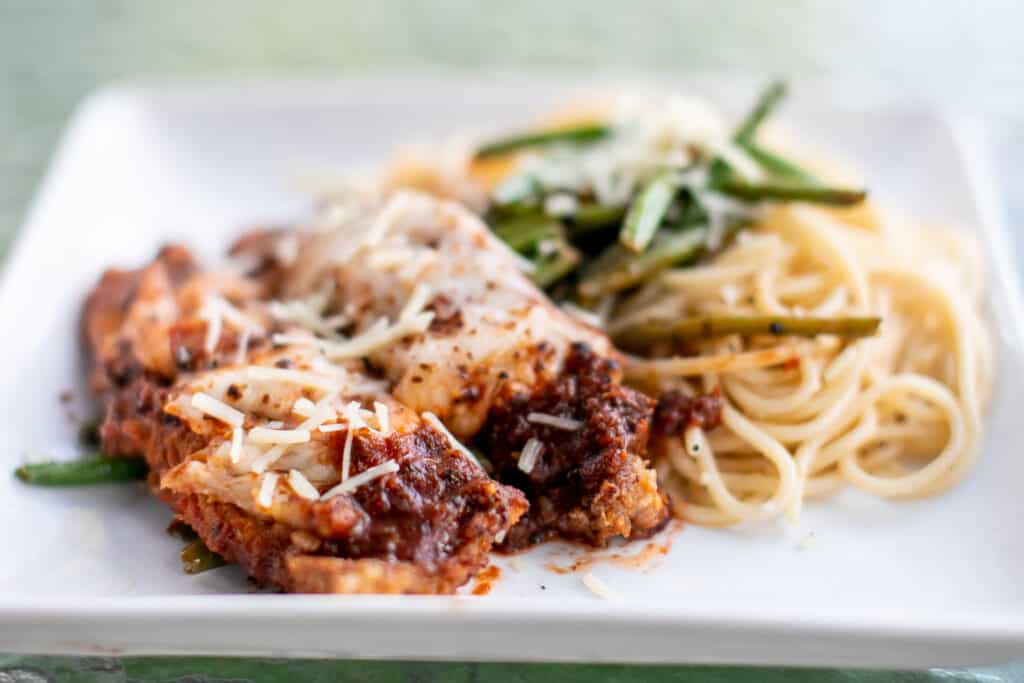 What Pairs with Marinara Sauce?
Obviously spaghetti is the go-to for pairing with marinara sauce. I like using marinara in two places: on my pizzas and on any pasta where the sauce is not the focus of the dish. 
For example, I actually developed this sauce to accompany a veal parmigiana recipe I'm doing. Since the veal is really the star, the sauce is just there to tie everything together. 
Tools Required
To make this fast marinara sauce all you need is a saucepan and a couple measuring spoons, you can even use a rondeau for this recipe. Don't have a saucepan or even a stove? You can put this sauce in a bowl or cup with a loose cover and microwave it for 2-3 minutes.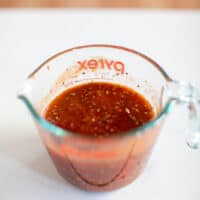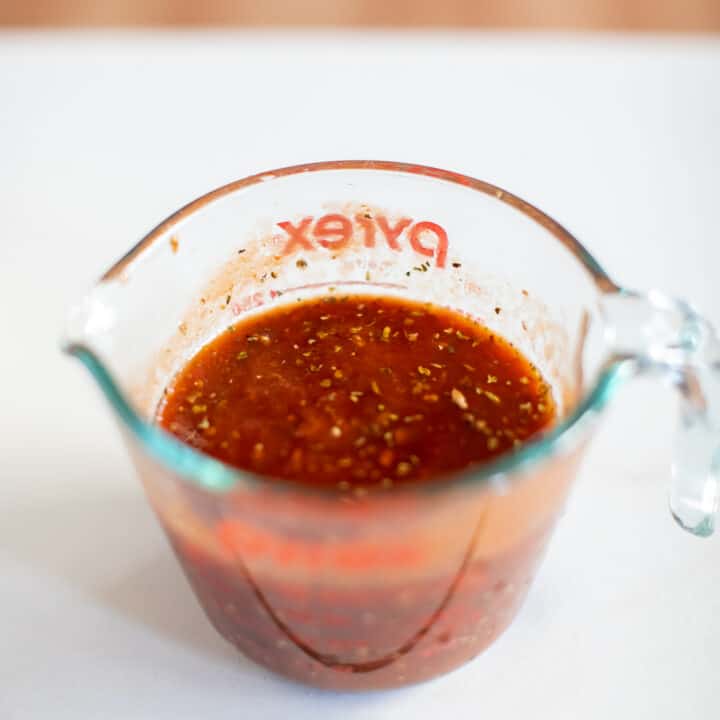 Ingredients
1

cup

tomato sauce

1

tablespoon

balsamic vinegar

1

tablespoon

Worcestershire sauce

1

tablespoon

olive oil

1

tablespoon

sugar

1

teaspoon

oregano

1

teaspoon

basil

1

teaspoon

fennel seed

1

teaspoon

salt
Instructions
Add all ingredients to saucepan 

Heat for 15 minutes on medium, and stir occasionally

Remove from heat and serve
Nutrition
Calories:
134
kcal
|
Carbohydrates:
17
g
|
Protein:
2
g
|
Fat:
8
g
|
Saturated Fat:
1
g
|
Polyunsaturated Fat:
1
g
|
Monounsaturated Fat:
5
g
|
Sodium:
1857
mg
|
Potassium:
471
mg
|
Fiber:
3
g
|
Sugar:
12
g
|
Vitamin A:
558
IU
|
Vitamin C:
10
mg
|
Calcium:
57
mg
|
Iron:
2
mg
Beginner's Guide to Making Sauces