As an Amazon Associate we earn from qualifying purchases.
You know what I love? Smoothies. They are so simple to make, especially if you like buying and freezing your fruit in bulk. There is no summer where my freezer isn't packed with frozen strawberries, bananas, and recently papayas (a story for another time). 
That said, one of the old classics is the chocolate peanut butter banana smoothie. Definitely approaching the milkshake side of the spectrum, this delicious treat can be made quickly and easily with just a few ingredients and a blender. 
What is a Chocolate Peanut Butter Banana Smoothie?
Really, I'm creating a slightly healthier version of a peanut butter chocolate milkshake. Remove the ice cream and sub in banana, ice, and milk.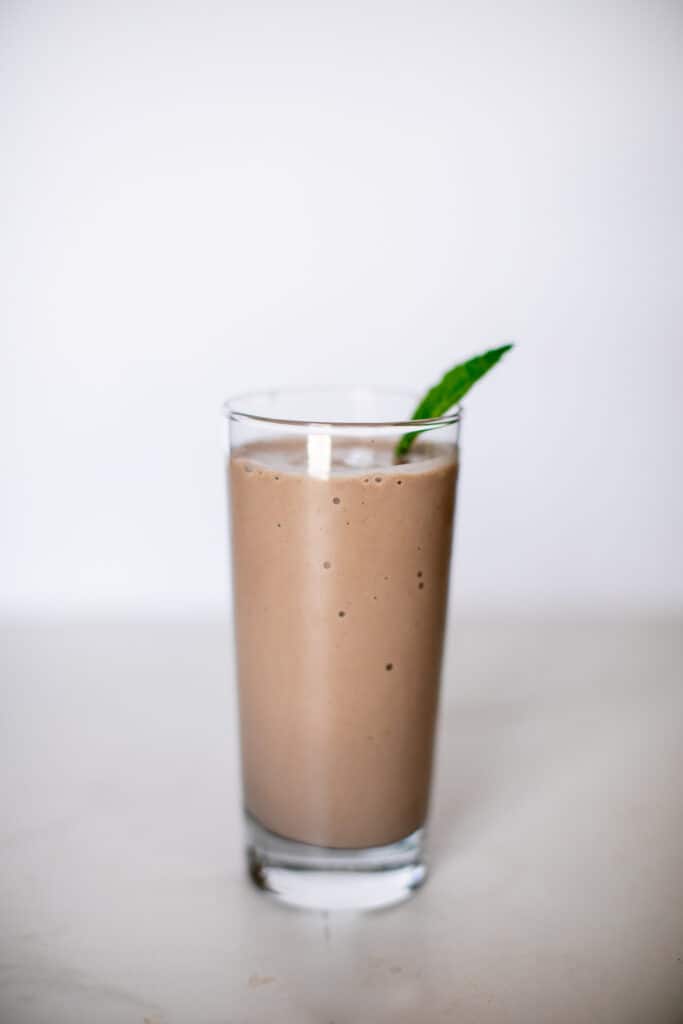 For those who are not familiar with them, frozen bananas make an excellent ice cream substitute and amazing binding agent for smoothies and milkshakes.    
My Approach Peanut Butter Banana Smoothie with Chocolate
Keeping it simple, I just want to be able to add everything to a blender and go! Okay, you do need to ripen and freeze the bananas ahead of times for the best results. But, once you have a batch of bananas in the freezer this is a real anytime kinda drink. 
What Makes a Good Chocolate and Banana Peanut Butter Smoothie?
Okay, to preface this section, I don't love the taste of bananas. They are a creamier tasting fruit, and if you know me, then you know I prefer my fruit to be tart or citrusy. I like bananas for their potassium and using them to accentuate other flavors, but I don't want it to be the prominent taste in a smoothie.
When you are subbing bananas for ice cream, I want to minimize the banana taste and maximize the other flavors. This means it is critical you do not use green or yellow bananas.
Yes, you heard me, if you put a yellow banana in it will taste more banana-y. 
You want to wait to let the banana get spotted brown (almost dark brown all over). The banana flavor goes away and is replaced with a neutral sugary almost caramel flavor (this is why I use these bananas for things like bread).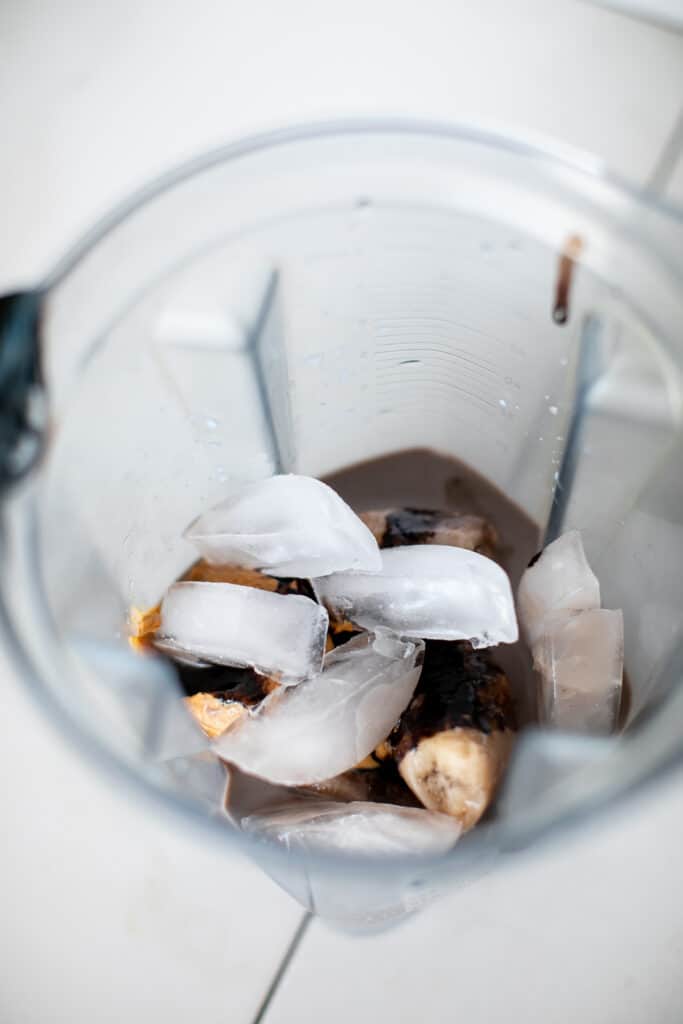 Developing Flavors
For me, the peanut butter is maybe the biggest wildcard in this recipe. I am using Kirkland Organic Peanut Butter in this recipe, but I have never personally felt that it was the most "peanut buttery" flavor wise. 
For more peanut buttery goodness, use whatever your favorite brand is (for extra decadent, you can try the chocolate mixed ones or the Reese's candied peanut butter). 
Flavorful Additions
Some additional things you can add to this smoothie are:
More chocolate
Alcohol
Spinach
Protein powder
To add more flavor, the #1 addition for me is more chocolate. If you are a chocolate lover, 2 tablespoons of chocolate sauce just isn't going be enough, so go ahead and double it. 
This smoothie also takes alcohol pretty well, as the bananas make a great binder. Bailey's and Kahlua are at the top of my list of a more mudslide-esque smoothie.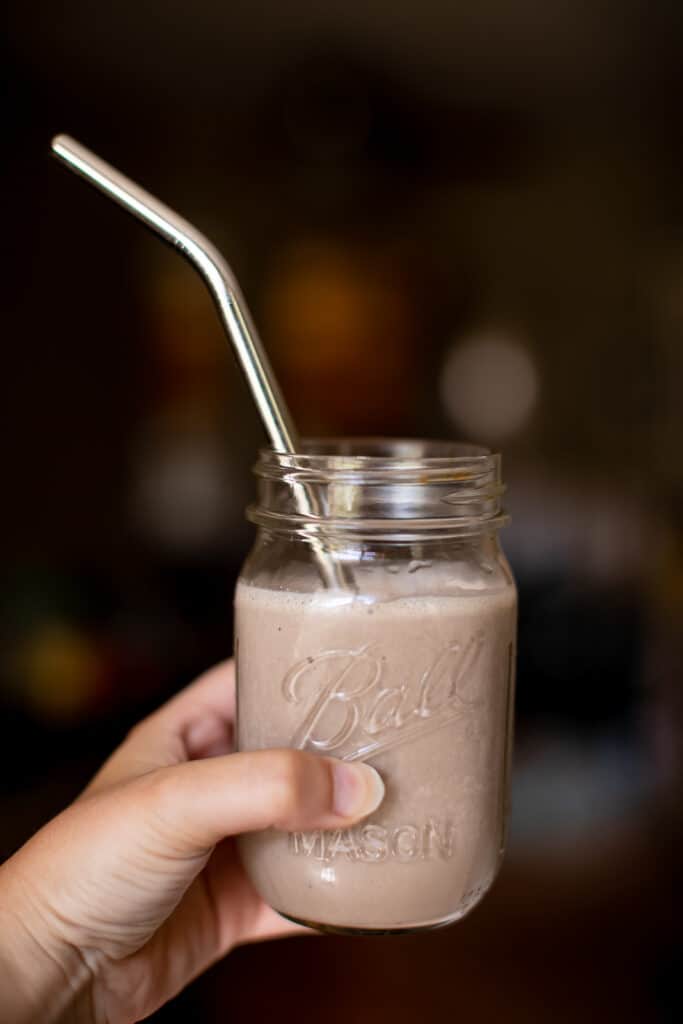 To take it in a healthier direction, you can add a handful of spinach to the recipe. This isn't really a "flavorful" addition, since you can't really taste the spinach, but it is something you can add in.
Finally, you can also add in a scoop of protein powder. Personally, I'm not a fan of protein powder since it tastes chalky, but my finance enjoys adding this into the smoothie. She recommends either chocolate, vanilla, or coffee-flavored powder. 
Pairing Ideas
This smoothie goes really well with a cookie or piece of banana bread. Again it's so close to a shake you can definitely treat pairings like you would a dessert. 
Tools Required
You won't need much for this recipe – just a blender and measuring cups and or spoons.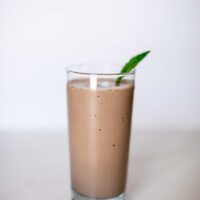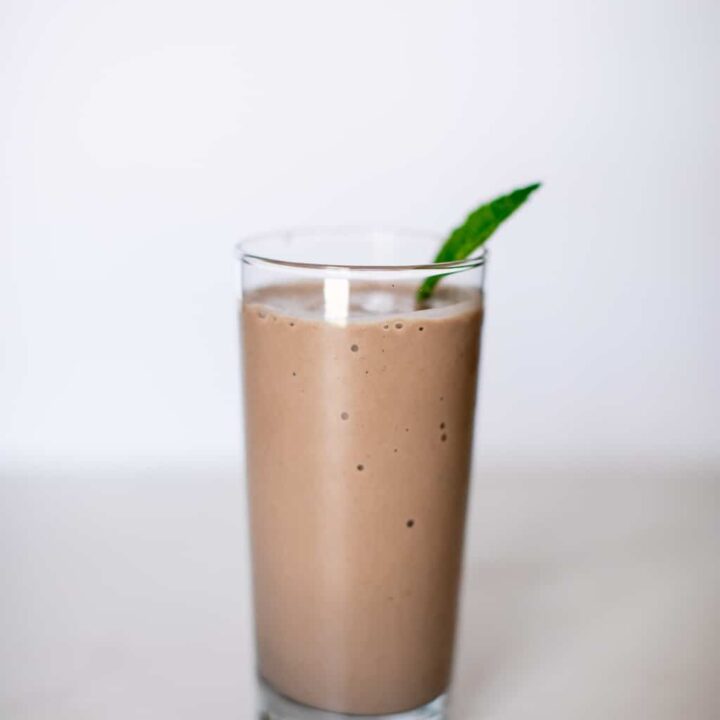 Ingredients
2

bananas frozen

2

tablespoons

peanut butter

2

tablespoons

chocolate sauce

1/2

cup

ice

1

cup

milk
Instructions
Add all ingredients to blender and blend on high until the texture is smooth

Serve
Nutrition
Calories:
340
kcal
|
Carbohydrates:
48
g
|
Protein:
10
g
|
Fat:
14
g
|
Saturated Fat:
5
g
|
Polyunsaturated Fat:
2
g
|
Monounsaturated Fat:
6
g
|
Cholesterol:
15
mg
|
Sodium:
185
mg
|
Potassium:
750
mg
|
Fiber:
4
g
|
Sugar:
29
g
|
Vitamin A:
274
IU
|
Vitamin C:
10
mg
|
Calcium:
175
mg
|
Iron:
1
mg