As an Amazon Associate we earn from qualifying purchases.
There are a few cold weather foods better than chili. It is hard to beat a cold night and a hot bowl of chili topped with some melted cheese. While the archetypal chili for me is a nice big pot of Texas red, today we'll be looking at its lighter, much faster to cook cousin.
What is a White Bean Chili?
White bean chili is exactly what it sounds like, chili made with white beans (rather than kidney or pinto beans). The spices and meat used are also not of the red variety which results in a light-colored final product.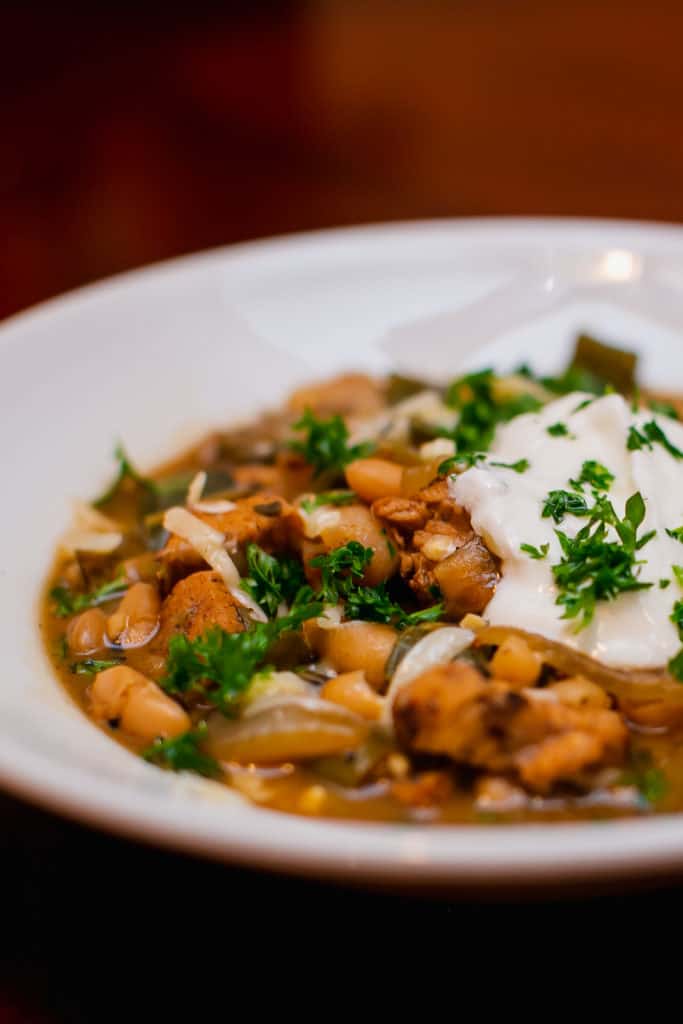 Our Approach to Spicy White Bean Chicken Chili
When it comes to chili, you need spice. We're going to get our heat from a combination of New Mexico Hatch chiles and Pasilla peppers for our white bean chicken chili recipe. If you have never had a Hatch chile before, they are a cultivar similar to Anaheim chiles, but with much more heat.
Next we need to address the protein texture. We'll be using chicken, though you could also substitute with turkey (especially for the holiday season). We're going to braise our chicken, first by searing the outside with salt and spices and then cutting it into chunks to finish in the mix. 
Finally, for beans, we're going to be using a combination of canned Great Northern and Cannellini beans. When it comes to cooking the beans, we want to minimize their time on the heat to prevent them from breaking down too much. 
Developing Flavors
To develop the flavors of our white bean chicken chili recipe we want to do a couple of important things. 
First, we need to season and sear the chicken. This will allow the chicken to brown and develop a flavorful crust from the maillard reaction. While this crust will mostly dissolve in the final cook, it will leave us with somewhat of a pan sauce flavor in our chili.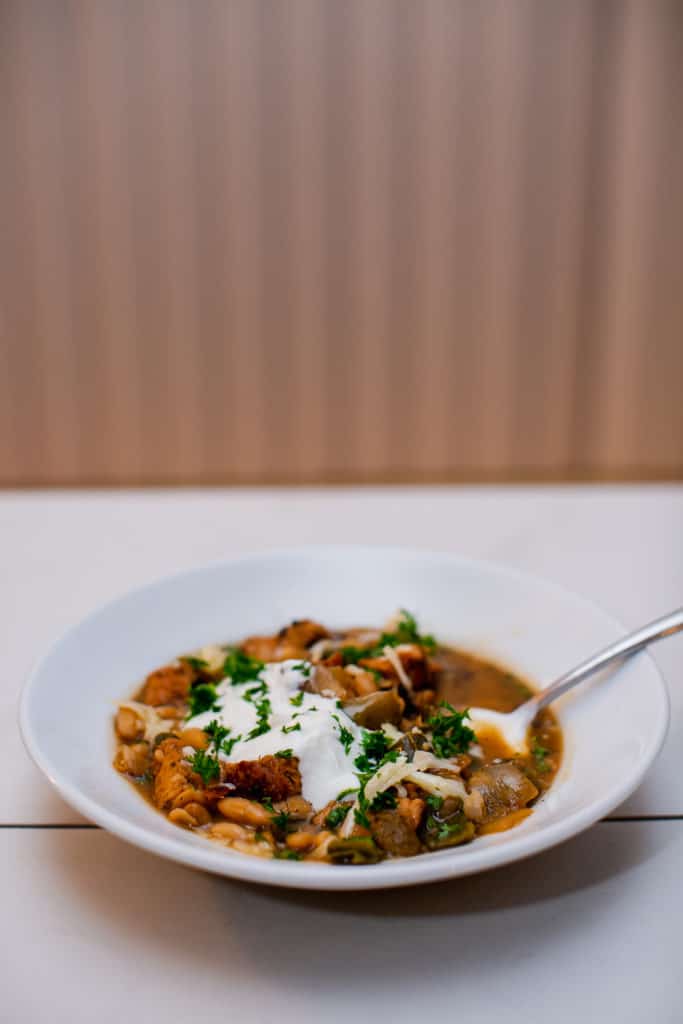 Next, we want to saute our onions and peppers. This will allow the sugars to caramelize and develop a tiny bit of char on the peppers skin. 
Finally, we'll be reducing the final liquid volume of our chili by about 1/4th. This will concentrate the flavors down by eliminating the dilution of water. 
Topping Ideas for White Bean Chicken Chili
Common toppings and for white bean chicken chili include, sour cream, pico de gallo, tortilla chips, and of course, classic cheese and onions. 
Tools Required
To make this white bean chicken chili recipe, you will need the following tools:
Knife and cutting board 
1 pan for sauteing onions, peppers, and chicken 
1 pot for cooking the beans, broth and final mix
Can opener for the beans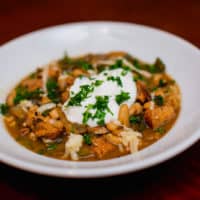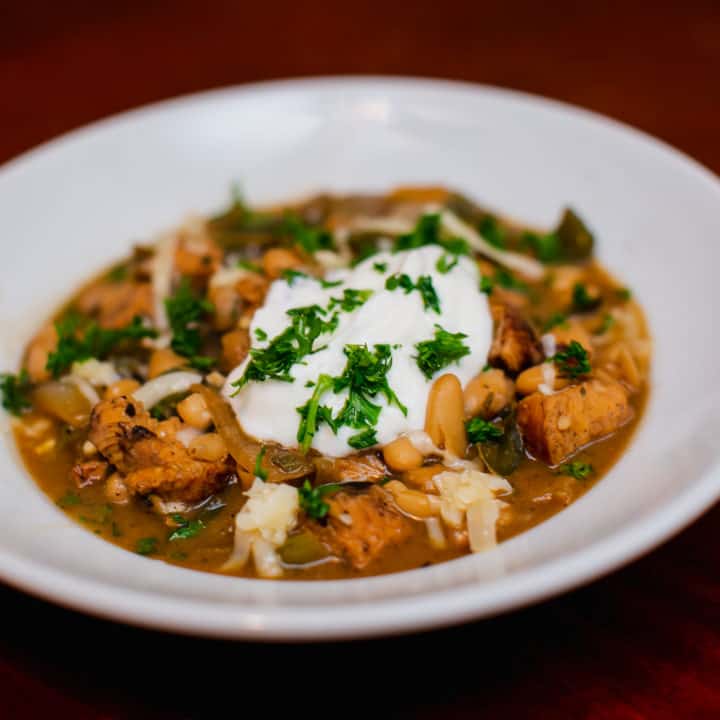 Ingredients
1

tablespoon

olive oil

1

boneless skinless chicken breast

5

New Mexico Hatch or Anaheim Chiles

(Substitute 2-3 Pasilla peppers if you cannot find these. If you can't find Pasilla peppers substitute bell peppers and serranos or jalapenos.)

1/2

white onion

4-5

cloves

garlic

1

sprig of sage

4

cups

chicken broth

2

cans white beans of your choice

strained

Salt

pepper, chili powder
Instructions
Preparation
Wash and dice peppers 

Dice onion

Dice garlic and sage

Open cans and strain water out from beans 

Start your pan and pot cooks at the same time on the stove so that all ingredients can be ready to be combined at the same time
Cooking in the pan
Heat a pan on medium high with 1 tablespoon olive oil

Season chicken with salt, pepper, and chili powder

Sear chicken on both sides for 2-3 minutes a side (chicken will still be raw on inside). Take chicken out of the pan and place to the side 

In the same pan you seared the chicken, in add the peppers and onions and saute for 5 minutes

Turn heat down to medium low and cook for another 10 minutes or until onions turn translucent 

Cut chicken into 1 inch cubes and put back into pan

Add 1 cup chicken broth to the pan and cook for 10 minutes
Cooking in the pot
Add beans, garlic, sage, and the rest of the chicken broth 

Cook on high for 20 minutes

Turn heat down to medium in the pot

Combine all ingredients into the pot and cook for 30-40 minutes 

Serve
Nutrition
Calories:
107
kcal
|
Carbohydrates:
8
g
|
Protein:
8
g
|
Fat:
5
g
|
Saturated Fat:
1
g
|
Polyunsaturated Fat:
1
g
|
Monounsaturated Fat:
3
g
|
Trans Fat:
0.003
g
|
Cholesterol:
23
mg
|
Sodium:
1139
mg
|
Potassium:
182
mg
|
Fiber:
3
g
|
Sugar:
4
g
|
Vitamin A:
14
IU
|
Vitamin C:
11
mg
|
Calcium:
20
mg
|
Iron:
0.4
mg
8 Beginner Cooking Tips I Wish I Had Known