As an Amazon Associate we earn from qualifying purchases.
Did you know pinto beans are the number one bean in the U.S. and Mexico? This was news to me, as they typically have a bad rap for being known to only be good for refried beans and chili. I'm a fan of pinto beans, so I was glad to hear this fun fact about them ranking well. 
Today we'll be pairing the humble pinto bean with chili lime rice to make the perfect base for any Mexican themed dinner. 
Our Approach to Pinto Beans and Chili Lime Rice 
Rice and beans have been a famous food duo for centuries. In college, if I wasn't living off of ramen, I was having rice and beans. We're taking this common pairing and elevating it. This pinto beans and chili lime rice recipe is partially inspired by the Chipotle Burrito Bowl and partially a Mexican take on red beans and rice.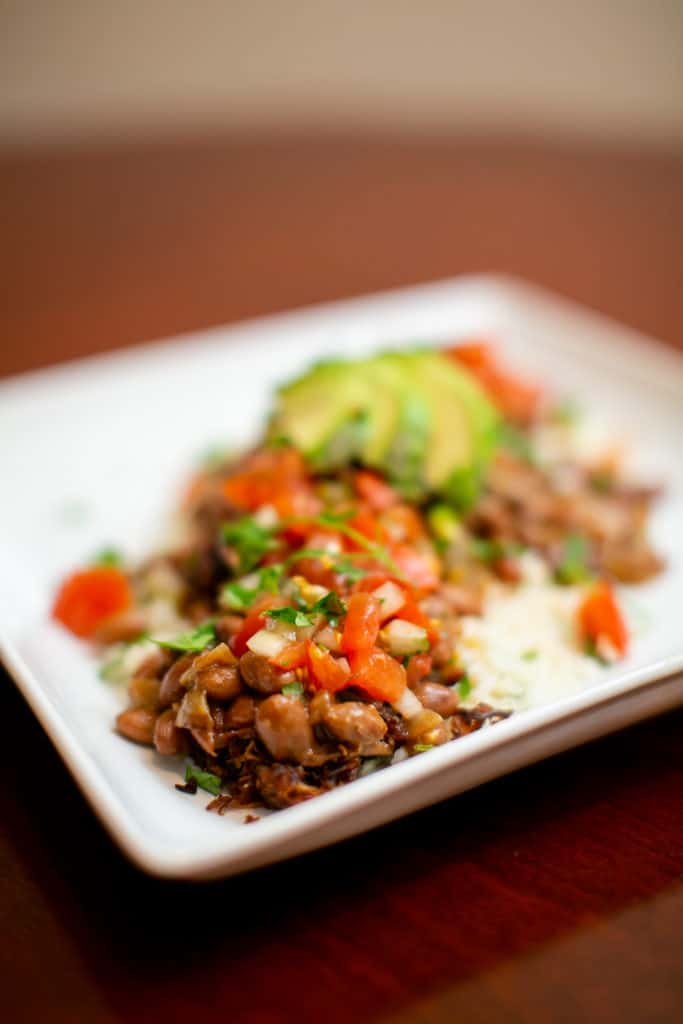 The Challenge with Pinto Beans
We do not want refried beans, so it is critical we do not allow the beans to break down in the cook. Our solution here is to cook the juice down first, and then quickly cook the actual beans right before topping the rice. 
The Challenge with Chili Lime Rice
While you need to cook the peppers and garlic for the rice, you do NOT want to cook the cilantro or limes. Cilantro has a very fresh citrus flavor to it, as does lime juice. This means temperature control and timing becomes critical when finishing this dish off. 
The second challenge with rice is cooking the rice properly. Many people actually forget to clean rice or overcook it. Here are some tips when it comes to cooking rice:
Long grain rice like basmati is made with a 1:2 ratio of rice to water. 
You need to cover your rice when you simmer it so it can steam.
Always fluff your rice when it is done. This not only cools the rice but allows it to finish steaming evenly. 
Do not put fresh herbs into steaming hot rice. This will cook the herbs and you will lose the fresh flavor.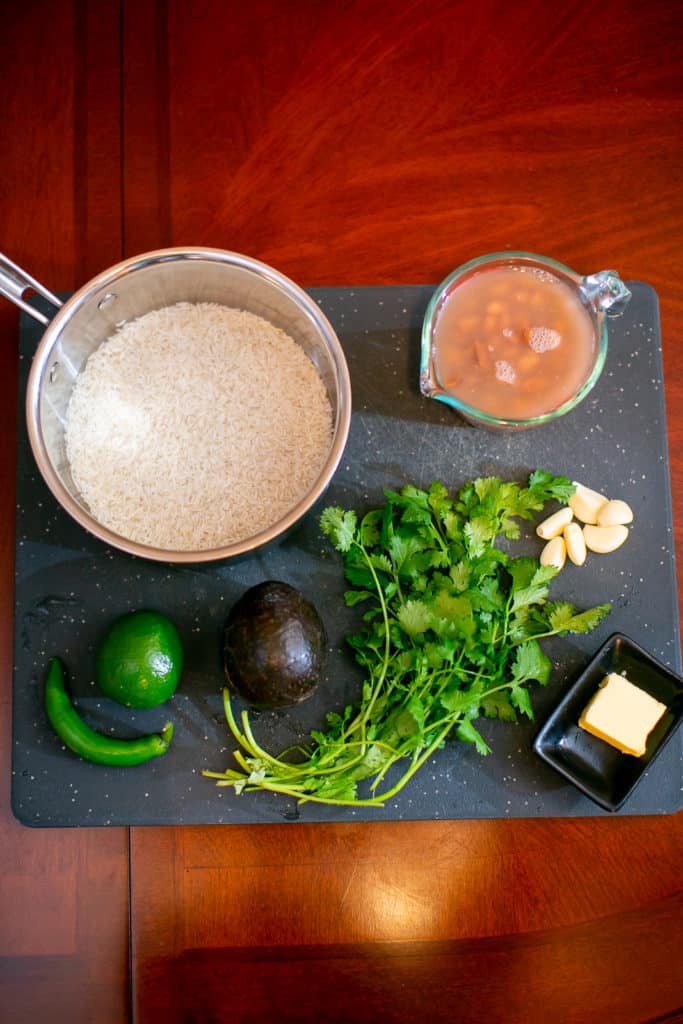 Pairings with Pinto Beans and Chili Lime Rice
Grilled meat or taco meat will go amazingly with this pinto beans and chili lime rice recipe. If I had to pick one meat that goes best with this, I would highly recommend a crispy pork carnitas. You can also go completely vegetarian and pair this with other vegetables and make a sort of salad (such as lettuce, avocado, peppers, tomatoes, and onions). 
Tools Required
Making this side dish requires common kitchen tools. You will need the following items:
1 medium sized pot
1 large pan (like a rondeau pan)
Chef's knife
Cutting board
Can opener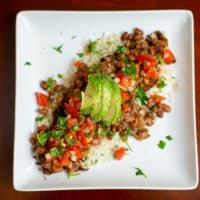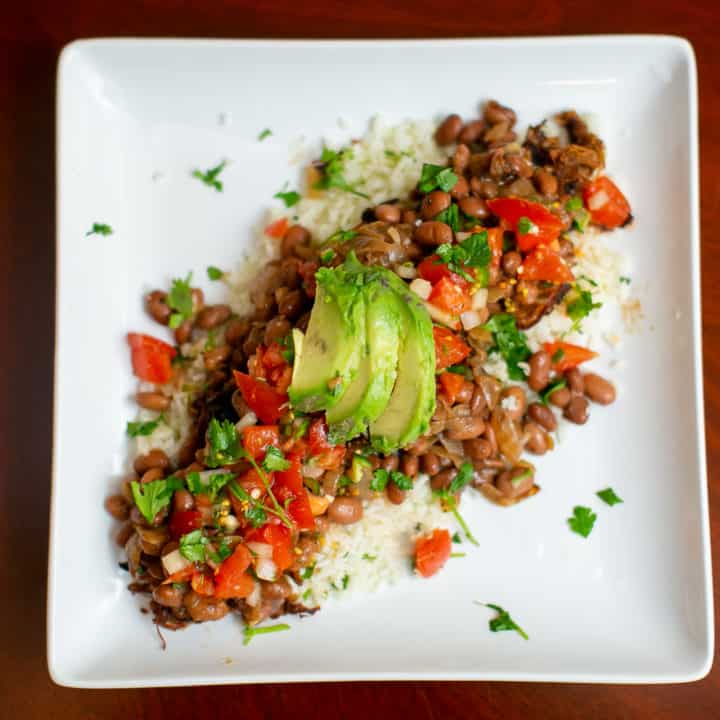 Ingredients
2

cups

water

1

cup

long-grain rice

1

tablespoon

butter

1

teaspoon

garlic powder

6

cloves

garlic

1

serrano pepper

6

sprigs cilantro

1

lime

1/2

onion

1/2

tablespoon

cumin

1

teaspoon

salt

1

can pinto beans

1

avocado
Instructions
Chili Lime Rice
Wash 1 cup rice

Add 2 cups water

Mince garlic

Cut pepper

Add garlic butter and pepper into rice

Bring to a boil and cover

Simmer for 20 min

Zest and juice lime

Fluff rice

Add cilantro, lime juice, and zest to rice and mix together
Pinto Beans
Cut 1/2 onion

Place in pan and saute with oil or butter

Pour bean juice into onions in pan

Pour beans into pan

Season with cumin, garlic powder, and salt

Let cook in the pan for 3 minutes
Plating
Rice on bottom

Pinto Beans on top of rice

Top with avocado slices
Nutrition
Calories:
298
kcal
|
Carbohydrates:
47
g
|
Protein:
5
g
|
Fat:
11
g
|
Saturated Fat:
3
g
|
Polyunsaturated Fat:
1
g
|
Monounsaturated Fat:
6
g
|
Trans Fat:
0.1
g
|
Cholesterol:
8
mg
|
Sodium:
621
mg
|
Potassium:
396
mg
|
Fiber:
5
g
|
Sugar:
1
g
|
Vitamin A:
396
IU
|
Vitamin C:
14
mg
|
Calcium:
50
mg
|
Iron:
1
mg