As an Amazon Associate we earn from qualifying purchases.
Here in San Diego, I have the luxury of having delicious Mexican food available at my fingertips. Whether you are chowing down on tacos at 2 in the morning or grabbing a burrito on your lunch break, Mexican food is an integral part of the San Diego experience. 
Key to that experience is Pico De Gallo, also known as Salsa Bandera (which means "flag sauce," due to it matching the colors of the Mexican flag), or Salsa Fresca (meaning "fresh sauce"). 
What is a Pico de Gallo?
Pico de gallo is a very simple chopped mix of tomatoes, onions, cilantro, and chilis, often seasoned with lime juice and salt. What sets pico de gallo, or pico for short, apart from other Mexican style salsas is the lack of liquid or water content.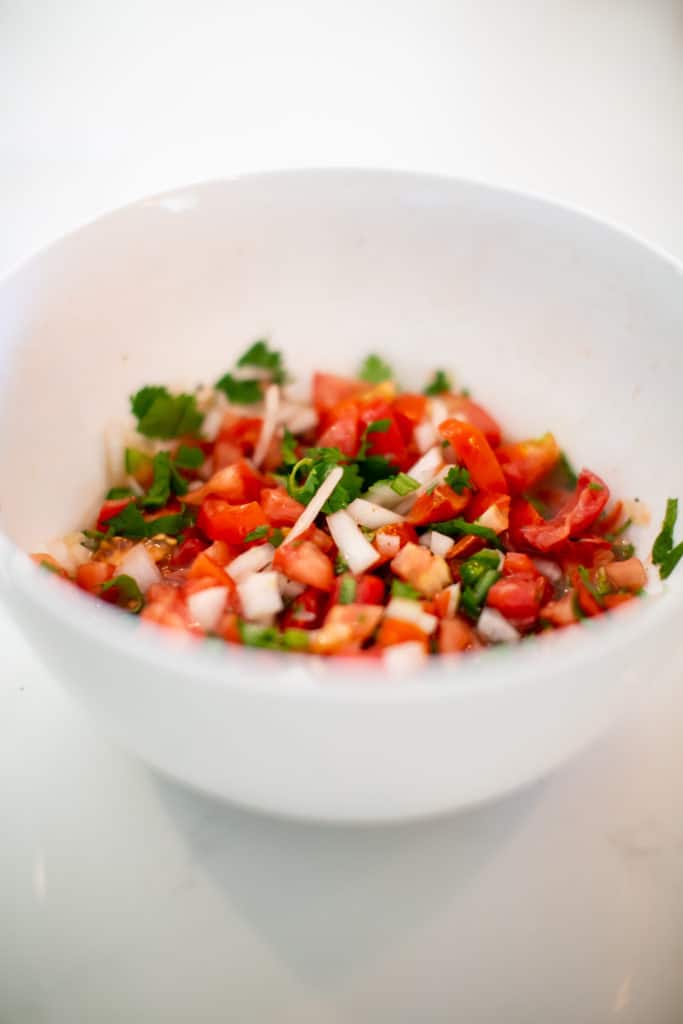 What does Pico De Gallo Mean?
Pico de gallo, literally translates to "rooster's beak." How it got this name seems to be up for debate. Some sources cite that it came from the way people used to eat the dish, which was with their index and thumb pinching together like a beak. This does make some sense, since pico is not technically a sauce. 
Others believe (myself included) it likely has to do more with the coarsely chopped make-up of the dish resembling chicken feed.
The Difference Between Salsa and Pico
Salsa in Spanish means "sauce," and while pico is sometimes referred to as salsa fresca, salsa bandera, or salsa mexicana, it is generally agreed upon that pico is not a sauce. Pico is more like a garnish or relish than a sauce. 
This is why I personally think it makes more sense not to call it a salsa, as you can't and don't sauce anything with it. It would be similar to saying that you sauce your hot dog with relish or sauce your mac and cheese with breadcrumbs.  
My Approach to Spicy Pico de Gallo
Pico de gallo is a simple dish, and I'm going to keep it that way. I will not be changing anything with the tomato, onions, or cilantro. I'll give you some options and alternatives if you need them, but really, the only thing I'm going to be adjusting is the spice level. 
To spice my pico de gallo recipe, I'm going to use a moderately spicy pepper called a serrano. It's basically a bit fresher and spicer cousin to the jalapeno. That said, I'm also going to give you the tools and know-how you need to spice it up or down to your preferred heat level.  
What Makes a Good Spicy Pico de Gallo
Traditionally, pico de gallo is not a killer spice dish. That said, there really isn't anything preventing you from making it one. 
What is important is that even when aiming to increase spice, you don't sacrifice flavor or the overall flavor profile. You are adding tomatoes for cooling water and acidic flavors, lime and cilantro to peak the citrus, onions for sulfur and depth, and salt to brighten your dish.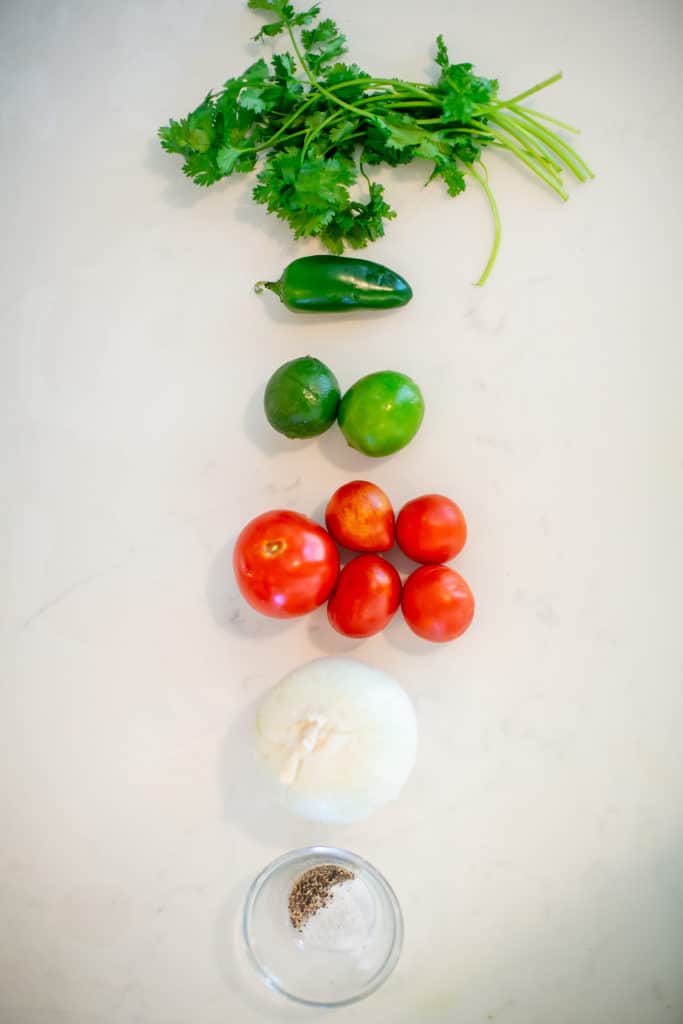 The Challenge with Spicy Pico de Gallo
The challenge with this spicy pico de gallo recipe is to add spice without overpowering your other ingredients. Additionally, there is a small trick when working with peppers. The acidic solution from tomatoes, onions, and lime will actually make your peppers hotter than if you were just eating them on their own. This is essentially the opposite effect of using milk or dairy products to cool your mouth after eating something too spicy. 
My Solution
It's crucial to know your heat tolerance and those who will be eating your food. Spice tolerance takes time to build up, and few people have it in the high ranges. 
For example, I have a really good friend who graciously provides me with Carolina Reapers and Scorpion peppers, some of the hottest peppers in the world. I absolutely love and treasure these peppers whenever I have them (I have about a dozen in the freezer right now, just waiting to get dried and eaten). If you place a few pieces into chili or ramen, it's like a dream come true for spice lovers. 
On the flip side, almost everyone I've ever lived with starts coughing or gagging just from the fumes of cooked cayenne peppers. For reference, your standard red chili is about 30 times less potent than a scorpion pepper. If you do not know what spice level people can tolerate, aim low, as the standard pepper for pico is jalapeno. Even that can be too spicy for some people. 
Pairings with Pico
Tacos and pico de gallo are like peanut butter and jelly here in San Diego. You cannot be a self-respecting taco bar, stand, or restaurant without street tacos and that red, white, and green pico. 
Not in the mood for a full meal? Serve your pico de gallo up with some tortilla chips for a quick appetizer. You can also use pico as a garnish for your soups and mains, as its beautiful vibrant color and almost universally loved flavor palette hardly goes unappreciated. 
How do You Make Pico de Gallo Last Longer?
Pico de gallo is meant to be served fresh. It is the essence of freshness with all its bright and vibrant flavors. That said, if you want it to last longer, you can try increasing the lime juice and salt to effectively pickle your salsa. If you do this, you do risk altering the standard flavor that pico de gallo is known for.

My recommendation to increase your pico's lifespan is to follow high standards for food prep and storage:
Wash everything thoroughly
Use a clean knife and board
Use gloves – You touching the ingredients is the biggest contaminating vector they are exposed to. Also, you'll want gloves if you are using anything hotter than a serrano pepper. 
As soon as the pico is made, set part of it aside in an airtight and very cold place. Using a vacuum-sealed container is even better if you have one. 
If you do all of that, your pico de gallo will likely last about one week. If when opening your container you hear compressed gas escaping, toss out the pico. That gas is produced by bacteria and can lead to an upset stomach. 

If you serve the pico and people dip things into it, or if it's just exposed to air for more than 30 minutes, you should consider it "exposed at risk for contamination". You can still eat it, though I don't recommend keeping it more than a couple of days. If your tomatoes break down (get mushy) or you see any cloudiness in the juice, throw it out, as this is caused by bacteria. 
Tools Required
This pico de gallo recipe requires very few tools. You need something to cut with and something to store the ingredients in:
Chefs knife and cutting board
Bowl
How to Make a Spicy Pico de Gallo
To make my spicy pico de gallo, I want to think about my ratios. Ideally, you want to land somewhere between a 2:1 and 3:2 parts ratio of tomato to everything else. In short, this means if I have 1 cup chopped tomato, I should have 1/2th cup total mixture of everything else.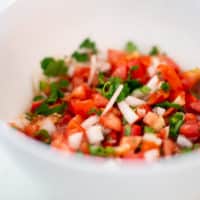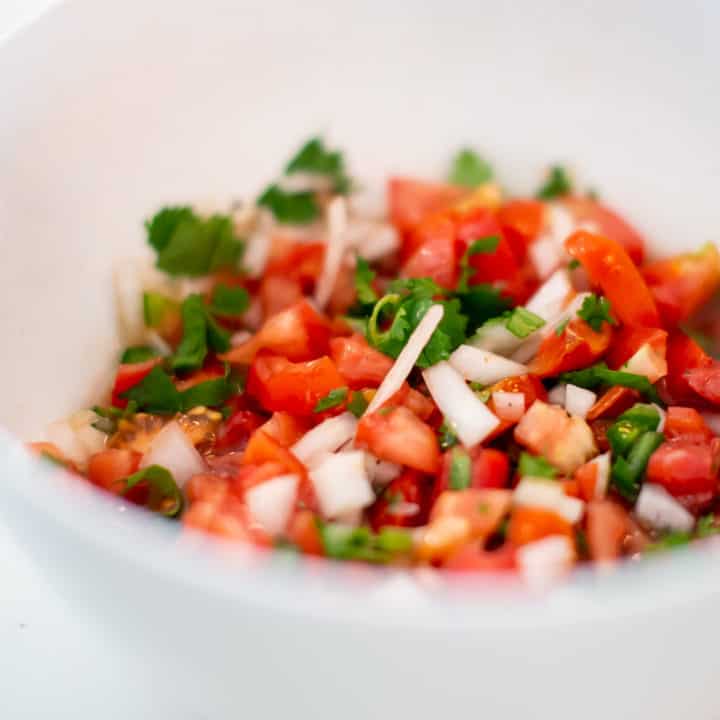 Ingredients
1

medium-large tomato

tennis ball size

1/4

White onion

1

bunch cilantro

2

limes for juice

1

teaspoon

salt

Salt to taste
Instructions
Wash and dry the tomatoes, cilantro, limes, and your pepper of choice

Peel and dice your onion to no more than one-quarter inch pieces and add to bowl 

Cut and juice limes into mix 

Add salt
Nutrition
Calories:
18
kcal
|
Carbohydrates:
5
g
|
Protein:
1
g
|
Fat:
0.1
g
|
Saturated Fat:
0.02
g
|
Polyunsaturated Fat:
0.04
g
|
Monounsaturated Fat:
0.02
g
|
Sodium:
584
mg
|
Potassium:
120
mg
|
Fiber:
1
g
|
Sugar:
2
g
|
Vitamin A:
307
IU
|
Vitamin C:
15
mg
|
Calcium:
16
mg
|
Iron:
0.3
mg