As an Amazon Associate we earn from qualifying purchases.
One of my favorite go-to drinks has always been the Moscow Mule. They drink so easily and are the perfect refreshing cocktail. But with such a refreshing and zingy flavor profile, I have always found the Mule best for warm weather and party pick me ups. What I wanted to do was give my go-to drink a little more body and sophistication to keep it drinkable all year round. 
What is a Moscow Mule?
A Moscow Mule is a vodka cocktail made with lime juice and ginger beer. Why is it called a Moscow Mule? Moscow Mules come from a family of cocktails called bucks, which are made with ginger beer or ginger ale, citrus juice, and some kind of liquor. You may have heard of a Rum Buck or a Gin Buck, and these drinks are the same concept as a Moscow Mule.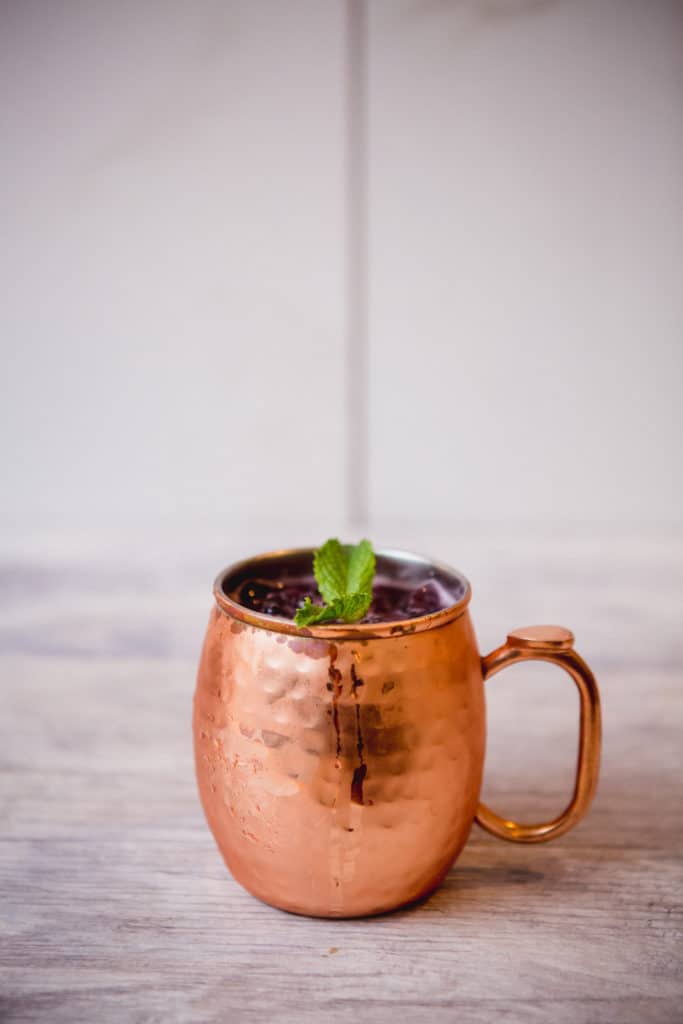 All that said, the animal portion of the name is a derivation of buck (a male deer) to mule (a cross between a horse and a donkey). The Moscow moniker is due to the use of Vodka as the base liquor. 
So is a Moscow Mule really just a Vodka Buck in fancy copper clothing? Essentially, yes! The next time you are at a bar, order a Vodka Buck and you'll either get the traditional Moscow Mule or the same drink but in standard glassware.  
My Approach to a Mint Blackberry Moscow Mule
My goal with the blackberry Moscow Mule was to make a slightly more substantial drink that could also pair well into winter. Let's be honest, even with the massive popularity of the Moscow Mule, it's crisp refreshing flavor profile makes it naturally better suited for summer. 
So to double down on the extra flavor notes, I also added some mint to complement the blackberries and make it a little more four-season friendly. 
The Challenge with a Moscow Mule
I think the biggest challenge with a Moscow Mule, and buck cocktails in general, is the ginger flavor. You absolutely must have a ginger flavor to be a buck cocktail. Flavor-wise though, ginger is not that common a taste is familiar pairing with. 
That said, my #1 recommendation is to use ginger beer rather than ginger ale. Ginger beer will have a much more pronounced flavor of ginger and a slight spiciness as well. It is this stronger flavor in ginger beer that makes it ideal for mixed drinks.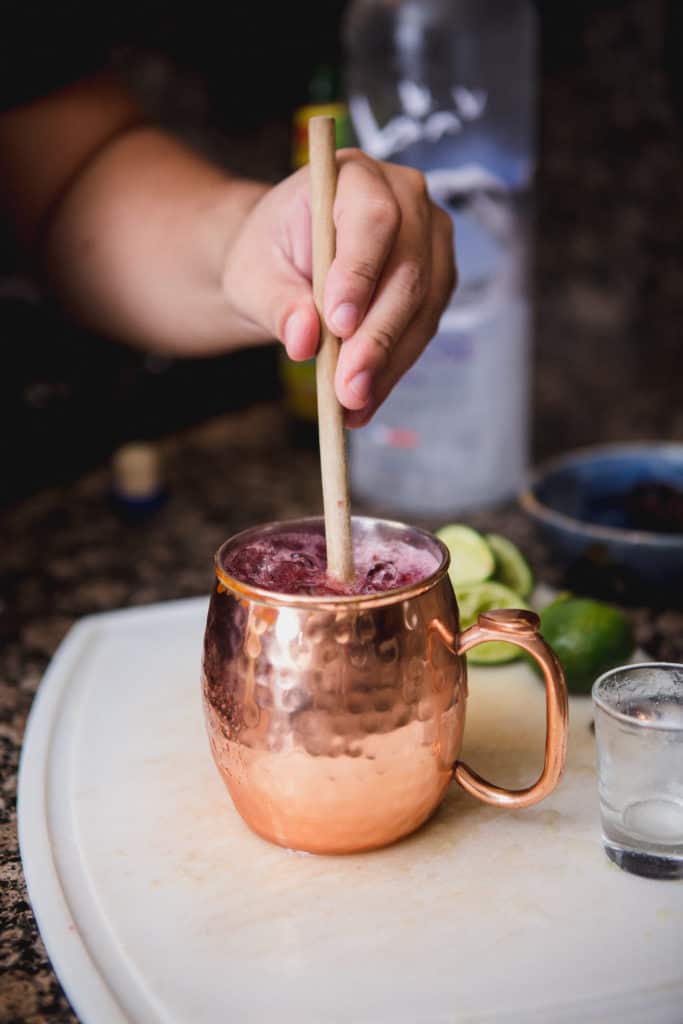 What is the Difference Between Ginger Beer and Ginger Ale? 
The difference between ginger beer and ginger ale has to do with how the ginger is included within the drink. Ginger Ale is soda containing carbonated water, sugar, and the flavor of ginger. While not all ginger beers have traces of the ginger in the final product, none of the ginger ales will. Real ginger beer is actually fermented from real ginger. 
One of my favorite ginger beers is Bundaberg. It has a beautiful opaque haze of ginger to it, reminiscent of today's Hazy IPA's. That extended contact and inclusion in the final product is what gives ginger beer the extra punch and depth for a perfect cocktail.   
Additional Flavors
In developing this recipe I've gone through a few iterations. Here are some of the flavor options I've found work well when making a Mule: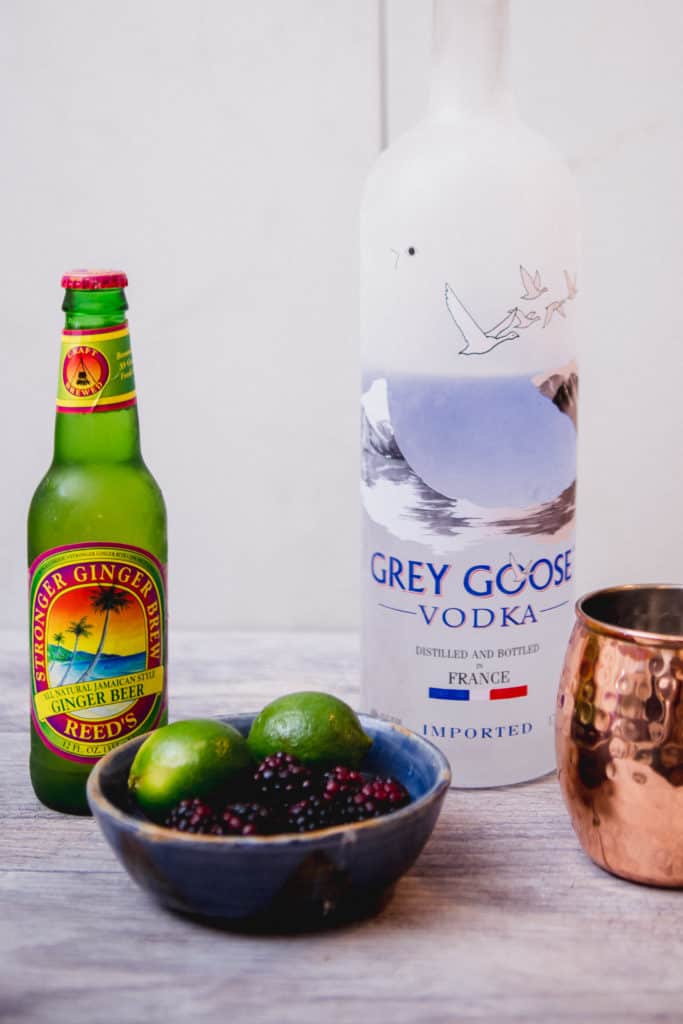 Mint: The crisp and refreshing mint flavor perfectly complements the bite you might taste from the vodka or ginger beer. Plus, if you're looking for a drink to get you in the winter and holiday spirit, adding mint is a great way to do this. 
Blackberries: For a full-bodied berry, blackberries are the way to go for this drink. They are going to bring in texture and a slightly bitter taste to the drink, which really helps to elevate the entire cocktail, especially when paired with mint.
Cranberry juice: This really smooths out the fizz and vodka due to it being more liquidy and sugary. Think this would be a good option with or after a holiday meal. To note, it does get a little bit into Cosmo territory, so you lose a bit of that Mule identity when adding cranberry. 
Raspberries instead of blackberries: Raspberries also work really well if you don't have blackberries on hand. They are slightly sweeter than blackberries, so you get a little less body and a touch of bitterness.
Blueberries instead of blackberries: This is like the other side of the spectrum from the raspberries, with mostly sweeter low notes being added to the drink. The flavor of blueberry isn't as pronounced against the ginger, so while they are a decent option, I think blackberries still work best.
Lime rather than mint: If you are making this for happy hour, by all means, lime works just fine. If you are a big fan of citrus in cocktails, you can really increase the lime factor by zesting a lime into the cup before assembling. This will release all the essential oils of the lime and let them perfume into the drink. 
Tools Required
You will need some basic bar equipment to make this cocktail.
Copper Mug or normal glassware if you don't have a copper mug (I recommend a collins glass – the tall skinny ones)
Muddler or wooden spoon
Shot glass or measuring device 
Knife to cut limes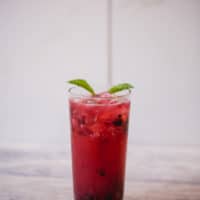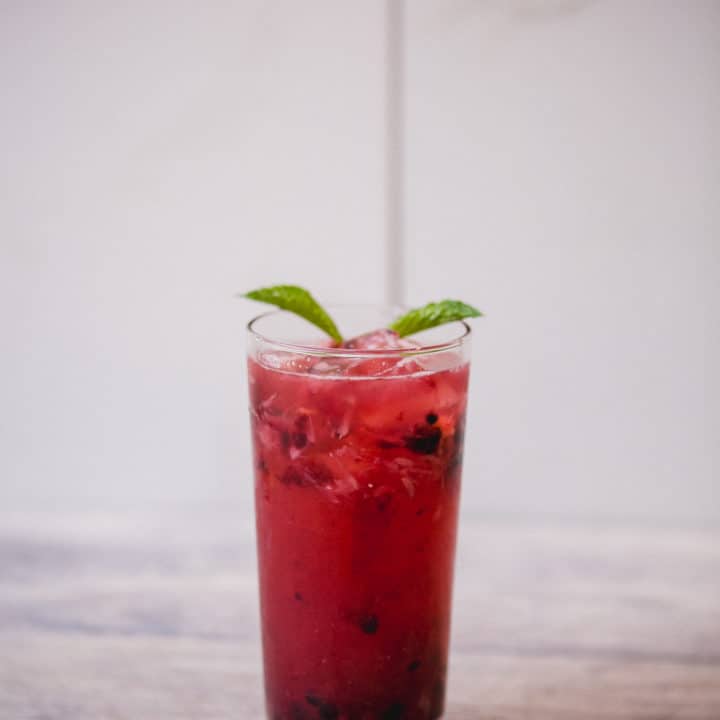 Ingredients
1

handful

blackberries

(about 7)

1

ounce

Vodka

1

ounce

lime juice

(2-3 limes)

4

ounces

Ginger Beer

(enough to fill glass)

1

handful

ice

(fill cup 3/4th)

Mint to garnish
Instructions
Get out a copper mug or collins glass

Cut and squeeze lime juice

Add blackberries and macerate (smash them) with a wooden spoon or muddler  

Add vodka

Add ice

Top with ginger beer so the glass is filled 

Stir with spoon

Garnish with mint 

Serve 
Nutrition
Calories:
112
kcal
|
Carbohydrates:
12
g
|
Protein:
0.1
g
|
Fat:
0.02
g
|
Polyunsaturated Fat:
0.01
g
|
Sodium:
9
mg
|
Potassium:
36
mg
|
Fiber:
0.2
g
|
Sugar:
11
g
|
Vitamin A:
16
IU
|
Vitamin C:
9
mg
|
Calcium:
8
mg
|
Iron:
0.2
mg
Beginner's Guide to Mixed Drinks and Cocktails