As an Amazon Associate we earn from qualifying purchases.
Watermelon is a great way to re-hydrate after a workout or just on a hot sunny day. Greek yogurt is also a great way to get some lean protein into your diet. Put the two together with a little ice and you have the makings of a quick, easy, delicious smoothie. Yes, just 3 ingredients for this watermelon smoothie recipe with yogurt!   
What is a Watermelon Smoothie Recipe with Yogurt?
A watermelon smoothie with yogurt is a blended ice drink made with watermelon and yogurt. No tricks, no techniques – literally put them in the blender with some ice and you will be sipping on a healthy refreshing drink in no time.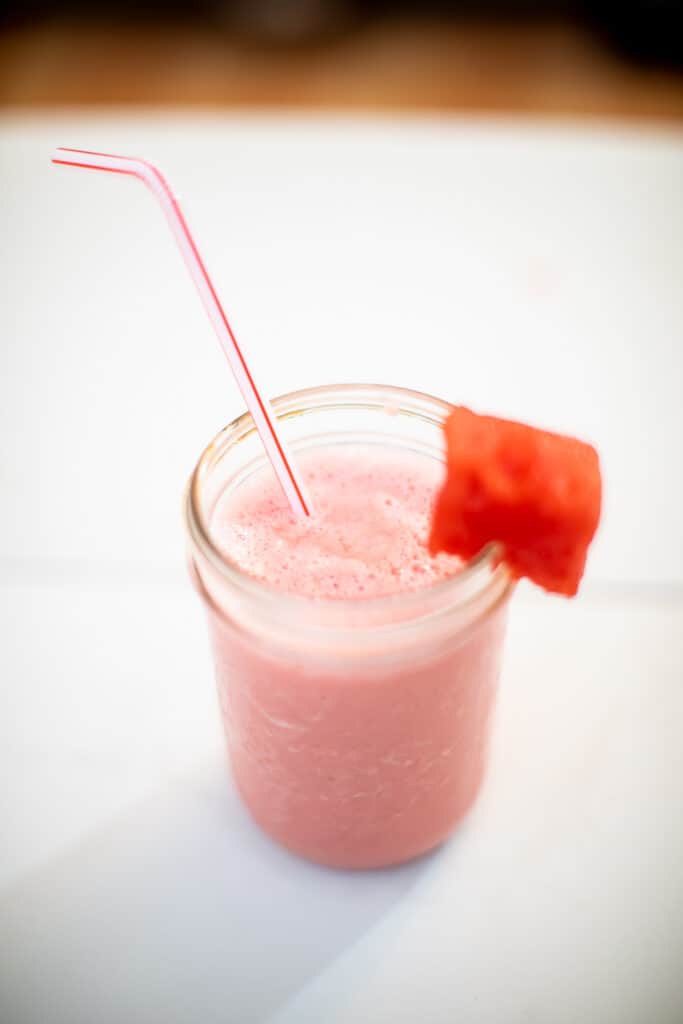 My Approach to a Watermelon Smoothie Recipe with Yogurt
I really love watermelon, but it is just me and my fiancé, so I always have a ton of it left over. I like to freeze half pretty much right off the bat, but the rest I keep and eat fresh in salads, as sides, and of course in drinks. 
The goal with this recipe was to basically be a "throw everything in the blender and hit start" kinda recipe. It's very minimal work for amazing results. 
What Makes a Good Watermelon Smoothie Recipe
In order for this to be good, you must be able to taste the watermelon. Watermelon is not the most powerfully flavored fruit (after all, it is mostly water). 
Keeping that in mind, I'm going to use fat free strawberry Greek yogurt. Strawberries complement very well with watermelon in mixed drinks, and the protein from the yogurt will give my smoothie some more body without adding fat.  
Developing Flavors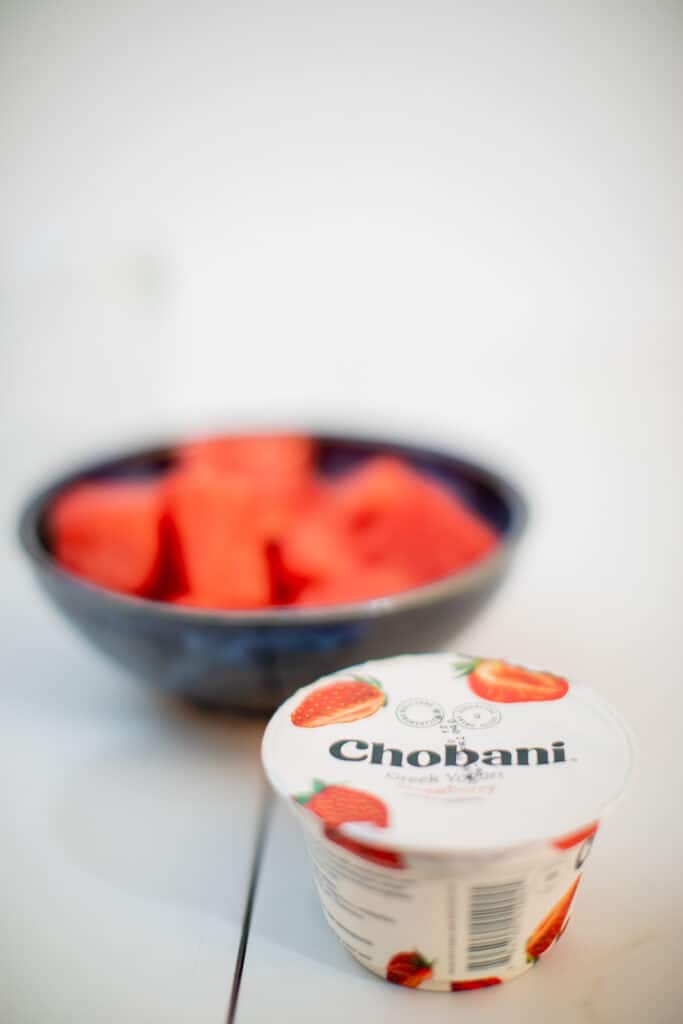 If you have the time, I do recommend freezing the watermelon and removing the ice. Not everyone has frozen watermelon on hand and if you are looking to make a smoothie right now, obviously that won't work for you. But if you can, it is totally worth it. You'll end up with something almost resembling frozen yogurt. 
Avoid adding strong flavored fruits or juices if you can. Since watermelon is such a delicate flavor a strong flavor like mango, pineapple, or banana will pretty much overpower it entirely. You'll still get that cooling effect but you won't really be tasting the watermelon. 
When to Have a Watermelon Smoothie
If you have it fresh, I do think this makes a wonderful breakfast or after workout treat. The watermelon hydrates you while the yogurt fills you up without feeling heavy. 
It also is great to have on a hot, summer day. The watermelon is so refreshing, and if you add a bit of mint, it's even better.
Tools Required
You can pretty much get away with just a blender for this recipe. If you are using individual yogurt cups like I did, they are about 5-6oz a piece and can be used to measure your ice as well. Two yogurt containers equals about 1 cup of actual ice since there's a bunch of air space when you put ice into a measuring device.
Using this same rule of thumb, about 4 yogurt containers full equals 2 cups of watermelon.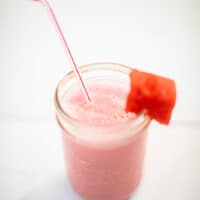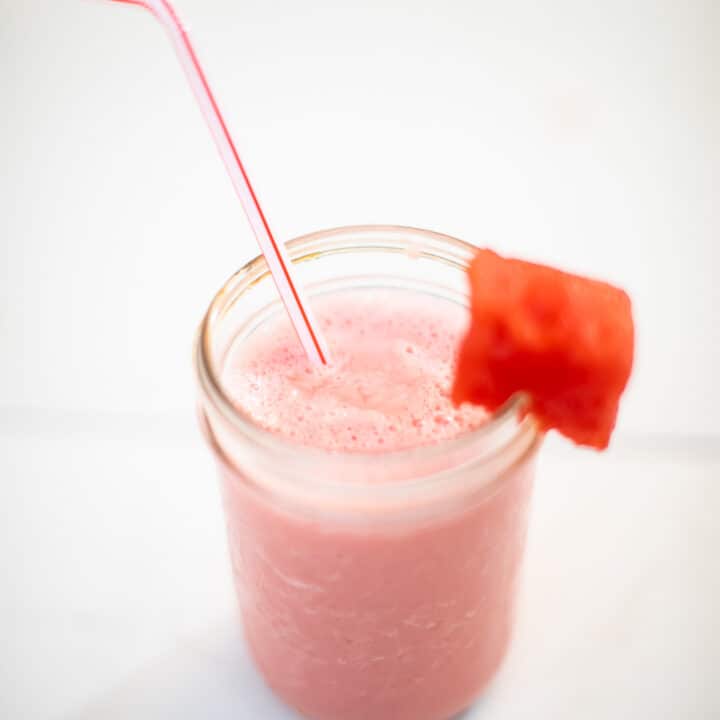 Ingredients
1

cup

strawberry greek yogurt

2

cups

watermelon

1

cup

ice
Instructions
Cut watermelon until you have 2 cups worth

Add all ingredients to blender

Blend on high for 30 seconds

Serve
Nutrition
Calories:
213
kcal
|
Carbohydrates:
30
g
|
Protein:
22
g
|
Fat:
1
g
|
Saturated Fat:
0.3
g
|
Polyunsaturated Fat:
0.2
g
|
Monounsaturated Fat:
0.2
g
|
Trans Fat:
0.01
g
|
Cholesterol:
10
mg
|
Sodium:
87
mg
|
Potassium:
622
mg
|
Fiber:
1
g
|
Sugar:
25
g
|
Vitamin A:
1738
IU
|
Vitamin C:
25
mg
|
Calcium:
250
mg
|
Iron:
1
mg