As an Amazon Associate we earn from qualifying purchases.
Nothing beats a thick strawberry milkshake when you're looking for a quick pick-me-up.
What is a Strawberry Milkshake? 
A strawberry milkshake is a semi frozen drink made with vanilla ice cream, milk or cream, and strawberries. Ideally, you will want to use fresh strawberries for this, though you can also use frozen strawberries if needed. It is often served as a dessert because of the ice cream component in it.
Difference Between a Milkshake and a Smoothie
The main difference between a milkshake and a smoothie is the ice cream. Pretty much all classic milkshakes are made with ice cream. You will even see restaurants advertise their milkshakes as being "made with real ice cream" as a major selling point.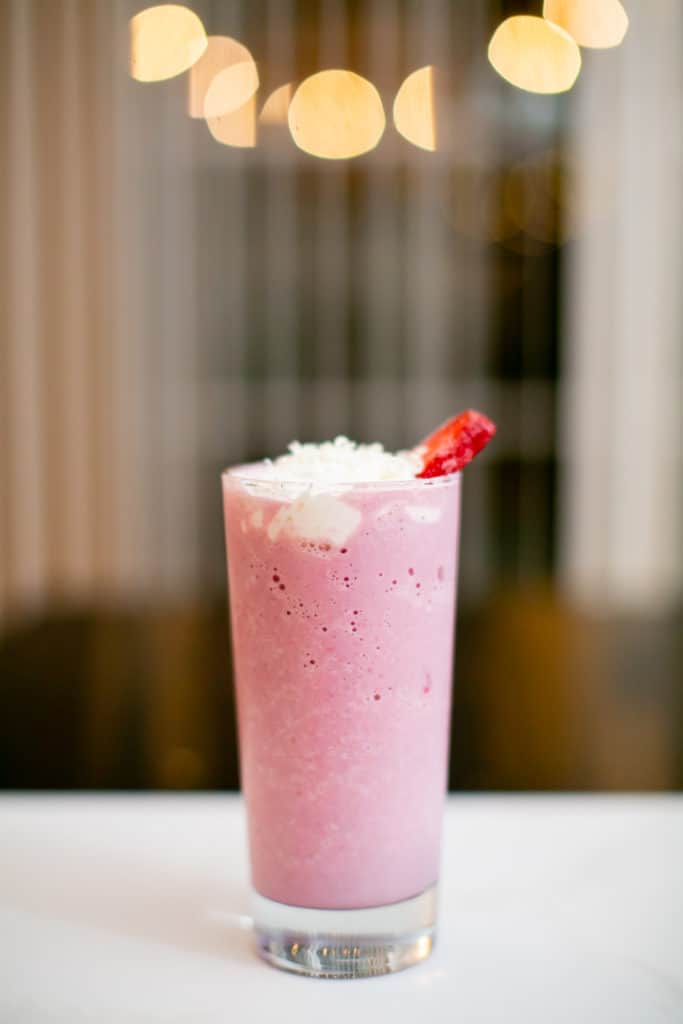 Smoothies seem to have a much larger grey area in their definition and make up. Juice and ice are much more common ingredients for smoothies rather than shakes. A smoothie typically has some fruit component in it and can also contain dairy additives like yogurt, frozen yogurt, ice cream, or sherbert.
The best rule of thumb I can recommend is if the purpose of the drink is to be fruity, then it's a smoothie. If the purpose of the drink is to be creamy, then it's a milkshake. Or, you could always just ask yourself, "Would Dairy Queen put this in the DQ section or the Orange Julius section of the menu? 
What Makes a Good Homemade Milkshake?
A good homemade milkshake is all about flavor and texture. To get both, ice cream is going to be a main ingredient you use. If you are worried about the calories or fat, there are ways to make healthier milkshakes. I'll save that recipe for another day, though. This is a dessert drink, and I'm going to embrace the decadence of it without worrying about the calorie count from the ice cream.
With that disclaimer out of the way, the next major component of your milkshake is milk or cream. With the name being "milkshake," you might think it's best to use milk. Hear me out for a second, though. Milk has water in it, and the water actually dilutes the texture and flavor of your milkshake.
So, while I'm not saying you must use heavy cream or whole milk, really try to avoid using skim milk for your desserts. That would be like putting raw kale in your double bacon cheeseburger – it isn't doing much to make the dish better for you, and it doesn't taste as good!
Finally, I need my flavoring component. In my case, that's strawberries. You want the most flavorful strawberries you can get, and if you have access to fresh, ripe strawberries, this is the way to go. If strawberries aren't in season (or cost an arm and a leg), frozen strawberries are still acceptable to use.
My Approach to Strawberry Milkshakes
My approach to the best strawberry milkshake is to concentrate the flavors. Water is your #1 enemy when making a milkshake. Every bit of water I add reduces flavor and texture (AKA the thickness). It's crucial that you keep the thickness up when crafting your shake.
Thickening a Shake
To thicken a milkshake, I want to reduce all water in the mix. So what areas do I need to watch out for with water?
Not enough ice cream to balance out the other ingredients
Too much liquid – even with cream or whole milk, you only want the minimum amount of liquid to mix into your drink)
Strawberries – these are almost entirely water, including the frozen ones
Making a Strawberry Shake More Flavorful 
To make a strawberry milkshake, you need the flavor of strawberries. You could just throw fresh or frozen strawberries into the mixer, but you're also adding water and diluting the flavor.
The other issue with just tossing strawberries in is that they might be under ripe and too tart for a rich creamy milkshake.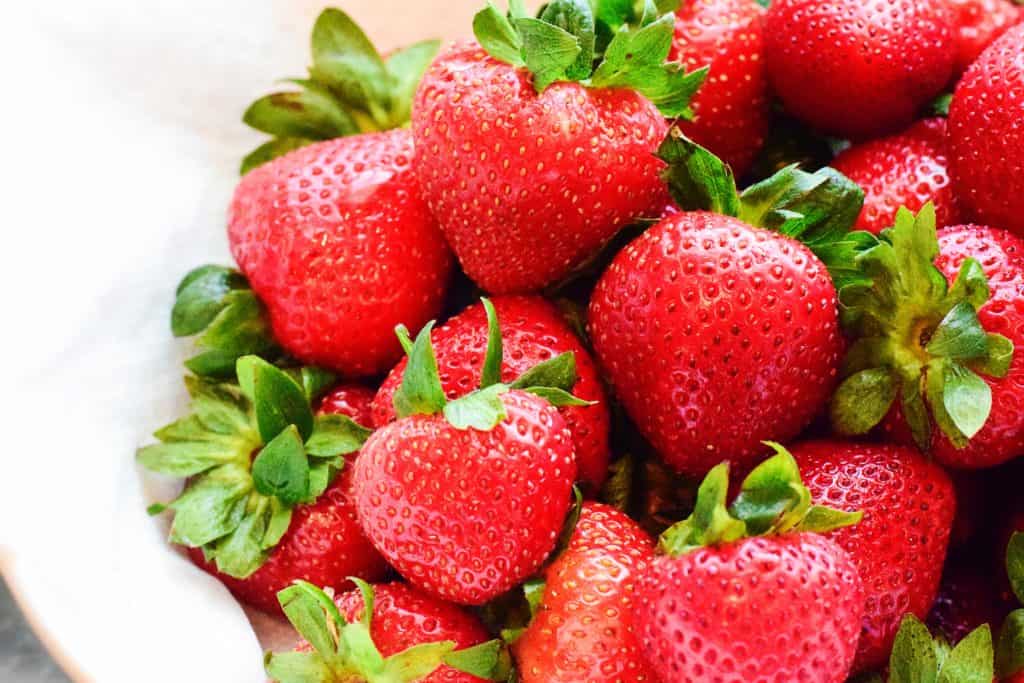 So what options do I have to make a more flavorful strawberry milkshake?
Use ripe strawberries
Use concentrate (like preserves or jam)
Use ripe strawberries and concentrate them down yourself – this is the ideal and recommended solution!
Using Jam in Your Strawberry Milkshake 
I'm going to explain how to create your own simple jam for your shake, but if you don't have time to do this, you can easily buy jam as well. If you want the quickest strawberry milkshake that keeps the strawberry flavor high, then a few tablespoons of strawberry jam will do just fine.
My recommendation is to pick one that doesn't have many ingredients other than fruit, sugar, and a thickener like pectin.
Some people might look at you funny for adding jam into your recipe, but don't let this deter you. Just remember that water is the enemy of milkshakes, so jam it up with confidence! 
Tools Required
Here are the ideal tools needed to create a strawberry milkshake using my recommended method for concentrating your strawberries:
Saucepan
Wooden Spoon
Blender
Saucepan
To create a simple jam from your strawberries, you will need a saucepan. Non stick is essential here, as you will be turning the strawberries into a thick syrupy jam. With non-stick cookware, always use a wooden spoon.  
Blender
My recipe is on the thicker side of milkshakes, and you can always up or downplay the liquid to match your tastes. It's important to note that depending on how thick you like your milkshakes, you will need a stronger and more powerful blender.
I'll be using a Vitamix blender because there are definitely times I like my milkshakes more like Dairy Queen Blizzards and my smoothies as thick as sorbets.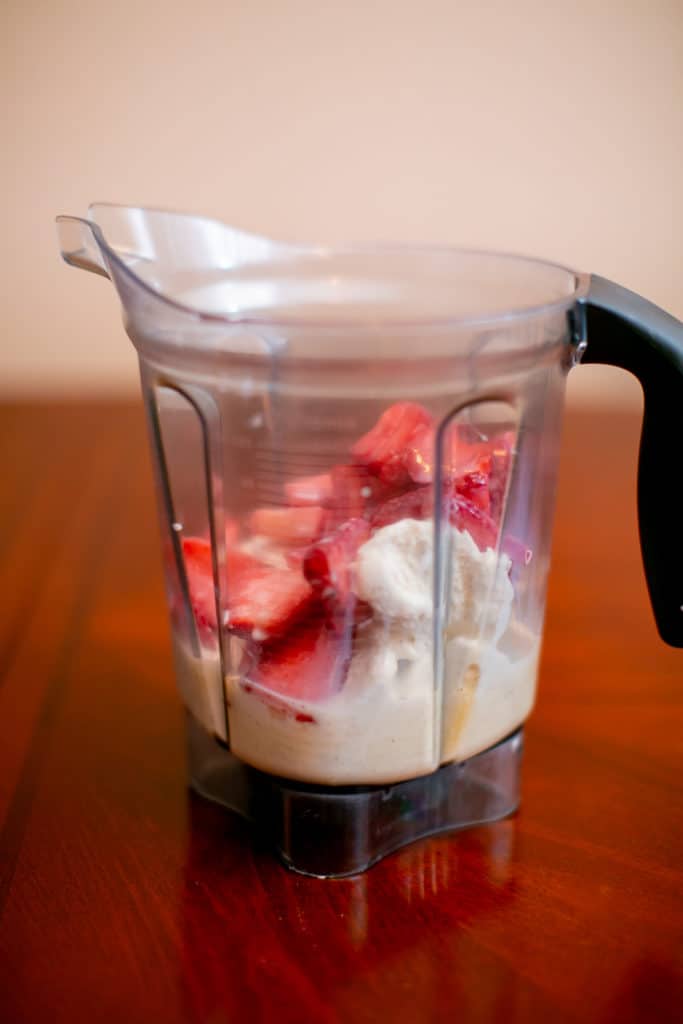 Blender Substitutions
You don't need a fancy blender to make a great milkshake. You may have noticed when you are in a diner, they don't even use a blender. They actually use a drink mixer. While that's an even more specialized appliance than a blender, what I can take note of is what a drink mixer is. A drink mixer is basically just a big motorized spoon!
So, let's just replace the fancy equipment for a standard spoon (I know you have one of these in your kitchen) and some good ol' fashion elbow grease. When I was growing up, this manual method of making milkshakes was my goto.
One benefit of doing it this way is you will learn to feel the thickness of the milkshake you want. Once you get this down you can make anything from a quick drink to a thick, homemade DQ blizzard that you can turn upside down (can you tell that I really like their desserts?).
Serving Ideas for Strawberry Milkshakes
Okay, so you have a pink creamy drink – what are your options to dress it up for serving?
For toppings, the #1 most common topping is whipped cream. What goes better with a creamy confection? More cream! Homemade is best, but if you're going for quick and convenient, canned whipped cream will work just fine.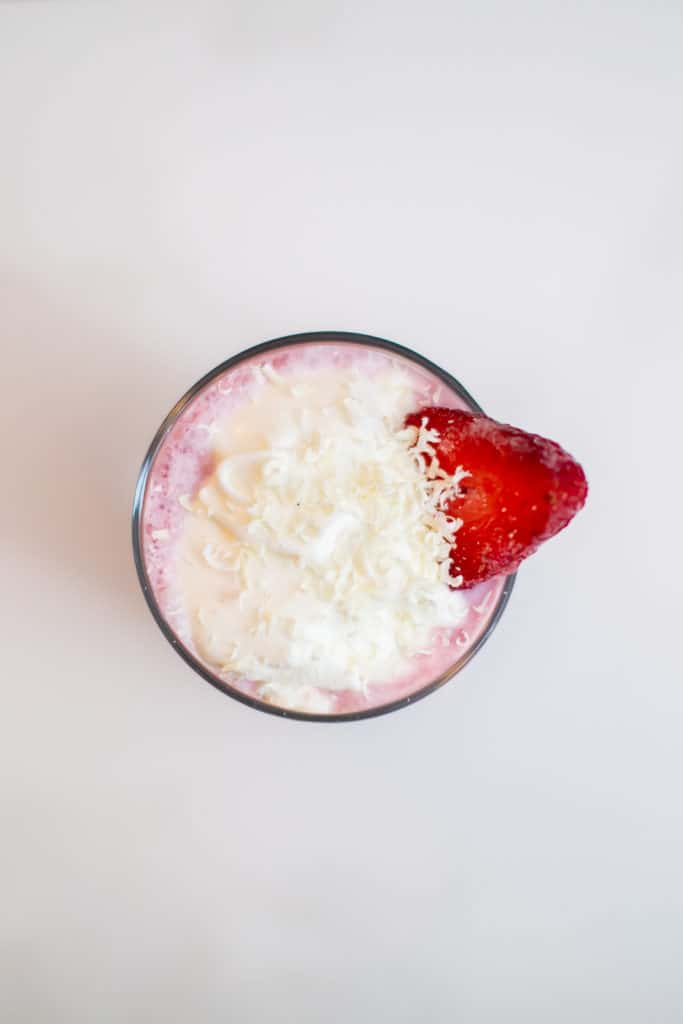 Let's start with the serving vessel. Treat your desserts more like cocktails, and you will instantly up your game. I recommend a tall collins glass (used for things like long island iced tea), a humble mason jar for that rustic appeal, or an everyday wine glass to give it a look of elegance.
Top the cream with rainbow sprinkles for a really colorful treat. Chocolate shavings are another great topper. Whether white, milk, or dark chocolate; shaving some chocolate on top of your desserts is a real step up in classiness. 
Ingredients for a Thick Strawberry Milkshake
To make a strawberry milkshake thick and creamy, here are the ingredients you will need:
Strawberry Concentrate (it's really just a very simple jam)

2 cup strawberries
2 Tbsp sugar
½ cup water

1 cup vanilla ice cream
½ cup cream or whole milk
How to Make a Strawberry Milkshake 
As I mentioned before, there are a few methods you can do when making a flavorful milkshake. In my steps, you'll see that I'm making a strawberry jam (which I highly recommend for the most flavor and thickest texture). If you decide to forego making the jam, you will start by adding all of your ingredients into the blender and going from there.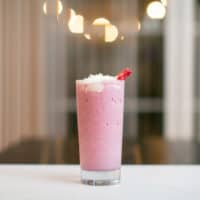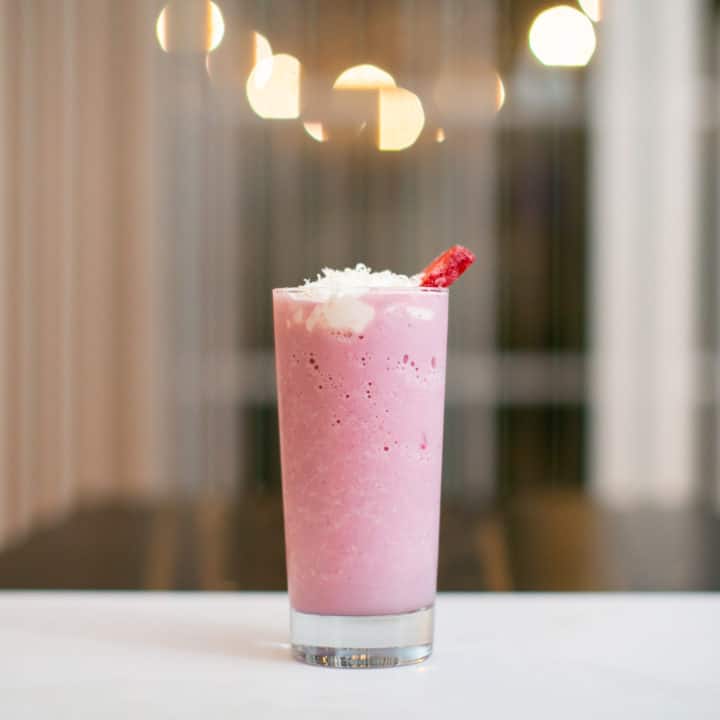 Ingredients
2

cups

strawberries

2

tablespoons

sugar

½

cup

water

1

cup

vanilla ice cream

½

cup

cream or whole milk
Instructions
Making the Strawberry Jam
Clean and cut strawberries. If you are using frozen strawberries, don't worry about cutting them.

Add strawberries and sugar to a medium saucepan. Place the temperature on medium heat

Mash and stir with a wooden spoon. Let the strawberries soften up a bit if they were originally frozen. 

Cook until water has reduced to a thick syrup. This will take about 30 minutes.

Pour into a heat and cold safe dish. Place in freezer to cool
Making the Milkshake
Add jam, cream, and ice cream to blender

Blend until combined

Pour into a glass. Top with toppings
Nutrition
Calories:
431
kcal
|
Carbohydrates:
40
g
|
Protein:
5
g
|
Fat:
29
g
|
Saturated Fat:
18
g
|
Polyunsaturated Fat:
1
g
|
Monounsaturated Fat:
7
g
|
Cholesterol:
96
mg
|
Sodium:
73
mg
|
Potassium:
408
mg
|
Fiber:
3
g
|
Sugar:
35
g
|
Vitamin A:
1170
IU
|
Vitamin C:
85
mg
|
Calcium:
149
mg
|
Iron:
1
mg