As an Amazon Associate we earn from qualifying purchases.
I have always thought the taste of honey and ginger would pair well with the flavors of gold reposado or Anejo style tequila. This smoked tequila cocktail recipe has been the perfect chance to try out my theory and try making honey-ginger simple syrup. To add some additional, aged characteristics to my drink I'll also be adding smoke to the tequila mixed drink. 
What is a Smoked Tequila Cocktail?
With this smoked tequila cocktail recipe, I am going to be creating a spin-off of the Bee's Knees cocktail. The Bee's Knees is a prohibition-era cocktail made from gin, lemon, and honey. A tequila version of this cocktail simply swaps the gin for tequila.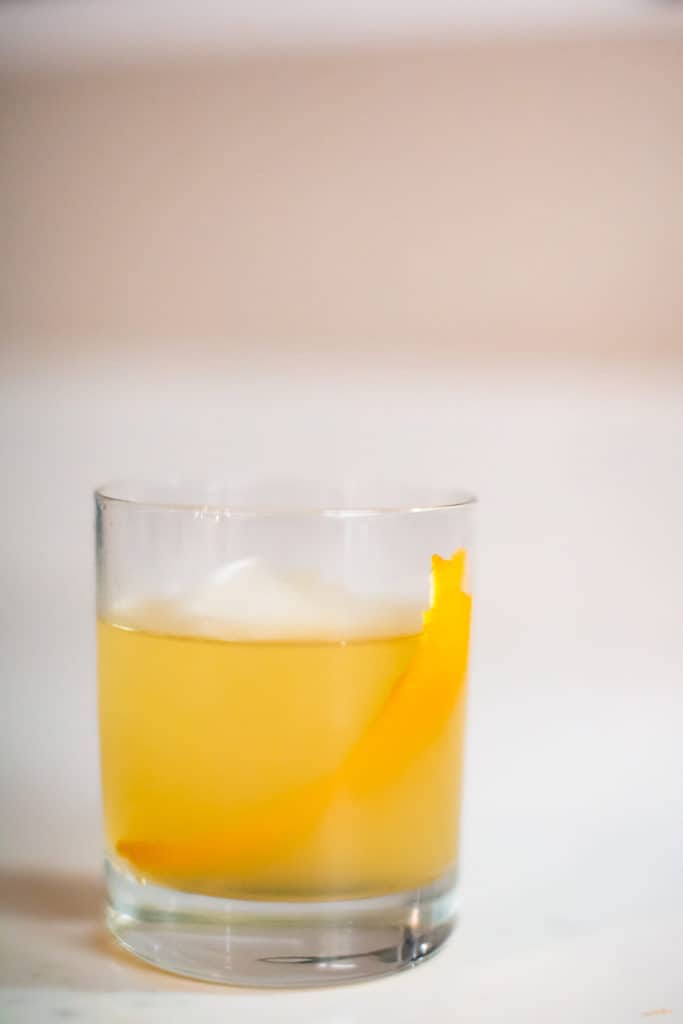 From what I was able to find when researching drinks of this type, there may also be a drink called a Honey Bee that is centered on tequila, lemon, and honey. Altogether, if you see "bee" in the name of the cocktail it is very likely going to have honey in it.
For the version I'll be making, I like to refer to it as the sleepy bee cocktail. Just like their real-life counterparts, when beekeepers "smoke out" bees, the bees become sleepy. This is a fitting name as honey, lemon, and ginger are common ingredients in relaxing teas that help put me to sleep as well. 
My Approach to Honey Cocktails 
Honey does not like to mix, especially when it is cold. My approach to honey in cocktails is to dilute it down to a simple syrup consistency so it will stay in liquid form and distribute its flavors through the drink. 
Tools Required
I highly recommend using a shaker for any chilled cocktails containing syrups or juiced fruits. Even more so with the honey simple syrup, you'll want a thorough mix to your cocktail that requires a shaken approach. Finally, since I'm going to be adding smoke with a smoke gun you'll need a shaker to be able to catch and distribute that smoke into your drink. 
Adding smoke is not required, though it does add (both visually and taste) to the cocktail. I have a smoke gun that allows me to easily infuse foods and drinks with smoke.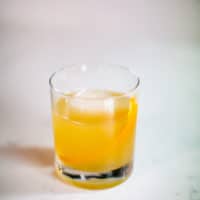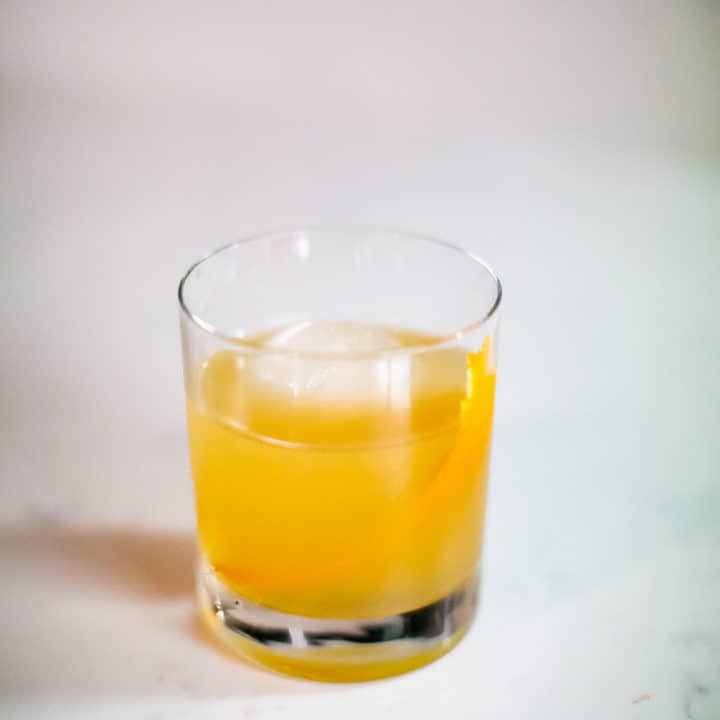 Ingredients
1

Shot Tequila

1

Shot Triple Sec

1

Lemon

(peeled and juiced)

1/4

th cup honey

1/4

th cup water

1

tablespoon

water

Smoke

(apple or cherry wood recommended)
Instructions
Ginger Simple Syrup
Add honey, cup water, ginger to pot and bring to a boil 

Once boiling turn off burner and let cool 

Strain and save for later
Lemon Ginger Smoked Tequila Cocktail
Measure tequila and add to shaker

Measure triple sec and add to shaker

Measure simple syrup and add to shaker

Zest lemon peel and place on side

Juice lemon, measure and add to shaker

Measure and add ice to shaker

Turn on smoke gun and place the nozzle inside the shaker. Cover quickly to keep the smoke contained.

Shake 5-10 times

Pour into glass

Twist the lemon peel, rim the glass with it, and drop in as garnish 
Nutrition
Calories:
37
kcal
|
Carbohydrates:
11
g
|
Protein:
1
g
|
Fat:
0.3
g
|
Saturated Fat:
0.04
g
|
Polyunsaturated Fat:
0.1
g
|
Monounsaturated Fat:
0.01
g
|
Sodium:
3
mg
|
Potassium:
149
mg
|
Fiber:
3
g
|
Sugar:
3
g
|
Vitamin A:
24
IU
|
Vitamin C:
57
mg
|
Calcium:
29
mg
|
Iron:
1
mg
Beginner's Guide to Mixed Drinks and Cocktails