As an Amazon Associate we earn from qualifying purchases.
One of my favorite seasonal drinks is eggnog. Love or hate it as a beverage, I think it is underused when it comes to baking. What do you get when you put eggs, sugar, and cream together?
Custard! One of my favorite uses of custard is in bread pudding. That heavy, sweet, slightly spicy texture and flavor, questionable in a glass but undeniably desirable in a pudding. 
What is Eggnog Bread Pudding?
Eggnog bread pudding is a baked dessert that replaces the standard egg, cream, sugar mixture with prepared eggnog. In its simplest form, you can think of it as a shortcut to this easy and delicious dessert.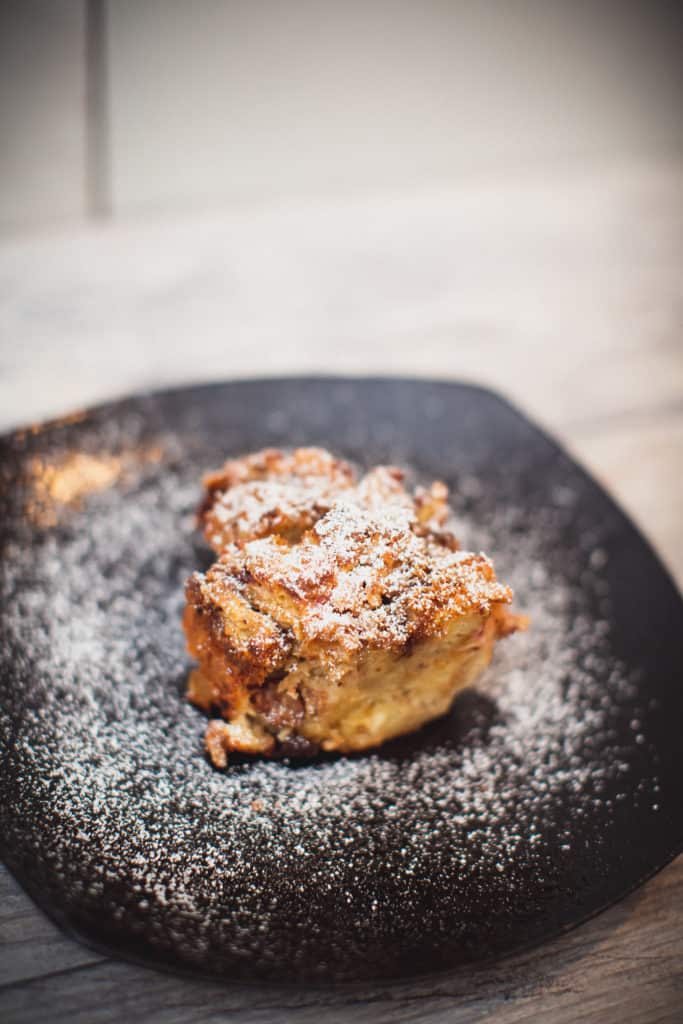 My Approach to Eggnog Bread Pudding
Eggnog is so seasonal, so I really wanted to develop a recipe that would be specific to the holidays. To really "holiday" this out, I'm also going to be using a dash of cranberry sauce to give some bright acidity and fruit to my pudding.
Next, I'm going to balance that out with some bitter dark chocolate and finally, round out the early flavors with walnuts.  
What Makes a Good Eggnog Bread Pudding
A good bread pudding should be able to stand on its own without the sauce. Sauce is great but you really want to make sure you have your flavors right in the main dish itself. For bread pudding, the big dangers are either it tastes too plain (like normal bread) or it is way too sweet. 
With my recipe here, you should be safe on both sides. Eggnog is stronger than milk or cream so it won't be under flavored. The balancing I'm doing with the cranberry sauce and dark chocolate also helps in adding more flavor to the dessert. 
How to Pick the Right Bread
When it comes to eggnog bread pudding, picking out the right type of bread might seem like something that can make or break this dessert. This is only partially true. Technically, you can choose almost any type of bread for bread pudding – challah bread, croissants, white bread, or even churros will work!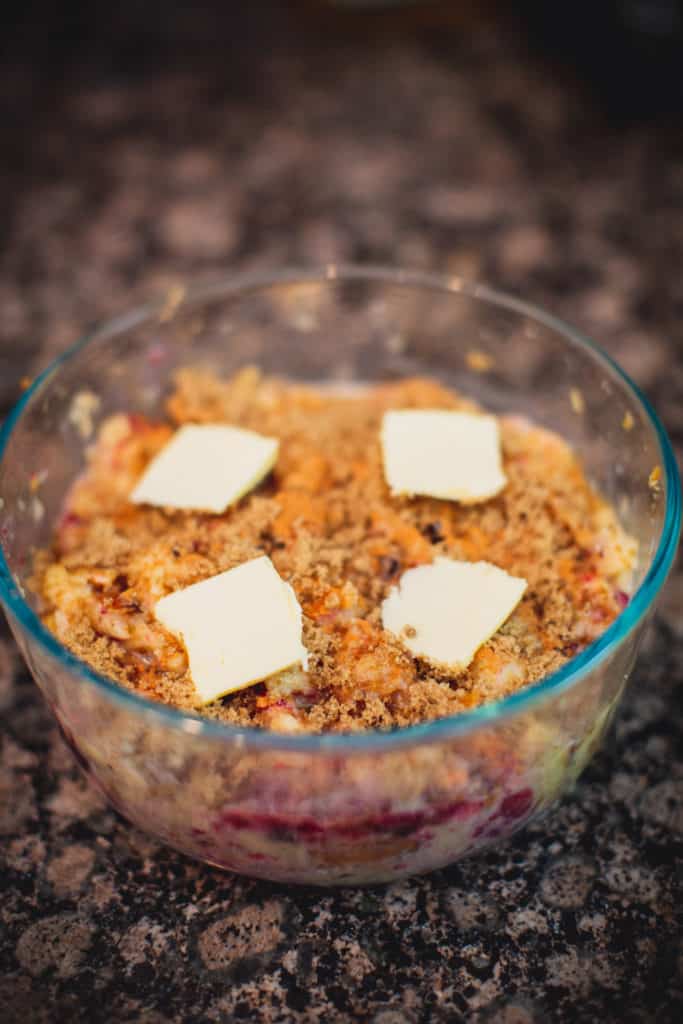 Challah bread is often considered the ideal bread to use, but I've experimented with several types now and have had delicious results. 
Staleness Matters
While the type of bread you choose doesn't really matter, the staleness of the bread does. If you use fresh bread, the overall texture of the dish is impacted. The bread will end up getting very soggy when you add in your custard and won't have the right texture. 
You will effectively end up with a pudding with soggy bread floating through it, rather than bread with the creamy custard baked through it.
Ideally, you want bread that has gone stale (or is going stale). It will be harder and the texture will be grittier, allowing it to stand up against the custard. If you don't have stale bread on hand, you can toast your bread until it is crisp – just be sure not to burn it!
Tools Required
To make this dish you will need the following tools: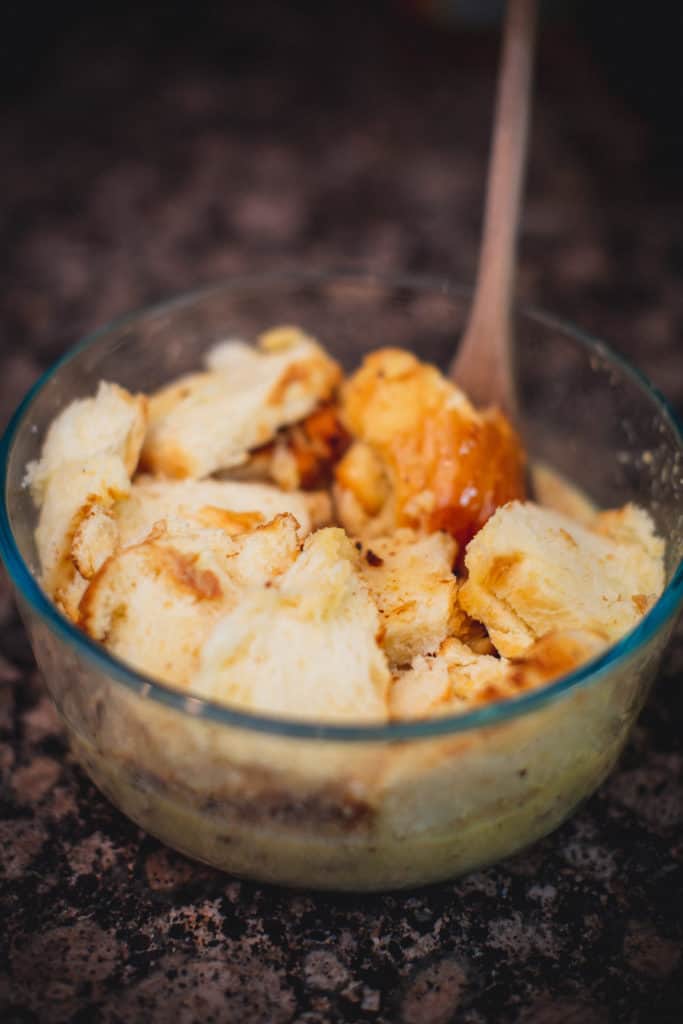 Baking dish large enough for the bread and mixture (after the bread is added you want about 30% more space in your baking dish) 
Mixing bowl
Measuring cups and spoons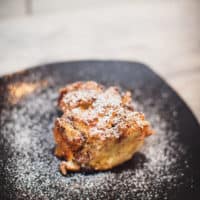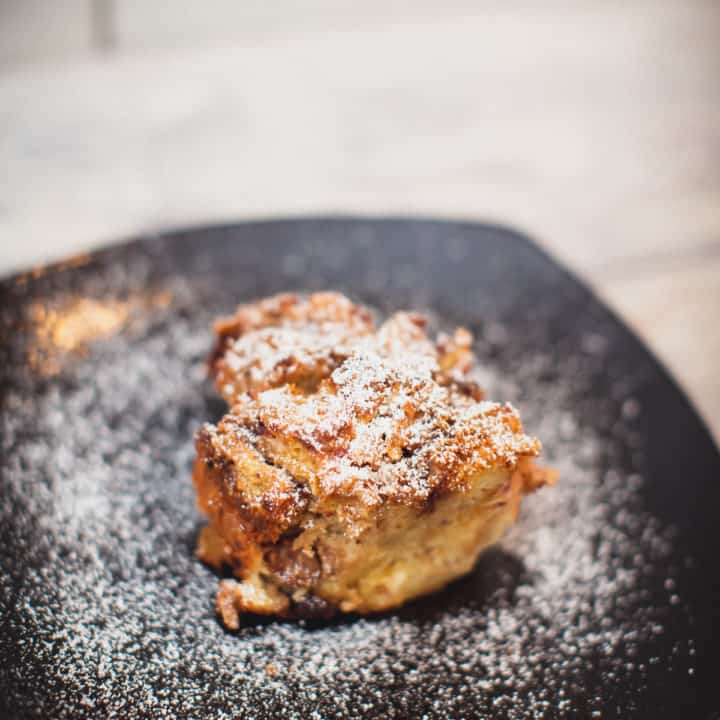 Ingredients
Custard
3

eggs

1/2

cup

sugar

1

cup

eggnog

1

teaspoon

cinnamon

1

teaspoon

nutmeg

1

teaspoon

salt
Bread
1/2

loaf stale challah bread

(or your choice of white bread)
Mixins
1/2

cup

walnuts or pecans

1

ounce

dark chocolate

2

tablespoons

cranberry sauce

(optional but recommended)
Optional crispy top
Dust top with cinnamon, brown sugar, and white sugar

Add a couple pieces of butter
Instructions
If not using stale bread, toast slightly to dry it out

Grease baking dish

Break bread into 1-2 inch pieces and put into dish 

Cut walnuts and chocolate up into coarse chunks (no smaller than ¼ inch) and add to the dish. Optional: This is also when you would add in the cranberry sauce

In your mixing bowl mix dry custard ingredients together

Add the eggs and eggnog to the dry ingredients, and whisk together until combined

Pour onto the bread mixture and let it sit in the fridge for 30 minutes to overnight. The texture will be better the longer you leave it in the fridge, but if you're looking for a quicker dessert, chill it for 30 minutes. 

Bake at 350° for 1 hour (no need to preheat the oven – just pop it in) 

Take out of the oven and add your crispy top

Serve and enjoy
Nutrition
Calories:
141
kcal
|
Carbohydrates:
16
g
|
Protein:
4
g
|
Fat:
7
g
|
Saturated Fat:
2
g
|
Polyunsaturated Fat:
3
g
|
Monounsaturated Fat:
2
g
|
Trans Fat:
0.01
g
|
Cholesterol:
64
mg
|
Sodium:
266
mg
|
Potassium:
109
mg
|
Fiber:
1
g
|
Sugar:
14
g
|
Vitamin A:
128
IU
|
Vitamin C:
1
mg
|
Calcium:
51
mg
|
Iron:
1
mg
8 Beginner Cooking Tips I Wish I Had Known