As an Amazon Associate we earn from qualifying purchases.
If you have never tried panna cotta you are missing out. The texture is somewhere between jello, pudding, and creme brulee. But lucky for me, it is basically as easy as jello to make.
That is right if you can make jello you can make this "fancy" Italian dessert to amaze your friends and family. 
What I love about Panna Cotta is that it's so easy to add flavors and spices to this creamy dessert. Want something a bit fruitier? Mix in a blend of strawberries and blackberries.
Additionally, you can substitute the cream out for other products, which is what I'm doing in this eggnog panna cotta recipe.
What is Panna Cotta?
Panna cotta is Italian for "cooked cream" and is basically cream molded with gelatin (like jello). The term panna cotta is fairly recent, only going back to the 1960s in Italy.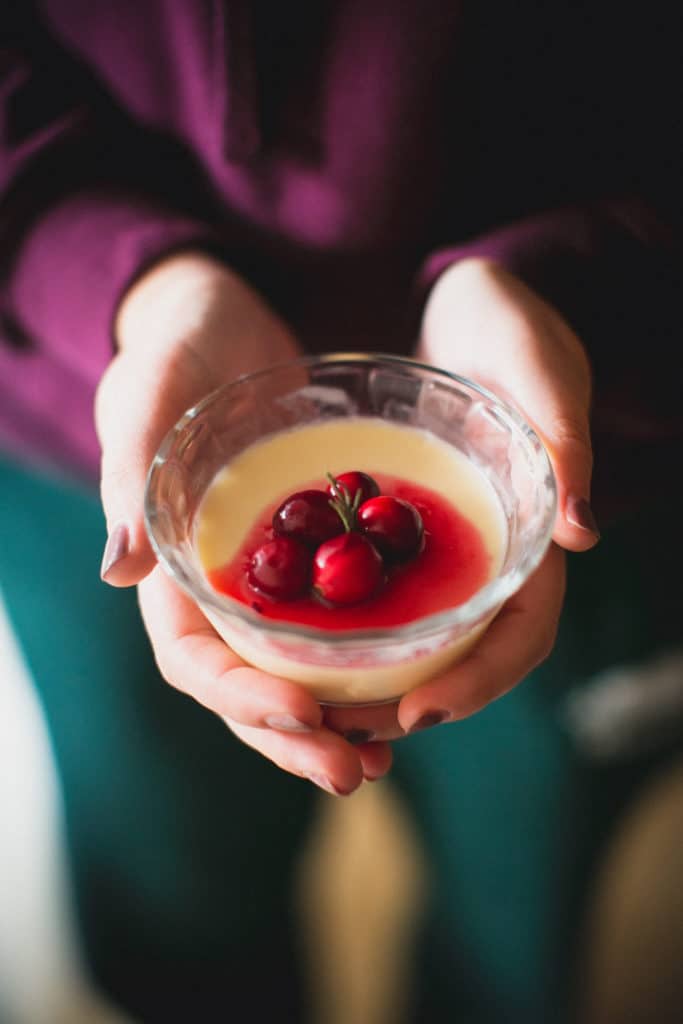 There are ancestors to the dish going back a hundred years earlier that refer to creams and custards structured in a mold using gelatin. 
My Approach to Eggnog Panna Cotta 
Similar to what I did with my eggnog bread pudding or eggnog white Russian recipe, I'm essentially going to replace the cream with eggnog. Oftentimes, panna cotta will have the cream flavored with spices and aromatics, so subbing in eggnog is a great way to achieve a more complex flavor profile. 
One thing to note is that traditionally panna cotta does NOT have egg in it, so the traditional version is not actually a true custard. Since my recipe uses eggnog, it would be considered a custard. 
How Does Gelatin Work?
Gelatin is the result of cooking down collagen. It is almost odorless and flavorless, and when dissolved into liquid it can thicken up into a solid.
Gelatin achieves this by unfolding into long spaghetti-like proteins which tangle together and then when cooled, hold them in shape. 
What is even more fantastic is that when the substance warms up again, the proteins loosen up and the solid turns back into a liquid. This is the magic that gives jello and panna cotta it's amazing texture and mouthfeel.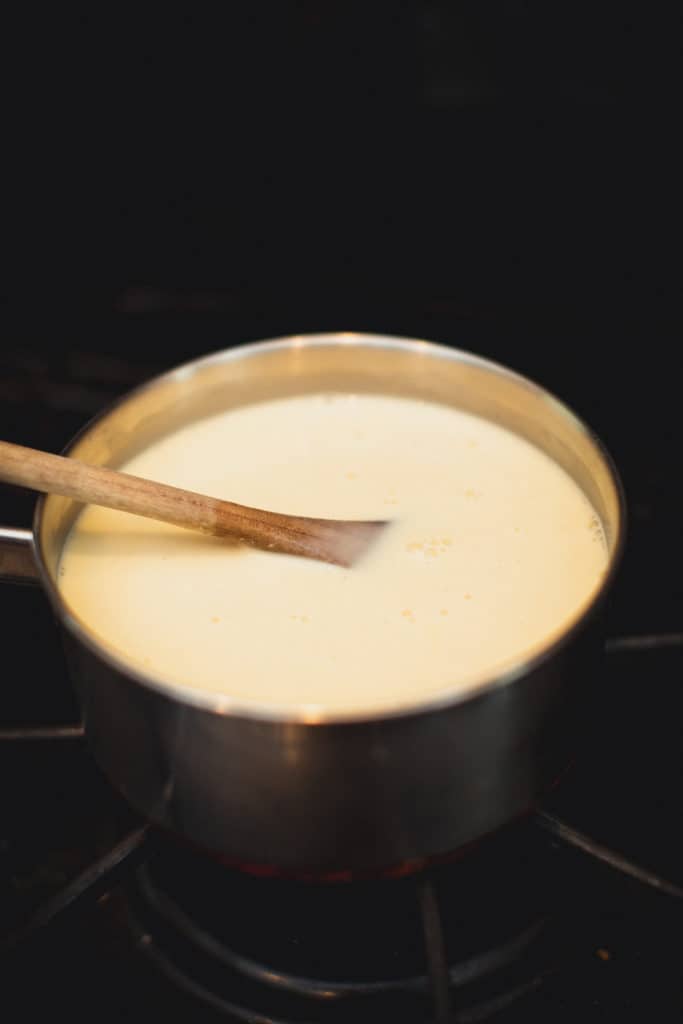 Vegan Options for Panna Cotta
Surprisingly, it isn't that hard to make a vegan panna cotta. You can use almond, cashew, or coconut milk in place of the cream and agar or carrageenan in place of gelatin. The texture will not come out as smooth but it definitely works as an alternative.
Don't want to use sugar? A ¼ – ⅙  ratio of stevia in place of sugar will work plenty fine. 
What Makes a Good Eggnog Panna Cotta
Good panna cotta with eggnog should not be too sweet. Because eggnog is already pretty sweet, be careful about not adding too much additional sugar to this recipe. Texture-wise, it should hold its shape on a spoon or in the mold. When agitated, it should jiggle (like jello). 
What Pairs with Eggnog Panna Cotta?
Oftentimes panna cotta will be served with a berry coulis or topping. In my version, I give the option to top with cranberry sauce to amp up the holiday theming. 
Don't have any cranberry sauce? You can always mash up some blackberries or raspberries, or even a tiny bit of jam would work in a pinch.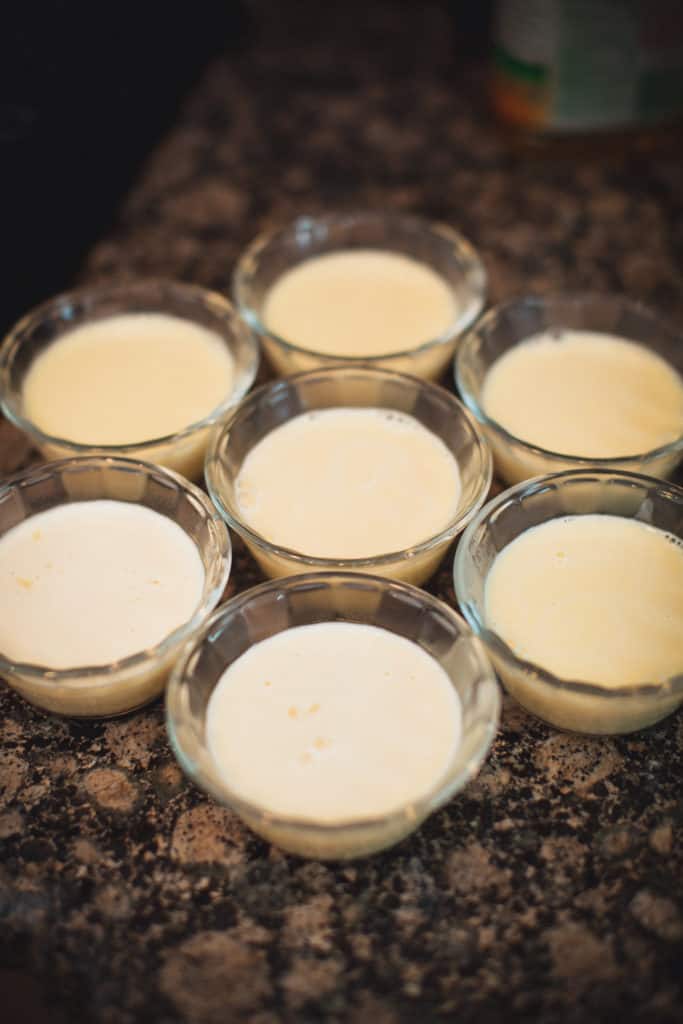 Tools Required
This recipe is really simple. You only need a saucepan to heat the eggnog, a small bowl to soak your gelatin, and some cups or bowls to chill your panna cotta in.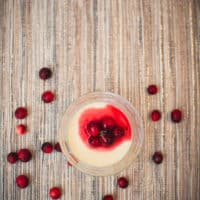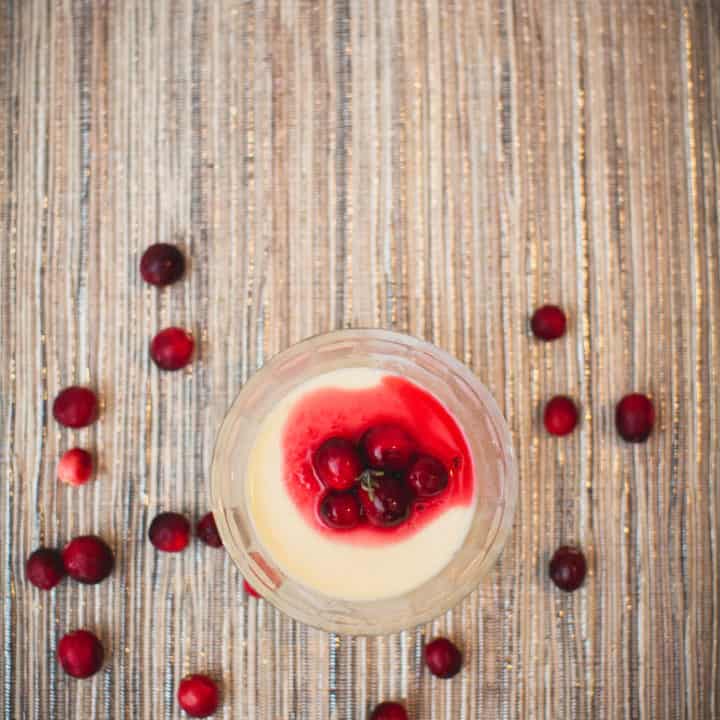 Ingredients
3

cups

eggnog

1

pack gelatin

1/4

cup

sugar

you can completely omit this if you want since eggnog is already pretty sugary

1

teaspoon

vanilla extract

2

tablespoons

warm water
Instructions
In the saucepan add your eggnog, vanilla, and optional sugar over low heat

Pour warm water into a small bowl, and add the gelatin sheet to the water

When your eggnog gets to a simmer turn off the stove

Add the gelatin (which should now be like jelly) to the saucepan

Stir until all gelatin pieces are dissolved 

Portion into the bowls or cups

Chill in fridge for 4 hours to overnight

Top with cranberry sauce or berries and serve
Nutrition
Calories:
146
kcal
|
Carbohydrates:
19
g
|
Protein:
6
g
|
Fat:
5
g
|
Saturated Fat:
3
g
|
Polyunsaturated Fat:
0.3
g
|
Monounsaturated Fat:
2
g
|
Cholesterol:
75
mg
|
Sodium:
69
mg
|
Potassium:
211
mg
|
Sugar:
19
g
|
Vitamin A:
262
IU
|
Vitamin C:
2
mg
|
Calcium:
165
mg
|
Iron:
0.3
mg
8 Beginner Cooking Tips I Wish I Had Known