As an Amazon Associate we earn from qualifying purchases.
Bought too much bread and now its gone stale? Don't throw it out! Turn it into delicious, decadent bread pudding. I'm putting a fun twist on bread pudding today and using churros rather than bread.
Why I'm Making Churro Bread Pudding
Shortly after getting engaged, my fiance and I had an engagement party. We bought around 40 churros from Costco for our party, and ended up coming home with 10-15 leftovers at the end of the day.
Since we knew they would go stale before we could indulge in all of them, we decided to turn them into a churro bread pudding!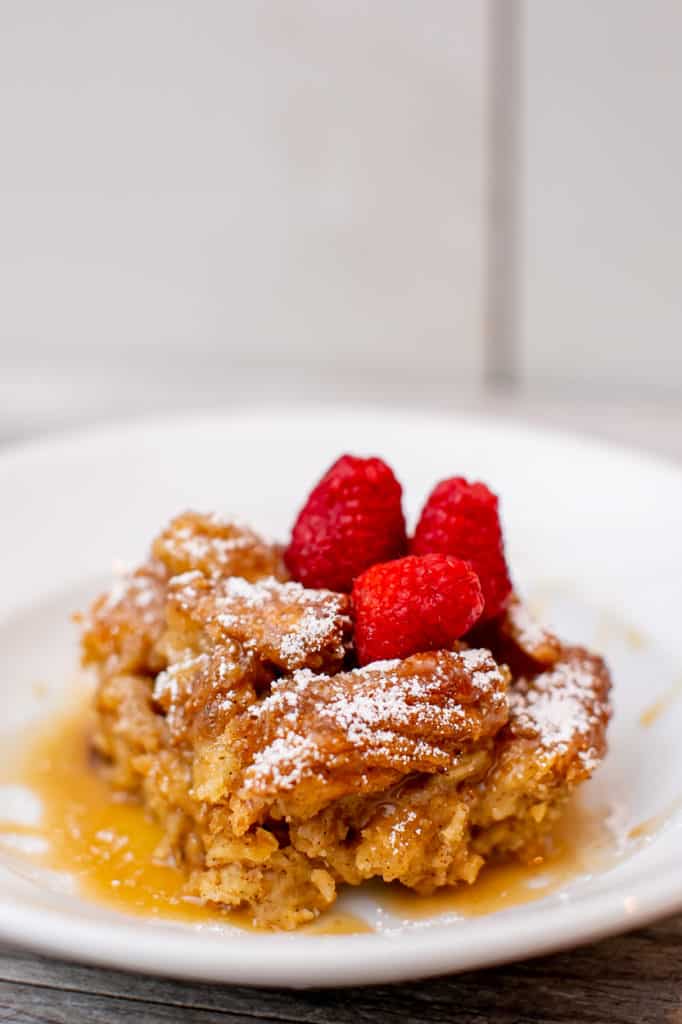 Ingredients
Making churro bread pudding is pretty simple and only involves 5 ingredients. If you want to also create a sauce for the bread pudding, that will require some additional ingredients; however, a sauce isn't required.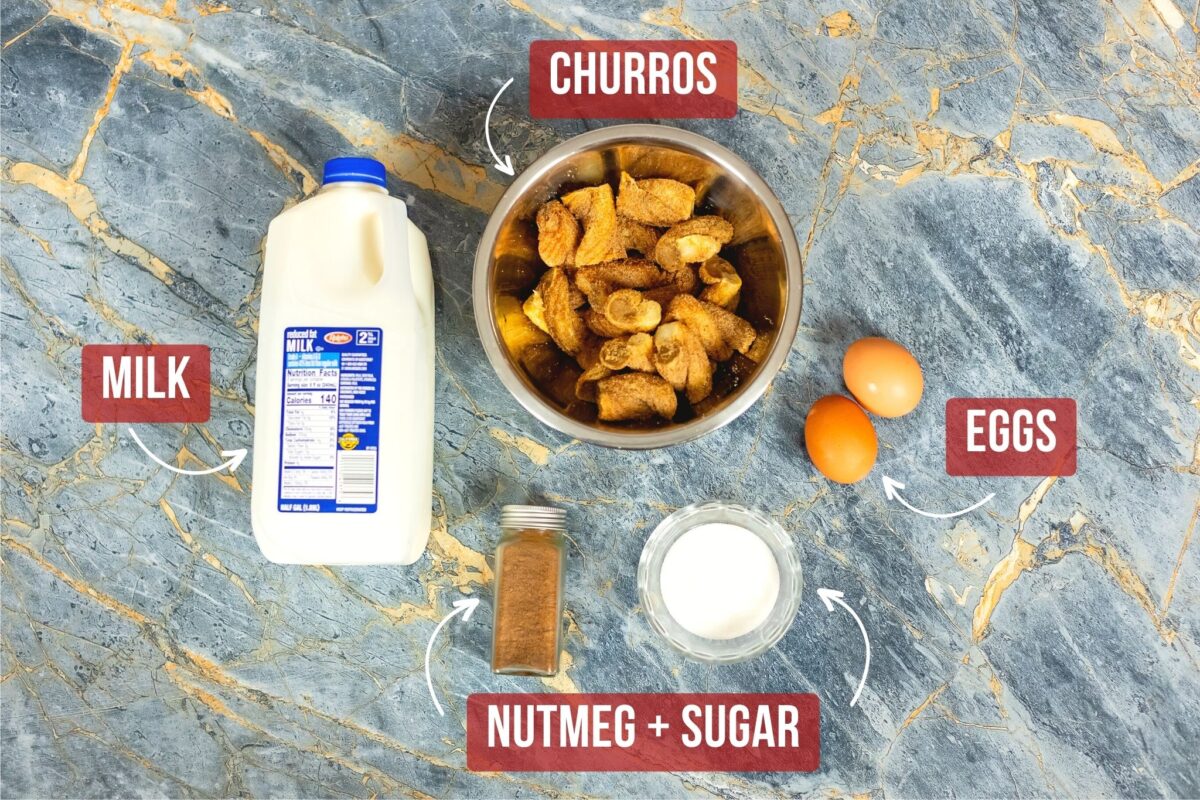 Churros are the most important ingredient for this (which is probably obvious by the name of the recipe!). The key with the churros is to let them sit for a day or two so they become stale. Stale bread works best for a bread pudding because it has dehydrated and de-gelatinized, making it tougher to stand up to the soaking process.  
Milk is your moisture and helps dilute the eggs and sugar into a custard, 
Eggs provide the structure and binders to your custard, allowing the pudding to meld together. 
Sugar provides structure and sweetness to the dish. Without sugar, your custard won't come together correctly. Sugar helps break down and break up the protein from the egg. resulting in smoother, finer consistency and a higher setting temperature (perfect for puddings).
Nutmeg brings sweetness to the dish and compliments the sugar and cinnamon in the churros and custard.
Recipe Instructions for Churro Bread Pudding 
Step 1: Preheat Oven
Preheat the oven at 350°F. As the oven is preheating you can begin working on the next steps.
Step 2: Mix Ingredients
In a large mixing bowl, add eggs, sugar, milk, and nutmeg together. To combine the ingredients use a whisk. A whisk is ideal to use because it will allow for faster incorporation of the wet ingredients and help break up any chunks of sugar or spice.
Step 3: Tear and Soak Churros
Take your churros (or bread if you are substituting), and tear them into 1 inch pieces. You want to aim for roughly 1 inch because this gives you a good surface area to volume ratio for the egg mixture to coat and flow into.
If your pieces are too large, then it will be difficult to get the egg to fully soak through. Once torn, soak them into the mixture you made in the previous step. I recommend soaking the pieces for 3 seconds and no longer than 5 seconds.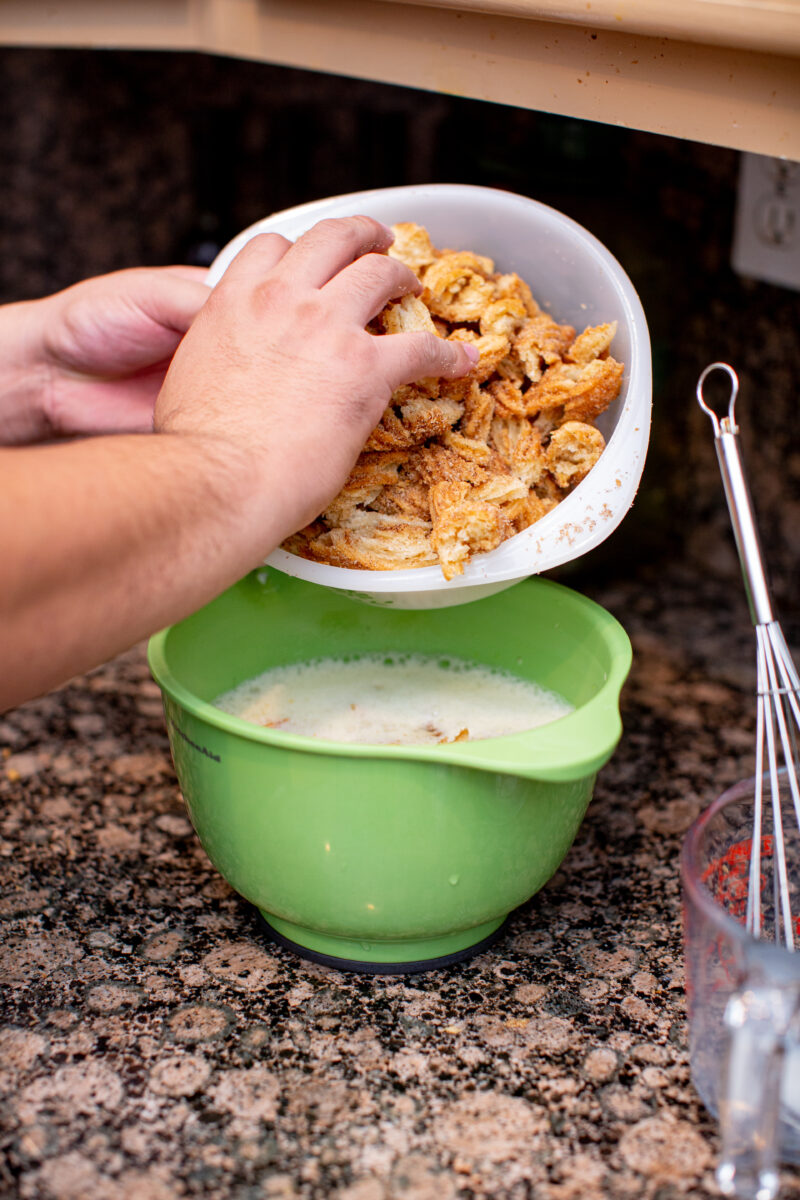 Step 4: Grease Baking Dish
Grease your baking dish with butter or oil. For your baking dish size, ideally, use a 9×13 inch tray. You can use something smaller (such as a 9×9 dish), but keep in mind that the cook time might fluctuate slightly.
The thinner your pudding, the faster it will cook, as it has a larger surface area to volume ratio (that is, more of the pudding is exposed to hot air). Iif you like your finished dessert to be firmer, use a 9×13. If you prefer it more moist, use a 9×9. 
Step 5: Pour Bread into Baking Dish
Take your mixing bowl with the soaked churro pieces and pour it into your baking dish. Pour any of the excess mixture on top of the churros.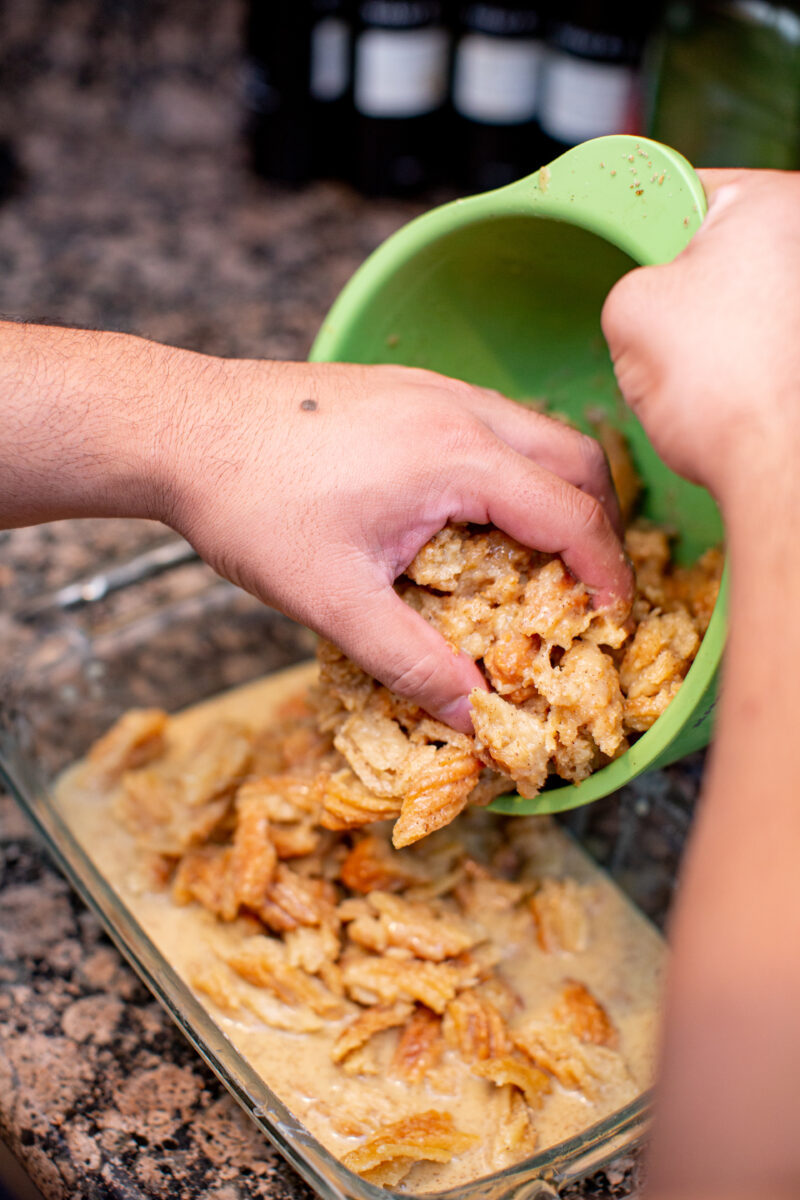 Step 6: Press Bread
Press down on the churros so they all get thoroughly soaked in the mixture. As you do this, be careful not to press too hard on the bread. You don't want to crush it or lose the overall shape of the bread.
Step 7: Bake
Make sure your oven has come to temperature and place your dish into the oven. Bake for 1 hour, or until golden brown. If you start seeing your pudding turn dark brown, this is a sign your oven is too hot, and your sugar is about to burn. Remove the pudding from the oven and decrease the temperature.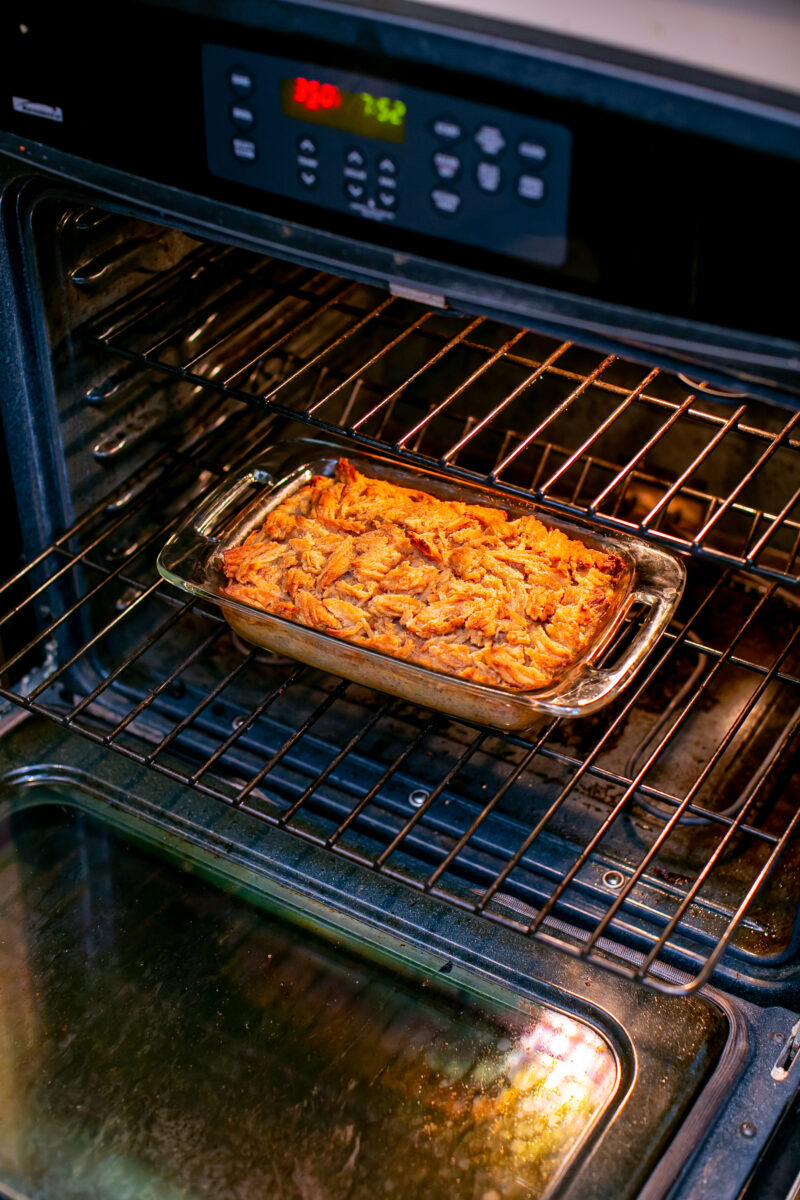 Recipe Instructions for Bourbon Vanilla Sauce
The best way to enjoy your bread pudding is with a sweet, complex, Bourbon vanilla sauce. This is somewhere between syrup and icing. It's delicious, and once you try it, you'll want to put this sauce on all your desserts!
Step 1: Add Ingredients to Sauce Pan
Add the unsalted butter, white sugar, brown sugar, heavy cream, bourbon, and vanilla extract to a medium sauce pan on medium low.
If you want additional flavor, you can add salt, cinnamon, nutmeg, and clove to taste. Personally, I like to do a pinch of each (and a little more clove around the holiday season).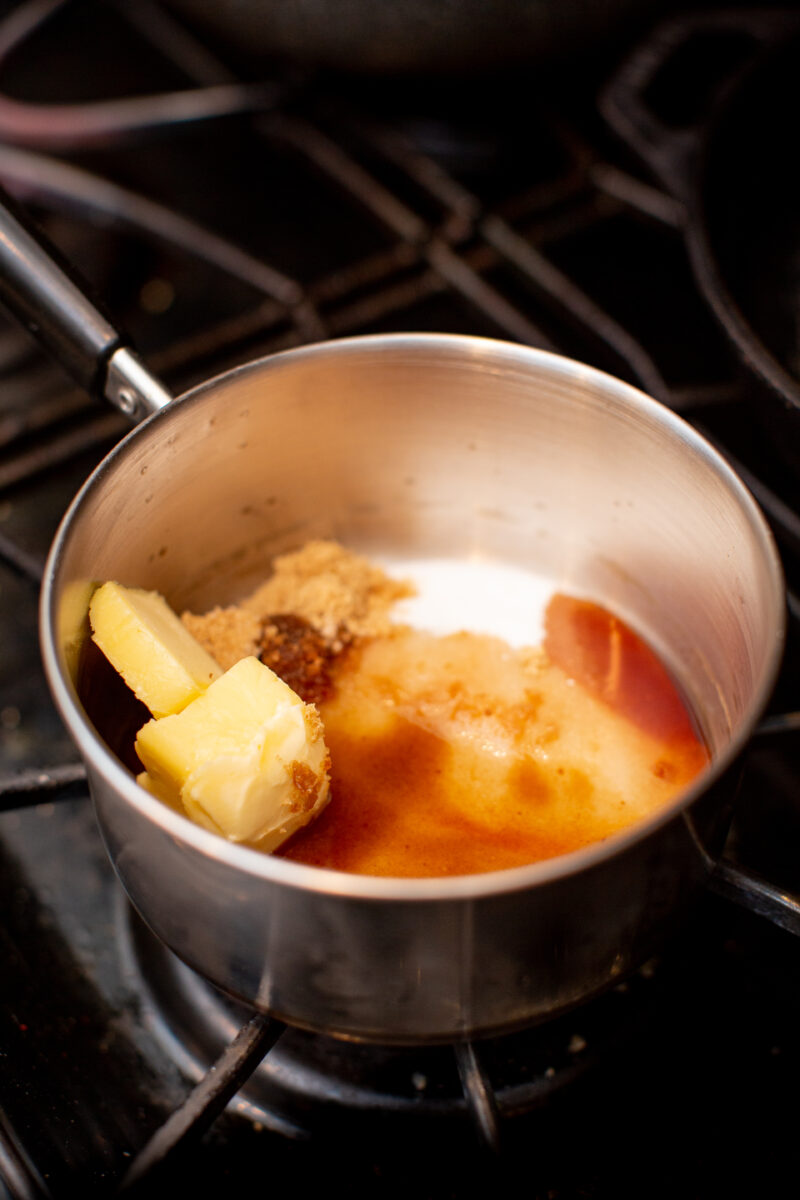 Step 2: Cook on the Stove
Keeping the heat to medium low, cook the ingredients for 10 minutes. Stir regularly until all of the sugar is dissolved.
Step 3: Pour Sauce onto Bread Pudding
Once all of the sugar is dissolved, pour the sauce on top of the bread pudding. If you want the sauce to be more absorbed into the bread, pour it soon after the bread pudding comes out of the oven. Otherwise, you can wait for the bread pudding to cool.
Substitutions in the Recipe
One of the best parts about bread pudding is the versatility. We made ours with churros, but you can use sourdough, donuts, challah, or just plain old white bread. The only real change in the recipe and directions would be not to compress or squash the more delicate breads. 
Related Questions
What is a Bread Pudding?
Bread pudding is made from stale bread soaked in a custard-like base. Often made with simple ingredients such as eggs, milk, cream, and sugar, bread pudding is a popular dessert in many countries. 
Pudding traditionally refers to baked items, and bread pudding is no different. While the most common preparation is as a dessert, it is not abnormal to find bread puddings in a savory configuration as well.
What Makes a Good Bread Pudding?
A good bread pudding will have custard soaked all the way through it. Also, the custard must actually bring new flavors and texture to the dish. The top should be toasted and crisp, with the inside soft and sweet. 
I personally believe bread puddings taste best with a tiny bit of spice to them. This is the same reason they are so often served with a whiskey or bourbon based sauce.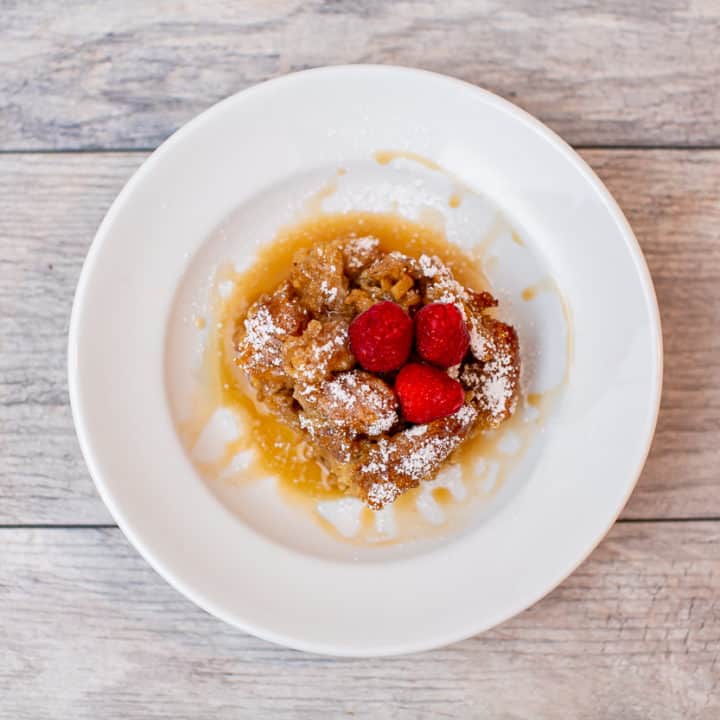 Cinnamon Churro Bread Pudding
Total Time:
1 hour
15 minutes
Ingredients
Bread Pudding
8 cups churro (about 5 Costco churros broken up to fit in a cup)
2 cups milk
2 eggs
1/2 cup sugar
1 teaspoon nutmeg
Bourbon Vanilla Sauce
1/4 cup unsalted butter
1/4 cup white sugar
1/4 cup brown sugar
1/4 cup heavy cream
1 ounce bourbon
1 teaspoon vanilla extract 
Salt, cinnamon, nutmeg, clove to taste
Instructions
Bread Pudding
Preheat oven at 350°F
In a large mixing bowl, add eggs, sugar, milk, and nutmeg, and whisk to combine 
Tear bread into 1 inch pieces and soak in mixture
Grease your baking dish with butter or oil 
Pour bread and any left over mixture into baking dish
Press down on the bread so it all get soaked in the mixture (be careful to not press too hard on delicate breads)
Bake for 1 hour
Bourbon Vanilla Sauce
In a medium sauce-pan, add all ingredients on medium low
Cook for 10 minutes, stirring regularly until all sugar is dissolved 
Pour on top bread pudding and enjoy
8 Beginner Cooking Tips I Wish I Had Known