As an Amazon Associate we earn from qualifying purchases.
Bought too much bread and now its gone stale? Don't throw it out! Turn it into delicious decadent bread pudding. 
This is what just happened to my fiancé and I after our engagement party. We bought around 40 churros from Costco for our party, and ended up coming home with 10-15 left overs at the end of the day. Since we knew they would go stale before we could indulge in all of them, we decided to turn them into a churro bread pudding!
What is a Bread Pudding?
Bread pudding is made from stale bread soaked in a custard-like base. Often made with simple ingredients such as eggs, milk, cream, and sugar, bread pudding is a popular dessert in many countries.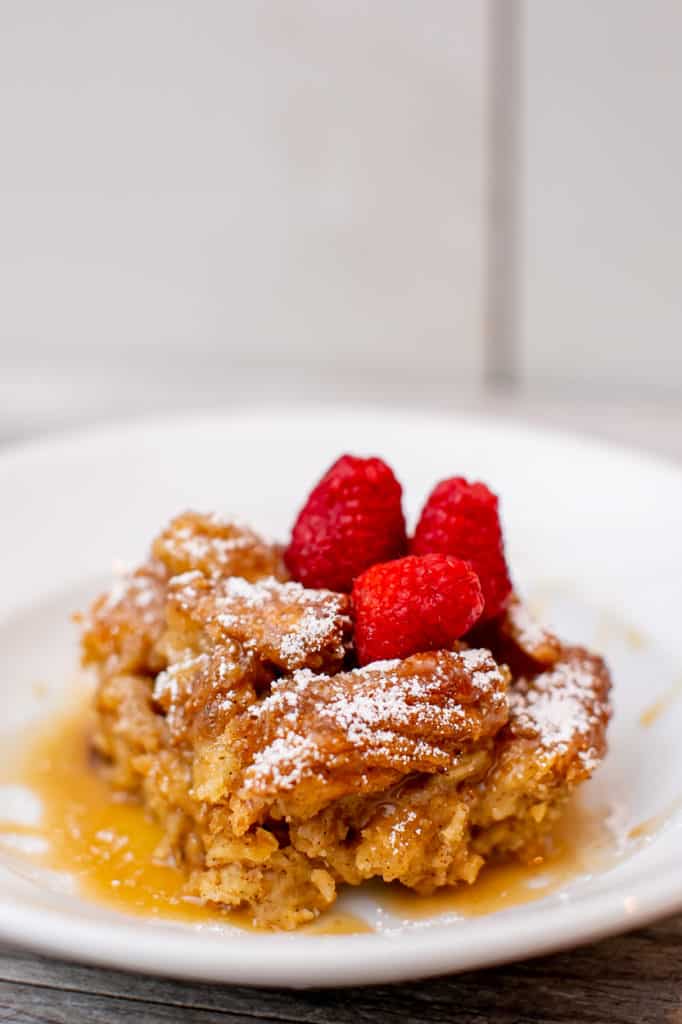 Pudding traditionally refers to baked items, and bread pudding is no different. While the most common preparation is as a dessert, it is not abnormal to find bread puddings in a savory configuration as well. 
What Makes a Good Bread Pudding?
A good bread pudding will have custard soaked all the way through it. Also, the custard must actually bring new flavors and texture to the dish. The top should be toasted and crisp, with the inside soft and sweet. 
I personally believe bread puddings taste best with a tiny bit of spice to them. This is the same reason they are so often served with a whiskey or bourbon based sauce.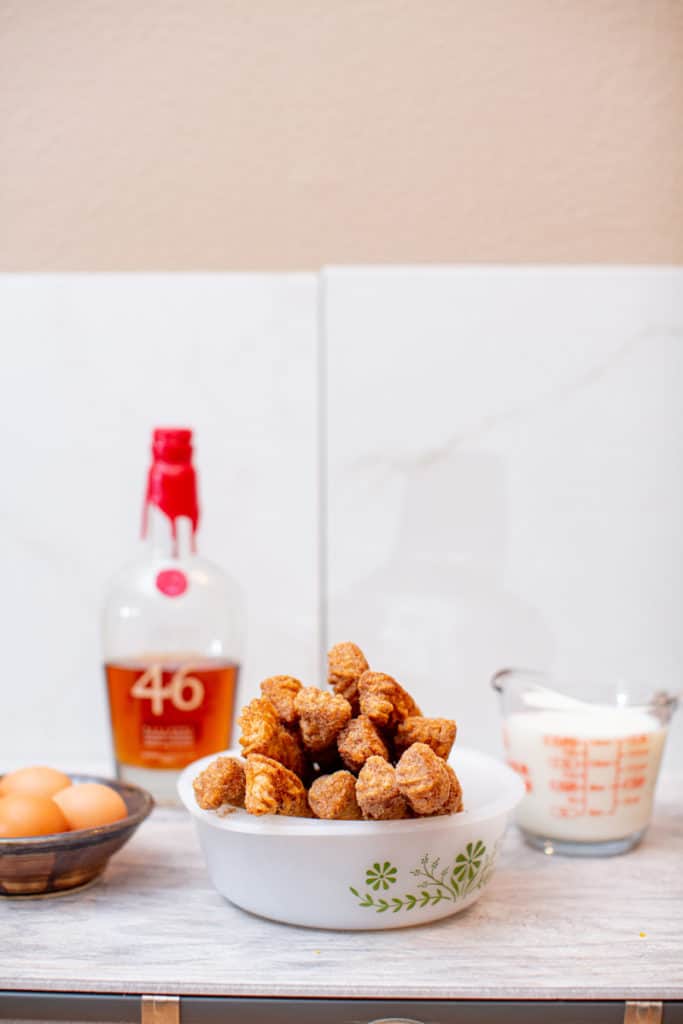 Bread Alternatives for Bread Pudding
One of the best parts about bread pudding is the versatility. We made ours with churros, but you can use sourdough, donuts, challah, or just plain old white bread. The only real change in the recipe and directions would be not to compress or squash the more delicate breads. 
Bourbon Vanilla Sauce
The best way to enjoy your bread pudding is with a sweet, complex, Bourbon vanilla sauce. This is somewhere between syrup and icing. It's delicious, and once you try it, you'll want to put this sauce on all your desserts!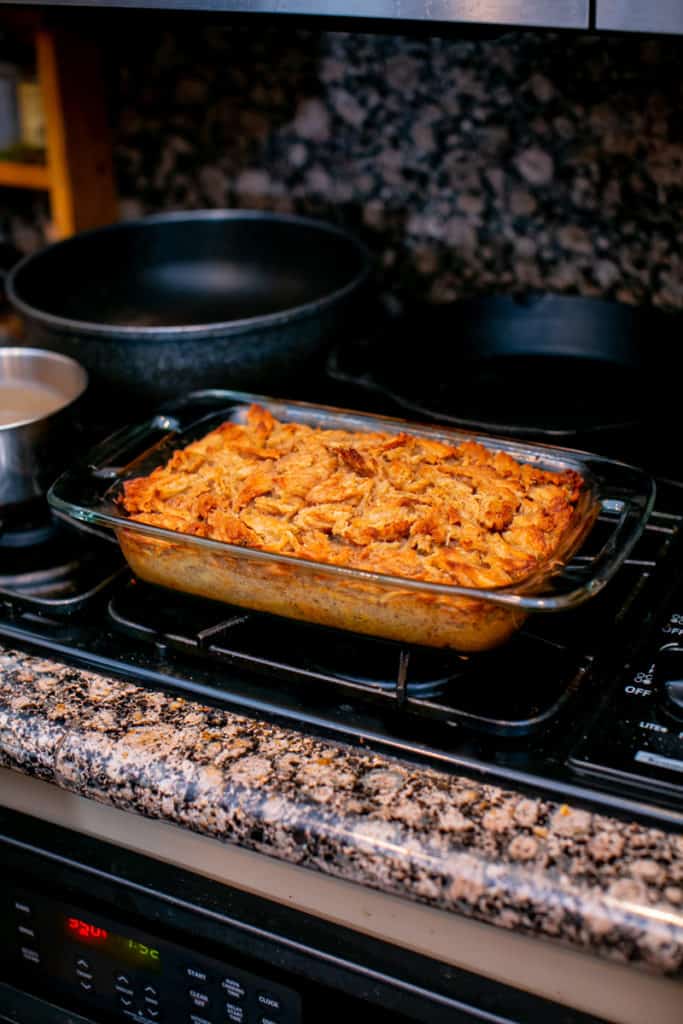 Tools Required
To make the churro bread pudding you will only need a large mixing bowl and baking dish. We're using a casserole dish for our bread pudding, and it just barely fit. For our bourbon vanilla sauce we'll be using a medium saucepan and a mixing spoon.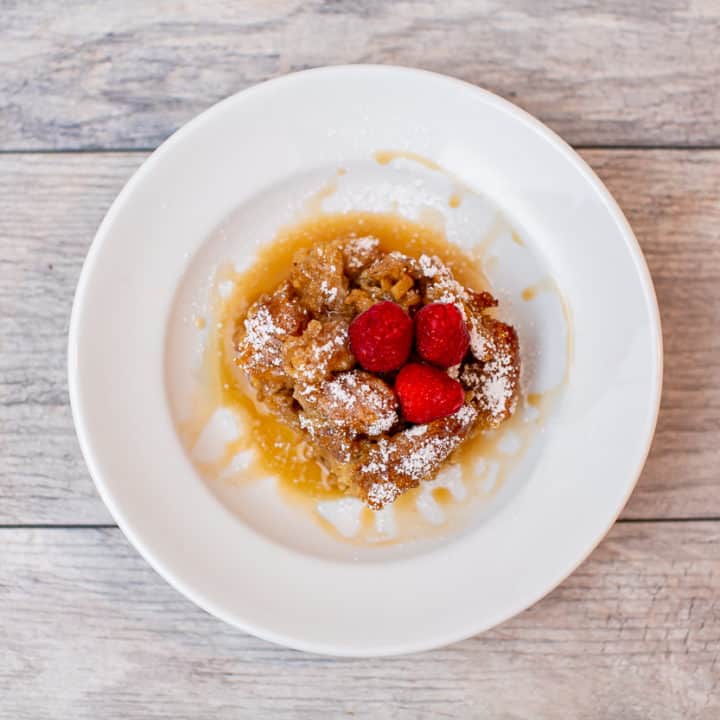 Cinnamon Churro Bread Pudding
Total Time:
1 hour
15 minutes
Ingredients
Bread Pudding
8 cups churro (about 5 Costco churros broken up to fit in a cup)
2 cups milk
2 eggs
1/2 cup sugar
1 teaspoon nutmeg
Bourbon Vanilla Sauce
1/4 cup unsalted butter
1/4 cup white sugar
1/4 cup brown sugar
1/4 cup heavy cream
1 ounce bourbon
1 teaspoon vanilla extract 
Salt, cinnamon, nutmeg, clove to taste
Instructions
Bread Pudding
Preheat oven at 350°F
In a large mixing bowl, add eggs, sugar, milk, and nutmeg, and whisk to combine 
Tear bread into 1 inch pieces and soak in mixture
Grease your baking dish with butter or oil 
Pour bread and any left over mixture into baking dish
Press down on the bread so it all get soaked in the mixture (be careful to not press too hard on delicate breads)
Bake for 1 hour
Bourbon Vanilla Sauce
In a medium sauce-pan, add all ingredients on medium low
Cook for 10 minutes, stirring regularly until all sugar is dissolved 
Pour on top bread pudding and enjoy