As an Amazon Associate we earn from qualifying purchases.
I have been wanting to create a margarita recipe for quite sometime now. Living in San Diego, margaritas are a cherished tradition here like fish tacos and carne asada fries. I mean, what would Taco Tuesday be without a refreshing margarita in your hand? 
Whether shaken, blended, in a fishbowl or mason jar, the margarita is by far the #1 tequila cocktail. In my version, I'll be adding cranberry to maintain the balance of sweet and sour, along with complementing the often overlooked orange notes of the cocktail.  
What is a Margarita?
A margarita, which is Spanish for "daisy," is a tequila cocktail made with orange liqueur and lime juice. A cranberry margarita is the same with the addition of cranberry juice or fruit.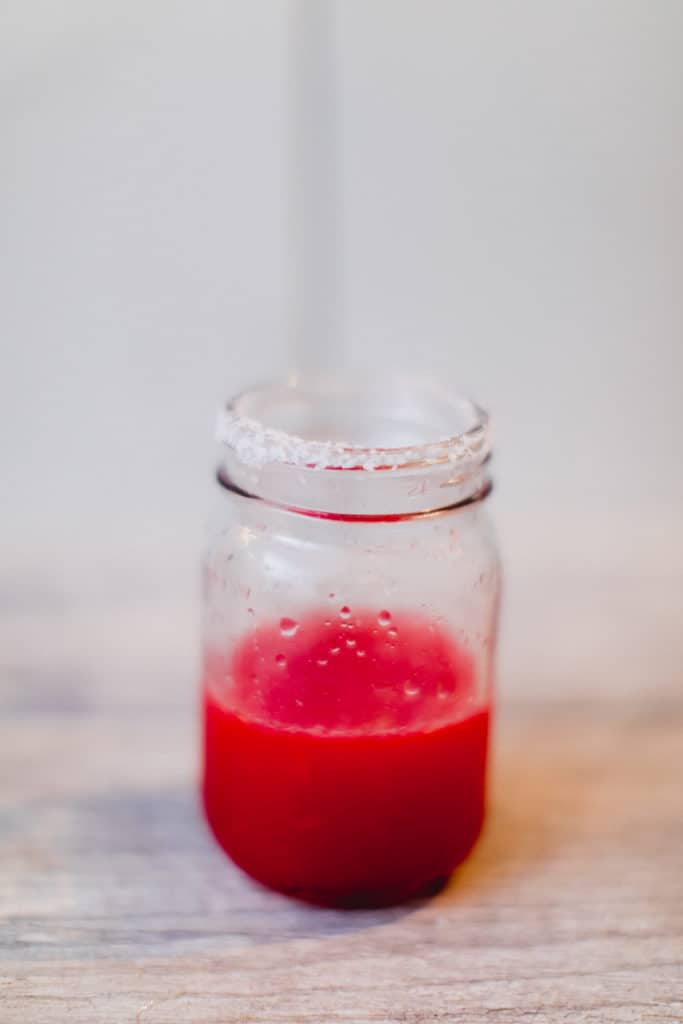 My Easy Cranberry Margarita Recipe will be made in the traditional shaken style (no blenders here) with a salted rim to cut the acidity and smooth the tequila out. I'm also leaving the ice out of the glass and serving the cocktail straight up. 
I think this is the best way to enjoy these drinks, as the continued dilution from ice is a major problem with the ever increasing size of the drink. After all, no one wants a drink that progressively gets worse over time!    
What are the Origins of a Margarita?
As the name might suggest, the drink can be traced back to the American cocktail known as the Daisy. The Daisy was a brandy cocktail made with orange liqueur and citrus juice. 
As readers of my blog may know, there were a couple major factors in spreading cocktails through America and forcing reinventions of old standards (remember how the tequila sunrise became a sensation?). The margarita may be one of these cases.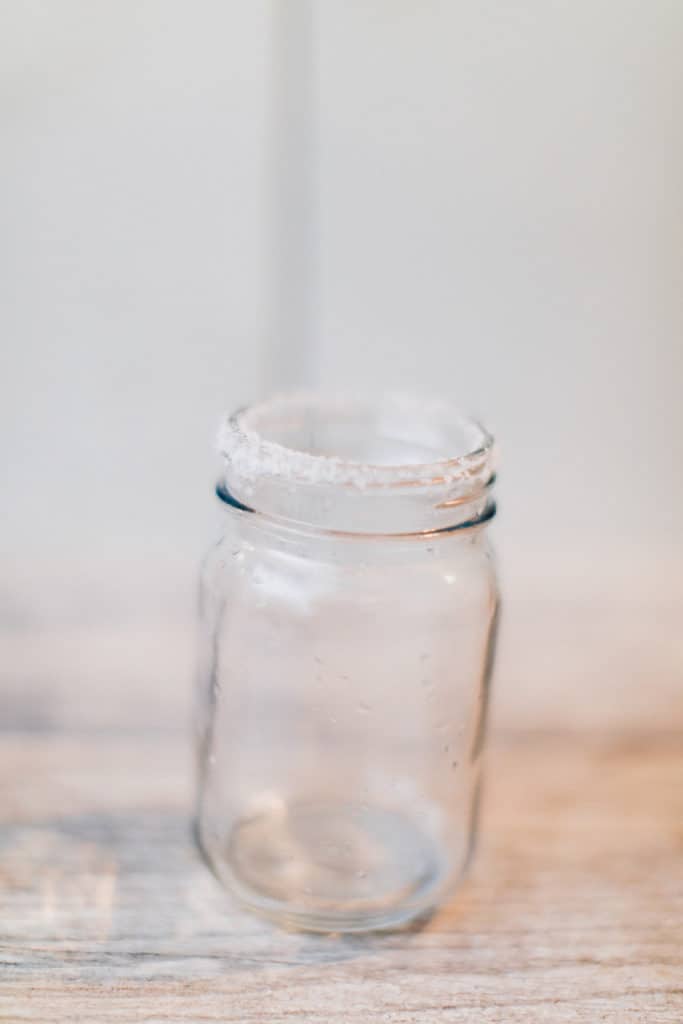 Given the time frames of the Daisy's popularity and the origins of the margarita coming from the border regions of Tijuana or Juarez, it is very possible the margarita is a tequila ancestor from the prohibition era of the United States.  
What Pairs with a Cranberry Margarita?
In general, I really like my margaritas with grilled seafood. I think at this point, margaritas and taco tuesday may be inseparable in my mind. 
Whether you're making a cadillac, strawberry, or cranberry margarita, seafood works with all of these. My personal favorites are with shrimp or swordfish, which have enough flavor of their own to counteract the tequila. That said, I think most taco meat goes pretty well with this classic cocktail.   
Tools Required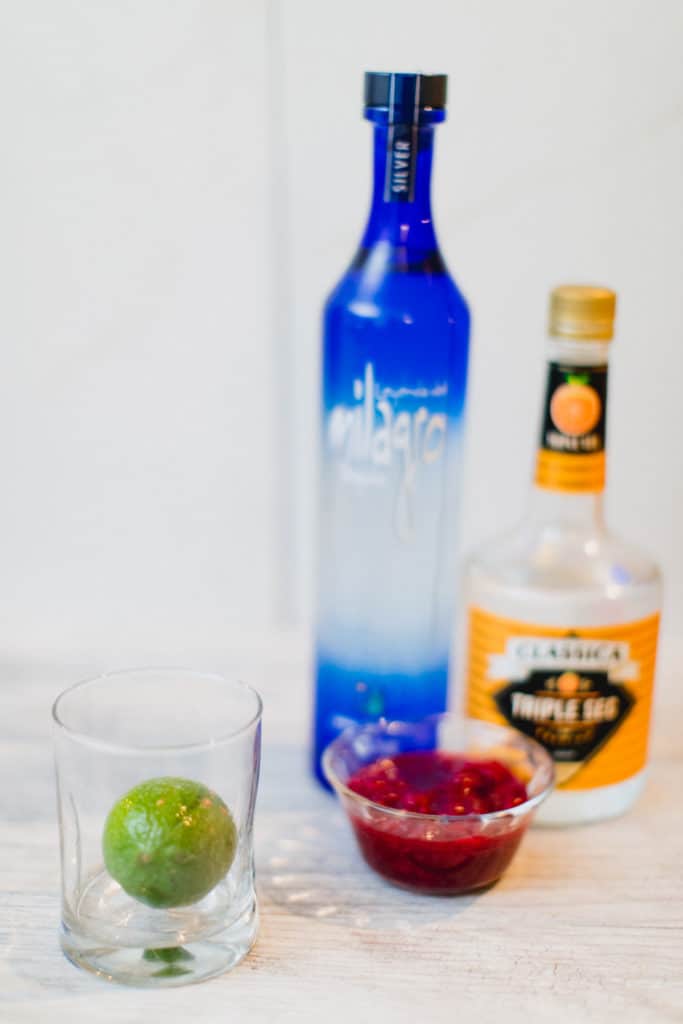 The tools are very simple for this Easy Cranberry Margarita Recipe. Since I'll be doing a traditionally shaken style of margarita, you are going to need a cocktail shaker and a glass.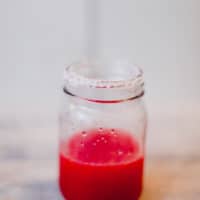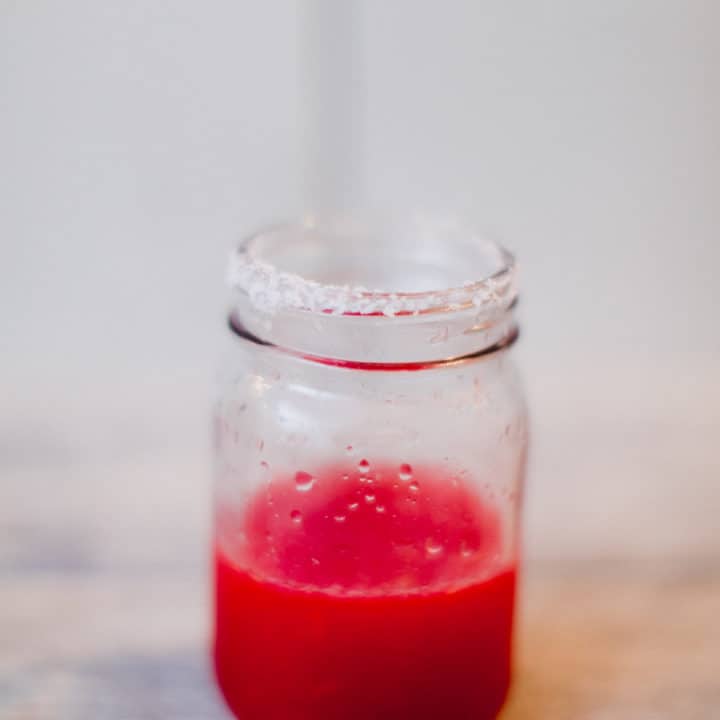 Ingredients
1

tablespoon

kosher salt

2

ounces

tequila

1

ounces

triple sec

1

ounces

freshly squeezed lime juice

1

tablespoon

cranberry sauce

1

cup

of ice
Instructions
Rim your glassware with salt. The easiest way to do this is to wet the rim of the glass and turn it over onto a plate covered with salt. 

Add all ingredients to the shaker.

Shake vigorously for 15 seconds. You will know when to stop because your hands will get very cold. 

Strain into glass, being careful not to pour onto the salt rim. 

Serve cold and enjoy.
Nutrition
Calories:
249
kcal
|
Carbohydrates:
18
g
|
Protein:
0.3
g
|
Fat:
0.1
g
|
Saturated Fat:
0.03
g
|
Polyunsaturated Fat:
0.04
g
|
Monounsaturated Fat:
0.01
g
|
Sodium:
6992
mg
|
Potassium:
48
mg
|
Fiber:
0.3
g
|
Sugar:
14
g
|
Vitamin A:
20
IU
|
Vitamin C:
9
mg
|
Calcium:
16
mg
|
Iron:
0.2
mg
Beginner's Guide to Mixed Drinks and Cocktails