As an Amazon Associate we earn from qualifying purchases.
When I think of a smooth tropical cocktail, I think of a Mai Tai. Unfortunately, I feel like I don't take this classic drink seriously enough or give it enough credit. Too often, I associate the classic tropical Mai Tai with just a beach-side vacation or tiki-themed summer bbq. 
Instead, I should be thinking of it as a tropical punch for adults that can be had for numerous occasions and paired with several dishes. Only then can I start to appreciate the real versatility of such a simple cocktail. 
What is a Mai Tai?
The standard Mai Tai cocktail is a medley of multiple types of rum, curacao, orgeat, and lime juice. If your first thought is, "What the heck is orgeat?," you are not alone. I had to look this one up too! Essentially, just think of it as flavored syrup. If you stick to the common Mai Tai ingredients when making this cocktail, it will be a gluten-free drink.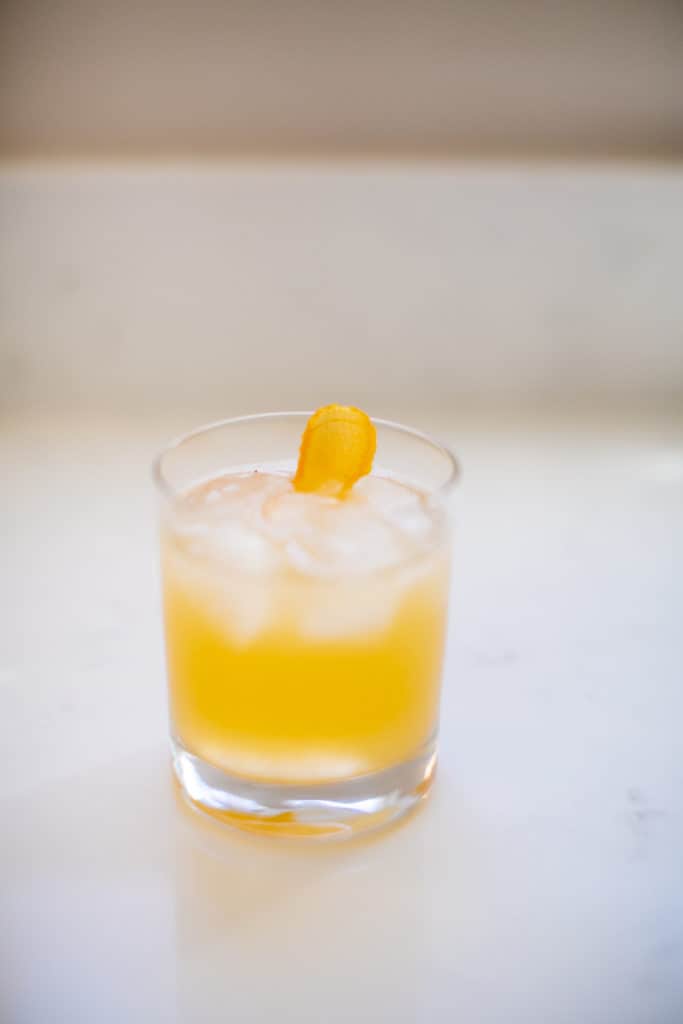 Mai Tais have been around since the 1940s. The drink is said to be created by Victor J. Bergeron in his restaurant in Oakland, California called Trader Vic's. The name Mai Tai drives from the Tahitian word "maita'i," which translates to "good." Considering this is a refreshing tropical drink, I'd say that translation is a great descriptor of the cocktail. 
My Approach to Mai Tais
My Mai Tai recipe is going to be very simple. I'm going to look at the core elements that make up a Mai Tai and then break them down even further. I'm doing this to show that delicious cocktails do not have to be complicated to make!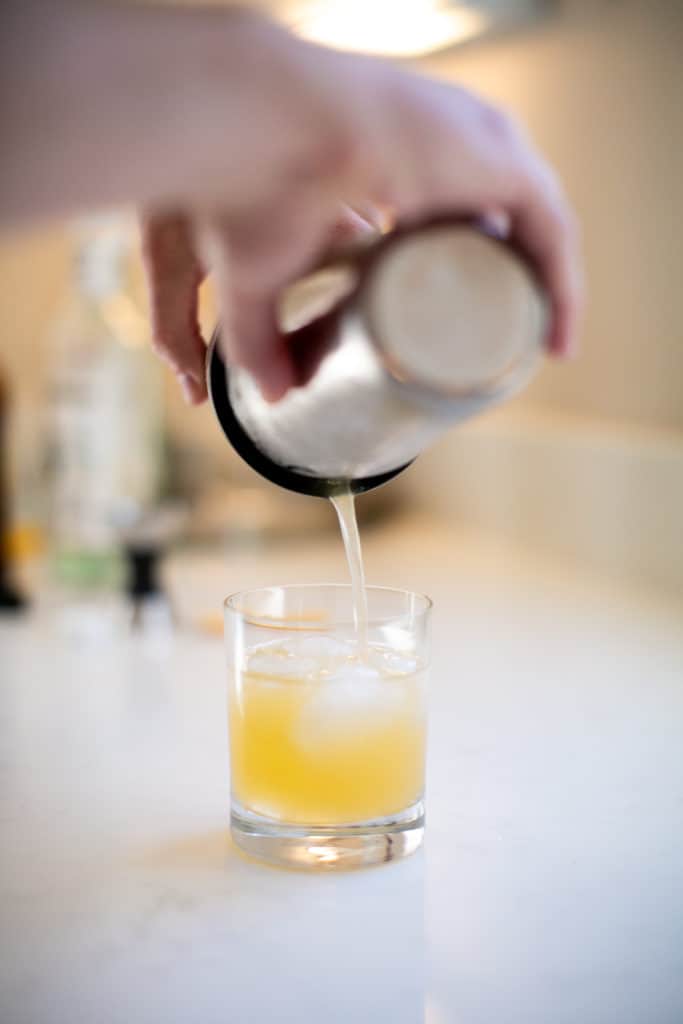 What Makes a Good Mai Tai
A good Mai Tai comes down to the ingredients you're using in the drink. Overall, a Mai Tai should have a tropical taste that is not overpowering with sweetness. The bright flavors of the lime and the bold rum taste should be balanced out by the curacao and orange that are mixed in.
The Challenge with Mai Tais
The challenge with making a mai tai at home is that it requires so many different types of alcohols and syrups. How many are actually carrying around 3 different types of rum, flavored syrup, tiki mugs, and miniature umbrellas in my home bars?
I know I'm not, and let's not even get started on stocking blue or white curacao. Even so, that isn't going to stop me from enjoying a Mai Tai when I want one. 
The secret to a good Mai Tai is understanding what the drink is fundamentally made with and then tailoring the recipe to work with what you actually have stocked in your bar and fridge. 
My Solution
If you strip down the classic recipe and its many variations, you will see a few clear trends of items used: rum, orange liqueur, and citrus. 
So, I'm going to take those 3 simple ingredients to create an easy-to-follow Mai Tai recipe. Before I share the recipe, it's important to understand the flavors I want to achieve in the drink and the specific ingredients I use to create it.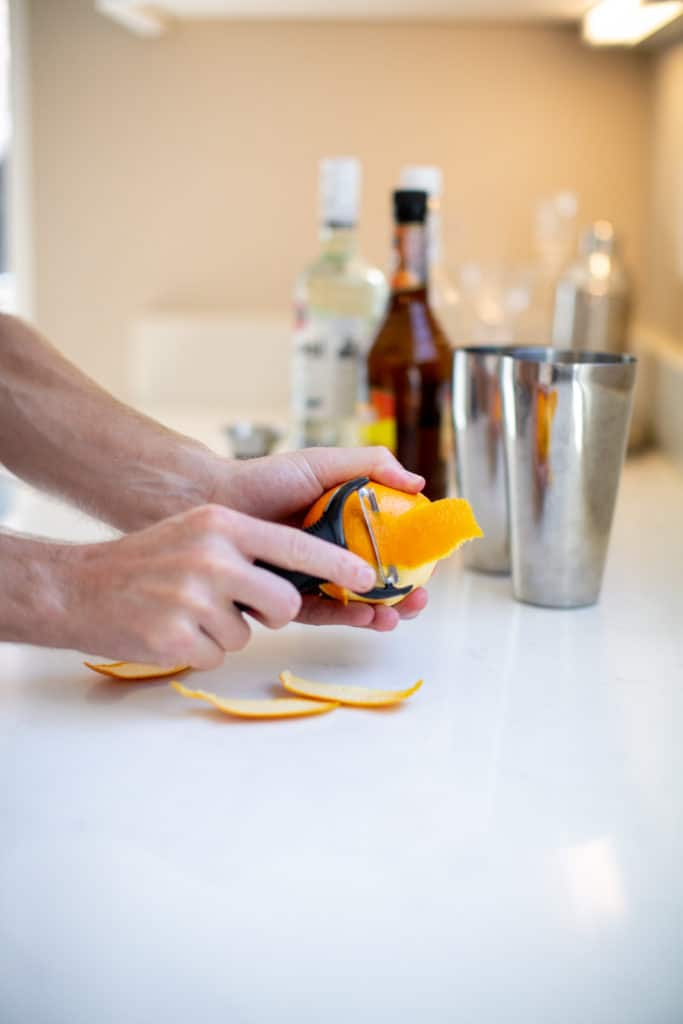 Developing Flavors 
A Mai Tai should not be a sweet or sour drink. It is meant to be balanced. All sour notes need balanced sweet notes. In my case, the tartness of the orange and bitterness of the zest will be balanced with the sweetness of the liqueur and rum. 
It should have fresh citrus and floral notes. I'll be using the oils and zest garnish for this.
Since I want my Mai Tai to be versatile, my Mai Tai is going to have a layered theme of orange through the whole drink. I will have fresh juice, fresh zest, and full-bodied liqueur to give me a deep sense of orangeness. This central theme and balanced acidity will make for a simple pairing with the most variety of food. 
Pairing Ideas
Basically, if you'd drink a punch or juice with it, you can drink a Mai Tai with it. One of my personal favorite pairings is with a grilled peach salad, because you can really taste the freshness of all the ingredients tied together with notes of orange. Let me know in the comments what dishes you're pairing with a Mai Tai!
Alcohol Substitutions
If your home bar is relatively basic, it's okay – I've been there before! It's not always easy to maintain a home bar, especially if you're just getting started with making different cocktails. Here's what to do if you don't have some of the ingredients above.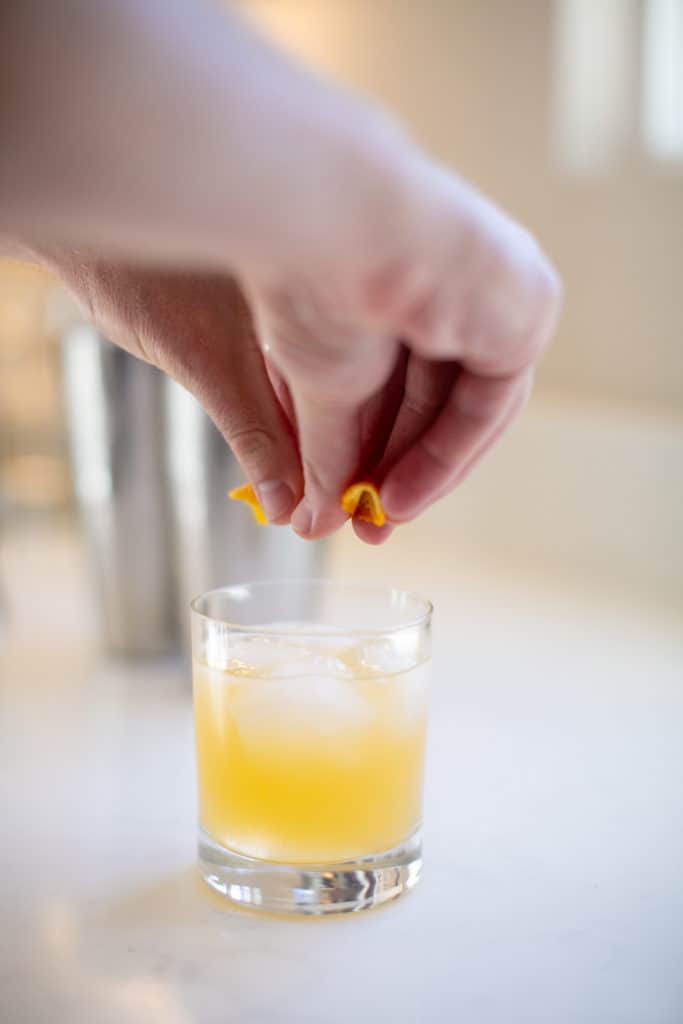 Substitutes for Orange Liqueur
In my simplified recipe, orange liqueur is the most likely thing you could be missing. In a bind, you could switch out orange liqueur for orange zest, orange oil, and a simple syrup (1 part water + 1 part sugar, boiled until dissolved). 
Orange Liqueurs are all basically just the flavor of orange, neutral alcohol, and sugar. You can mimic those tasting notes with the zest and oil from an orange, and then sugar dissolved in water. If you wanted to be fancy, you could even boil the zest into your syrup. 
Then you'd be looking at just two ingredients: rum and orange. This almost places me into Daiquiri territory, which is another delicious drink! 
Substitutes for White Rum
I recommend white rum in this recipe since it adds the least additional flavor. This keeps your pairing options the widest so you can enjoy your Mai Tai with several dishes. 
If you only have dark, spiced, gold, or flavored rum it will 100% work as a standalone drink. Just make sure you take those extra tasting notes into account when you want to pair it up with a food dish. 
Substitutes for No Rum at All
Since I'm sure someone is thinking it, yes you could use Vodka as a substitute. I'd highly recommend you plan on picking up some rum to maximize your potential beverage catalog moving forward. 
If you don't have Vodka or rum and still want a refreshing drink, then you may want to check out the virgin version of my blueberry lavender mojito. 
I do not recommend using tequila as a stand-in for rum. The tequila has a much more distinctive taste and flavor profile that will not balance out as well using these proportions. 
Tools Required
In short, here are the ideal tools needed to create a Mai Tai:
Orange juicer
Vegetable peeler
Cocktail shaker 
Orange Juicer
An orange juicer will be the quickest way to get the most amount of juice out of your orange. If you don't have an orange juicer, you can twist the orange on a spoon to get the juice out. Just make sure there are no seeds that make it into your drink.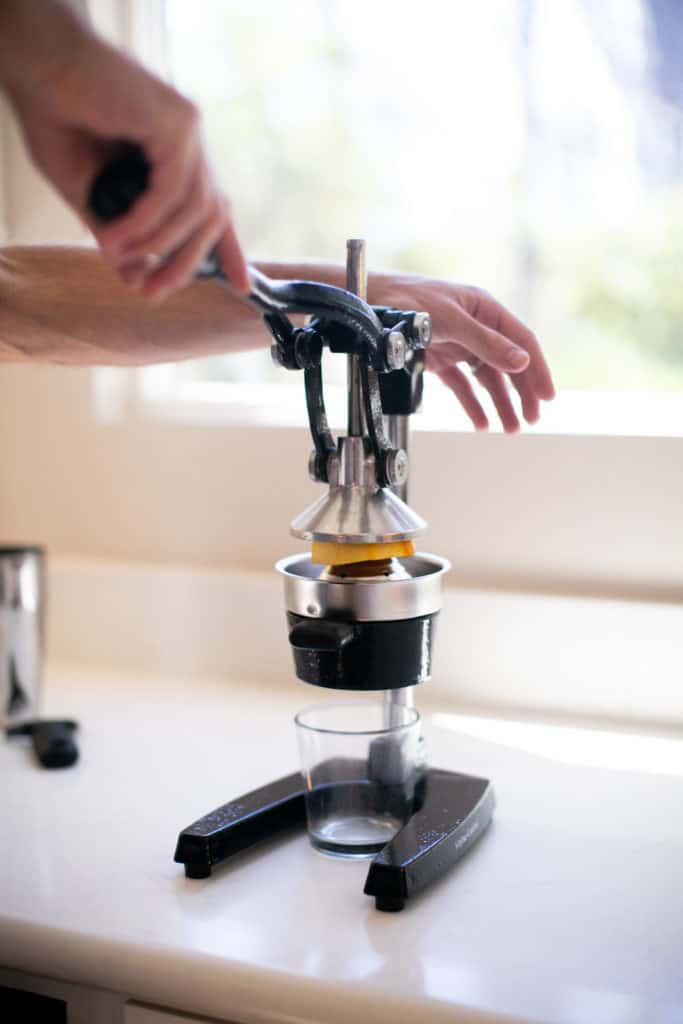 Vegetable Peeler 
A vegetable peeler is a great way to skin the orange so you can use the peel for zest. If you don't have a peeler, you could do this carefully with a knife. Try to minimize any of the white pith from the orange as you do this. 
If you own a dedicated zester or Microplane, you are likely a bit more advanced in your cooking skills and don't need help in knowing how to use it for this. 
Cocktail Shaker
There are a couple of different shakers you can use:
Cobbler shaker (the kind with the strainer top)

Shake this up and down with your finger over the top cap to keep it closed. 5 shakes is plenty. 

Boston shaker (the kind that is two cups stuck together)

Hold both ends firmly and shake over your shoulder in a front-back motion. 5 shakes is plenty.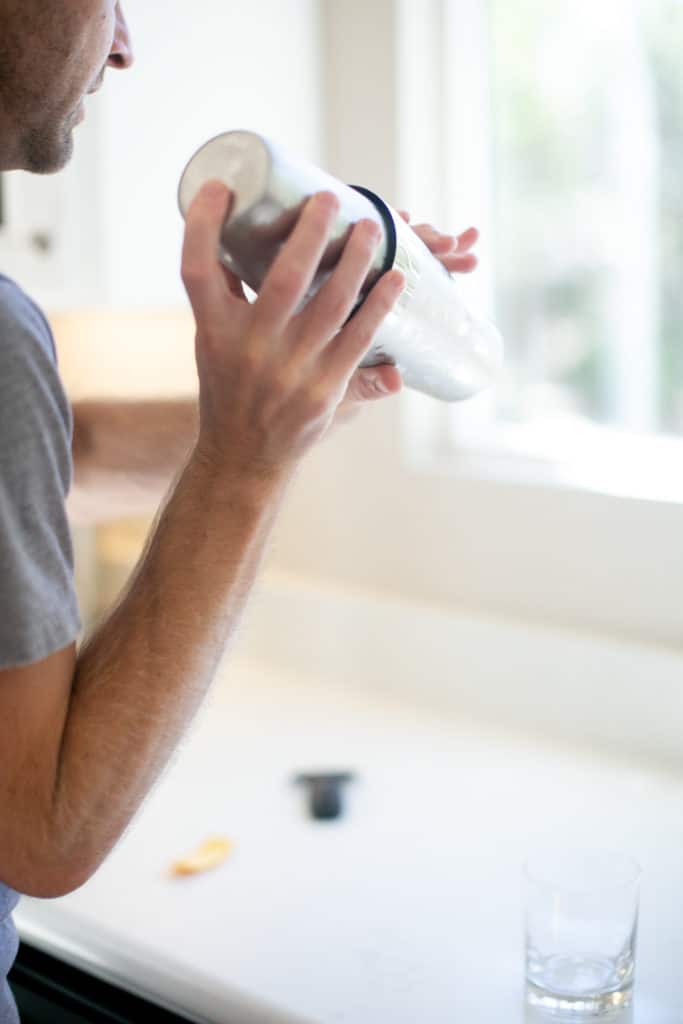 Here are some cocktail shaker substitutions you can try if you don't own one:
Use a cup with cling film on the top

Make sure you have a tight grip on the cling film so it doesn't fly off during shaking. Shake up and down 5 times. 

Use a spoon and elbow grease

Stir vigorously until all ingredients are combined. Your goal is to not be able to tell where the rum ends and the juice starts. Additionally, you want at least some of the ice to melt to chill your drink.
How to Make a Classic Tropical Mai Tai 
As mentioned before, there are several ways to make a Mai Tai. My recipe is meant to be simple so that you can enjoy this tropical drink in a matter of minutes.
Mai Tai Ingredients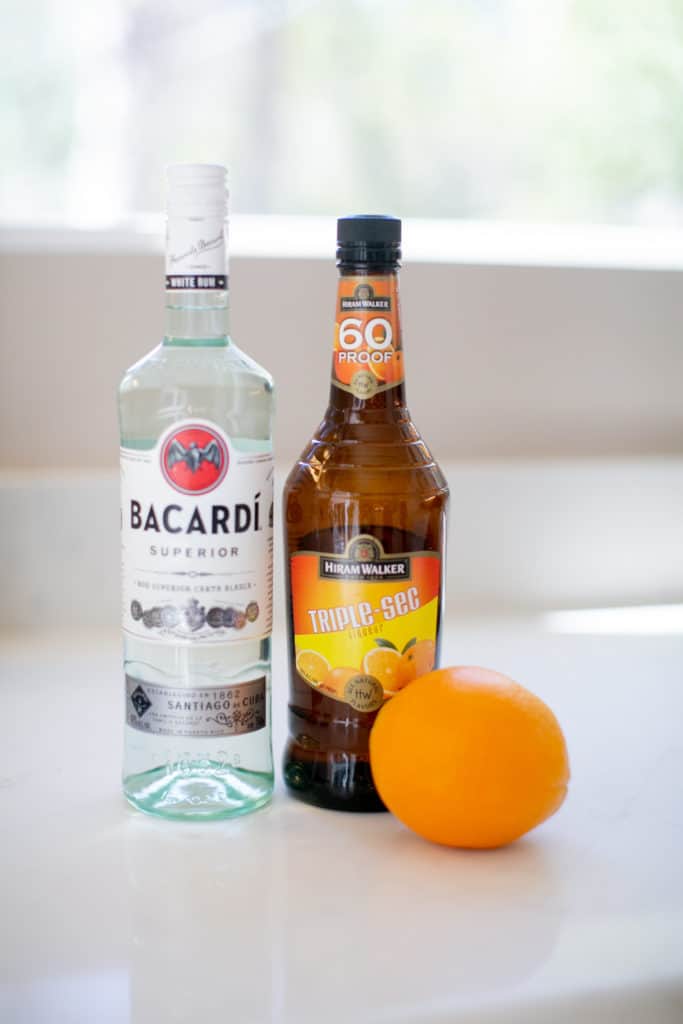 To make this Mai Tai recipe, you will need:
4 ounces rum

I am doing 4 ounces of rum since rum should be the dominant piece of my rum cocktail.
I recommend white rum for this recipe, since it will allow you to pair it with more food choices.

2 ounces orange liqueur

I am doing 2 ounces of orange liqueur since I'll be adding more orange flavor in the form of juice and zest. 
Common types are triple sec, Cointreau, or curacao. Any of these options will work well for this. 

2 ounces fresh-squeezed orange juice

This is going to give me some tart citrus notes and will help smooth out my alcohol.
If you are not able to get a real orange, you can use store-bought orange juice as a substitution. If you do this, be sure to get juice that is pulp-free.

Zest of an orange

The zest of a citrus fruit comes from the skin. This is where all the oils live and what gives citrus fruits that fresh and floral aroma when you peel or cut into them. Zest brings my orange flavor to another level.  
The classic Mai Tai uses curacao which is distinctively "zesty." 

1 handful of ice

For every 1 serving you make, you should have enough ice for about half the cut you are going to pour into. 
I highly recommend buying a bag of ice for cocktails when you can. Freezer ice can sometimes pick up flavors or sediments just from your water. Also, the clear ice does look nicer compared to the homemade ice (if you're going for a pretty presentation).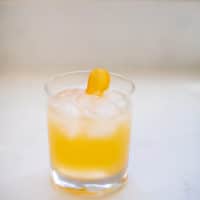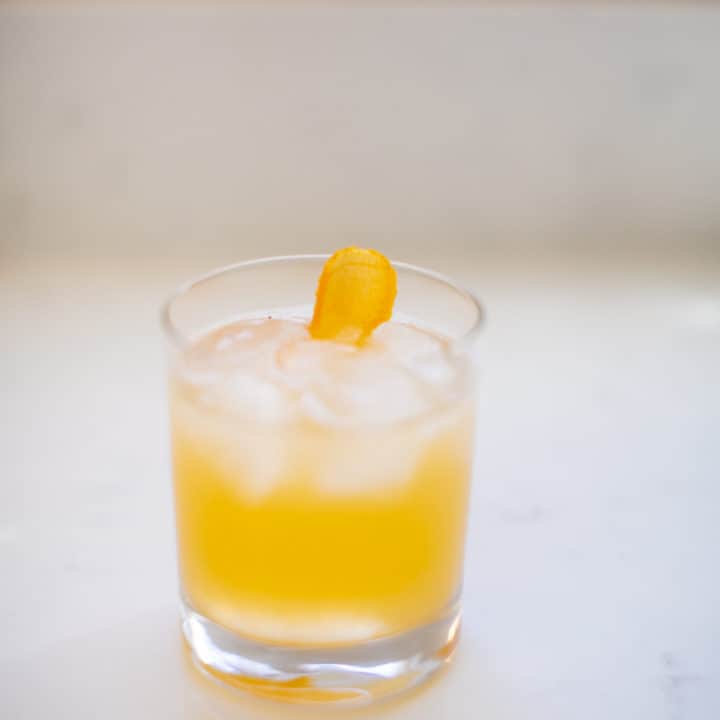 Ingredients
4

ounces

rum

2

ounces

orange liqueur

2

ounces

fresh squeezed orange juice

Zest from 1 orange

1

handful

ice
Instructions
Zest the orange. Use the vegetable peeler from top of orange to bottom to take off 1 full length piece of orange zest.

Juice the orange. Cut your orange in half along the equator and juice your orange.

Fill your shaker. Measure out the rum, orange liqueur, fresh orange juice, and ice and add to the shaker.

Mix everything in your shaker. You don't want to overshake because your ice will melt away.

Pour into your glass and enjoy. Pour some of that ice back into the cup to keep your drink cool as you sip.
Nutrition
Calories:
231
kcal
|
Carbohydrates:
12
g
|
Protein:
0.2
g
|
Fat:
0.1
g
|
Saturated Fat:
0.03
g
|
Polyunsaturated Fat:
0.04
g
|
Monounsaturated Fat:
0.01
g
|
Sodium:
3
mg
|
Potassium:
66
mg
|
Fiber:
0.1
g
|
Sugar:
12
g
|
Vitamin A:
57
IU
|
Vitamin C:
14
mg
|
Calcium:
3
mg
|
Iron:
0.1
mg
Beginner's Guide to Mixed Drinks and Cocktails