As an Amazon Associate we earn from qualifying purchases.
Nothing beats champagne when it comes to celebratory drinks. When thinking over all the different options for a cocktail, I can't help but notice sparkling wines are somewhat under represented. That's why I wanted to try my take at creating a delicious champagne cocktail with cran-raspberry flavors.
What is a Champagne Cocktail?
A champagne cocktail is a mixed alcoholic drink that features champagne or sparkling wine as one of the alcoholic components. Champagne cocktails are not as common as other spirit based cocktails due to the logistics of carbonation in champagne. You cannot keep champagne open for long periods of time like you can a bottle of vodka. 
Additionally, champagne should not be added to shaken drinks for the same reason that you don't shake a can of soda. This makes champagne cocktails good for groups, which is why drinks like the mimosa or bellinis are so popular at high volume brunches.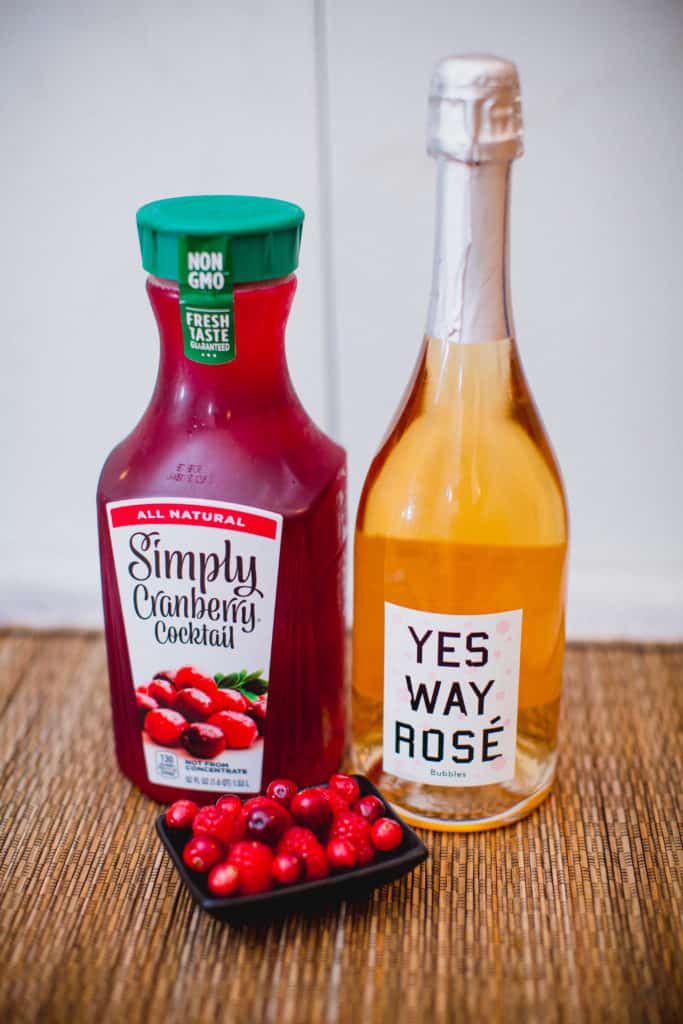 All that said, there are still some pretty famous champagne cocktails, like the French 75, made with gin, lemon juice, and sugar. There is also the classic champagne cocktail made of bitters, champagne, and a maraschino cherry (yes, just like an old fashioned but with champagne). 
The Difference between Champagne and Sparkling Wine
Before I dive into how to make this cocktail, let's talk about something very important: the difference between champagne and sparkling wine. 
All Champagne is sparkling wine, but only wine from Champagne, France is technically allowed to be called champagne. True champagne is an official name, and it can only come from Champagne, France and must be in accordance with the region's rules for production.
There is also something called the "champagne method," which is the traditional way champagne is made. You may sometimes see this included on the text of the bottle. For the purposes of this recipe, I really only care that it is sparkling – you don't need to use actual champagne.   
What Makes a Sparkling Wine Bubbly?
The process of fermentation that all alcohol goes through is where yeast converts sugar to alcohol and carbon dioxide. Under normal circumstances, this carbon dioxide escapes into the atmosphere and I don't notice it.
In champagne and sparkling wine, some of the fermentation happens after the bottle is sealed. This traps the carbon dioxide in the bottle and dissolves into the carbonic acid, or effectively fizzy carbonated water, that I am familiar with. 
My Approach to a Cran-Raspberry Champagne Cocktail
I am doing the quick and easy method for my cocktail today. This drink will take you less than 5 minutes to create. This makes it a great option for holiday parties, especially if you want to add a little twist to a standard drink.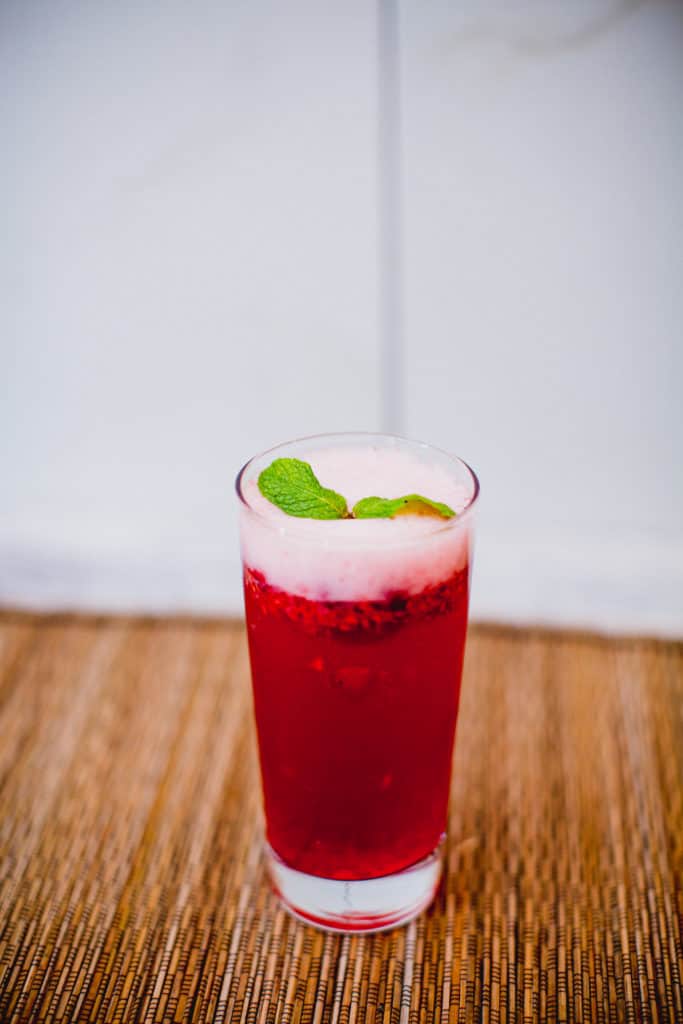 I will be taking cranberries and raspberries and using them for my champagne cocktail. You can substitute either of these berries out for other ones (such as blackberries) if you prefer.
One of the reasons that I love this recipe is that you don't actually have to wait for cranberries to be in stock at your grocery store. In my recipe, I actually only use the real cranberries to garnish the drink. While this can add to the overall presentation of your cocktail, it is not required.
Totally Cranberry Version
If you want to only use cranberries in this drink as your berry option, here is my recommendation for how to do so: 
Skip the raspberries and add in a spoonful of fresh cranberry sauce
For the garnish, use candied cranberries on a toothpick 
Strong Version
Looking for more of a kick in your cranberry champagne cocktail? Take a note from the French 75 or Classic Champagne Cocktail and add a third part Gin or Brandy to the mix. Gin helps accentuate herbal notes and can really bring the smell of the holidays to your cup. Brandy, depending on which one you go with, will really help accent the fruit flavors. 
Tools Required
This cocktail requires 2 tools: a glass and a spoon. One of the really nice things about this cocktail is you can eyeball the entire thing. If you have a glass and a spoon you can make this cocktail.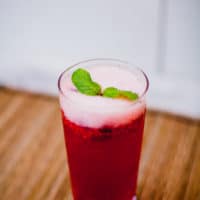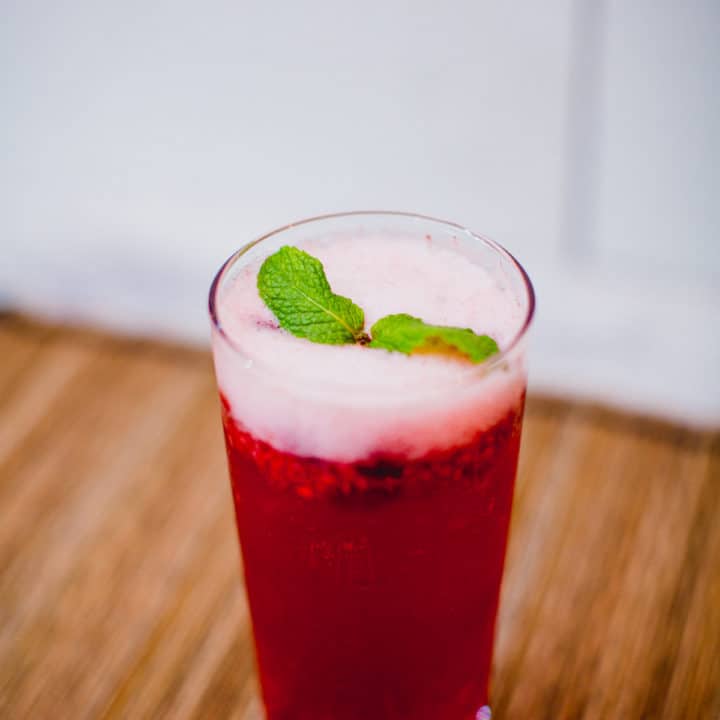 Cranberry Champagne Cocktail Recipe with Raspberries
Print
Pin
Rate
Ingredients
4-6

raspberries

4

ounces

cranberry juice

4

ounces

champagne or sparkling wine

1-2

cranberries for decoration

1

spring mint for garnish
Instructions
Wash the raspberries

Add raspberries to highball glass and macerate (smash)

Pour in sparkling wine to fill ½ of the glass

Pour in cranberry juice to fill the rest of the glass

Top with mint and cranberries for garnish

Serve and enjoy responsibly
Nutrition
Calories:
113
kcal
|
Carbohydrates:
16
g
|
Protein:
1
g
|
Fat:
0.2
g
|
Saturated Fat:
0.01
g
|
Polyunsaturated Fat:
0.1
g
|
Monounsaturated Fat:
0.04
g
|
Sodium:
11
mg
|
Potassium:
206
mg
|
Fiber:
1
g
|
Sugar:
15
g
|
Vitamin A:
97
IU
|
Vitamin C:
13
mg
|
Calcium:
24
mg
|
Iron:
1
mg
Beginner's Guide to Mixed Drinks and Cocktails