As an Amazon Associate we earn from qualifying purchases.
There is maybe no fruit that says summer more than the watermelon. Especially on those crazy hot muggy days, ice cold or frozen watermelon is the perfect thing to cool you down and help you relax. 
Well, what if you could take all the things you love about icy watermelon and mix it into a refreshing cocktail? That is exactly what we are doing today with our blended watermelon daiquiri recipe. 
What is a Blended Watermelon Daiquiri?
A blended daiquiri is a frozen cocktail made from ice, rum, lemon juice, and watermelon. While a normal Daiquiri has simple syrup or demerara sugar in it, if you are using ripe watermelon it will be plenty sweet enough.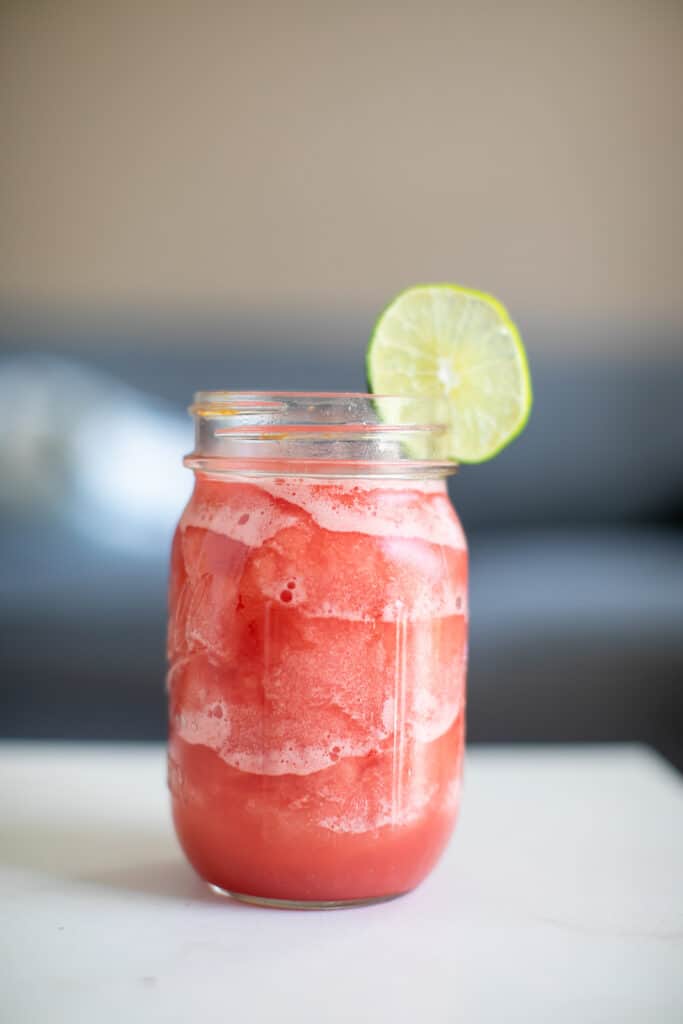 Our Approach to a Blended Watermelon Daiquiri
One word: refreshing. That is our target when making this. When you think of a boozy drink on a hot day, our blended watermelon daiquiri is what you should think of! After spending an afternoon in the hot sun working on DIY projects in the backyard, this is the drink you'll want to have.
Because of this, we're keeping it very minimal on ingredients. Additionally, we'll go over a couple different ways to tailor it to your tastes. 
The Challenge with Blended Drinks
Followers of Beginner Food know what I'm going to say: water is our enemy here. Well, really ice in this case. 
We want to eliminate adding any ice to our blended drink. Ice is just water, and water is not flavor. 
And, let's all be honest, watermelon is not the strongest flavored melon either. We want the watermelon flavor to come through, so the last thing we want is a bunch of ice and water in our cocktail.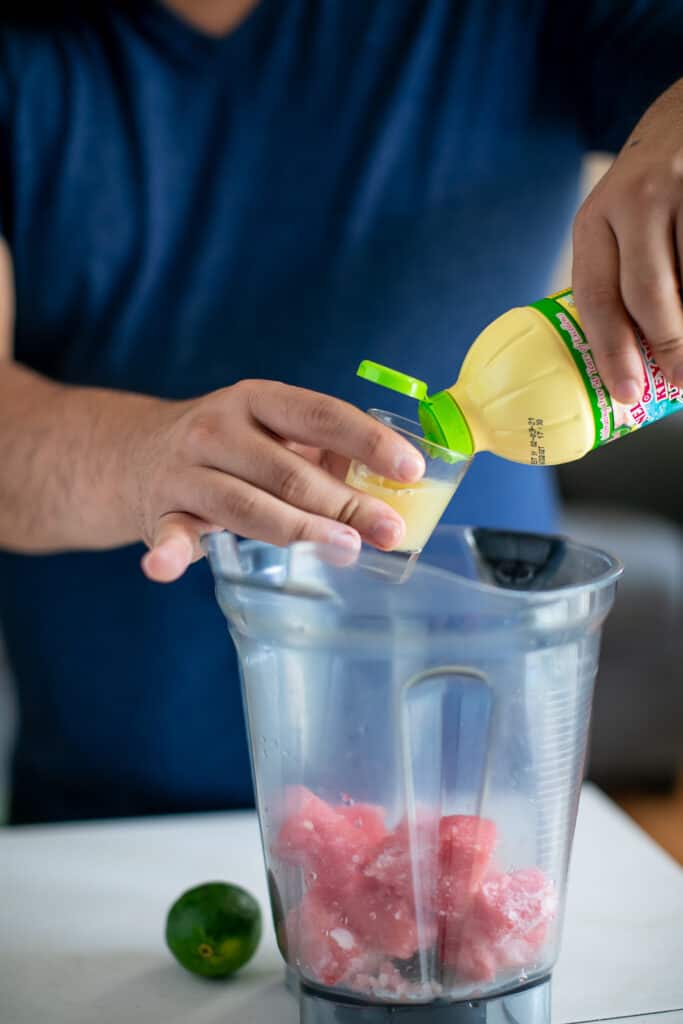 Our Solution to Not Using Ice
So that we can avoid using ice, we're going to freeze the watermelon. This is such a simple solution that makes a huge difference to your final product. Texturally, blended frozen watermelon sticks together much better than watermelon and ice does. 
Taste wise, all that flavor stays concentrated in your drink so it stands up to the rum very well. 
What this does mean though is that you will need to plan a bit ahead. When we buy a watermelon, we generally freeze about half of it for occasions like this.
Developing Flavors and Alterations
There are two main things I'd recommend playing with:
Amount of lime juice
Amount of sugar
We really like key lime juice for cocktails, and pretty much always have it on stock over Persian lime juice. That said, key lime juice is a lot easier on the palette, and reasonably you can use 1.5-2x as much of it. 
Alternatively, if you really like citrus zing in your cocktails you can also go up to 1.5x the recommended amount of lime juice.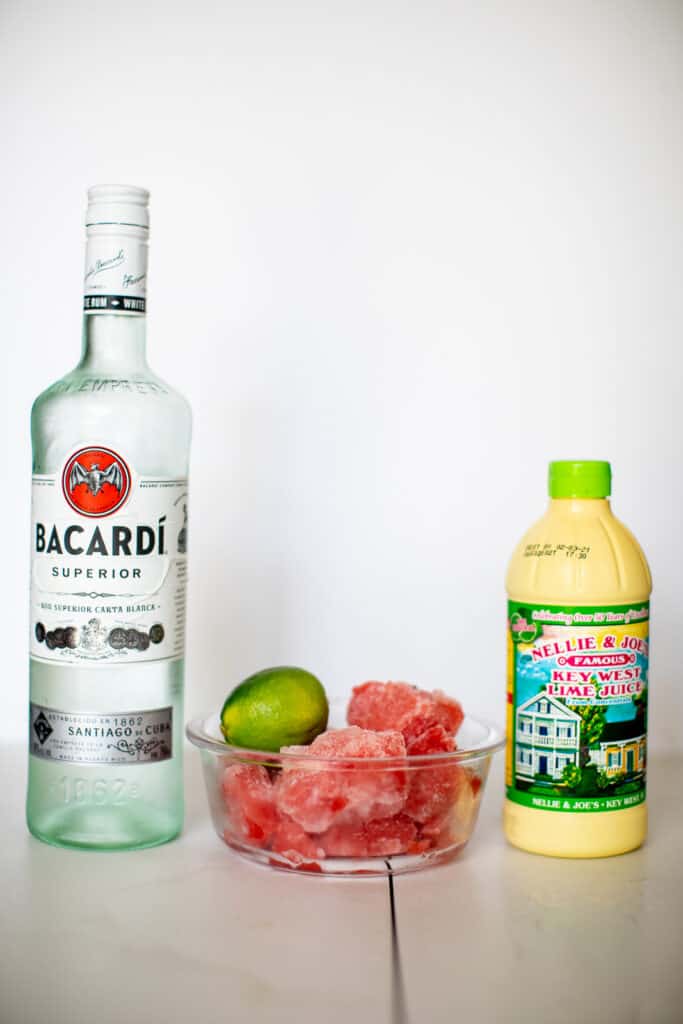 The second option has to do with the sugar/ simple syrup. In the base recipe, we don't include any because you should get plenty of sweetness from the watermelon. 
If however, you get a particularly pale or neutral watermelon, I would recommend adding 1 ounce of simple syrup to the cocktail.  
Tools Required
All you need for this recipe is a blender, a shot glass, and something to cut your limes up with.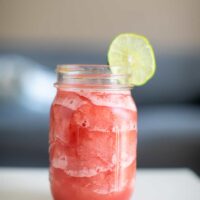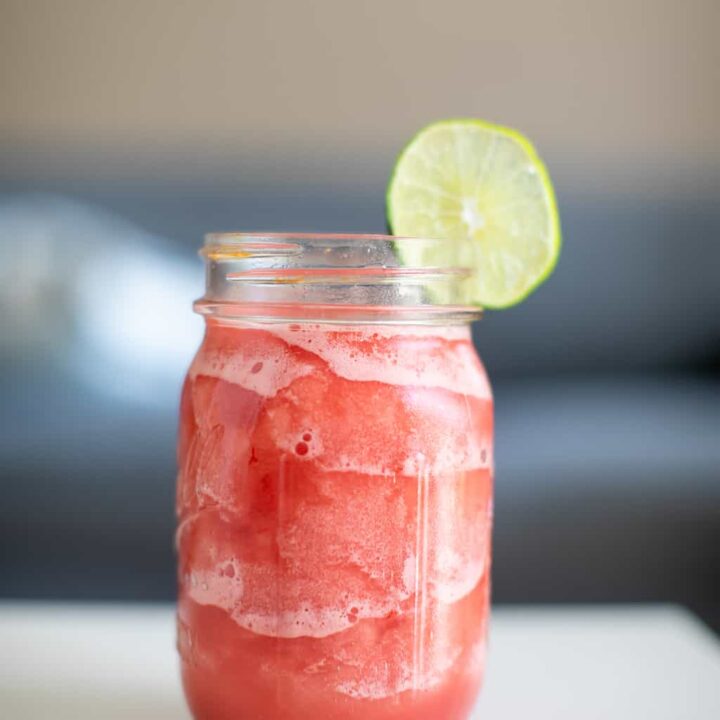 Ingredients
2

ounces

rum

1

ounce

lime juice

1

cup

frozen watermelon

Lime for garnish
Instructions
If you don't have any watermelon currently in the freezer, cut up 1 cup of watermelon and place in the freezer for 2-3 hours. Note that frozen watermelon is recommended but not required.

Add rum, lime juice, and frozen watermelon to blender

Blend on high until combined

Slice lime for garnish

Serve and drink responsibly
Nutrition
Calories:
184
kcal
|
Carbohydrates:
14
g
|
Protein:
1
g
|
Fat:
0.3
g
|
Saturated Fat:
0.02
g
|
Polyunsaturated Fat:
0.1
g
|
Monounsaturated Fat:
0.1
g
|
Sodium:
3
mg
|
Potassium:
205
mg
|
Fiber:
1
g
|
Sugar:
10
g
|
Vitamin A:
879
IU
|
Vitamin C:
21
mg
|
Calcium:
15
mg
|
Iron:
0.4
mg
Beginner's Guide to Mixed Drinks and Cocktails