As an Amazon Associate we earn from qualifying purchases.
I love eggnog and always pick up a quarter or half gallon of it for the holiday season. But it can be pretty hard for just me and my fiancé to drink that much eggnog before it goes bad or the holiday season ends. One of my favorite ways to use up all that eggnog is with French toast. 
While not as ubiquitous as pancakes or waffles, French toast is perhaps the one with the greatest ceiling on enjoyment. In today's recipe, I'll be simplifying the process of making French toast as well as giving it a bit of a holiday spin by substituting most of the custard base for eggnog. 
What is Eggnog French Toast?
Eggnog French Toast simplifies the French toast making process by substituting Eggnog for most of the traditional custard base components. Traditional French Toast contains milk, eggs, sugar and spices. Eggnog, before doing anything to it, is already made up of milk, eggs, sugar and spices.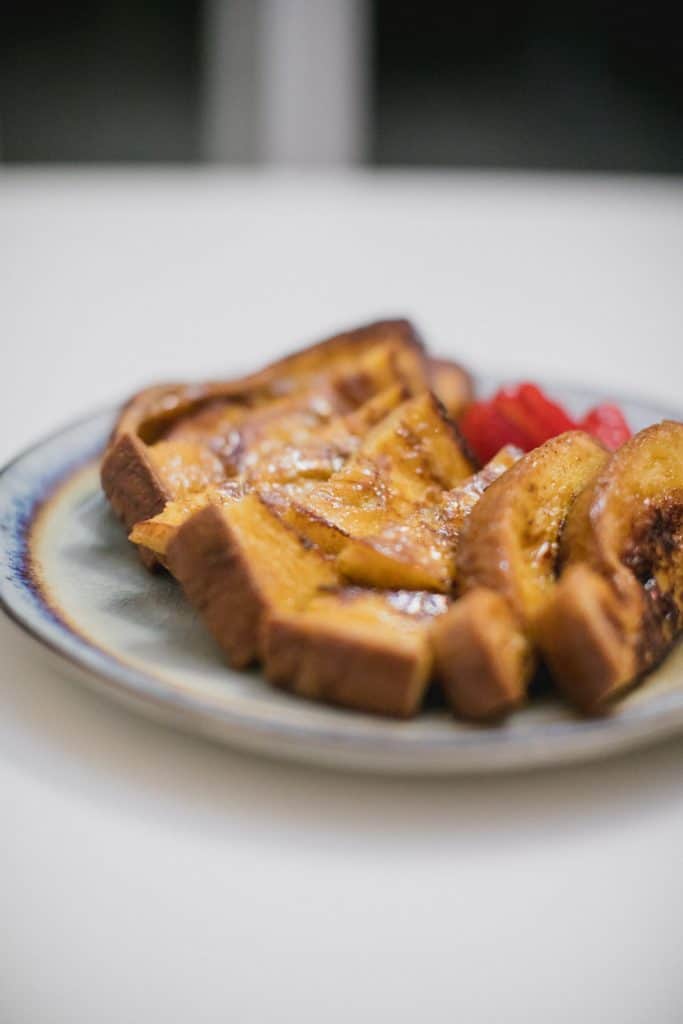 My Approach to Eggnog French Toast
My approach to eggnog French toast is to keep it really simple. You don't need any vanilla extract, no cinnamon or nutmeg, and there isn't even any added sugar in this recipe. 
Most of what you associate with French toast is all in the eggnog already. I'm just adding some milk to dilute and fresh eggs to help set the toast. 
What Makes a Good French Toast
The best French Toast is made with stale bread. Yes, you heard me right. While you can make French Toast with fresh bread, the added moisture and delicate texture can lead to tearing, breaks, poor structure, and a soggy outcome. 
Think of it this way, when you want to sponge up a spill do you grab a wet sponge or a dry sponge? You use a dry one. So stale bread is the way to go for French toast so it can soak up more of the custard without running the risk of deteriorating.  
The Challenge with French Toast
The top challenge with eggnog French toast is even cooking of the egg custard. If you soak the bread too long and cook too hot, the outside can burn before the inside sets. Cook it too slow and the toast will dry out. 
For my French toast recipe I'm going to manage both the soaking of the toast and the heat. When it comes to soaking your bread, no more than 3 seconds per side. The custard in this recipe makes exactly 8 slices of French toast.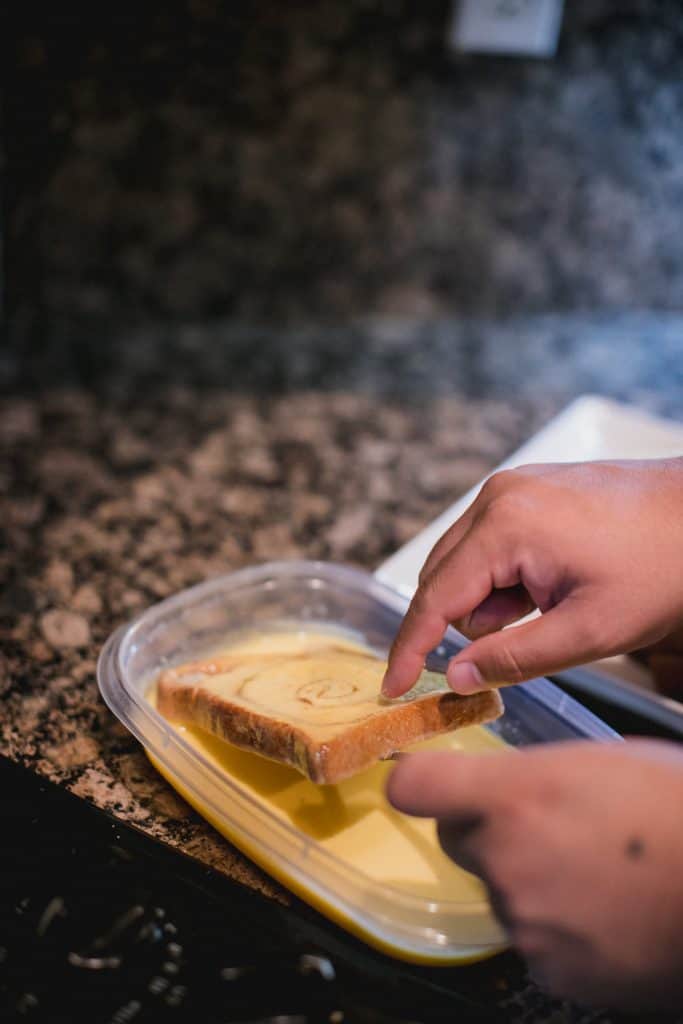 For cooking, medium heat is recommended. Your goal with heat application is to set the custard without burning any sugar.  
Flavorful Additions
One of the best parts of starting with eggnog is it is already flavored. You don't really need to worry about adding vanilla, sugar, or spice. That said, if you are a fan of cinnamon French toast my eggnog French toast recipe is a wonderful starting point for you. In my sample eggnog French toast, I am actually using cinnamon bread for my base. 
Nothing helps "spice" up a glass of eggnog like some cinnamon and nutmeg, and the same goes for when you use it in French toast. If you want to add spices to your French toast, I do not recommend mixing spices with the custard base. 
Spices like cinnamon and nutmeg will just end up floating on top of the mixture and lead to unevenly coated bread. The best way to apply spices to your French toast is after dipping the bread. 
When you apply spices to the outside of the bread (not the liquid) you can ensure the coat is even. The other benefit spicing the bread has is that the heat application will draw oils out of the spices increasing their fragrance. 
What Pairs with Eggnog French Toast?
Eggnog French toast makes for a wonderful holiday breakfast. You can pair with fresh cut berries, bacon and hash browns, or one of my favorites peppermint hot chocolate served in a mason jar. What could be more in the spirit of Christmas than eggnog and peppermint hot chocolate?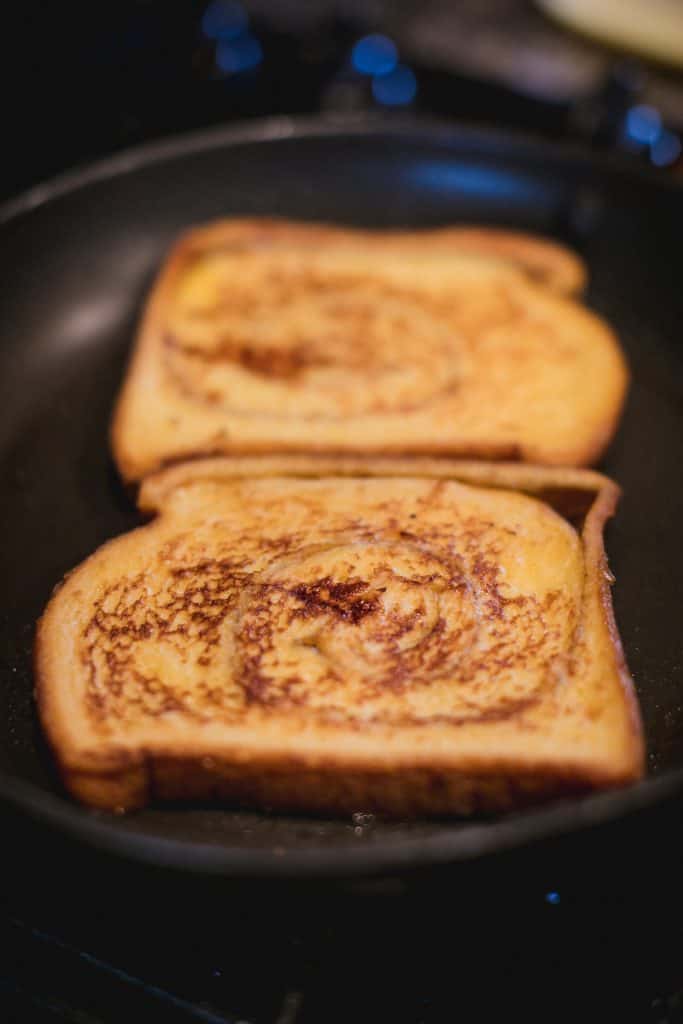 Tools Required
To make eggnog French toast you will need a measuring cup, a wide shallow container to dip the bread into, and a non-stick skillet for cooking the toast.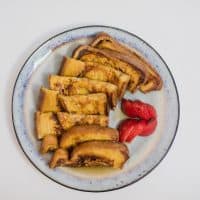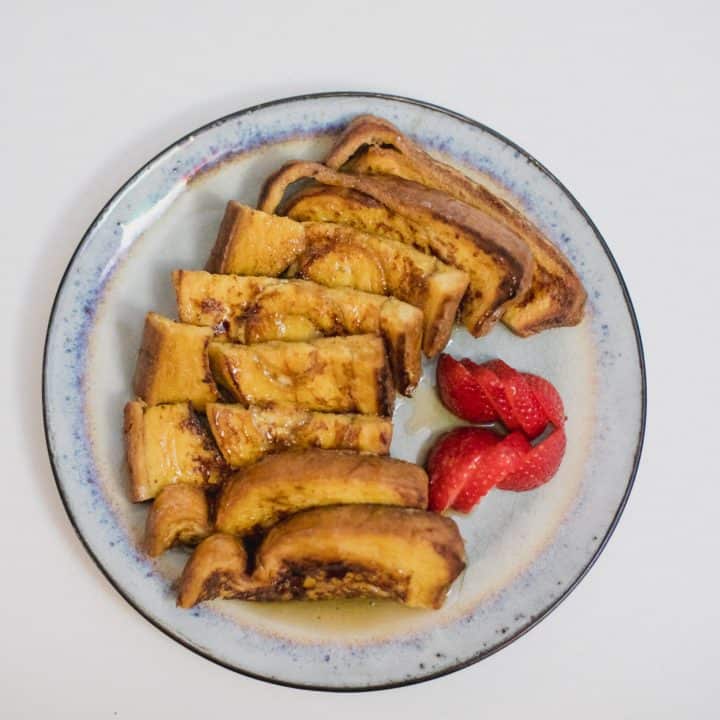 Ingredients
3

eggs

1/4

cup

eggnog

1/2

cup

milk

4

tablespoons

salted butter

8

slices

bread

6

strawberries

Whipped cream
Instructions
Wash and cut the strawberries to desired size

Beat the eggs together in a wide container

Mix the eggnog, milk, and eggs together

Heat a non stick pan with 1 tablespoon butter on medium heat

Dip the bread into the egg mixture for 3 seconds per side

Cook in pan 3 minutes per side (2 pieces to a pan)

Remove and cover

Serve with slices strawberries, whipped cream, powdered sugar, and/or syrup
Nutrition
Serving:
1
|
Calories:
362
kcal
|
Carbohydrates:
36
g
|
Protein:
12
g
|
Fat:
19
g
|
Saturated Fat:
10
g
|
Polyunsaturated Fat:
7
g
|
Trans Fat:
1
g
|
Cholesterol:
183
mg
|
Sodium:
472
mg
|
Fiber:
2
g
|
Sugar:
8
g
8 Beginner Cooking Tips I Wish I Had Known