As an Amazon Associate we earn from qualifying purchases.
When I think of childhood food joys I often think of quesadillas. There was just something so easy about putting some cheese in a tortilla and popping it on the stove or in the microwave for an easy afternoon snack. Quesadillas were the late night snack food of sleepovers, all night study sessions, and one of the first things I ever cooked for my friends when I was growing up.   
What is a Quesadilla?
A quesadilla consists of a corn or flour tortilla, filled with cheese and cooked on a griddle. Technically, you could say a quesadilla is "taco" or "sandwich" which would actually make it a type of grilled cheese sandwich. They are similar to Venezuelan arepas or Salvodorian pupusas with the exception of being a completely flatbread rather than griddle cake.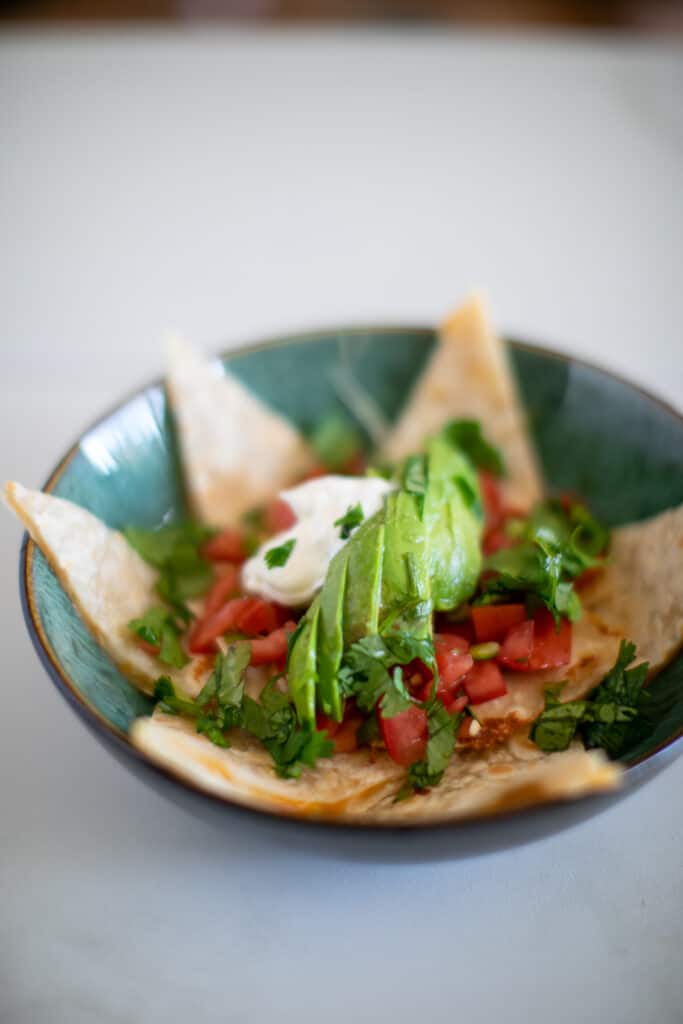 Our Approach to Cheese Quesadillas
When it comes to a quesadilla, it's all about the cheese. You want string, stretchy, pull apart goodness, you need to pick the right cheese. Traditionally, they use Oaxaca cheese in quesadillas. 
For those unfamiliar it is pretty close to string cheese / mozzarella. That said, whenever you make a quesadilla make sure you are using a good melting cheese with fat and moisture. 
Recommended cheeses:
Colby or Monterey Jack
Mozzarella
Non-sharp cheddar
Stay away from any cheese that is remotely crumbly and you will do well. Next just remember the whole point of a quesadilla is to taste the cheese so don't skimp on it.  
Developing Flavors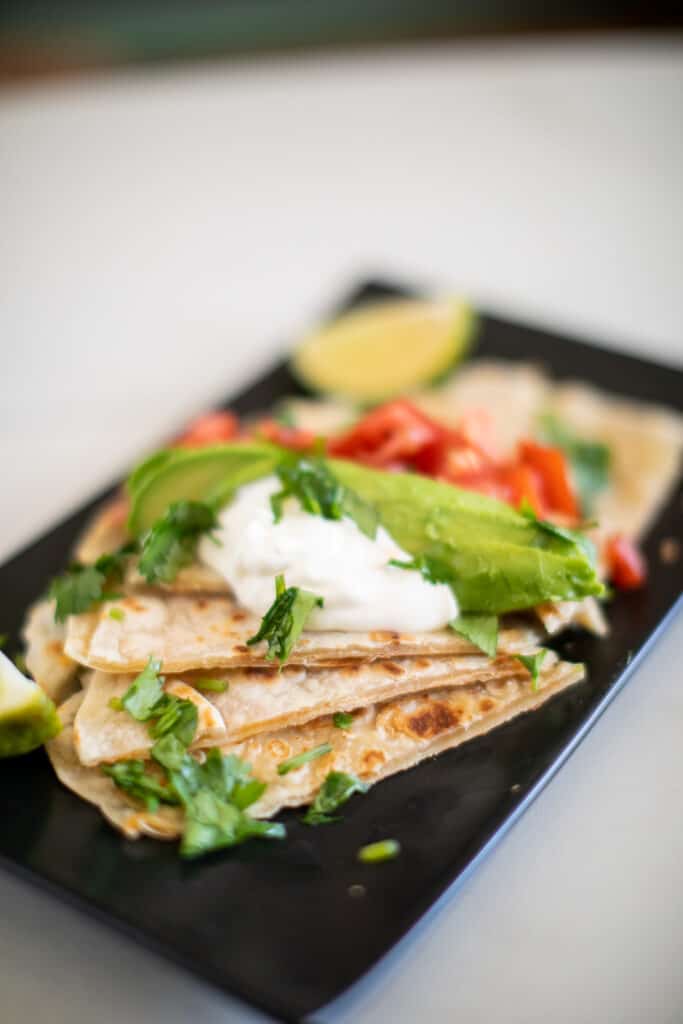 Here is where we are going to deviate from tradition. Traditionally, quesadillas are NOT cooked with fat or oil on the comal. First, we don't own a comal and you probably don't either so any pan will do (non-stick is great if you like some cheese overflow, but cast iron and steel do fine too). 
Next, we are going to grease the pan with butter before cooking and let it brown a bit before adding the tortilla. This will add richness and earthy flavors to your tortilla as it toasts. Next we're going to cook both sides of the tortilla, this is especially important if you are using fresh tortillas. 
Basically, we'll cook one side of the tortilla and make that the inside of the sandwich and then finish the other side when the quesadilla is assembled. This is not necessarily required but I do think it adds much more flavor and texture to the final product and ensures an even cook between the two sides.  
What to Serve with a Quesadilla
I think the best pairing for a quesadilla has to be avocado or guacamole. Meat or beans is totally optional, but a nice dollop of avocado will really take your quesadilla up to a new level.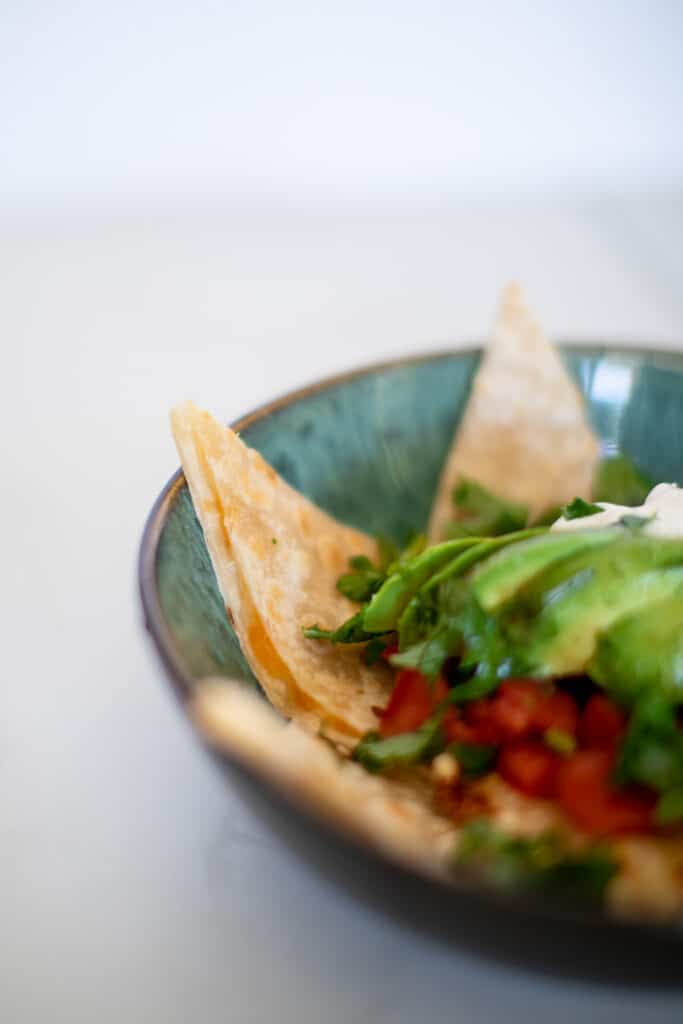 Tools Required
To make a quesadilla you need only 1 pan of any type and something to flip the quesadilla with. Quick reminder, do not use any metal utensils on non-stick or stainless pans as you will scratch the surface.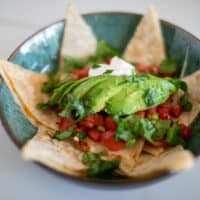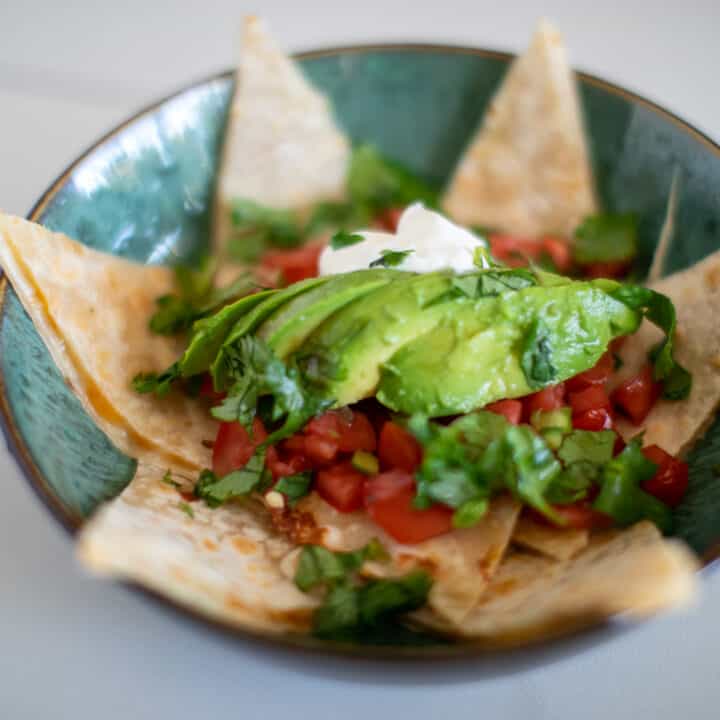 Ingredients
Two tortillas

1

tablespoon

butter

1/2

cup

cheese

Onion

Cilantro

Tomato

Avocado

Sour cream
Instructions
Add butter to pan

Add 1 tortilla and cook till one side is lightly browned

Change to 2nd tortilla and cook till one side is lightly browned

Flip tortilla so browned side is on top

Add cheese

Cover with the other tortilla (browned side down)

Cook for 2 minutes and flip, cook for 2 more

Once cheese is melted remove from pan

Add your toppings
Nutrition
Calories:
165
kcal
|
Carbohydrates:
1
g
|
Protein:
7
g
|
Fat:
15
g
|
Saturated Fat:
9
g
|
Polyunsaturated Fat:
1
g
|
Monounsaturated Fat:
4
g
|
Trans Fat:
0.2
g
|
Cholesterol:
43
mg
|
Sodium:
230
mg
|
Potassium:
23
mg
|
Sugar:
0.1
g
|
Vitamin A:
458
IU
|
Calcium:
201
mg
|
Iron:
0.04
mg