As an Amazon Associate we earn from qualifying purchases.
When I think of the smell of breakfast, pancakes with syrup are the first things that come to mind. I love pancakes and I love blueberries. Funny enough though, I don't like blueberry pancakes. I think adding fruit to pancakes makes them soggy and undercooked, rather than fluffy and delicious.
What I do love though is blueberry maple syrup. So really, the best way to incorporate blueberries into the all-American breakfast is in the syrup.    
What is Blueberry Syrup?
Blueberry syrup is a simple concoction of maple syrup and blueberries. It is often served with pancakes, waffles, crepes, or other breakfast foods.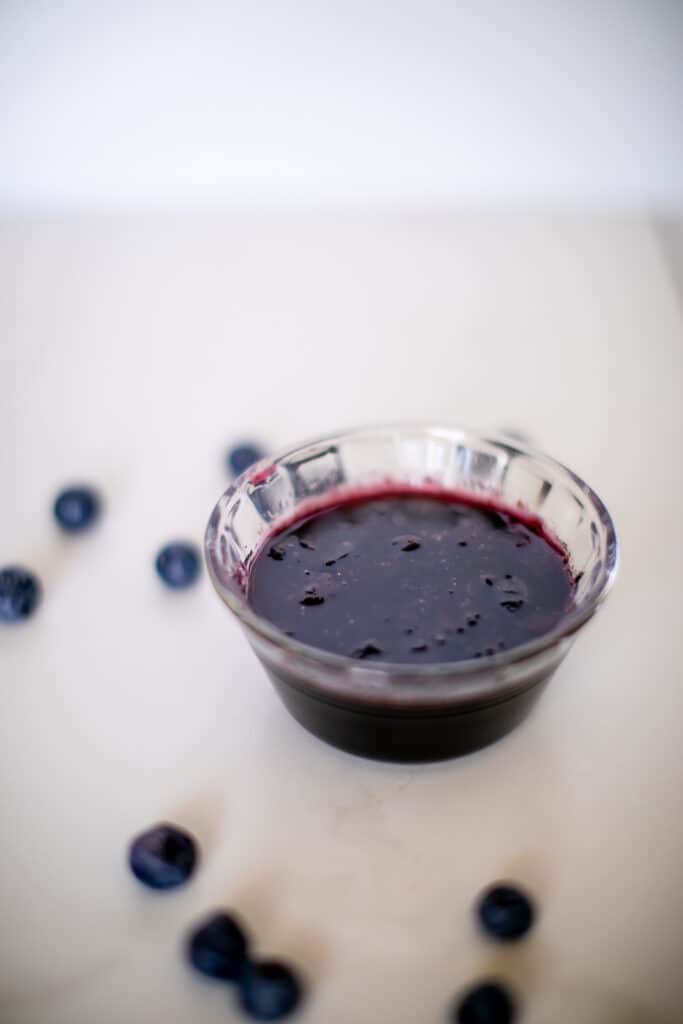 My Approach to Blueberry Maple Syrup
When developing this recipe, I wanted to keep this really simple and easy. I am going to use just two ingredients in my base and the application of heat to bring everything together. 
This recipe also stands up very well to temperature variations, cooktime, and can sit out for a while if you need to cook it ahead of time.  
What Makes a Good Blueberry Maple Syrup
When it comes to blueberry maple syrup, I'm going to want to concentrate the flavors. Blueberries are not the most flavorful fruit, and I am going to want to smell and taste the blueberry in my breakfast. 
The Challenge with Blueberry Recipes
Anything with blueberries comes with the inherent risk of diluting the flavor. This is because blueberries have a bunch of water in them.  
My Solution to Dilution
You do not put syrup on pancakes to make them soggy. Soggy pancakes are bad. You want flavor and texture from the syrup and to do that, I do not want to add water.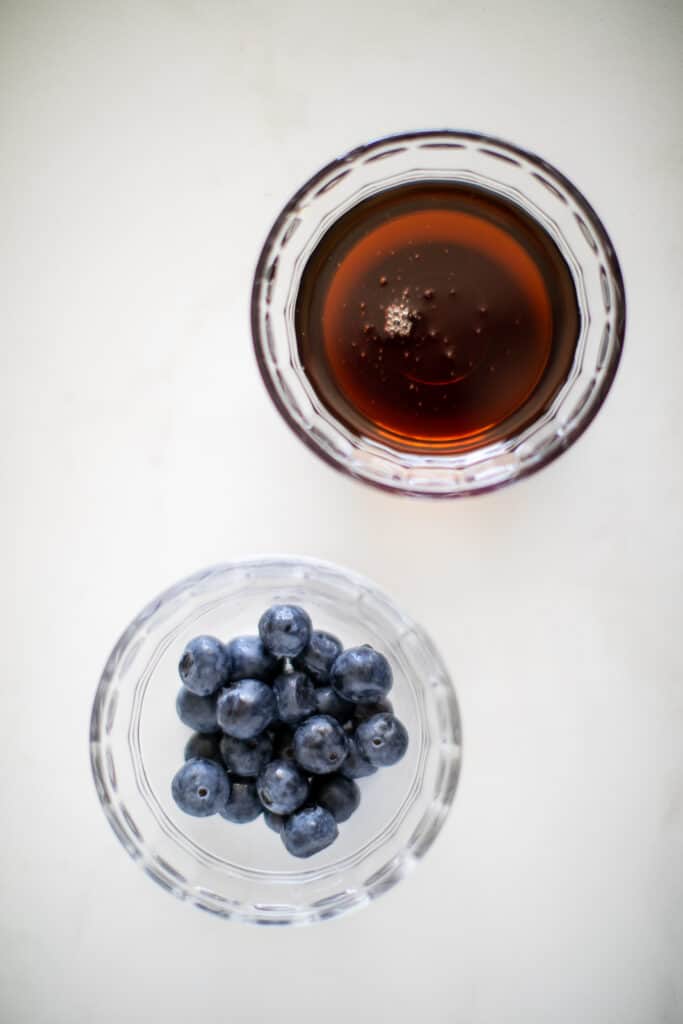 Luckily, my Beginner Food readers will know exactly what to do! Cook down the water to reduce it and concentrate the flavor. 
Yes, by simply applying heat to my blueberries and syrup, I will not only incorporate the flavors better, I will eliminate any dilution of flavor. As an added bonus, warm maple syrup keeps your pancakes warm. 
Flavorful Additions
Because of the simplicity of this recipe, it is really easy to add some additional flavor components to tune the product to your liking. I personally think ginger powder or fresh ginger is a great way to give some spice to your syrup. 
Another very common addition would be orange or lemon zest. Both go very well with blueberries and will permeate into your syrup when heated.   
What Pairs with Blueberry Maple Syrup?
I enjoy this blueberry syrup with all the breakfast staples: pancakes, dutch babies, waffles, crepes, and of course, french toast. Top it with a little powdered sugar and you are set!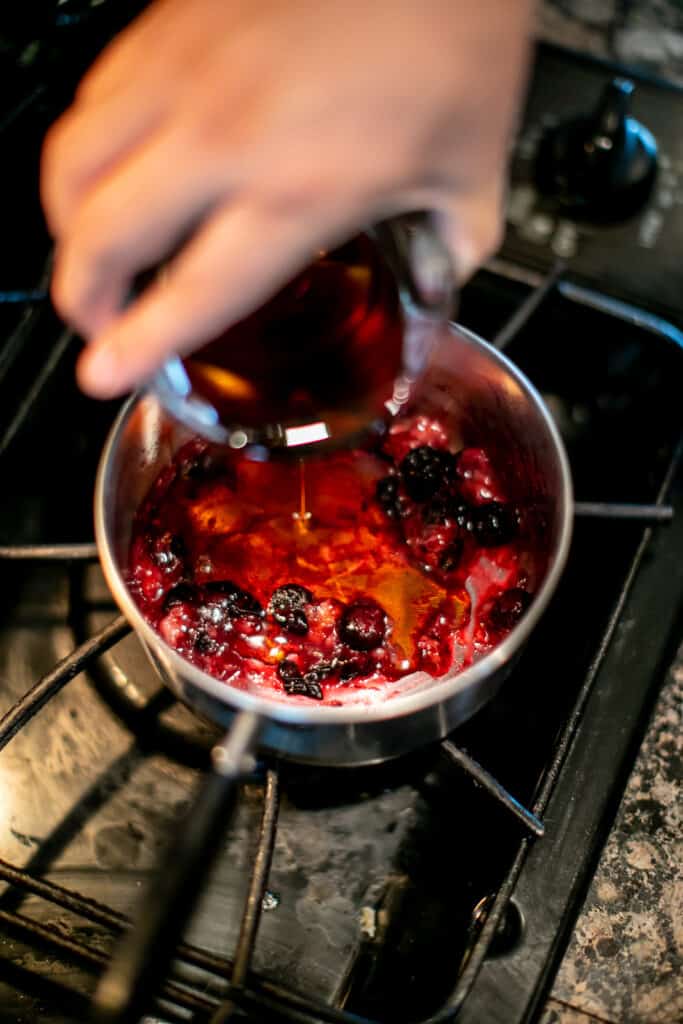 Tools Required
To make this recipe you just need a pot or saucepan and a spoon.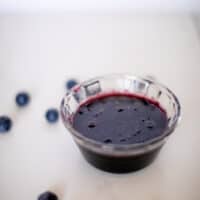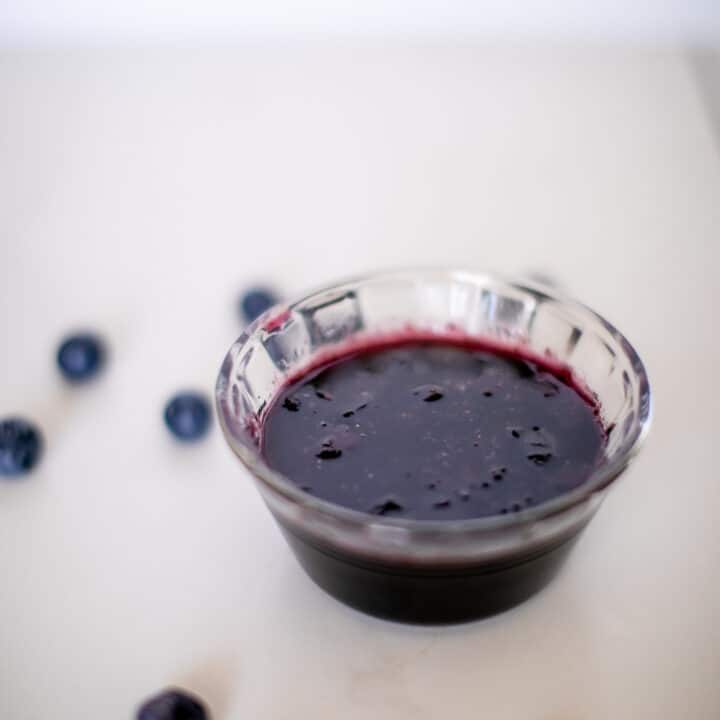 Ingredients
1/4

cup

blueberries

1/2

cup

syrup
Instructions
Wash the blueberries

Add the blueberries to a saucepan over medium-low heat

Macerate the blueberries with a wood spoon 

Add syrup to the saucepan

Add any options flavorings (ginger, lemon zest, etc) 

Heat for 10 minutes

Serve warm but can be set to side and served at room temperature
Nutrition
Calories:
126
kcal
|
Carbohydrates:
34
g
|
Protein:
0.1
g
|
Fat:
0.1
g
|
Saturated Fat:
0.003
g
|
Polyunsaturated Fat:
0.01
g
|
Monounsaturated Fat:
0.01
g
|
Sodium:
27
mg
|
Potassium:
8
mg
|
Fiber:
0.2
g
|
Sugar:
34
g
|
Vitamin A:
5
IU
|
Vitamin C:
1
mg
|
Calcium:
6
mg
|
Iron:
0.03
mg
Beginner's Guide to Making Sauces