As an Amazon Associate we earn from qualifying purchases.
One of my favorite potato alternatives is butternut squash. It is lighter than a potato and less sweet than a sweet potato or yam. Luckily, even though they are a fall vegetable, it is pretty easy to find butternut squash all year round. 
What is a Butternut Squash Puree?
Butternut squash puree is made from roasted or boiled butternut squash, salt, and spices broken down in a blender or food processor. Liquids can be added to thin out the consistency of the puree to desired texture.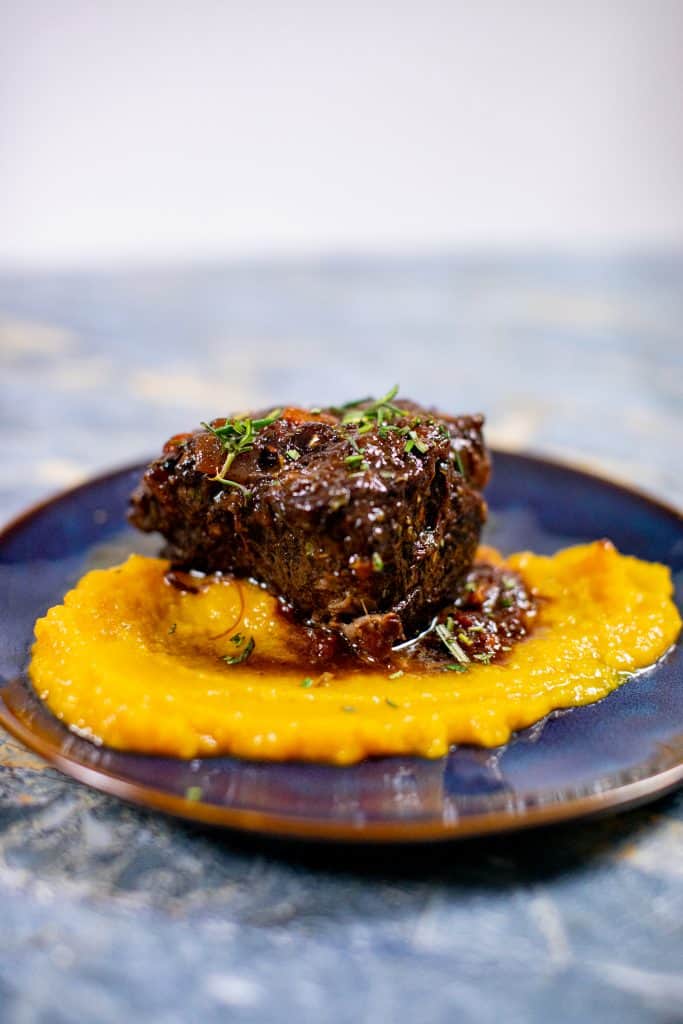 My Approach to Butternut Squash Puree
In developing this recipe, I wanted to keep it as simple as possible. Basically you are going to cut the squash in half, season it, roast it, and then puree it together. 
Originally, I had it in the instructions to cut the squash down into 1 inch pieces, but this is pretty difficult to do if you have never handled a squash before. While you can get more flavor developing from the higher surface area of the small cut squash, it is far easier to just cut it in half the long way for roasting. 
Developing Flavors
When it comes to developing flavor for your puree, it is all about the roast. I highly recommend baking spices like cinnamon, nutmeg, clove, and allspice. 
Ginger is a great pairing for butternut squash as well. If you can find and chop up some fresh ginger it will go wonderfully in your puree. When it comes to herbs, sage and rosemary really work well with the subtle sweet flavors of the butternut squash.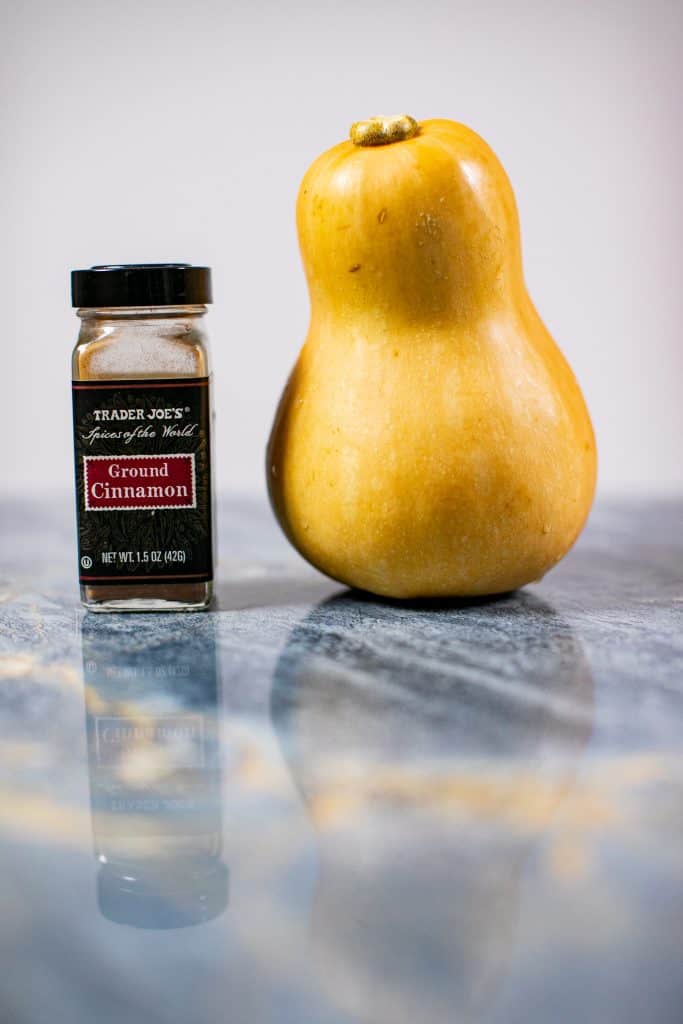 What Pairs with Butternut Squash Puree?
Butternut squash puree can be substituted anywhere mashed potatoes are used. I recommend butternut squash puree with any of your heavier braised or grilled meats or steaks. 
Can You Eat the Seeds from a Butternut Squash?
Yes, you can eat the seeds from butternut squash. You will want to toast them up with a bit of seasoning but the seeds are edible. They are however not quite as soft as pumpkin seeds and of course, there are fewer given how small a butternut squash is.  
Tools Required
To make this butternut squash puree you will need a cutting board and sturdy knife for prepping the squash. I recommend a santoku or clever for breaking down your squash over a chef's knife as they have much more sturdy backings.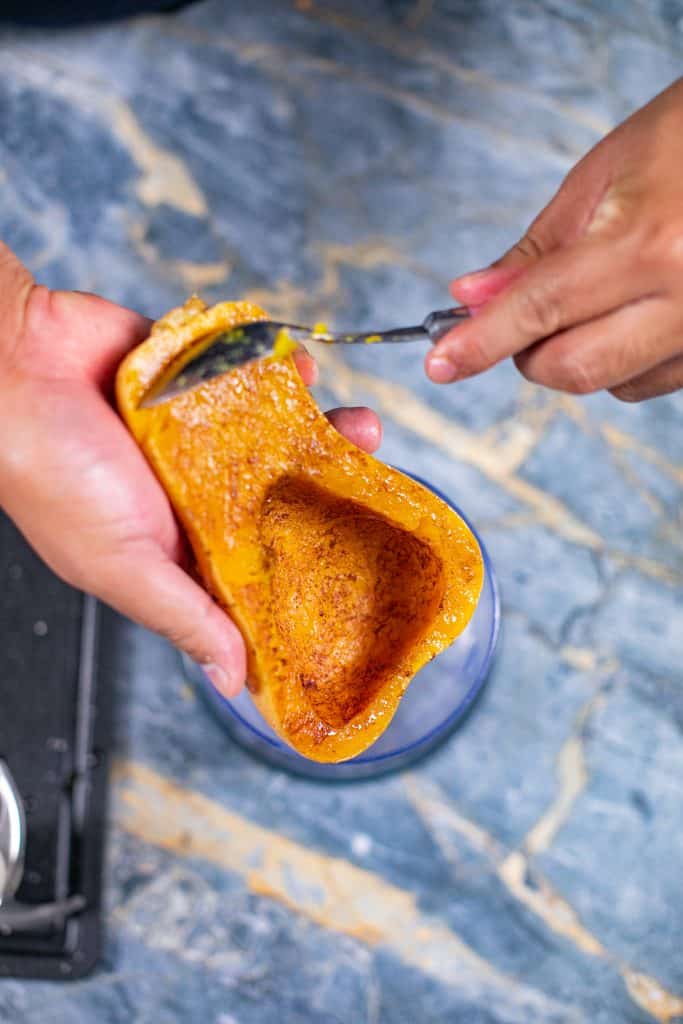 You will also need a baking sheet to roast the squash in. A spoon will be needed to remove the seeds and the finished meat. Finally, you will need a food processor or blender to break down the squash into the puree.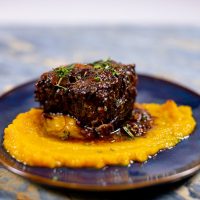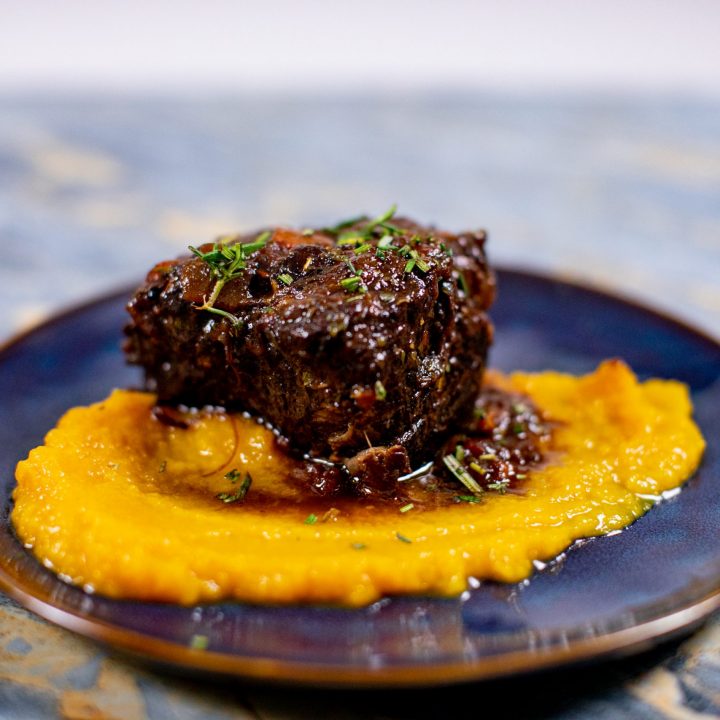 Ingredients
1/2

butternut squash cut long ways

1

tablespoon

olive oil

1

teaspoon

cinnamon
Instructions
Preheat oven for 350°F

Cut the butter squash in half the long way

Drizzle both sides with olive oil

Season the inside with cinnamon and salt

Place cut side down on a lined baking sheet

Roast for 1 hour

Remove from oven and let cool for 15 minutes

Spoon squash into a food processor and puree
Nutrition
Calories:
149
kcal
|
Carbohydrates:
23
g
|
Protein:
2
g
|
Fat:
7
g
|
Saturated Fat:
1
g
|
Polyunsaturated Fat:
1
g
|
Monounsaturated Fat:
5
g
|
Sodium:
8
mg
|
Potassium:
664
mg
|
Fiber:
4
g
|
Sugar:
4
g
|
Vitamin A:
19934
IU
|
Vitamin C:
39
mg
|
Calcium:
100
mg
|
Iron:
1
mg