As an Amazon Associate we earn from qualifying purchases.
One of the hottest food spots to hit the Las Vegas strip in recent years, Eggslut is pretty much the epitome of great ingredients, simple presentation, and just delicious results. Their flagship product "The Slut" is a coddled egg, on top a bed of pureed potatoes, and served with toast. 
Sounds simple right? Well yes and no – if you want to recreate this Eggslut recipe dish you're going to need to nail the technique.
What is Eggslut's "The Slut"?
The Slut, also known eponymously as the Eggslut, is a coddled egg and pureed potatoes served with buttered toast. It is a masterclass in simple ingredients and recipes done to a high standard of excellence.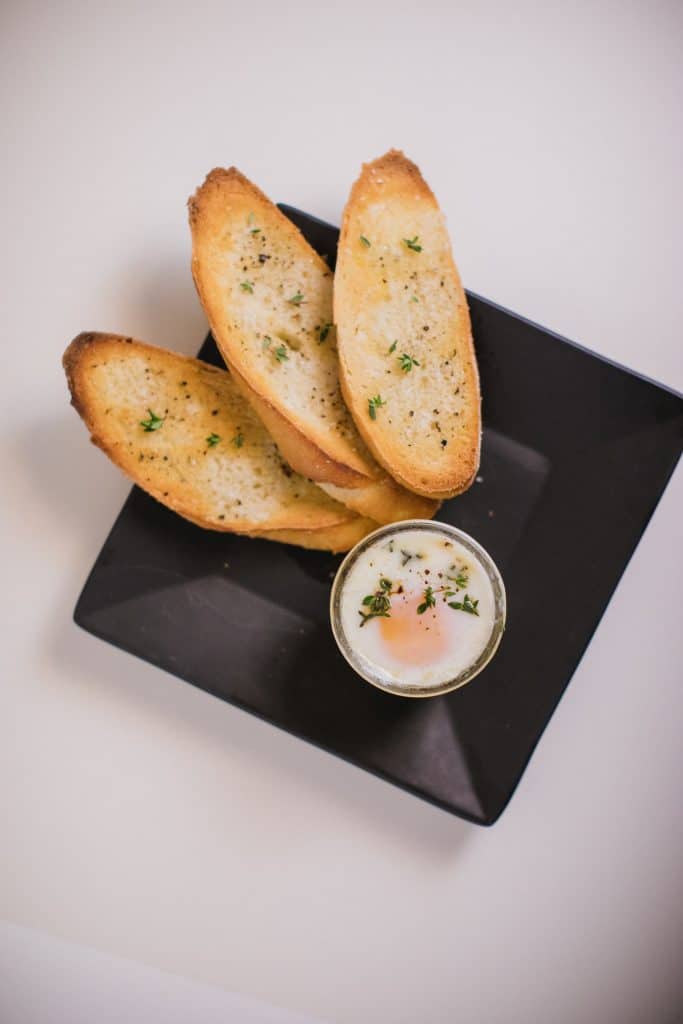 Why Create This Dish?
Normally, I am out in Vegas for about 2 weeks a year for work. One morning on the way to a tradeshow, I was walking through the Cosmopolitan and noticed a line all the way around the atrium. Shocked, I had to see what it was for. 
For those of you in the know, it was Eggslut. Being a guy I was instantly intrigued when a food place has an impressive line, I knew I had to try this spot. 
While I am in no way affiliated with Eggslut, I can say it is an amazing experience and you must stop by if you are on the Strip. For those who don't live in Vegas (or LA) and are craving the simplicity and magic of egg, potato, and bread, I have an Instant Pot copycat Eggslut recipe for you that should hit the spot!
My Approach to an Instant Pot Eggslut Coddled Egg Dish
My approach to recreating this dish is to break down each of the components one by one and recreate a similar version that you can make in your Instant Pot. 
Disclaimer: While I have eaten at Eggslut, I am not familiar with the specifics of their recipe or exact ingredients. So while this recipe is inspired by Eggslut, it is based on the ingredients and techniques I believe are best to create this dish.  
Potato Puree
First things first, can you use mashed potatoes? Yes you can. Should you use mashed potatoes… kind of. 
So one of the things that I love about the potato puree at Eggslut is how light it is. If I had to guess, they use Russet (Idaho) potatoes as these are famously fluffy when cooked. 
I will be using Yukon Gold in my recipe. This is because Yukons, while not quite as fluffy, have a richer creamier flavor that I think matches up with the egg yolk better. 
Feel free to use either as per your preference. For every 1 large Russet you would want to use 2 Yukons.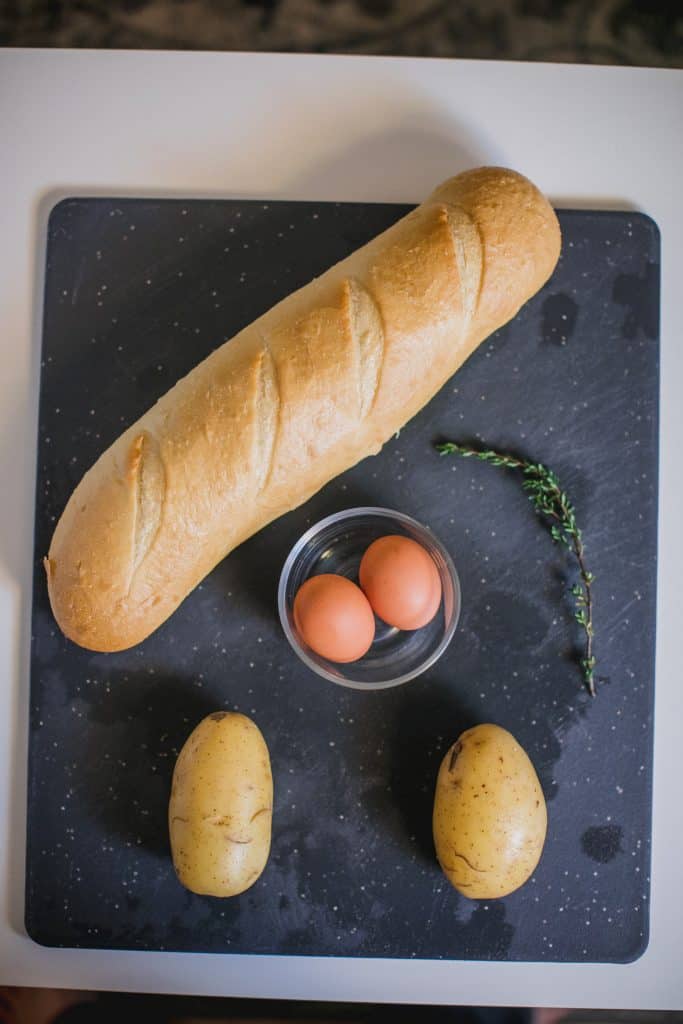 Coddled Egg
The coddled egg is the cornerstone of this dish, so it has to be perfect. If you can go free range organic eggs, do it! If you can't still try to use the freshest eggs you can. 
Since I am cooking my eggs sous vide for an hour, they should be fully pasteurized as opposed to quickly cooking them in boiling water. 
Toast
Ciabatta is by far the best toast you can make this dish with. That said, it is not the easiest bread to find since shelf stable ciabatta is not a high demand item. If you can't find ciabatta bread, use French baguettes, or sour dough as a last resort. In a real pinch, country white is better than normal sliced bread. 
What Makes a Good Copycat Eggslut
A copycat Eggslut must have a perfectly cooked egg, fluffy pureed potatoes, and perfectly toasted bread. When you mix the egg and potato you should be left with a gold cream that explodes with flavor when spooned onto your toast. 
The Challenge with Coddled Eggs
The biggest challenge in recreating this has to be nailing the cook on the egg. Lucky for you I have the perfect solution: sous vide cooking! 
Yes, nothing cooks an egg quite so perfectly as a sous vide. Sure, it isn't the fastest way to cook an egg (so I suspect probably not the best for a massive restaurant operation), but it is the easiest way for a home cook to just knock their eggs out of the park. 
I'll be cooking my eggs in mason jars over the course of an hour. Best part is, if you like your egg a little harder or softer it is as easy as increasing or decreasing the temperature by a few degrees. 
Developing Flavors
There are a few things you can do to augment the flavor of your copycat Eggslut. While traditionally the Eggslut is a celebration of simplicity, there is nothing preventing you from chopping up some bacon, chives, or cheese into your potato puree. You will even see in my recipe, I recommend the addition of white truffle oil and a nice sea salt like fleur de sel to the eggs.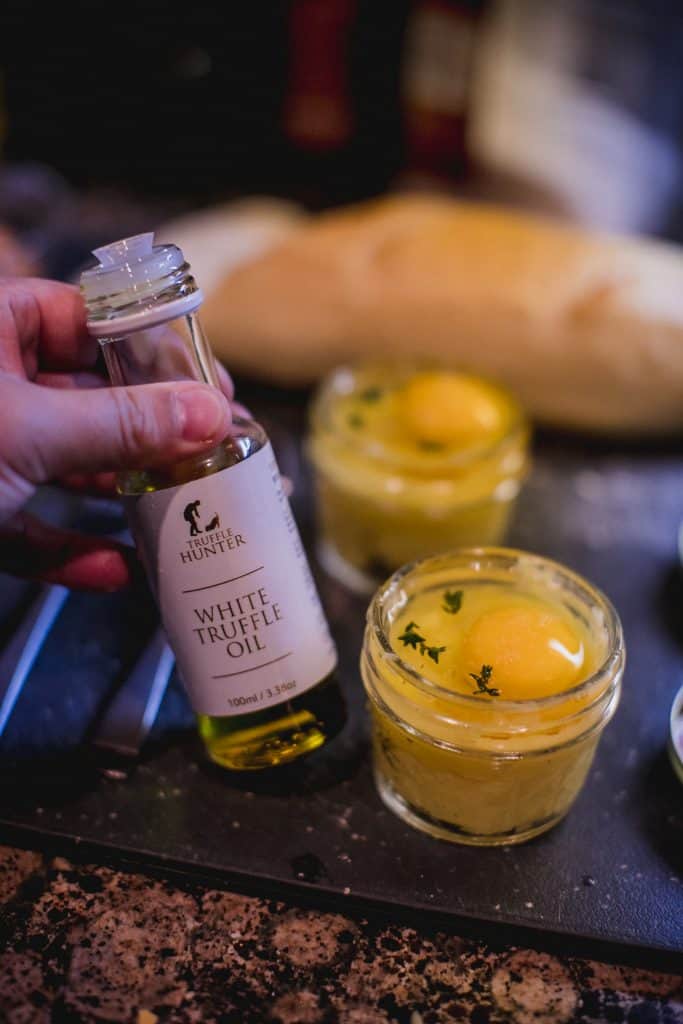 Pairing Ideas
While the Eggslut dish originally comes with and is intended to be eaten with toast, I cannot help but think the next most obvious addition has to be bacon. Who doesn't love bacon, eggs, and toast? 
Tools Required
The only tools you will need are an Instant Pot, a metal sieve, and a couple small mason jars. 
Don't have a sieve? You can mash the potatoes in a ricer or by hand. 
Don't have an Instant Pot? You can still make this recipe with a sous vide (the first trial I did in developing this copycat recipe was using a traditional sous vide). 
No mason jars? You can cook this is a Ziploc bag – yep not kidding. It just won't look too pretty. But at the end of the day, you are just going to mash it all up and spread it on toast.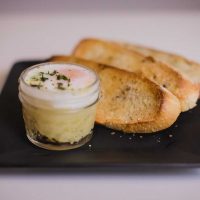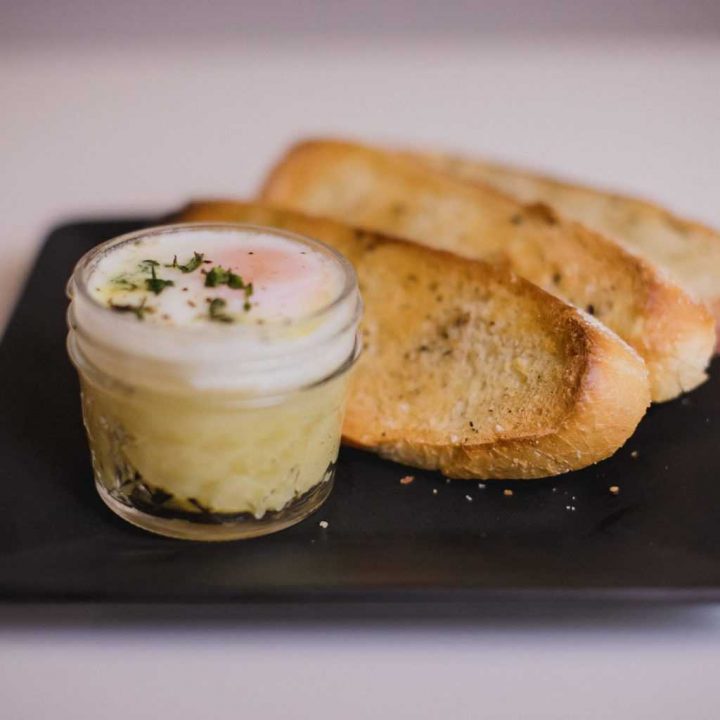 Ingredients
2

Yukon Gold potatoes

2

eggs

6

slices

of bread

1

tablespoons

butter

Pinch

of salt

Herbs of your choice
Instructions
Peel potatoes

Cut potatoes into 1 inch pieces

Steam on high in the Instant Pot for 15 minutes

Puree potatoes through a metal sieve using a spoon 

Fill mason jars up about 3/4th of the way with potato

Crack 1 egg on top of each mason jar

Season with salt

Seal jars and sous vide in the Instant Pot at 145°F for 1 hour
Nutrition
Calories:
474
kcal
|
Carbohydrates:
70
g
|
Protein:
18
g
|
Fat:
14
g
|
Saturated Fat:
6
g
|
Polyunsaturated Fat:
2
g
|
Monounsaturated Fat:
4
g
|
Trans Fat:
0.3
g
|
Cholesterol:
179
mg
|
Sodium:
515
mg
|
Potassium:
897
mg
|
Fiber:
7
g
|
Sugar:
6
g
|
Vitamin A:
418
IU
|
Vitamin C:
34
mg
|
Calcium:
152
mg
|
Iron:
5
mg