As an Amazon Associate we earn from qualifying purchases.
Are you in a hurry and want to have something filling? Well, then premade chicken cordon bleu might be an appropriate pick for you. Find out how to cook premade chicken cordon bleu below!
How to Cook Premade Chicken Cordon Bleu
Chicken Cordon Bleu is one of the classic favorites of every American. The dish has three components: chicken, ham, and cheese rolled together and coated with a thin crust of breadcrumbs for extra crunch.
Usually, it takes more than an hour to make it from scratch. However, the premade chicken cordon bleu comes in handy and can be served within a few minutes straight from the kitchen.
Equipment Required
Baking sheet 
Large baking dish
Nonstick cooking spray 
Aluminum foil 
Instant-read meat thermometer
Step #1: Thaw Your Frozen Packed Cordon Bleu
Thawing the frozen food is an essential step to make the dish fit for consumption without compromising with its quality. In thawing, one has to defrost the frozen item to the extent that it reaches room temperature.
As per experts, there are three recognized methods of thawing: Refrigerator thawing, Microwave thawing, and cold water thawing.
Note: Experts strictly advise the consumers not to thaw their frozen food items (especially meat) using hot water. Because the high temperature of the water can initiate the cooking process making your frozen chicken cordon bleu infected with microbes.
Method #1: Refrigerator Thawing
In refrigerator thawing, one has to defrost a food item weighing more or equal to 5 pounds by weight for at least 24 hours. It is one of the best ways to thaw frozen food, especially meat items.
One has to consider several elements while thawing frozen items in the refrigerator:
Frozen food items that involve red meat should be stored in colder regions of the appliance compared to others. Ideally, the meat items are kept at a lower temperature than that of your refrigerator. Hence, keeping them in the fridge will make the meat warmer.
Meat products, unlike vegetables, require more attention even if they are premade. Any mistake in this situation will lead to the contamination of food by microbes.
However, the meat here is premade. It will take 30-60 minutes to defrost the frozen premade chicken cordon bleu compared to a raw one.
Method #2: Cold Water Thawing
This procedure is quicker than thawing in the refrigerator, but it necessitates more care. To cold-thaw  your frozen food, seal it in an air-tight container or bag. It is necessary to do so because germs and bacteria from the air or surrounding can get into the bag and make the product unfit to consume.
Additionally, the meat tissue could absorb water, leading to a watery product.
To keep the bag from freezing, immerse it in cold tap water for 30 minutes and change the water every 30 minutes. Meat items weighing around a pound like shellfish can defrost within an hour. On the other hand, it can take you up to 2-3 hours to defrost 3-4 pounds of meat. 
Method #3: Microwave Thawing
One thing to remember after microwave thawing is to consume the meat product as soon as possible. It is because microwaving the meat item can cook it partially.
Having partly cooked food is not suggested since partly cooking would raise the temperature of the meat to an extent where bacteria could thrive.
Hence, always cook the food right away after thawing in the oven.
Moreover, I highly advise you not to thaw your raw or premade chicken cordon bleu in closed spaces like your garage, car, basement, kitchen counter outside, or the porch as it is an unsafe practice.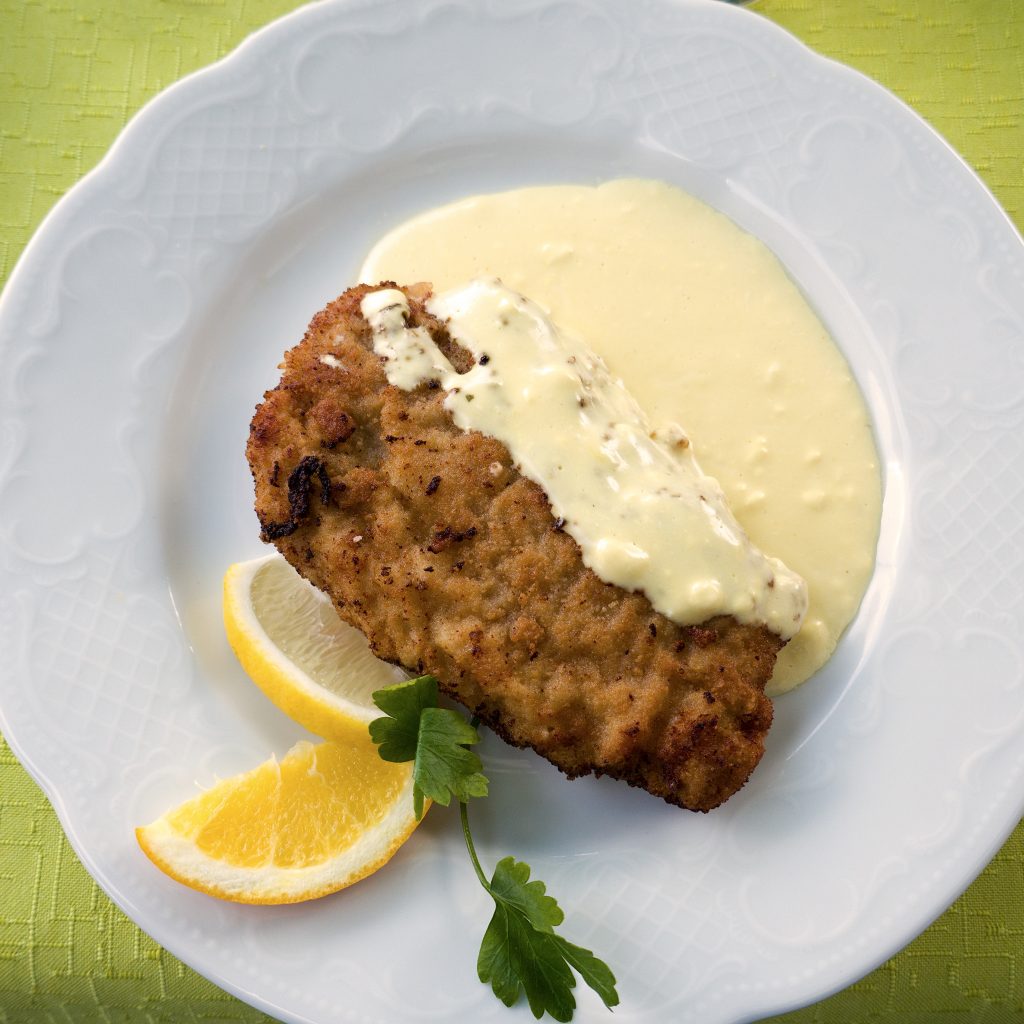 Step #2: Prepare Your Premade Chicken Cordon Bleu
Method #1: Baking Packaged Frozen Cordon Bleu
Preheat the oven to 350°F. 
Spray the non-stick spray on your baking sheet.
On the baking sheet, place the premade chicken cordon bleu.
Bake your chicken cordon bleu until the thermometer reads 165 degrees Fahrenheit or 50-60 minutes have passed away. After that, take out the baking sheet from the oven and set it aside for a few minutes. It will allow the chicken cordon bleu to cool down before serving.
Serve baked breaded chicken cordon bleu with steamed fresh veggies and a mixed green salad dressed in a low-fat vinaigrette.
—
Warning
Check the nutrition facts for frozen boxed chicken cordon bleu carefully. Some products offer up to 31 g of fat, 9 grams of fat, and 105 mg of cholesterol in a single serving.
Moderately consume commercially produced cordon bleu.
The baked chicken cordon bleu's melting cheese filling will be incredibly hot. When chopping and eating freshly cooked cordon bleu, take caution.
—
Method #2: Air Frying Premade Chicken Cordon Bleu 
You may choose to prepare one piece of frozen chicken cordon bleu per person, based on the frozen chicken cordon bleu size you have. However, what could be the best way to cook it?
If you are in a hurry, air frying the chicken can save you time without additional calories. The air-fried chicken cordon bleu is the type of food that will fill you up and satisfy your hunger.
If you have a large family, try cooking a few pieces of chicken cordon bleu at a time. Do not overcrowd your air fryer; if there isn't enough room inside the cooking device, certain pieces will not come out crunchy enough.
Spray a nonstick cooking spray on the air fryer basket.
In the air fryer, place frozen chicken cordon bleu.
Cook for 15 minutes at 400 degrees Fahrenheit, flip the chicken halfway during the cooking time.
Method #3: Deep Frying the Premade Chicken Cordon Bleu
Heat oil in the pan on medium/high heat.
Cook in oil until golden brown.
Place on a paper plate to remove excess grease before serving.
Method #4: Instant Pot Cooking Method for Making Premade Chicken Cordon Bleu
You will need a pressure cooker to make this Instant Pot recipe. You can take an 8-quart Instant Pot, but a 6-quart will also suffice. 
If you've been wondering whether or not to try an instant pot, I strongly advise you to do so. When you don't have a lot of time, pressure cooking can be the best time-saving method to cook delicious food.
It's ideal for frozen foods or dishes that take a long time to prepare. Toss everything together, and dinner will be ready in no time. Technically, one or max two whistles is more than enough to cook the chicken cordon bleu.
The instant pot is your saving grace on those days when you forget to pull anything out of the freezer or leave dinner to the last minute.
Step #3: The Side Dish
This dish goes well with Roasted Green Beans, or you can use the broccoli in the microwave for a steamy, hot, and crunchy vegetarian side dish.
With this meal, you can also have a simple salad. It's quick and easy to make, and it goes well with chicken. Keep it basic and have fun with it! There's no need for fancy ingredients or intricate recipes.
The instant pot allows you to prepare a delicious dinner for your family in under 30 minutes. It doesn't get any easier than this!
So you see how delicious it is and not at all difficult to make.
8 Beginner Cooking Tips I Wish I Had Known
Conclusion
Conserving and consuming frozen foods has a lot of limitations. It is due to the chances of bacterial growth in the premade food. As per research, -19 degrees Celsius is the ideal temperature to store frozen food, and anything above would lead to microbial growth.