As an Amazon Associate we earn from qualifying purchases.
Ever since I got an Instant Pot, I have been wanting to try all the different functions and features on it. One of the more unique uses of the Instant Pot is the "sauté" function. It just sounded so crazy – why use an Instant Pot just to cook with the cover off? 
While I don't think it gets quite as hot as a traditional hot plate, I was shocked how fast it could reduce liquid. That brings me to today's recipe, butternut squash risotto.   
What is a Butternut Squash Risotto?
Butternut squash risotto is a flavored rice dish made from Arborio rice, roast butternut squash puree, and broth. Even though many recipes call for cream, the creamy texture of the risotto comes from the Arborio rice itself.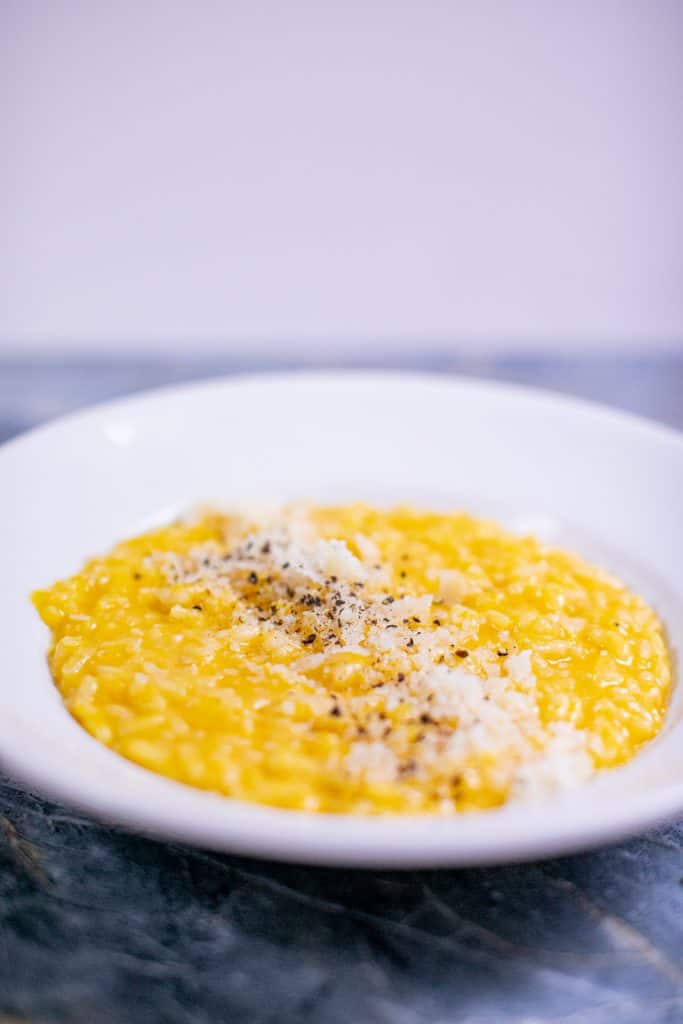 My Approach to Butternut Squash Risotto
I developed this butternut squash risotto recipe with one thing in mind – the Instant Pot. That said, you will be cooking the rice using the sauté mode on your Instant Pot with the lid off. The larger the Instant Pot you have, the faster your risotto will cook.
This is because the more surface area there is the faster the broth reduces down. 
I have an 8-quart model which is perfect for putting out speedy risottos. If you have a duo with the air fryer attachment it is actually possible to cook the entire dish in the Instant Pot as you can air fry the squash. 
Don't have a duo? No worries, just a traditional oven at 350°F will do the trick. 
What Makes a Good Butternut Squash Risotto
The best butternut squash risotto is made with a lot of stirring. To get the perfect risotto texture you want to gently stir the rice the entire time it is cooking. When you stir the rice while it cooks tiny amounts of rice flour are released into the broth.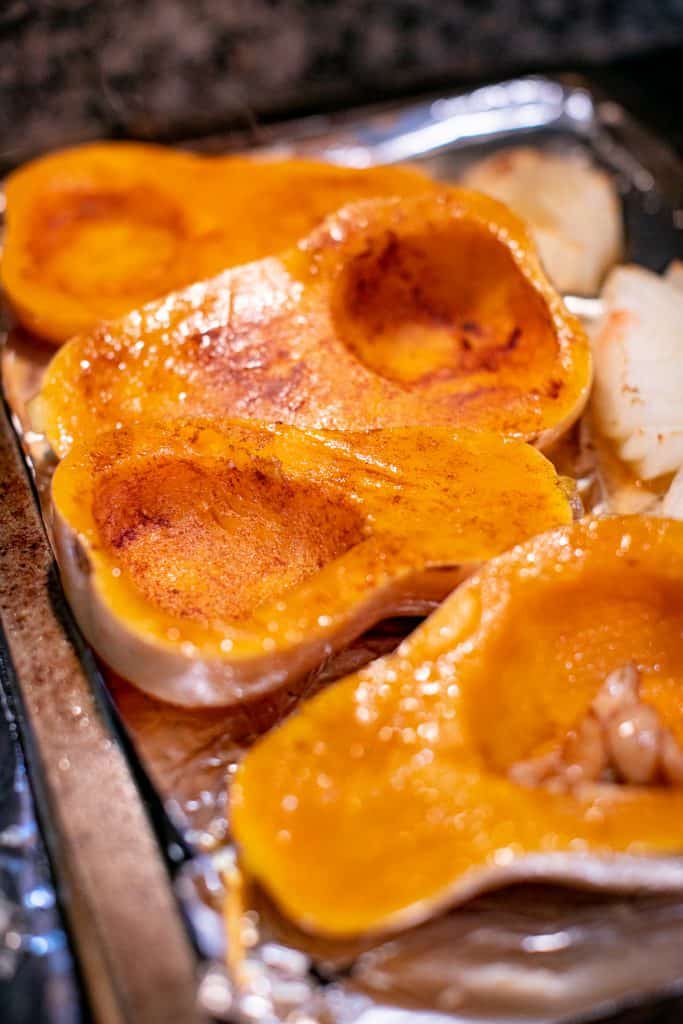 This rice flour is what helps thicken the risotto and give it the creamy texture it is known for. 
Developing Flavors
The flavors in this butternut squash risotto come from roasting the squash in the oven and reducing the liquid. When you roast the squash in the oven you are caramelizing the sugars and reducing the liquid content to concentrate the flavor. 
There is also the added benefit of breaking down the cell walls of the squash which releases the water they hold. This squash water is full of flavor and should be added back to the rice. 
Tools Required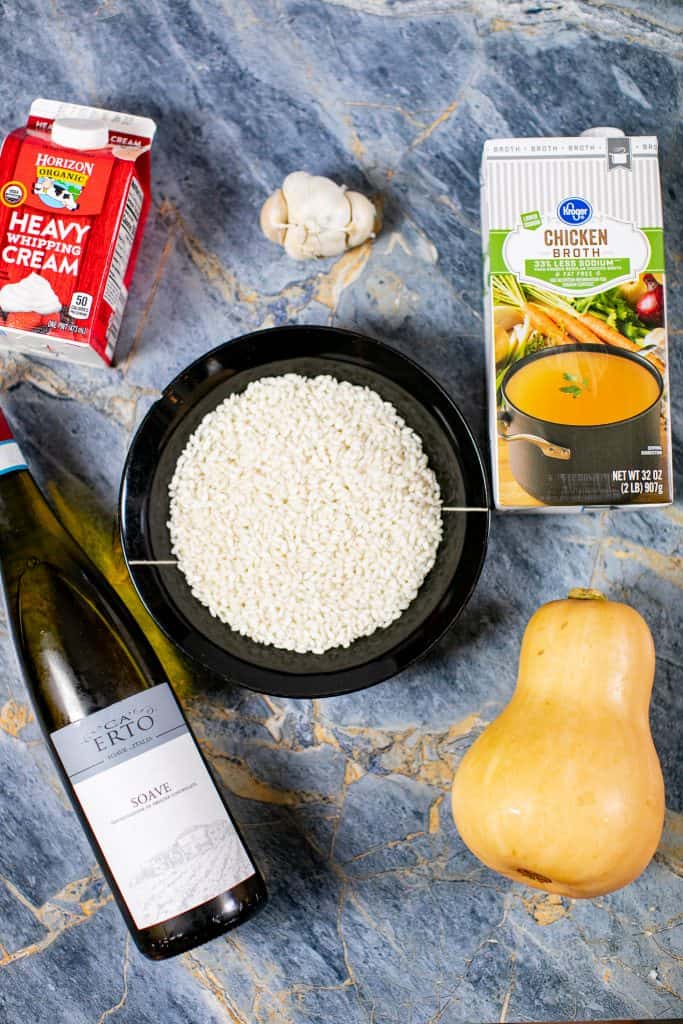 To make this Instant Pot risotto you will want a Instant Pot 6 or 8 qt model, a baking sheet, a sturdy knife, and a wooden spoon or heat resistant spatula.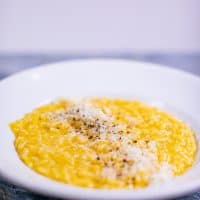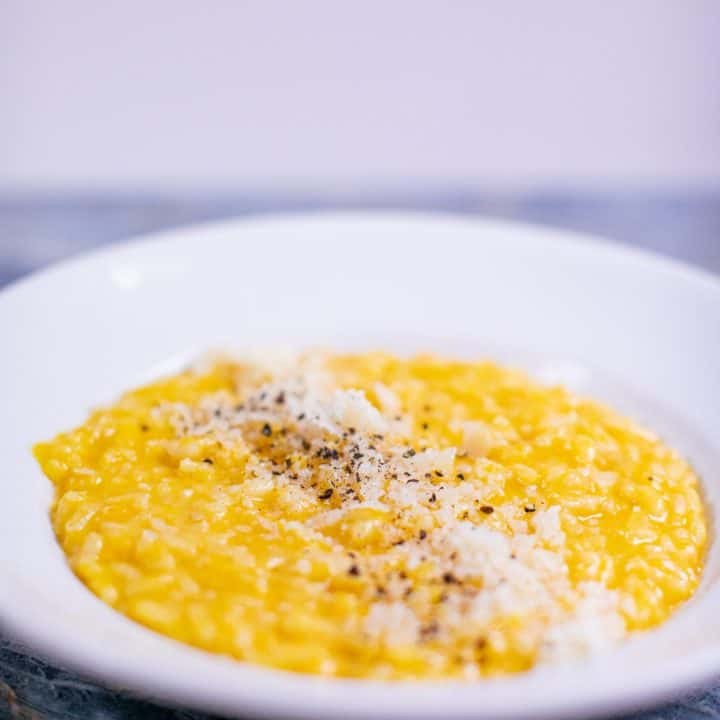 Ingredients
1

cup

arborio rice

1

cup

white wine

6

cloves

garlic

2

cup

chicken broth

1/2

butternut squash

cut long ways

2

tablespoons

cream

2

tablespoons

olive oil

1

pinch

salt

1

pepper to taste

parmesan to taste
Instructions
Wash and cut the butternut squash

Preheat oven to 350°F

Roast butternut squash with 1 tablespoon olive oil and salt for 1 hour or until soft

On medium heat add the uncooked rice and 1 tablespoon olive oil and toast for 2 minutes

Add 1/2 cup chicken broth and reduce heat to simmer stirring constantly until liquid is absorbed

Add 1/2 cup chicken broth and keep stirring until absorbed

Add 1/2 cup of white wine and keep stirring until absorbed

Add 1/2 cup of white wine and keep stirring until absorbed

Blend the butternut squash with 1 cup of chicken broth and 2 tablespoons heavy cream

Add blended butternut squash mixture to rice and keep stirring until desired texture

Serve with fresh cracked pepper and parmesan
Nutrition
Calories:
334
kcal
|
Carbohydrates:
53
g
|
Protein:
5
g
|
Fat:
10
g
|
Saturated Fat:
3
g
|
Polyunsaturated Fat:
1
g
|
Monounsaturated Fat:
6
g
|
Cholesterol:
11
mg
|
Sodium:
458
mg
|
Potassium:
441
mg
|
Fiber:
3
g
|
Sugar:
3
g
|
Vitamin A:
10080
IU
|
Vitamin C:
21
mg
|
Calcium:
69
mg
|
Iron:
3
mg