As an Amazon Associate we earn from qualifying purchases.
Here in San Diego I have tons of amazing fresh Mexican and Latin American cuisine. While you can do a decent job replicating the experience at home, one thing from the store never seems to measure up – the tortillas! Today I'll go over how easy it is to make your own flour tortillas at home from just 4 simple ingredients.  
What are Flour Tortillas?
Flour tortillas are a traditional Northern Mexican flatbread from the post colonial era made with flour, water, salt, and fat (oil or lard).
Flour tortillas are derivative of the much older corn tortillas and gained in popularity after the introduction of wheat to the North American continent. The process for making and cooking flour tortillas is nearly identical to corn.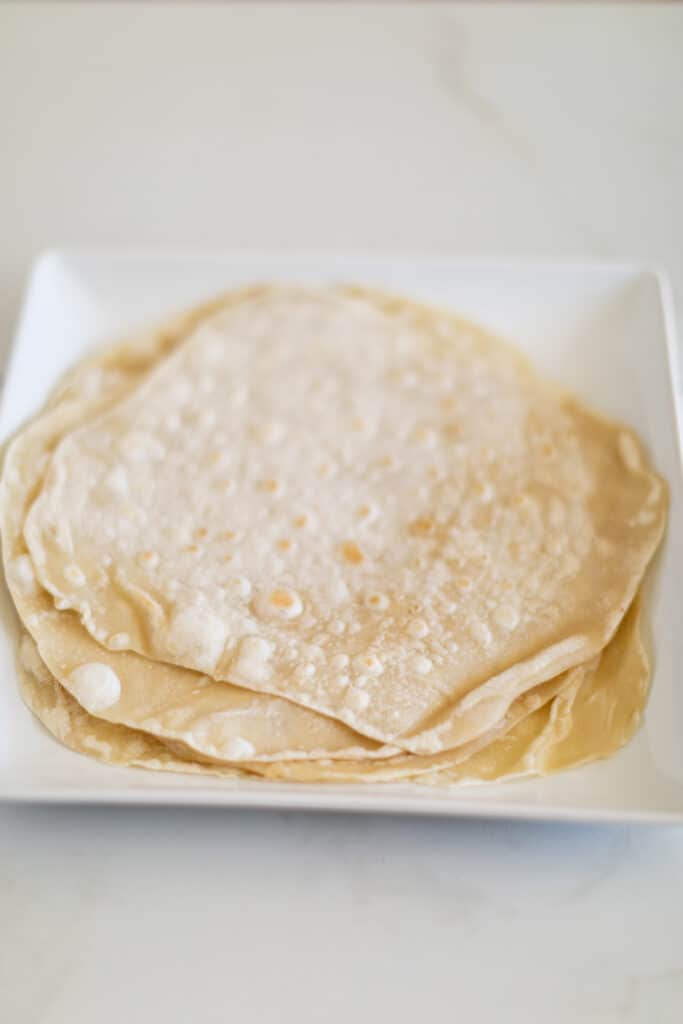 I don't know about you, but there is just no comparison between a fresh, soft, floury tortilla and the hard cold preservative injected ones from the store. Sure you could buy the uncooked ones and they get you a little closer but they are way too small for something like a burrito.
My Approach to Flour Tortillas
My recipe for flour tortillas is to make the smallest batch with simplest measurements. I want you to have the basic ratios to make great tortillas then you can always scale it up to fit your family's needs. 
This recipe as written is perfect for those cooking for 2 adults and want either a couple burritos (2 large tortillas), 2 quesadillas (4 medium size tortillas), or up to 8 small taco sized tortillas.   
What Makes a Good Flour Tortilla
A good flour tortilla needs to cook all the way through and have texture. It needs to have some chew and stretch to it. It is that perfect stretchy texture that makes flour tortillas the go-to for wrapping up burritos (and why the store bought ones are never as good).   
The Challenge with Flour Tortillas
There is really only one challenge and gotcha when it comes to making flour tortillas, the amount of water to put in. Your goal is to get a soft rubbery ball of dough (not sticky or shaggy). 
When developing this recipe I tested it out several times with different flour brands and types (like bread flour vs AP). During those tests, I found that for every 1 cup of flour, you are going to want 6 and a little bit of tablespoons of water. Basically, 6 is barely enough, and 7 is sometimes a tiny bit too much. 
My Solution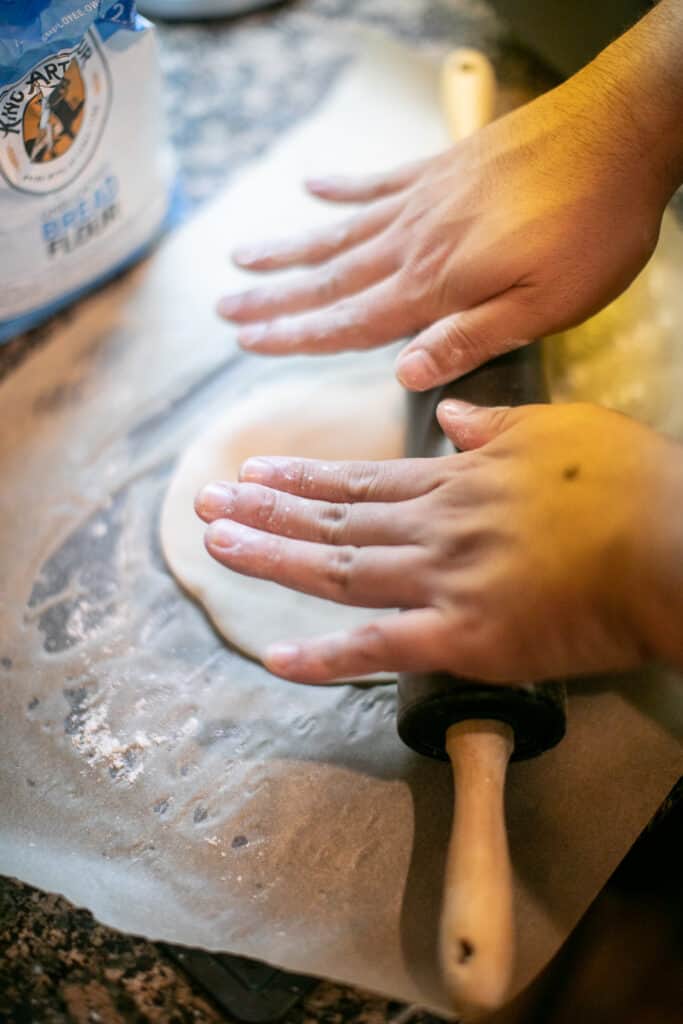 Luckily, as there are so few ingredients with these tortillas it is pretty easy to adjust on the fly. I recommend adding 1 tablespoon of water at a time while mixing. When you get to tablespoon 6 if the dough is not coming together into a rubber pliable ball then add the 7th tablespoon of water. 
When you add water you need to make sure you knead the dough to incorporate and hydrate the flour (it takes time for flour to absorb water). If after kneading for a minute the dough is still too moist, then you can add 1 more tablespoon of flour and work it in. 
Developing Flavors
When it comes to tortillas I am more of a purist. I actually don't recommend anything more than a pinch of salt for flavor. What I do think makes a huge difference is the type of fat you use. 
That said, if you have lard it is the absolute best for tortillas. Many probably won't though so I wrote this recipe to use vegetable oil instead, it makes a decent replacement but lard is the gold standard if you can swing it. 
How to make flavored tortillas for sandwich wraps?
If you are looking for a sundried tomato or spinach flavored tortilla you can use this recipe as a base. 
In either case, you will want to puree the vegetables entirely, no bits, add that to your flour and oil then use very hot water one tablespoon at a time till you reach the rubbery stretchy ball consistency. Expect you will need to knead the dough more to fully incorporate the flavors.  
What Pairs with Flour Tortillas?
I think hands down cheese and grilled meats are about as perfect as it gets with flour tortillas. Tacos, burritos, quesadillas, flautas, or just as a side with rice and beans.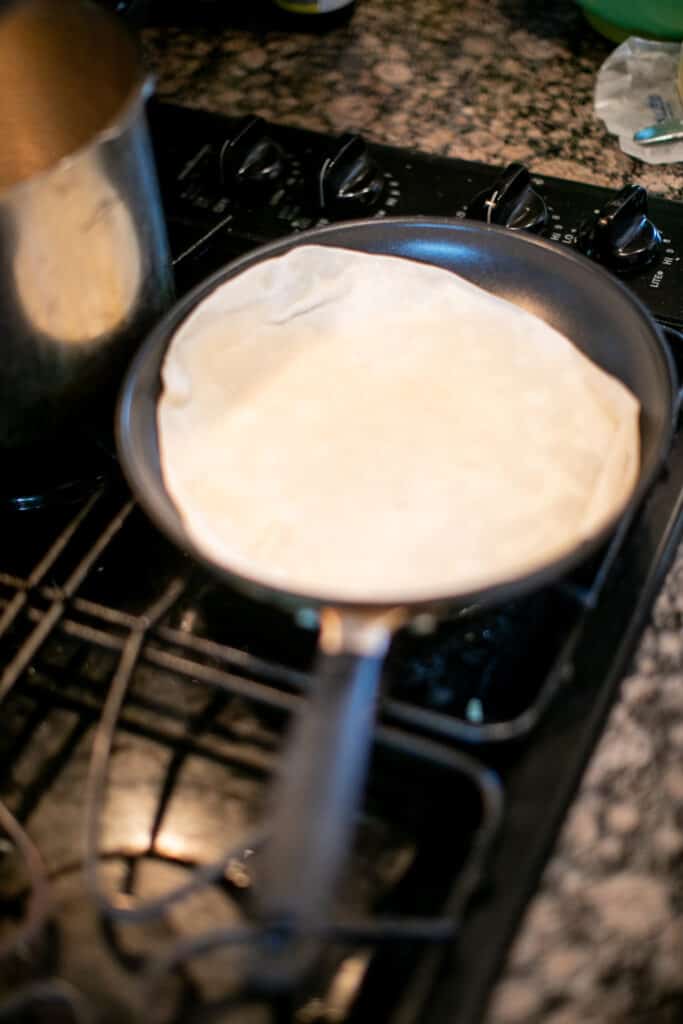 Tools Required
You will only need a mixing bowl, measuring cups / spoons, and a rolling pin for this recipe. In terms of cooking these cook on the stove, griddle, oven, and grill very well. A griddle or cast iron pan is the closest to the traditional comal used in Mexico.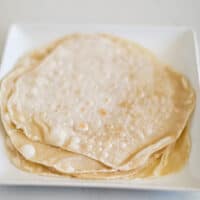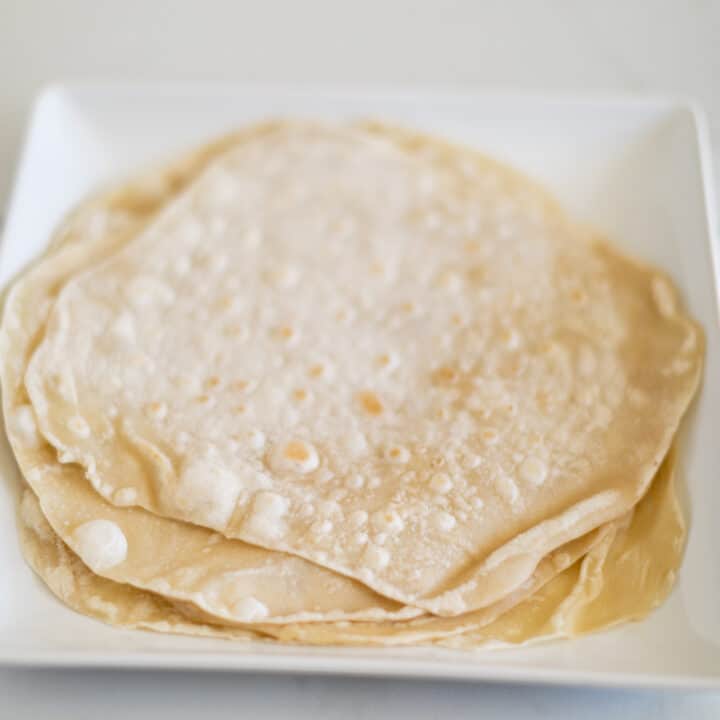 Ingredients
1

cup

flour

1

tablespoon

oil

6-7

tablespoons

hot water

1

pinch

salt
Instructions
Add flour, oil, and salt to mixing bowl

Add water 1 tablespoon at a time while mixing slowly

Knead together 5 minutes – ball should be smooth and rubbery, it should not be sticky at all

Tear into 4 pieces and flour

Roll out thinly (closer you can get to see through the better)

Heat pan on medium

Cook tortilla 2 minutes per side

Store under a clean towel or overturned plate

Serve
Nutrition
Calories:
145
kcal
|
Carbohydrates:
24
g
|
Protein:
3
g
|
Fat:
4
g
|
Saturated Fat:
0.3
g
|
Polyunsaturated Fat:
1
g
|
Monounsaturated Fat:
2
g
|
Trans Fat:
0.01
g
|
Sodium:
11
mg
|
Potassium:
33
mg
|
Fiber:
1
g
|
Sugar:
0.1
g
|
Calcium:
5
mg
|
Iron:
1
mg