As an Amazon Associate we earn from qualifying purchases.
Kitchen cookware trends have evolved tremendously over the years. Unlike my parents and grandparents who were limited to aluminum and cast iron pots, I have a whole world of options to explore. So, what types of cookware are best?
What Types of Cookware are Best?
Cookware is necessary. Whether you intend to limit your cooking to boiling water for noodles or you have all intentions of preparing gourmet meals each day, finding the right pots and pans for your home is crucial.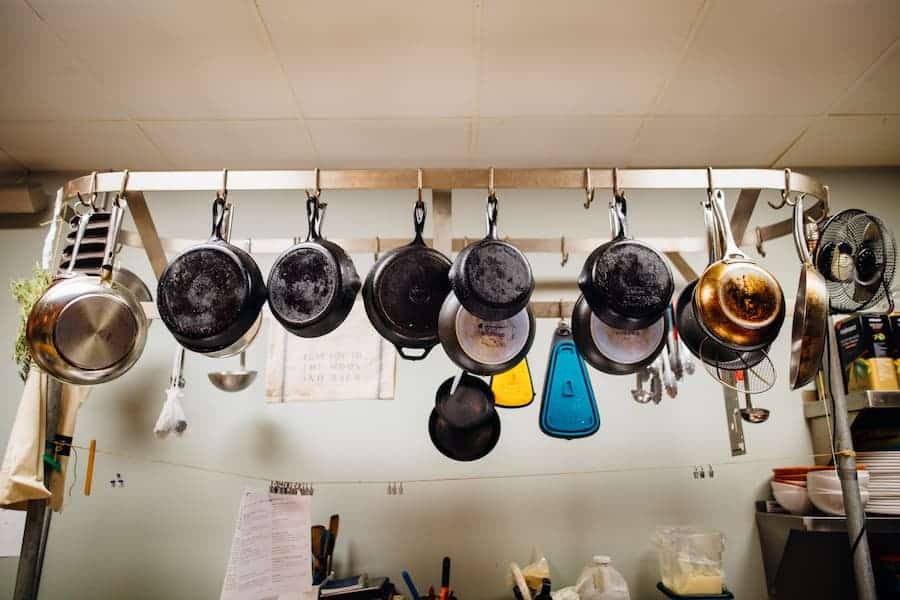 Here are the most vital aspects to consider before buying cookware.
Material
The performance and cost of any cookware set depend highly on its construction material. Some of the most common cookware materials include:
Stove-safe ceramic
Aluminum
Stainless Steel
Carbon Steel
Copper
Clay and Stoneware
Cast Iron
A good number of models are made entirely from one type of element, although some models feature two to three materials.
It is vital to understand that the composition of your cookware will also dictate the kind of maintenance that is required.
Coatings
Cookware with a nonstick interior coating prevents sticking of food, and this makes cleaning easier. Uncoated pots, on the other hand, transfer higher levels of heat to the food and are ideal for searing meat.
You can also find cookware that has an exterior coating. This serves more as a decorative feature than a functional one.
Pots with outer finishes have an enhanced visual appeal and also happen to be both corrosion and stain-resistant.
Before you get all excited and choose the first coated pot set you can find, bear in mind that in case the coating gets damaged, this can render your cookware useless.
Shape
I'm not a professional chef, although I know a thing or two about the functions of different pot shapes.
Well, cookware that is wide and shallow is mainly ideal for cooking dishes where plenty of evaporation is required.
For instance, a shallow pot is your number one friend when preparing reducing sauces. If you want to cook pasta, on the other hand, you need cookware that is narrow and deep.
This helps to limit evaporation to allow the food to soak in the desired amounts of moisture.
Lids
The majority of modern cookware sets feature pots and their lids. Some models have lids made from an identical material as the pot, while others have glass covers that give you a good view of your food as it cooks.
Before you choose a cookware set that has lovely glass lids, remember that glass may not withstand high oven heat.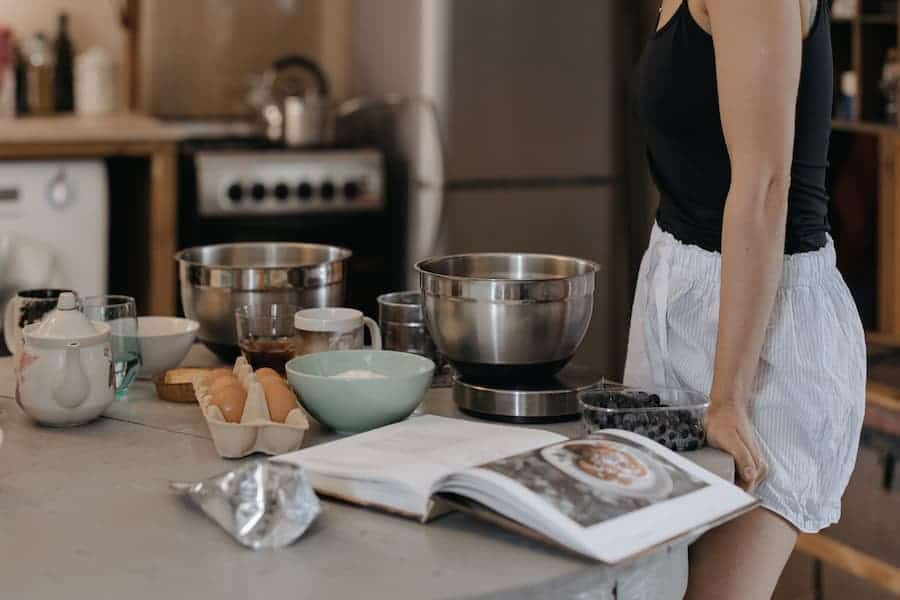 Cookware Handles
It's easy to get all excited about the primary material of a pot and forget to check the construction of the handles. Well, different models feature different handle materials that can pose some pros and cons.
Plastic Handles
Pots with plastic handles cannot withstand over 350°F in the oven, and many cannot go in the oven at all. Such handles are, however, a real appeal to most people because they don't heat up when cooking on the stove.
Wooden Handles
Wooden handles are pretty and harder to break than plastic handles. They don't heat up on the oven, although they are not dishwasher safe.
Metal Handles
Solid metal handles allow you to use your cookware in the oven and also under the broiler without any issues.
Such grips also make your cookware dishwasher friendly and are never at risk of breaking. On the downside, the handles can get just as hot as the main pot.
Cool-Touch Handles
If you have been following the most recent cookware trends, then perhaps you have heard about the cool-touch handles.
They can add value to your pots because they remain cool to the touch when cooking on a stove. However, the cool-touch does not work when the pan is placed in a hot oven.
Ease of Storage
Have you noticed how cookware can take up a lot of space in your pantry or cabinets? Before choosing what to buy, think about the storage space you have.
Sets designed to nest are ideal for smaller kitchens. Do note that this also means you have to grab the entire set and choose the pot you wish to use.
Types of Cookware
Let's get down to the juicy part and check out the different cookware types. I will also analyze their main pros and cons to make your selection easier.
Stainless Steel
I understand that stainless steel is not a good conductor of heat. So, pots made from the material are often fully clad with aluminum or copper pressed between two layers of stainless steel.
You can also find models that have thick exposed layers of aluminum or copper at the bottom.
So, why choose stainless steel cookware?
The answer is simple — stainless steel is durable and excellent for preparing foods that need braising and browning. Pots made from the material are a workhorse that can be used for just about anything from preparing pasta sauce to marinating.
On the downside, cleaning stainless steel cookware is no joke, and a decent number of models are not dishwasher safe.
Cleaning your pots with soap and water is okay, although I prefer also using specialized cleaners for a more polished look.
Pros
Durable
Ensures rapid and uniform heating
Often compatible with all kinds of cooktops
Oven friendly depending on handle type
Coated models don't react with high acid foods
Cons
Cleaning the cookware can be tricky, especially if it's uncoated
Nonstick
If you have a thing for low-fat and non-fat dishes, then nonstick cookware is a must. Models with a durable nonstick coating are also perfect for preparing delicate foods such as pancakes and eggs.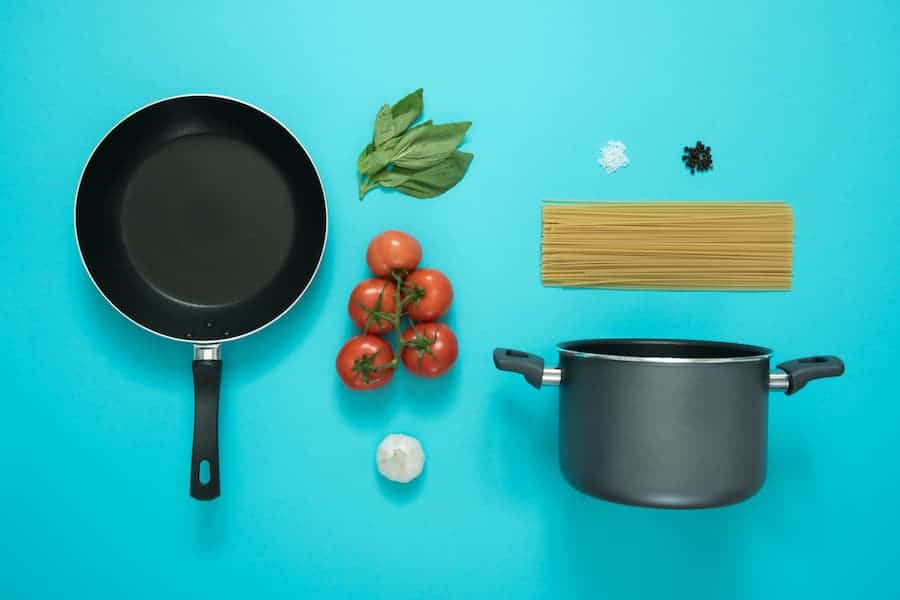 Better still, cleaning nonstick pans is easy. You will, however, need to take care of the coating to ensure it remains intact.
In case it is scuffed or scratched, it will not be long before the cookware works like regular uncoated pots.
To get it right, clean nonstick cookware using a soft plastic brush or just natural sponge. I also recommend against stacking the pans to avoid scratching.
If you have limited storage space and stacking the pots is crucial, consider placing a soft cloth or paper towel between each cookware.
Pros
Quite easy to clean
Promotes healthy living (can cook with little or no oil)
Ideal for use on any cooktop type
Oven-safe to about 500° F depending on the handle type
Cons
Plenty of care is needed to keep the nonstick coating intact
Some models are not dishwasher-safe
Not ideal for browning food
Enameled Cast Iron
Enameled cast iron pots are an excellent addition to any modern kitchen. These pots are great for slow-cooking, stewing, braising, frying, browning, searing, roasting meat, and even sautéing.
What makes them so useful in all sorts of food preparation processes is the fact that they heat slowly and uniformly. They also retain heat well and generally preserve the authentic flavors of foods.
Pros
Corrosion-resistant and durable coating
No reaction with acidic foods
Heat slowly and uniformly
The cookware does an excellent job at retaining heat
Oven-safe to about 500° F
Cons
Quite heavy even when empty
The enamel needs proper handling to prevent chipping
Uncoated Cast Iron
Another great alternative to using nonstick cookware is using uncoated cast iron pots. Cast iron is a natural nonstick, yet it is incredibly durable. You can preheat your pans when you want to brown meat, and the cookware can also withstand high oven temperatures without a problem.
Cast iron cookware tends to get better with age — the more seasoned, the better. From my research, I gathered that this material can hold up to decades of use and still perform and appear as good as new.
The main con here is that cast iron can react to highly acidic foods and cause the metal to leach.
Thanks to the porous surface, the cookware needs to be seasoned from time to time. Rub some Canola oil on the surface and heat it at 300°F for at least one hour. The oil helps to seal the pores, add a nonstick layer to the pots, and minimize rust formation.
Pros
Durable and classic
Naturally nonstick
Keeps the food warm for longer
Scratch resistant (remains visually appealing for ages)
Versatile and can be used in ovens and on stovetops without a problem
Inexpensive
Cons
Needs to be seasoned occasionally
Not a practical option for everyday cooking
Carbon-Steel and Blue Steel
It's hard not to spot carbon and blue steel cookware in a professional kitchen. Such pots are a real darling to chefs because they are perfect for high-performance cooking.
The best part is that these highly durable pots can achieve higher temperatures and hold the heat well. This makes them an excellent option for high heat cooking techniques.
Just like cast iron, carbon steel cookware requires seasoning.
Pros
Highly durable
Perfect for high heat cooking techniques
Can be used on any cooktop type
You can wipe the cookware clean using only paper towels
Cons
Must be seasoned
Not dishwasher-safe
Copper Cookware
Have you checked out the most recent copper cookware models? It's hard to deny that the pieces have an uncontested visual appeal, although some of the price tags on the models make most folks shy away.
What makes real copper cookware appealing to professionals and homeowners alike is that they provide even and quick cooking. The pots also cool down quickly, and this enhances your control.
They are ideal for just about everything, from simmering and frying to high-heat searing and sautéing.
Copper pots are expensive, yet they can dent easily. If you want products designed to last longer, consider those with heavy gauge copper that is at least 1⁄16 to 1⁄8 inches thick.
Pros
Highly versatile
Beautiful and ideal for kitchen-to-table presentation
The majorities of modern models are oven friendly
Outstanding thermal conductivity; food cooks more evenly
Food heats up quickly(cook with less energy)
Cons
Expensive
Not suitable for use on induction cooktops
Aluminum Cookware
Aluminum pots and pans are the most common because they are lightweight and reasonably priced.
Times are changing, however, and such cookware is quickly getting less and less popular. All the same, I doubt aluminum pots can get entirely phased out.
This metal is a good heat conductor, and the risk of it leaching into food is quite minimal. Unfortunately, thin gauge aluminum cookware is prone to warping if subjected to extreme temperature changes.
The thicker gauge varieties will, however, not warp easily, and they offer excellent heat distribution.
Pros
Lightweight
Rust and corrosion resistant for enhanced durability
Affordable
Practical for everyday use
Thick gauge cookware offers proper heat distribution
Excellent heat conduction
Cons
Thin gauge models are prone to warping
May leach when using highly acidic ingredients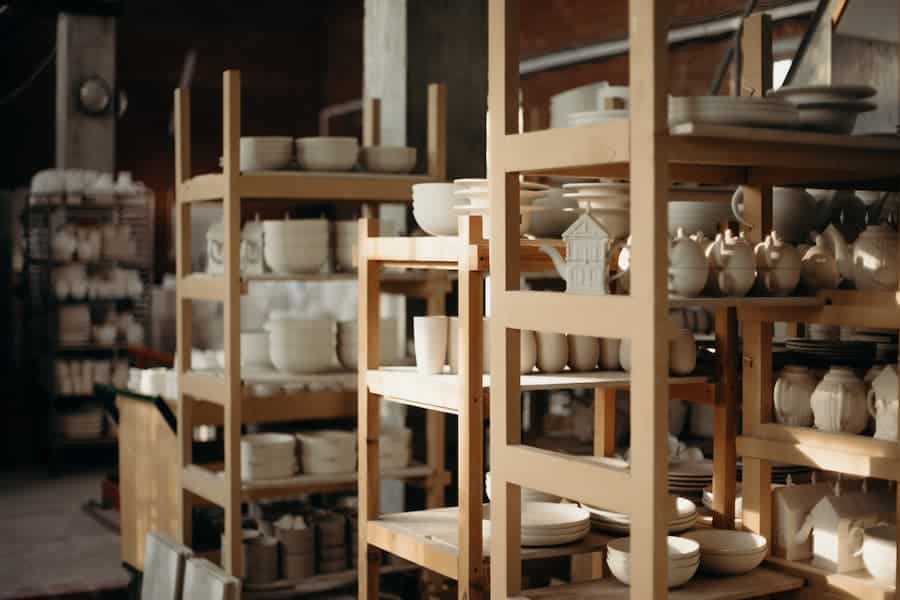 Ceramic Cookware
These types of pots are perhaps the newest in the nonstick cookware arena. They are environmentally friendly and come in a wide array of colors and styles.
However, you must avoid using high heat to protect their nonstick properties.
Pros
Nonstick properties
Environmentally friendly option
Available in a selection of designs and colors
Easy to clean
Can be used to safely store food in the refrigerator
Cons
Not ideal for high heat cooking techniques
Clay and Stoneware Pots
Top-quality cookware sets made from clay and stoneware are the oldest in the record, but this does not make them obsolete. These pieces are not just practical and durable, but they also provide exceptional cooking results.
You can find clay and stoneware casseroles and baking dishes of various shapes, sizes, and colors. Because of their ability to hold heat well, they are excellent for baked pasta, bread puddings, and brownies.
Additionally, these pots are both freezer and dishwasher safe, not to mention that they can be used on all kinds of stovetops.
Pros
Classic and visually appealing
Versatile and available in a range of designs
Ideal for use on any stovetop
Just as good as cast iron, but 30% lighter and non-reactive
Cons
Specific care instructions must be followed
What Cookware Do You Actually Need?
Conclusion
So, what kind of cookware is the best for you? I hope I have offered all the information you need to make an informed decision.
After all, each option has some advantages and disadvantages. Be sure to make a choice depending on the kind of cooking you like to do.