As an Amazon Associate we earn from qualifying purchases.
One thing that every functional kitchen need is a set of decent cookware. No matter who you are, you need to eat. When it comes to cookware you can always buy items one at a time but for many, the convenience of a set is just too easy to pass up. In this article, I'll go over some of the best cookware sets.
Top Cookware Set Reviews
I have compiled a list of cookware sets that you can consider buying no matter what your skill level is to get a high value from your investment.
Brand
Rachael Ray Cucina 12 Piece Cookware Set
GreenLife Soft Grip Healthy Ceramic Cookware
Cuisinart MCP-7N MultiClad Pro
Product
Brand
Rachael Ray Cucina 12 Piece Cookware Set
Product
Brand
GreenLife Soft Grip Healthy Ceramic Cookware
Product
Brand
Cuisinart MCP-7N MultiClad Pro
Product
Rachael Ray Cucina 12 Piece Cookware Set
This Rachael Ray 12-Piece Aluminum Cookware Set is just the thing to bring a touch of style to your kitchen.
Featuring five different color options, you will surely be able to find a place for it, no matter the theme of your kitchen.
The set includes four glass lids, two saucepans of one- and three-quarts size, a 3 quart sauté pan, a 6 quart stockpot, a 10 inch and an 8.5 inch skillet, a slotted turner, and a spoon.
As you can see, all your cooking requirements are more or less covered with this elaborate 12-piece set.
The interior of the cookware all features PFOA-free nonstick that accounts for the easy release of food. You do not have to struggle when baking or cooking to flip the food or take it out when you are done.
Furthermore, it is completely safe to use in the oven and can handle up to 400° Fahrenheit.
To account for the handling, this cookware comes with dual riveted stainless-steel handles with a rubber exterior for additional comfort.
Thanks to the durable aluminum construction along with a hard enamel porcelain exterior, you can be sure that the products will not break easily. Additionally, the glass lids are shatterproof, further enhancing their longevity.
As a downside, these pots are not dishwasher-friendly. As stated above, even sets marked as dishwasher safe will last longer when they are let to fully cool and then washed by hand.
Pros
BPA free
Nonstick surface
Rubberized handle provides a strong and comfortable grip
Suitable for daily cooking
Multiple color options
Cons
Not suitable for induction cooktops
400°F max rating in oven
Cannot wash in the dishwasher
Rachael Ray 16344 12-Piece Aluminum Cookware Set,...
QUALITY CONSTRUCTION: Crafted with durable aluminum and sturdy hard enamel porcelain exteriors that...
PFOA-FREE NONSTICK: Espresso-colored, PFOA-free nonstick releases foods effortlessly
Cookie pans made from durable steel that resists warping; long-lasting nonstick provides excellent...
GreenLife Soft Grip Healthy Ceramic Cookware
Next on the list, I have the GreenLife Soft Grip Healthy Ceramic Nonstick Cookware Set, which includes 16 pieces that ensure a healthy cooking environment in the kitchen.
Due to the interior Thermolon coating, you do not need to worry about any toxic fumes from overheating your pans. If you are someone who prefers to keep the kitchen fresh, this set is for you.
The included components are a 4-inch mini frying pan, two open frypan skillets of 7- and 9.5-inch, two covered saucepans of 1- and 2-quart, a 2.5-quart sauté pan with glass lid, a glass lid covered stockpot of 5 quarts, a 7 inch stainless steel steamer, and 4 utensils with black nylon construction guaranteeing performance in any cooking application.
The Thermolon ceramic coating ensures two things: a nonstick surface for easy food release and a fume-free surface for cooking healthy. It also accounts for high heat resistance and efficient heat distribution, providing a fast cooking experience.
All the products in this set are reinforced using aluminum to give you a sturdy and durable result.
The handle in every pot and pan come with a soft-touch, stay-cool handle so that you can easily pick it up.
Furthermore, the cookware is oven safe for up to a temperature of 350° Fahrenheit.
Unfortunately, this cookware set is not suitable for use if you have an induction cooktop. Induction cooktops require iron components to work correctly with the magnetic fields.
It is also not dishwasher safe, because a dishwasher might ruin the metal rim around the pans.
Pros
The nonstick surface is easy to clean

Can take high heat on the stove
Does not emit any toxic fume
Sturdy construction
Cons
Coating scratches easily
Ceramic coatings do not last as long
Not dishwasher safe
GreenLife Soft Grip Healthy Ceramic Nonstick 16...
SET INCLUDES: 4" mini frying pan, 7" and 9.5" frying pans, 1QT and 2QT saucepans with lids,...
HEALTHY CERAMIC NONSTICK: Our healthy and easy-to-clean ceramic nonstick coating is derived from...
TOXIN-FREE: Our coating is free of PFAS, PFOA, lead, and cadmium so you can make every meal...
Cuisinart MCP-7N MultiClad Pro
The next cookware set on my list is by none other than Cuisinart, a company that has been in the industry since 1971. This Cuisinart MCP-7N MultiClad Pro Stainless-Steel Cookware set is high quality, letting beginners have a decent ground to get into the culinary arts.
This 7-piece set includes three stainless steel lids, a 10-inch skillet, two saucepans of 3- and 1.5-quart size, and a stockpot or 8-quart.
If you are wondering how to make use of the smaller pot, it is the perfect tool for making small sauces.
A lot of thought went into selecting these products, and it can be seen the moment you lay your hands on this package.
First off, the rims of each pot come tapered to prevent dripping. Each unit features a stainless-steel handle that stays cool and comfortable along with rivets to give you a strong grip.
On top of all these fancy features, this set is quite versatile. It is one of the few budget cookware sets that can be used in induction cooktops.
Featuring high heat resistance of up to 550° Fahrenheit, you can easily put it in the oven or broiler. Additionally, you can clean it in the dishwasher, saving you a lot of effort.
While you can stack the pots and pans to store them, the manufacturers recommend you hang them to prevent scratches.
The lids are stainless steel, so you can't see through them like you can with glass lids.
Pros
Stainless-steel construction ensures healthy cooking

Sturdy and durable riveted handles
Dishwasher-friendly
Can be used in induction cooktops
Can go in the oven
Can go on high heat stove tops
Cons
Fewer items compared to other sets on this list

Slightly less practical
Cuisinart MCP-7NP1 Multiclad Pro Triple Ply...
Updated cast-stainless-steel handle stays cool to the touch and comes riveted for strength
Set includes: 1-1/2-quart and 3-quart saucepans with covers, 8-quart stockpot with cover, and...
Rims are tapered for drip-free pouring
Gotham Steel 20 Piece Set
This Gotham Steel 20 Piece Pots and Pans Set is basically the one-stop shop package. With an astounding 20 pieces, you can get pretty close to having it all with this massive cookware set by Gotham Steel.
Included in this package, you get a cookie sheet, a brownie pan, loaf pan, two fry pans of 8.5- and 10.25-inches, a 5-quart stockpot with lid, a stainless steel steaming rack, a 1.5 quart and a 2.5-quart saucepan with lid, and a few other supplies.
Basically, everything you would want in a kitchen comes included in this cookware and bakeware set.
You would think that with an affordable yet massive collection such as this, the manufacturers would skimp out on the quality.
However, each of the utensils is extremely durable and features a scratch-proof surface. It would be some time before you need to worry about replacing any of the products.
All the products in this set feature a titanium and ceramic coating to ensure a nonstick surface. You do not need to worry about using butter or oil for lubrication and can take the food out easily with a spatula.
It is also oven safe up to 500° Fahrenheit. To make things easy, it is also dishwasher-friendly.
The ceramic coating on the pan is non-toxic and contains no PTFE, PFOA, and PFOS.
As a downside, it is not suitable for induction cooktops.
Pros
Bakeware included
Lightweight and durable construction
Nonstick titanium and ceramic coating
Oven and dishwasher friendly
Cons
Not induction friendly
As soon as you replace or upgrade an item, it won't match the rest of your kitchen
Gotham Steel 20 Pc Pots and Pans Set Nonstick...
Complete Kitchen In A Box: Includes everything you need to completely outfit your kitchen and take...
Contents: this set includes 8.5" fry pan, 10.25" skillet with tempered glass lid, 1.5 quart sauce...
Ultimate Ceramic Nonstick: The Gotham Steel nonstick cooking surface is coated three times and then...
Rachael Ray Cucina Hard Anodized Nonstick Cookware
Another set from Rachel Ray made its way to my list. This Rachael Ray Cucina Hard Anodized Nonstick Cookware is a 12-piece cookware set that comes packed with attractive features great for any kitchen.
Add that with an affordable price tag, and you have a very high-value cookware set in your hand.
This set comes with twelve different pieces, which includes three saucepans of one, and three quarts size with matching lids, a 4-quart saucepot with cover, a 3-quart sauté pan with a lid and a 6-quart stockpot with a lid.
Additionally, it also features two skillets of 8.5- and 10-inches length, a slotted spatula, and even a slotted spoon.
The handles in the pans and pot come with dual riveted handles of silicone grips to provide a comfortable experience.
With stainless-steel rims around them, the shatter-proof glass lids have improved durability.
Additionally, the turner and spoon are also quite sturdy and flexible thanks to the slotted design. One of the standout features of this set is the hard-anodized aluminum surface.
It accounts for the distribution of heat evenly across the cookware without creating any toxic fumes in addition to creating a nonstick surface.
Furthermore, the unit is also suitable to use in a dishwasher and oven up to a temperature of 400° Fahrenheit.
Unfortunately, not all of the pieces in this set are free of PTFE; however, they are PFOA-free.
This cookware set works well both with glass top stoves and electric stoves. However, it will not work with induction stoves.
Pros
Even distribution of heat
Nonstick hard-anodized aluminum design
Well-designed handles
400°F Oven-safe
Dishwasher-friendly
Cons
The spoon lacks in quality
Does not work with induction stovetops
Rachael Ray Cucina Hard Anodized Nonstick Cookware...
DURABLE, HARD ANODIZED NONSTICK COOKWARE: Hard-anodized aluminum cookware provides fast, even...
DUAL-RIVETED HANDLES, SHATTER-RESISTANT GLASS LIDS: Comfortable dual-riveted,...
COOKWARE SET INCLUDES: 1-Quart & 2-Quart Saucepans with Lid, 6-Quart Stockpot with Lid, 8.5-Inch &...
Gotham Steel Stackable Cookware Set
For people looking to make the most out of a tight space, the Gotham Steel Stackable Pots and Pans Stackmaster might be the right cookware set.
The innovative design of this set by Gotham Steel allows you to stack the pieces on top of one another in a way that it does not scratch the nonstick surface. It is the perfect solution for a small kitchen space.
This 10-piece kitchen set comes with an 8-inch fry pan, a 10-inch skillet, two saucepans of 2.75 quarts and 3.5 quarts respectively, and a 5-quart stockpot.
The three lids are interchangeable, each offering a perfect fit. In addition, you also get a slotted spatula and spoon of solid build quality.
All the pots and pans in this package come with a dense and nonporous aluminum exterior to provide you with the ultimate durability.
The cooking surface has three coats of ceramic and titanium that ensure the food does not stick when you want to take it out or flip it over.
Furthermore, the set is fully compatible with ovens and can handle a temperature of up to 550° Fahrenheit without much hassle.
It can also be cleaned quickly and efficiently using a dishwasher, as the products are water-resistant, saving you a lot of time on cleanup.
All the pans and pots in the set are free of PTFE, PFOA, and PFOS.
Unfortunately, the bottoms of the products are not magnetic and will not work with an induction cooktop.
Pros
Smart stacking system
Fast and efficient heat distribution across the surface
Three layers of titanium and ceramic coating
Oven and dishwasher friendly
Dense aluminum exterior
Cons
Needs regular maintenance
Not induction compatible
Gotham Steel Stackable Pots and Pans Stackmaster...
SPACE SAVING – This pots and pans set revolutionary new design allows you to easily organize your...
ULTRA NON-STICK – The nonstick cooking surface is coated 3x, reinforced with ceramic and titanium...
COMPLETE COOKWARE SET – this set includes everything you need to get cooking, right out of the...
Calphalon 8 Piece Classic Nonstick Cookware
If you are all set on the utensils department, and looking for a complete cookware set, fully dedicated to pots and pans, look no further. The Calphalon 8 Piece Classic Nonstick Cookware Set is enough to take your cooking game to the next level, featuring beautiful build quality and innovative design.
The products included are two frypans of 8- and 10-inches, a 1.5 quart and a 2.5-quart saucepan, and a 6-quart saucepot, all with their individual lids.
Some of the lids even feature measurement markings and pouring spouts to help you calculate the precise amount of ingredients while cooking.
It comes with stay-cool stainless-steel handles that stay cool even on a cooktop. The package features a solid blend of durability and affordability that attracts anyone from a beginner to an expert.
Thanks to the dual coating on the interior, you can expect an easy release of food and hassle-free cleanup.
The hard-anodized aluminum surface ensures an even distribution of heat across the product allowing you to cook faster and more efficiently. On top of that, it can also work up to 450° Fahrenheit.
This set is not free of PTFE, only PFOA, which is a downside.
Pros
Sturdy hard-anodized aluminum construction
Easy cleanup and fast food release
Safe to use in the oven up to 450° Fahrenheit
Stay-cool handles made of stainless steel
Cons
Not suitable to use in dishwasher
Not PTFE free
All-Clad Stainless Steel Cookware Set
I am almost near the end of my list, but that does not mean that I ran out of great selections. This All-Clad Stainless Steel Cookware Set, despite not containing a lot of options, features a superior build quality and design that is hard to find in other collections of comparable prices.
The set includes a 10-inch fry pan, a 3-quart saucepan with matching lid, an 8-quart Stockpot with lid, and a 3-quart sauté pan with cover.
Yes, the options are not much with this package, but for a beginner, these are everything you might need to start your journey. And because of the quality of these pieces, you can be sure that they will last you a lifetime.
The heat distribution in all the pans is extremely efficient because of the three-ply construction. It is made using durable stainless steel enclosing an aluminum core that accounts for the efficiency in spreading the heat throughout its surface.
Anti-warp technology ensures that it can handle high cooking temperatures regardless of your method.
All the pieces in this set can be used with any cooktops, including induction. It is also safe to use in the oven up to a whopping temperature of 600° Fahrenheit without the lid.
Furthermore, it saves you a lot of time on cleanup since you can just put it in the dishwasher and forget about it.
The long, riveted handles in the unit serve well even in high temperatures. However, it is recommended to use a potholder.
Pros
Stainless steel construction
Anti-wrap technology ensures durability
Safe to use in the dishwasher
Suitable for induction cooking
Cons
Does not come with many options
All-Clad D3 3-Ply Stainless Steel Cookware Set 7...
Complete 7-piece stainless steel set includes: 10-inch fry pan, 2-quart saucepan with lid, 3-quart...
Fast and Even Heat - D3 tri-ply is fully bonded to the rim for professional performance &...
Design You Will Love - D3 has a professionally polished stainless steel finish. Our classic, double...
All-Clad D5 Stainless Steel Cookware Set
This All-Clad D5 Stainless Steel Cookware Set is a premium set for people taking their first step in the culinary world. So, the number of pots and pans is quite limited. However, the quality of each piece in this set is very high and will last you for years to come.
The package includes a 10-inch fry pan, a 3-quart saucepan, a 3-quart sauté pan, and two lids for the sauce and sauté pans that fit snugly.
This cookware set comes with a polished stainless surface that features a starburst finish for some added style.
The surface of the products features a stick-resistant quality that allows you to take the food out of the pans easily. Furthermore, it is quite easy to clean as the food does not stick to it.
The 5-ply bonded construction of the unit also ensures even heat distribution because of the stainless steel and conductive aluminum layering.
It also accounts for the enhanced strength of the pans offering protection against warping. It has a high heat tolerance of 600° Fahrenheit and can work with ovens and broilers safely.
It is very easy to maintain the pans in this set. All you need to do is soak it in warm water for ten minutes and wash it away with hot soapy water and a non-metallic scouring pad.
Since all the pans have a stainless-steel surface, they are free from any toxic elements.
Pros
5-ply bonded construction
I can work with broilers and induction cooktops.
Dishwasher friendly
Efficient heat distribution
Cons
Very expensive for a starter set
All-Clad BD005705 D5 Stainless Steel 5-Ply Bonded...
Set includes: 10-inch fry pan, 3-quart sauce pan with lid, 3-quart saute pan with lid
5-ply bonded construction with alternating layers of stainless steel and aluminum for warp-free...
For an added touch of refinement, it features a beautiful and easy to maintain brushed finish and...
All-Clad HA1 Hard Anodized Nonstick Cookware Set
My final entry on the list is another well-thought-out cookware set by All-Clad – the All-Clad HA1 Hard Anodized Nonstick Cookware Set. However, if the smaller quantities of equipment of the previous entries were not for you, you might get more value out of this 8-piece package.
The eight pieces in this package include two frypans of 8- and 10-inches, two covered saucepans of 2.5 and 3.5 quarts, and an 8-quart stockpot with a lid.
It offers you ample options to experiment with different recipes without being limited by the number of pots and pans.
The hard-anodized construction of the pans ensures efficient heat distribution across the surface to provide a fast cooking experience. It also features a bonded stainless-steel base so that you can use it with induction cooktops.
Additionally, the base design allows the unit to prevent any warping from excessive heat.
The PFOA-free nonstick coating is also scratch-resistant to help make the process of taking food out easier on you.
Because of the contoured riveted handles, you will not feel the heat of the pan when cooking. It can handle temperatures of up to 500° Fahrenheit effortlessly.
Pros
Affordable 8-piece set
Bonded stainless-steel base
Premium build quality
Anti-wrap technology
Cons
Does not come with utensils
All-Clad HA1 Hard Anodized Nonstick Cookware Set 8...
complete 8 piece set includes 8 and 10-inch fry pans, 2.5 and 3.5-quart covered sauce pans, and...
High Quality Performance with Everyday Convenience - HA1 Nonstick heavy gauge aluminum and...
Design You Will Love- HA1 Nonstick has a sleek and stylish contoured design. Our double riveted...
Why You Should Buy a Cookware Set
There will always be those that choose to purchase cookware piece by piece. There is added control and cost allocation with the one at a time approach.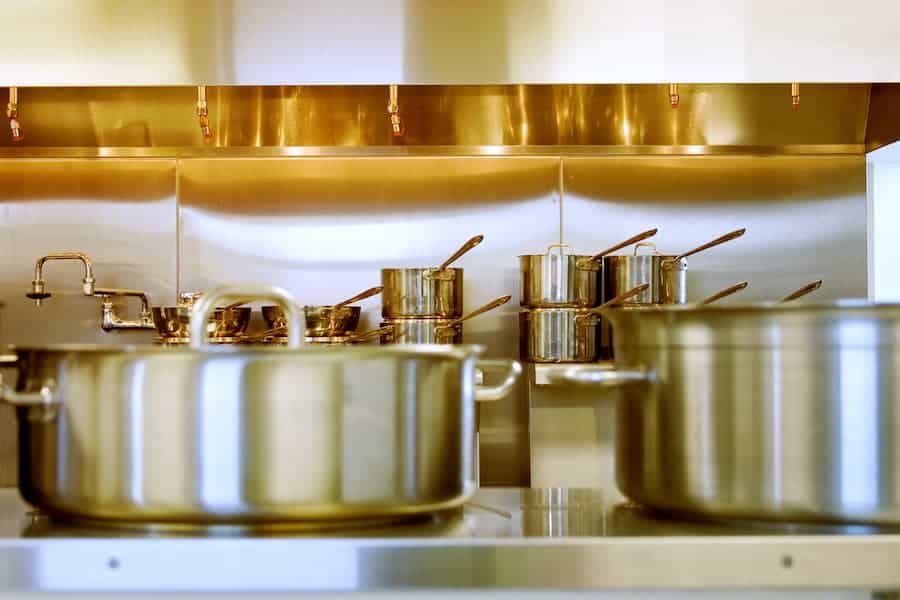 But it takes a large investment of time, money, and energy to purchase pieces ad hoc. And if matching aesthetics are important to you, you may not be able to find complementary pieces or colors for your piecemeal set.
Buying a set is by far the more convenient option. Plus, cookware sets are generally a cheaper option to fill your kitchen. You get everything at once from the brand you trust in matching color schemes and everything is of the same quality.
The flip side is, if you purchase a poor quality set, you are stuck with 10-15 bad pieces of cookware rather than one.
Things to Consider When Buying a Cookware Set
Whenever you are planning to buy a cookware set, you need to be aware of certain aspects like material, construction, coatings, features, and sizes.
For example, you wouldn't buy a 10 gallon stockpot for a college dorm room and you wouldn't buy beginner aluminum plastic cookware for a professional kitchen. These factors, whether you are a beginner, or a professional chef, will enable you to get the most value out of your purchase.
Let's take a look at a few factors that you should consider when buying the cookware set.
Coating and Safety
The first thing you should consider is the coating that comes with the pots and pans since it is the main thing that accounts for its safety.
The number one thing is to make sure your set is free of PFOA when going through the specifications so that your health is not at risk. PFOA has been linked to serious health concerns and should not be present in cookware from the late 2010's onward.
Next, when it comes to coatings, a higher number of layers on the surface, as well as stabilizers or reinforcers, will get you a smoother cooking experience. Food sticks to the micro and macro-sized ridges and pores in your pans.
If you feel roughness on the surface of the cookware, it probably has only one or two layers of coating and the coating probably isn't meant to last too long.
In addition to the number of layers, the material of the coating also matters. Ceramic coatings can, in general, withstand much more heat. The most heat-resistant pans have no coating. If you plan to do lots of searing, you may want to look at cast iron or stainless steel options.
Weight and Durability
In the case of cooking equipment, weight somewhat accounts for durability and performance. Usually, cookware with a heavier feel to it lasts longer and does not break quite as easily.
However, if it is too heavy, it might be too uncomfortable to handle. You need to find a good balance of weight and durability in the product you choose.
The weight of your cookware is not only a factor in usability. Heavy items conduct and store heat longer than lighter items. For example, if you drop a cold steak into a light aluminum pan, the heat will be used up very quickly. Whereas, if you drop that same steak into a cast iron pan the heat will maintain at temperature.
If the aluminum is thick, then you will get heavier pans, which translates to more durable units. Stainless steel units are generally way more durable than any other materials.
Heat conduction
You need heat to cook, right? Buying a unit that can disperse heat evenly seems like a no-brainer, but you would be surprised to know that even favorite cooking materials like stainless steel and cast iron are very poor conductors of heat.
Make sure you do not make the same mistake and aim for a unit that can handle high temperatures and can distribute it across the surface somewhat evenly.
Aluminum coated surfaces are great candidates for even heat distributions. But, aluminum is light and is poor at storing heat for long periods of time or against cold foods added to the pan.
Copper is also a great heat conductor. But, copper is also a very expensive material that requires high levels maintenance to keep it in working order.
Cast iron is great at storing heat but does suffer hot spots and cold spots.
Stainless is a terrible conductor of heat on its own. To solve this, you will want to look for sandwich or all-clad construction where copper or aluminum is actually pressed into the stainless steel to allow for improved heat conduction.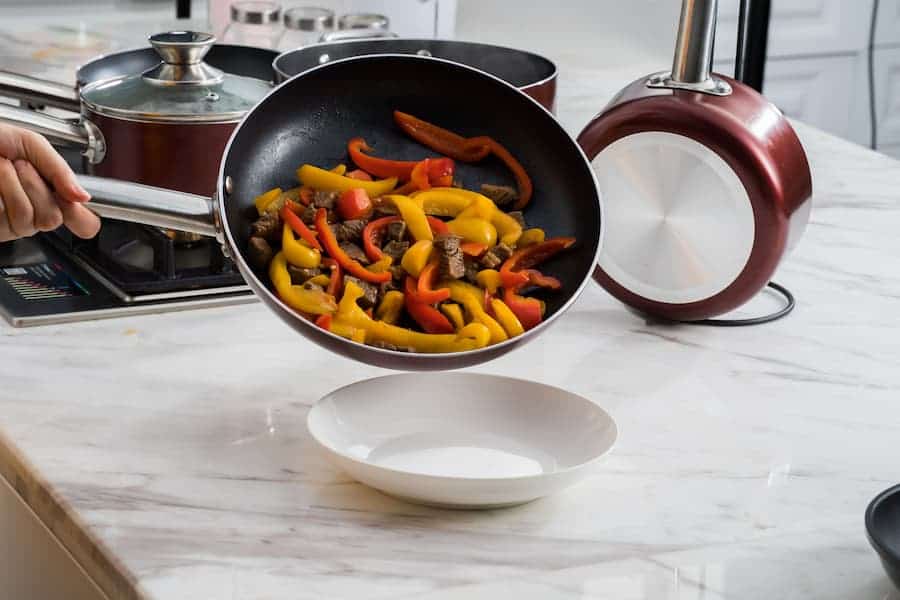 Handles and Lids
Another important factor to consider when choosing your cookware set is to look at the quality of the handles and lids.
Those are the parts that you will mostly be touching, and for this reason, they need to feel good and comfortable for you. Most importantly, you need to ensure that they stay cool at high temperatures. Nothing will spoil your Sunday roast or slow cooked sauce more than dripping pieces of melted plastic from poorly constructed handles.
Most handles now a days are fairly safe for oven use up to 350°F. Metal handles will be the least safe to touch but can go in the oven as hot as the pots and pans can. Make sure you check the specifics of your model before putting any cookware into an oven.
Another often overlooked trait in cookware is how handles are attached. Top-of-the-line pieces might be all one-piece construction so you know the handles can't fall off.
Other high-end pieces may use rivets on the outside of the pan to mechanically fix the handles to the vessel. A good sign of high quality is no rivets inside the cooking vessel itself. This means there is no way food will snag or stick to the rivets.
On the lowest end of the scale, I have screws and bolts. Over time, these will loosen and are the least safe long term.
Size of the Included Cookware
You also need to consider the size of the pots and pans that come with the set. If you have some experience with cooking, you will already know the sizes that you need in most cases.
Beginners, definitely aim for smaller sets in terms of the number of pieces. Some general pot and pan sizes that you should aim for are:
Small Fry Pan – 8 inches (cooks for 1)
Medium Fry Pan – 10 inches (cooks for 2-4)

Sauce Pan – 2-3 quarts

Saute Pan – 4-5 quarts
Stock Pot – 6 quarts
It also helps if you have a clear idea of the type of cooking you will mostly be doing. If you are cooking for a large group of people, you need to aim for bigger saucepans and pots.
However, for a small family, a basic cookware set should suffice as it comes with most items.
Available Kitchen Space
The size of your kitchen also plays a role in your choice. Ideally, when buying a set, you should opt for the best value.
This means that you should only buy a set when you know you will be putting every single item on the package to good use. The last thing you want is to buy a set of 12 only to use two pots that come with it.
If you have a small kitchen space, it is best to go with a smaller package that comes with only the essentials. Top essentials in any kit include:
Small Fry Pan – about 8 inches
Medium Fry Pan – about 10 inches
Sauce Pan – minimum 2 quarts
Stock Pot – minimum 4 quarts
However, for larger kitchen spaces, the sky is the limit. That is, if you have the budget to back it up.
Oven and Dishwasher Compatibility
The fastest way to damage your cookware is in the oven and dishwasher. Not all cookware can handle the temperature dished out by an oven. Good news though, it is definitely getting better than it used to be with even some entry level aluminum plastic combos safe to 350°F.
Make sure you check the specifications of your exact set though. If there is no oven specification assume it cannot go into an oven safely.
One last thing you should check, especially if you are lazy and want the cleaning to be done for you, is if the items in the set are safe to use with a dishwasher. In general, I do not recommend ever putting cookware into your dishwasher (whether it says it dishwasher safe or not).
That said, if you absolutely need to do this, make sure your set explicitly says dishwasher safe and then use the appropriate settings on your unit.
Benefits of Buying a Cookware Set
There are many advantages to buying a full set of cookware as opposed to individual pieces:
Buying a complete set of cookware is a smart choice, especially for those on a tight budget. You will often find great deals for a set complete with all the pots and pans to get you started on your culinary journey. Buying items one at a time is both time consuming and costly.
A complete set gives you a more consistent aesthetic feel to the kitchen. As all the products in a set come with matching designs or colors, they will look good together. It may not seem like such a big deal to you, but people who appreciate the looks of a beautiful kitchen lean heavily on the style factor of a matching set of cookware.
It gives you time to save up later for additional pieces of equipment. With a complete set, you can start cooking almost instantly. Gradually, as you gain more experience and your requirements start getting bigger, you can expand your inventory steadily.
They also make a great gift option for people who are starting a new family or students moving to a new home. With the complete set at hand, they do not need to worry too much about gathering the supplies with which they can cook. It saves a lot of hassle on their part and a thoughtful gift on yours.
A complete cookware set is the best way for the beginners to take their first step in the cooking experience. They can spend more time picking up recipes and techniques and less time worrying about whether they have the right equipment.
Frequently Asked Questions
Is It Better to Go For a Complete Set Instead of Individual Pieces?
This varies from person to person. As long as a complete set can meet your requirements in the kitchen, there is no reason not to go for it. In general, a complete package is less expensive than buying individually
Should I Go for Glass Lids or Stainless-Steel Lids?
In most cases, people prefer to go for glass lids as it allows them to check the progress of the cooking. Some glass lids also feature vents to get better air circulation and heat dissipation. However, they tend to break easily if you are not careful.
How Many Pieces Should I Aim For?
The best way to know how many pieces you need is to look at both the size of your kitchen and your cooking requirements. Your budget also plays a role here. Ideally, you should go for a set that gives you the greatest number of usable items.
If you buy 15 pieces, make sure you are regularly using at least 10-12 pieces out of it.
Is Aluminum Better Than Steel for Cookware?
Both materials are great choices for cookware. Typically, stainless-steel units handle higher temperatures better than aluminum.
They are also suitable for induction cooktops, whereas aluminum can only work with gas or electric stoves. However, aluminum units tend to be cheaper, lightweight, and have nonstick surfaces, which is a major advantage.
Do I Need to Wash My New Cookware Set Before Using It for the First Time?
Yes, you should never start cooking on brand-new cookware the moment you get your hands on it.
It might contain traces of oil left behind during the manufacturing process. Wash it with soapy water mixed with some vinegar to get rid of any contaminants before you start using it.
What Cookware Do You Actually Need?
Final Thoughts
As you can see, when you are planning to buy a complete set of cookware, there are many options. However, the products I reviewed would give you a solid base to start your search.
I hope you found my extensive guide on the high-rated cookware sets informative and helpful. This knowledge should aid you in taking the next step to becoming a culinary wizard in the kitchen.