As an Amazon Associate we earn from qualifying purchases.
I love cooking and cannot count the number of times I have thought about changing professions and becoming a high-end chef. Let's be honest — at some point, I found myself completely hypnotized while watching cooking shows hosted by real-life culinary pros.
So, what brand of cookware do professional chefs use? Let's take a dive into the world of professional chefs and find out more about the brands they swear by.
Top Cookware Brands
If you are ready to up your culinary game, check out cookware from these top brands.
All-Clad
One of the high-performance cookware brands in the market is All-Clad. It's hard to find a top chef's kitchen that lacks a selection of pots and pans from this company.
What makes products from All-Clad superior is their uniqueness. They are handcrafted in Canonsburg, Pennsylvania, using the strongest American steel.
Unlike many other cookware companies that shifted to lower quality mass production techniques once they gained popularity, All-Clad is one of the brands that has stood by its traditions.
In return, products from the company are highly sought after by accomplished chefs from all over the world who appreciate the hand-crafted quality and attention to detail.
All-clad pieces use Type 304 stainless steel which is ISO 9000 certified steel that meets the strict ASTM A240 standards. In short, it is safe for use in the kitchen. It will not react, will not leech, or change the flavor of your foods.
Their stainless options are by far the most sought after. All-Clad does provide a budget-friendly line of cookware in anodized aluminum as well.
The craftsmanship of All-Clad stainless steel cookware is what they are most known for. If you are looking for top-of-the-line professional quality stainless steel, look no further than All-Clad.
Le Creuset
Just like All-Clad, the Le Creuset brand has also strived to retain the authenticity and tradition of its cookware.
This is a French cookware manufacturer that has been in business since 1925. Professional chefs love products from the company for not only their premium quality but also their colorful and beautiful designs.
Le Creuset is most known for its cast-iron enameled cookware. This manufacturer uses traditional sand casting methods to forge their pots and pans with integral loop handles.
The enamel coating creates a tough layer of protection that shields the cookware from unwarranted physical damage, reactions with food, and prevents food from sticking as easily.
Each product from the brand is a true masterpiece that has undergone a 12-step finishing process. Fifteen experienced and proficient artists are involved throughout the course of production.
If you are looking for handmade cast iron cookware of heirloom quality and beauty, Le Creuset is the best brand for you.
GreenLife
Healthy eating is more popular than ever! If you are interested in cookware designed to deliver a flawless and healthy food preparation process, consider products from GreenLife.
GreenLife cookware brings a perfect blend of excellent aesthetics and superior functionality. Their cookware uses 100% PFOA-free nonstick coating that makes them super easy to clean and can really help decrease the amount of fats and oils needed to cook your favorite meals.
One notable feature of many GreenLife models is the riveted handles for a sturdy construction while maintaining rivetless interior cook space. This feature really helps in clean up and sanitation as food has nothing to stick to in the pan.
Cuisinart
One of the leading US-based cookware brands is Cuisinart. Cuisinart first came to fame for their appliance lines but has enjoyed significant fame and market share in cookware as well.
An innovative company, Cuisinart was the first to produce eco-friendly anodized stainless nonstick pots. Cuisinart provides mainly aluminum and stainless steel options in the mid-price range for home use.
Cuisinart cookware is not just well designed, eco-friendly, and safe, but it also has a perfect finishing. You can find the products in a wide array of colors to suit different kitchen décor themes.
T-Fal
T-Fal nonstick cookware features their patented Thermo-spot technology that ensures users enjoy a stress-free cooking experience. When the T-Fal Thermo-spot turns solid red, your pot is ready to use!
These products have put the brand on the map for their ability to deliver proper heat distribution, better control, and effortless cleaning. For new cooks, the Thermo-spot helps teach proper cooking techniques, ensuring pans are prepped correctly before use.
Another great feature of T-Fal cookware is its soft handles with silicone inserts for enhanced safety and comfort when cooking.
Unlike a good number of high-end brands that primarily focus on making cookware from specific materials, T-Fal products are available in a range of materials and at very reasonable prices. You can find a suitable array of products made from hard anodized, aluminum, stainless steel, and ceramic.
For new and budget-minded home cooks, T-Fal is a great starting place to expand your love of cooking.
Bialetti
Bialetti is probably most known for its coffee makers but this company has a storied history in aluminum cookware and manufacturing. This is a company that began out of nothing but sheer love and passion for cooking.
Cookware from the brand performs optimally and is sure to give your modern kitchen a proper facelift. Although the designs are simple, they are quite appealing, and you can choose from multitudes of color options.
Bialetti produces aluminum and ceramic cookware sets. These pots are eco-friendly and free of chemicals, so they are perfectly safe for use for all your acidic sauces and high heat applications.
Calphalon
You can't go wrong with ceramic or classic stainless steel cookware from Calphalon. These are beautifully and innovatively designed pots that can breathe new life to the overall looks and functions of your kitchen.
They are characterized by loop grips for safe and comfortable handling and flat bottoms for easy tossing of food.
Calphalon products are a darling for more than just their performance. They also happen to provide easy usability and welcome safety features in their design.
Tips for Choosing the Right Cookware
Cookware is expensive. Whether you buy your pots piece by piece or invest in a 20-piece set, you are still likely to spend a considerable amount of money.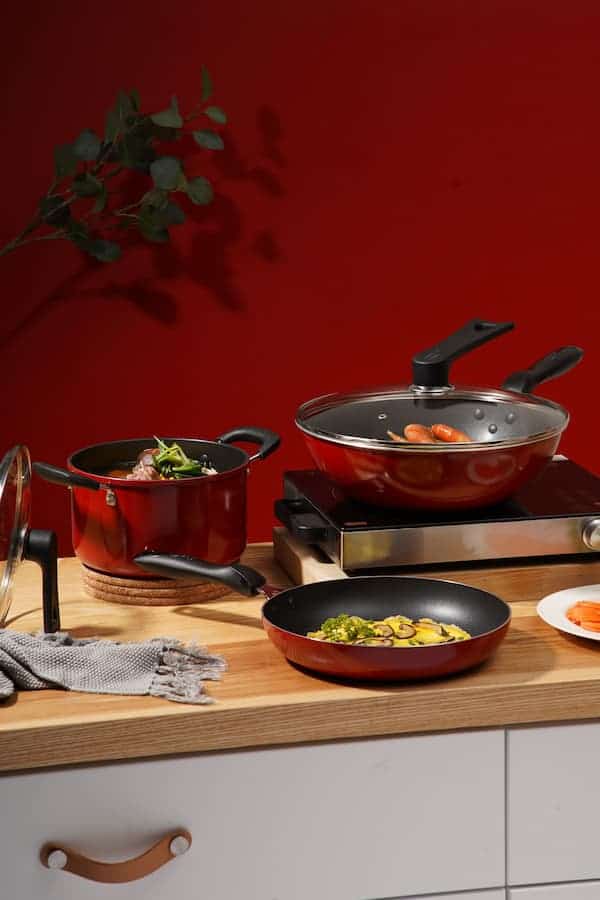 Here are some crucial aspects to consider when looking at purchasing cookware:
Heat Conductivity
Cookware from different brands differs mainly in the material of construction. Modern pots and pans can be made from different materials, including stainless steel, copper, ceramic, aluminum, cast iron, and stoneware, just to mention a few. Some of these materials are better conductors of heat than others.
For instance, stainless steel is not a good heat conductor, and copper is an excellent heat conductor. These two metals are as different as day and night when it comes to their areas of usefulness during food preparation.
Because of this, many stainless steel products will actually contain a layer of copper or aluminum inside of them to ensure better heat transfer.
Aluminum and cast iron can also be thought of as opposites. Aluminum heats quickly and transfers heat very evenly but can't store heat well. Cast iron stores heat very well, but takes a long time to heat up and is prone to hot and cold spots.
Durability
Cookware may differ in terms of how long it can maintain its good looks and utility. Some products like copper are real beauties when new, although they get defaced easily and require lots of maintenance.
Conversely, aluminum non-stick pieces may require little to no maintenance to cook with but in general, only last a few years before needing to be replaced.
One material that truly excels in keeping its good looks and strength is stainless steel. Low in maintenance with a long life span potential, it isn't hard to see why stainless is such a popular choice for home and professional chefs alike.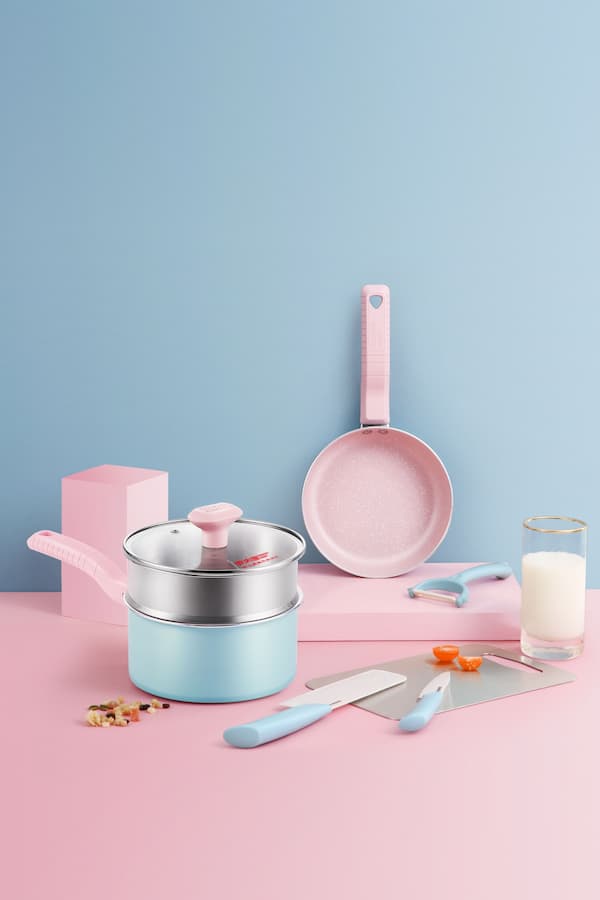 Reactivity
Some cookware materials react with certain foods. For instance, cast iron and carbon (blue) steel products tend to react with acidic ingredients such as tomatoes. This can leach some of the metal into your food and give it an unpleasant taste.
When you are picking a pan for purchase or for use make sure you consider the reactivity of what you are cooking.
Maintenance
Keeping cookware in great shape is not always an easy affair. Some materials like copper force you to spend hours shining your pots each night to keep them looking great. Others, like anodized aluminum, may only need a quick rinse and wipe.
When it comes to the dishwasher, just don't. Many brands will sell their products as dishwasher safe, but in pretty much every scenario it is better to hand wash your cookware.
What Cookware Do You Actually Need?
Final Thoughts
Not everyone needs a top-end professional brand. Brands like All-Clad and Le Creuset are perfect for the serious home cook and budding chef who will use them to their fullest.
But ones like T-Fal or Greenlife make much more sense for new less experienced cooks who need a good value and innovative features.
When it comes to picking the best cookware for you, take the time to consider your cooking skill and needs. Some pieces like cast iron, stainless, and ceramic can literally last a lifetime.