As an Amazon Associate we earn from qualifying purchases.
As you may have read in my article about making coleslaw with blue cheese, I used to hate coleslaw as a kid. It wasn't really until college when I was introduced to San Diego's fish taco scene that it hit me. It wasn't that I didn't like cabbage – it was that I didn't like how it was prepared! 
Wondering what fish tacos has to do with coleslaw? Fish tacos are often topped with shredded cabbage and a cream-based white sauce (effectively, they are topped with a type of coleslaw). I started noticing that I would not order fish tacos with thick-cut cabbage, but I was fine with cabbage that was thinly shredded on top of my tacos. 
What is a Sugar Free Coleslaw?
Coleslaw comes from the Dutch who call it "koolsla," or cabbage salad. The dish coleslaw, as its Dutch origins entail, is made up of cabbage and some type of dressing. Vinaigrette and mayo-based dressings are the most common.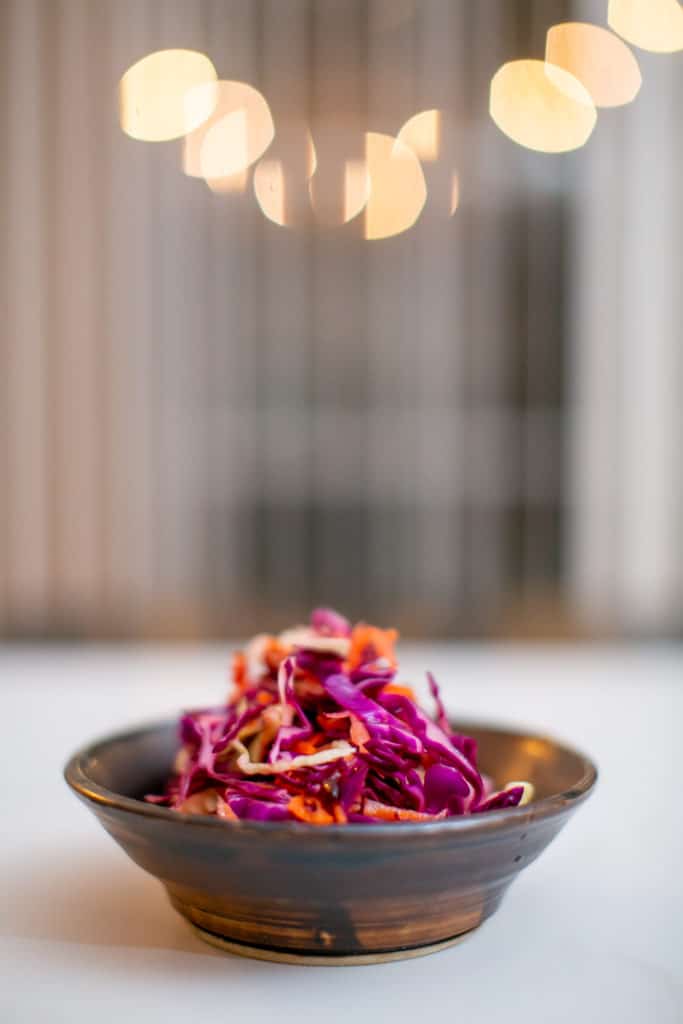 When it comes to sugar free versions of coleslaw, I'm talking about not intentionally adding in sugar. There are natural sugars found in the ingredients I'm using, but that can't be avoided. 
What Makes a Good Sugar Free Coleslaw? 
As stated in the previous section, there is no such thing as a completely sugar free coleslaw, because pretty much everything you eat has some amount of natural sugar in it (plants and animals live off sugar too, not just humans). That said, I will not be adding any sugar to this sugar free coleslaw recipe, such as granulated sugar.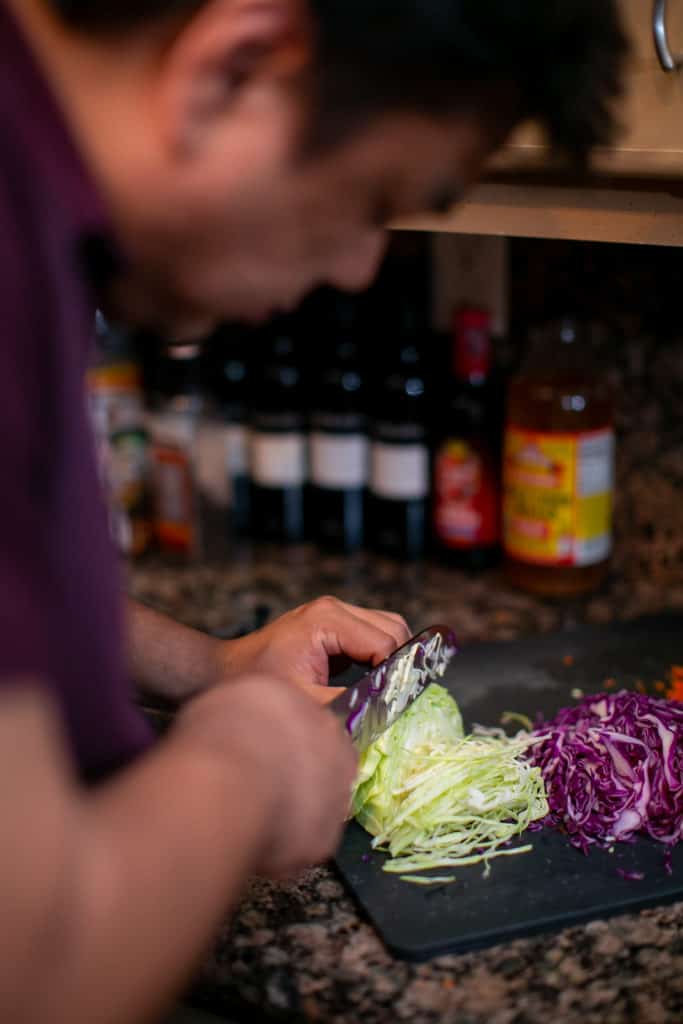 The Challenge with Sugar Free Coleslaw
If you have already read my Blue Cheese Coleslaw article you can skip this section because you know what I am going to say. While I highly recommend you read that article first, for those of you who haven't here is the cliff notes version:
Bitterness: Because I am not adding sugar to this, it will naturally taste more bitter than a standard coleslaw. To help reduce the bitter taste, I'll be adding some fruity flavors into the recipe.
Texture: Cabbage is has a tough texture, and you don't really want to bite into a chunk of it. What I can do to solve this is to let my knives do a lot of the hard work in prep. This is why paper thin cabbage is better.
Surface Area to Volume: Paper thin pieces have another benefit for me, and that is flavor. Because small, thin pieces have a higher surface area to volume ratio, there can be more dressing flavor per volume of cabbage.   
Developing Flavors in your Sugar Free Coleslaw 
When it comes to developing flavors in your sugar free coleslaw recipe, natural forms of sugar and tartness will help to elevate this side dish.
Apple is my #1 recommendation if you want the coleslaw sweeter. Use a sweeter apple variety like golden delicious. If you want more tart, try granny smith. For balance, a fuji or gala apple will be that happy medium.

If you prefer to add chopped nuts into the coleslaw, I think walnuts is the best addition. Almonds or cashews can also work, especially if you want nuts that are a bit sweeter in flavor. 
What Pairs with Sugar Free Coleslaw?
Since I will be making a vinegar-based dressing rather than a mayo one, this sugar free coleslaw recipe will not be as heavy as other recipes. That said, this makes a wonderful add-in to any Carolina style pulled pork sandwiches you might be cooking up. Outside of that, this eats much more like a salad than a coleslaw, so feel free to pair it like one. 
Tools Required
As always a good chef's knife is a must-have, as I'm going to be doing some thin and fine cutting that requires a sharp sturdy blade. If your knife is not sharpened this can actually be a little dangerous – you will be putting more pressure and movement into the blade, which increases the chances of slipping. 
If you don't have a sharp chef's knife, then aim to chop your cabbage to a spaghetti or linguine sized thickness. 
You'll also need a vegetable peeler for the carrots and a large mixing bowl to put everything in.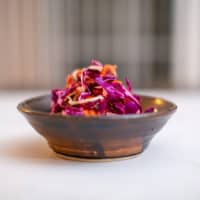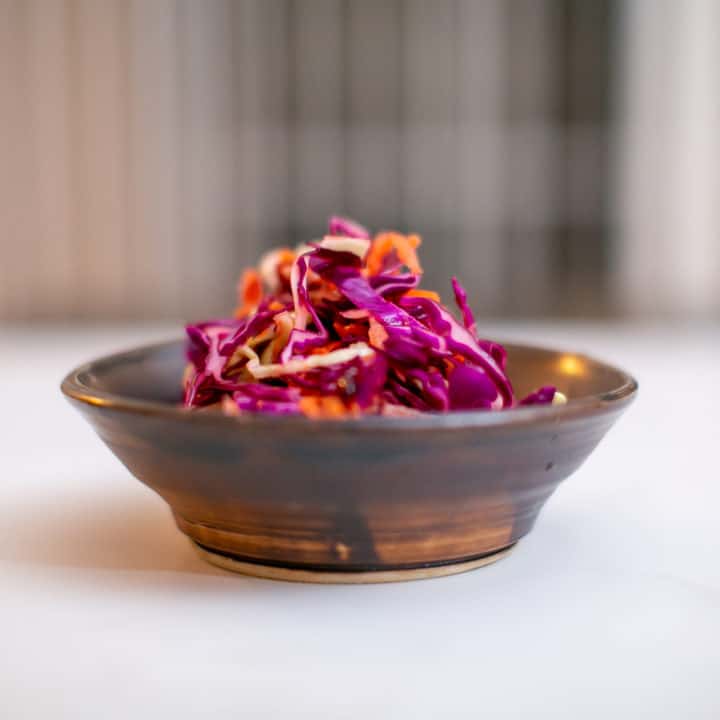 Ingredients
2

carrots

1/4

th red cabbage

1/4

th white cabbage

1/2

cup

cranberries

1

teaspoon

apple cider vinegar

1

tablespoon

olive oil

1

orange juiced

1

pinch

salt

1/2

teaspoon

pepper
Instructions
Wash vegetables

Cut cabbage in half through the equator 

Cut cabbage into paper thin pieces

Peel skin off carrots and make ribbon sized slices with peeler 

Place shredded carrots and cabbage into bowl

Cut orange in half and squeeze the juice into bowl

Add cranberries, vinegar, oil, and seasonings into bowl

Mix together and serve
Nutrition
Calories:
29
kcal
|
Carbohydrates:
4
g
|
Protein:
1
g
|
Fat:
1
g
|
Saturated Fat:
0.2
g
|
Polyunsaturated Fat:
0.2
g
|
Monounsaturated Fat:
1
g
|
Sodium:
19
mg
|
Potassium:
122
mg
|
Fiber:
1
g
|
Sugar:
2
g
|
Vitamin A:
1925
IU
|
Vitamin C:
21
mg
|
Calcium:
20
mg
|
Iron:
0.3
mg