As an Amazon Associate we earn from qualifying purchases.
Many people associate stovetop mac and cheese with their childhoods. For me though, it has to be butter noodles with some parmesan cheese. At the end of the day, there isn't too much difference – it's noodle, butter, and some cheese. 
I like to joke that it is the poor man's Alfredo, but after trying it you might consider it the wise man's Alfredo. 😉 But, just like how I dress up my mac and cheese like adults, I think I can also glam up this childhood classic parmesan buttered noodles recipe.  
What are Parmesan Buttered Noodles?
Parmesan buttered noodles are a simple dish consisting of a boiled pasta noodle with no sauce, served with melted butter and cheese. Often Parmesan is the cheese of choice but it can be asiago or even white cheddar. Additional flavorings for buttered noodles are olive oil, garlic, salt and/or pepper.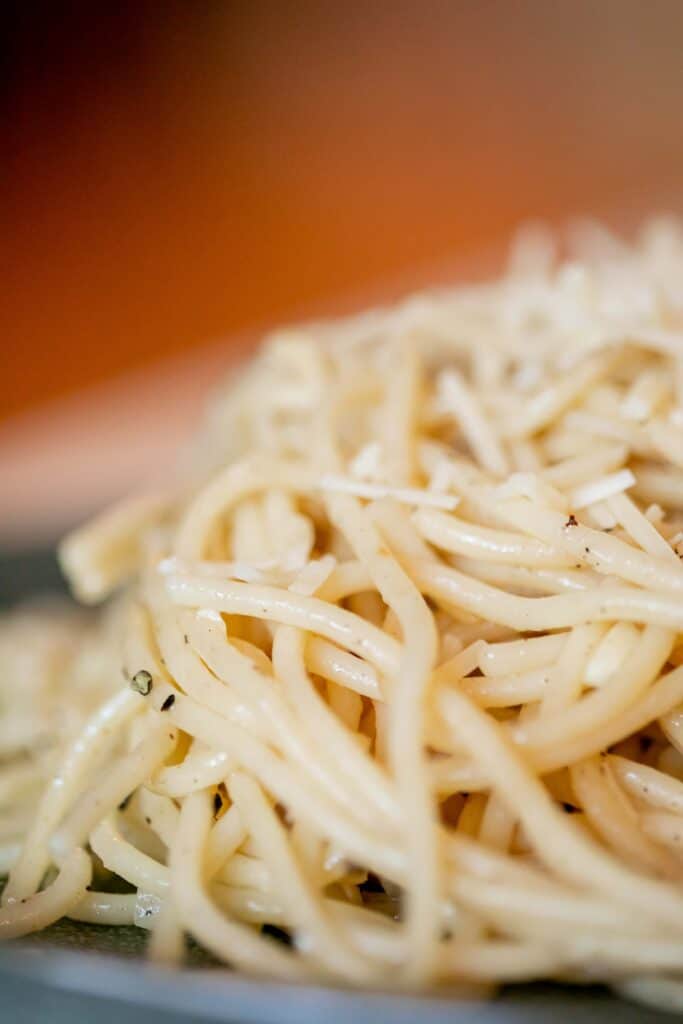 My Approach to Buttered Noodles
Keeping this as simple as possible, you can use any dried pasta for this buttered noodle recipe. I've even done this with broken up Lasagna sheets in a pinch. If you want to use fresh pasta, you totally can, but you will only be cooking it for a few minutes rather than the estimated 12 minutes that your dried pasta will take. 
What Makes a Good Butter Noodle
I believe when you cook, every component of a meal needs to be good enough to eat on its own. I think these buttered noodles are a great example of that. This is the rum and coke of cooking – with just a few ingredients your family will be begging for seconds at dinner. 
The Challenge with Parmesan Butter Noodles
Do not overcook the pasta. Overcooking the pasta is the only place you can really go wrong here. There are no real secrets to cooking pasta right. You need to taste it in the pot, and when you think it is just barely undercooked it is done (in this recipe, it will continue to soften after you drain it). 
Developing Flavors
The flavor of this dish comes from the balance between the butter, oil, garlic, and the salt and pepper. The magic is in how the flavor envelopes the pasta. If you remembered to salt your water when you boiled it, your pasta will take a bit of that flavoring on.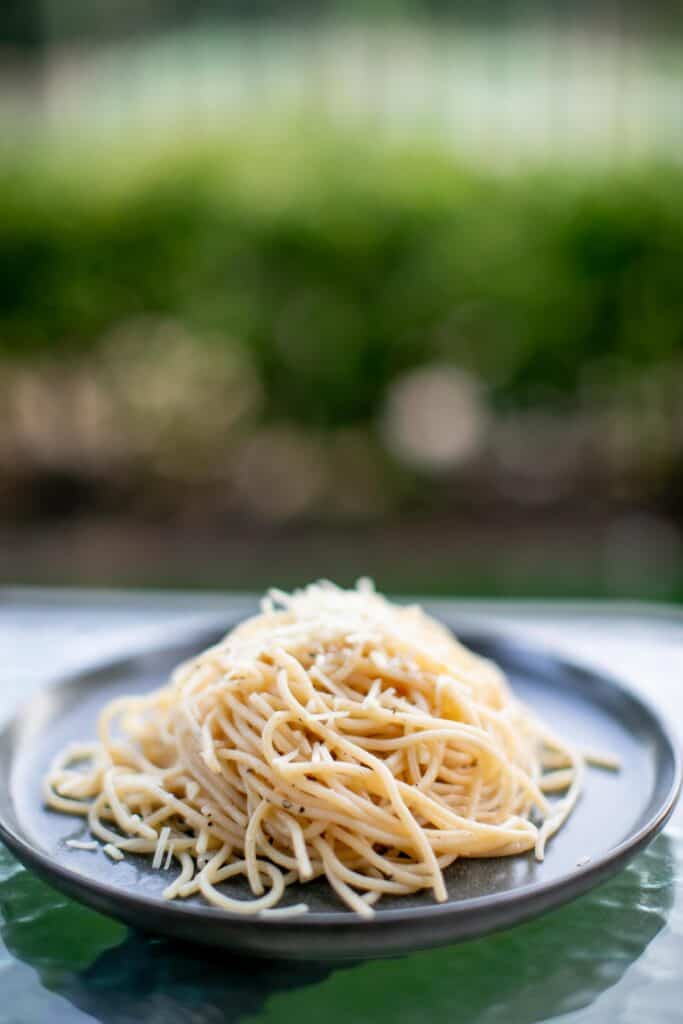 Next, when you drain your pasta there is always still a tiny bit of water left. The salt will dissolve into that and coat your pasta too. 
Then, I look at the garlic. Garlic is most potent fresh and it mellows as it cooks to a sweet. I want to taste the garlic and have the flavor spread through my dish. If you are an avid reader of BeginnerFood you know that garlic is a fat-soluble flavor, meaning butter and oil are its best friends for spreading flavor around. 
Finally, I add the velvety rich earthy umami flavor from the parmesan and top it off with some bite from the fresh cracked black pepper. 
What Pairs with Butter Noodles?
I am a pretty big fan of pasta as a side dish or appetizer rather than the main course. Butter noodles are the perfect side dish in place of rice pilafs or potatoes. If your main dish has a bit of gravy, sauce, juice, or really anything that isn't dry give it a try with these noodles. One of my personal favorite pairings is with veal parmigiana.
Tools Required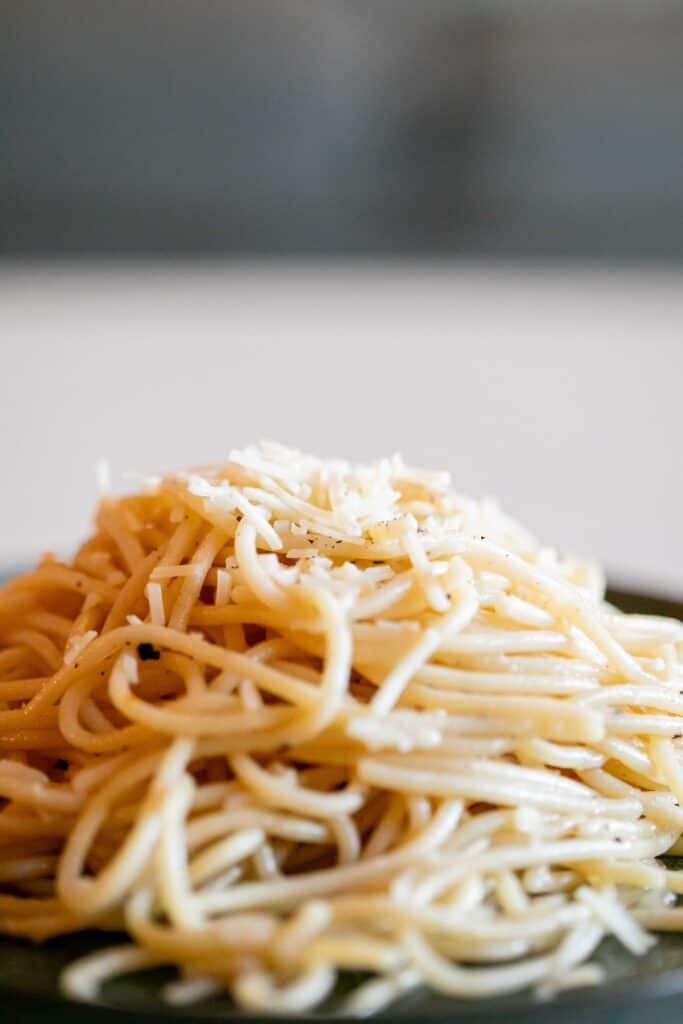 If you have pre-shredded or grated cheese you can literally make this entire dish with a pot, a spoon, and a butter knife. Sure, a wooden spoon and colander would help, but this is about as simple as it gets.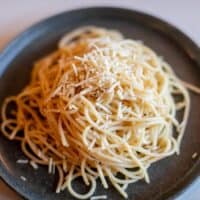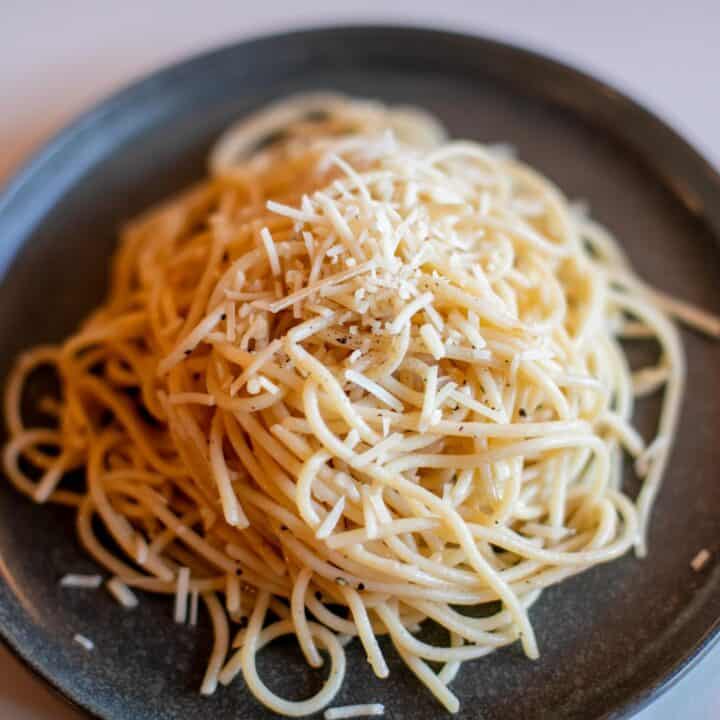 Ingredients
1/2

pound

pasta

1

tablespoon

butter

1

tablespoon

olive oil

4-6

cloves

of garlic minced as small as you can

1

teaspoon

salt + 1 pinch for the water

1

teaspoon

fresh pepper

4

tablespoons

Parmesan
Instructions
Add a pinch salt to water 

Bring water to boil on high heat

Add pasta, stir for 30 seconds, and cook to taste (roughly 12 minutes for dried pastas)

Drain water

While hot immediately toss with butter, salt, pepper, olive oil, garlic

Let stand for 5 minutes  

Top with parm and serve
Nutrition
Calories:
291
kcal
|
Carbohydrates:
44
g
|
Protein:
9
g
|
Fat:
9
g
|
Saturated Fat:
3
g
|
Polyunsaturated Fat:
1
g
|
Monounsaturated Fat:
4
g
|
Trans Fat:
0.1
g
|
Cholesterol:
11
mg
|
Sodium:
688
mg
|
Potassium:
148
mg
|
Fiber:
2
g
|
Sugar:
2
g
|
Vitamin A:
139
IU
|
Vitamin C:
3
mg
|
Calcium:
78
mg
|
Iron:
1
mg
8 Beginner Cooking Tips I Wish I Had Known