As an Amazon Associate we earn from qualifying purchases.
Crepes are truly amazing. They exist somewhere between a pancake, tortilla, and an omelette. They work for both savory and sweet applications. While they may seem like fancy restaurant food, I promise they might even be easier than pancakes to make, as there is no leavening agent to mess up.  
What are French Crepes?
The most common way to describe crepes is they are very thin pancakes. This is mostly true, but you cannot turn American pancake batter into crepe batter due to the leavening agents in pancakes.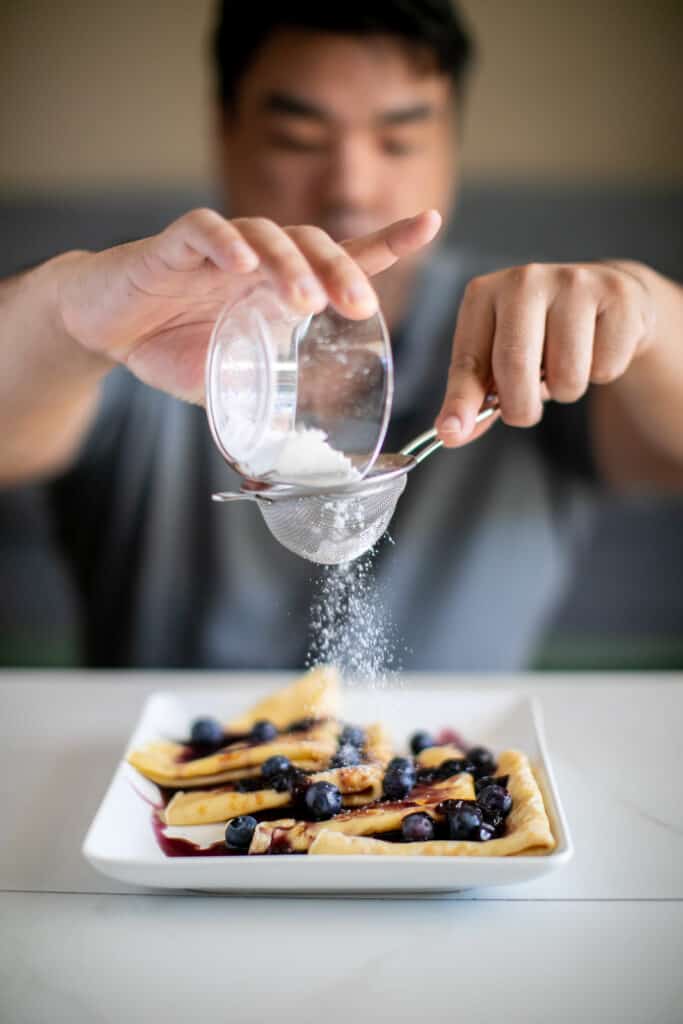 What is the Difference Between a Crepe and a Pancake?
The most important difference between a crepe and an American pancake is crepes are intended to be as flat as possible. American pancakes are meant to be fluffy. 
That said, by definition, a crepe is still a pancake in the sense that it is a batter cooked in a pan. A crepe is just not an American pancake as I know them to be. 
What Makes a Good Crepe
The best crepes are very thin and even. This comes from a completely even batter which can be achieved by letting it sit overnight in the fridge. The longer the batter sits, the more relaxed the gluten and the less bubbles it will have. What makes a good crepe is proportions and cooking. 
The Challenge with Crepes
For anyone coming from pancakes, the big difference is going to be the consistency of the batter. Crepes require very thin "watery" looking batter compared to what I am used to. 
Additionally, many grew up with the notion that the secret to good pancakes is not to overmix them. In other words, do not wisk out every little lump in pancake batter. 
For crepes it is kind of the opposite – I want no lumps because they turn to lumps in the final cook.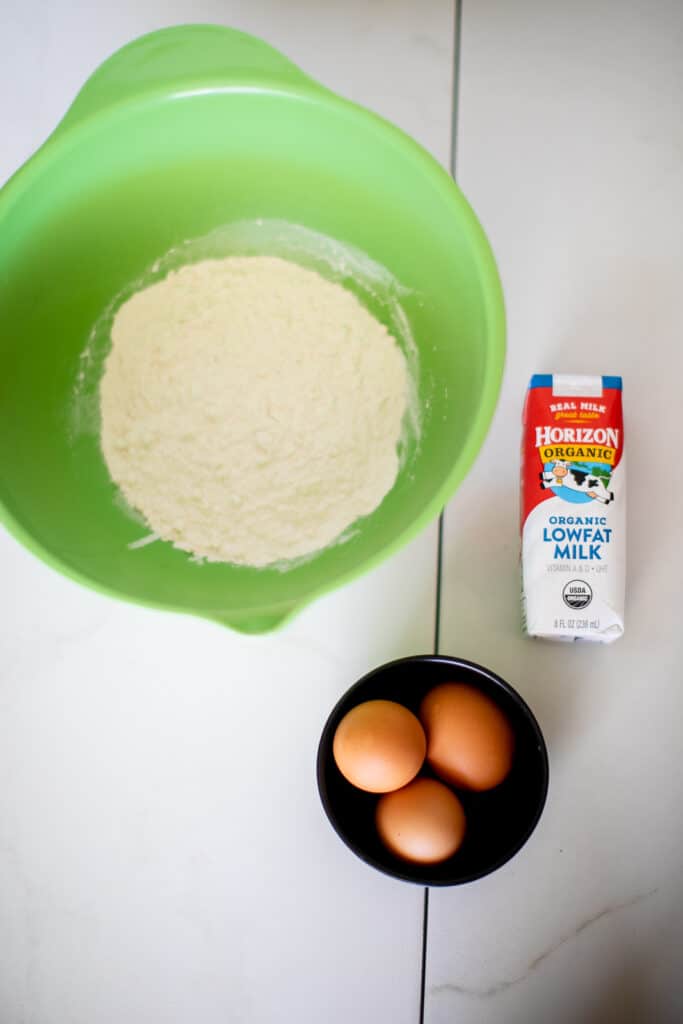 Developing Flavors
The most obvious flavor addition to your crepes is going to be vanilla extract. You might be shocked that the recipe doesn't have vanilla by default given it is a staple in pancakes. 
Remember, when it comes to crepes they can be both sweet and savory. Nothing would be less appetizing than biting into your ham and cheese crepe and getting a big whiff of sweet vanilla extract. If you are planning a savory affair leave the vanilla out. If you are making sweet breakfast or dessert crepes go ahead and add in a teaspoon.
Some less obvious additions are:
Orange zest which will give you orange crepes
Spices like nutmeg or cinnamon 
Sugar (may require lower cooking temperature to prevent burning)  
Cayenne and white pepper for savory crepes
What Pairs with Crepes?
The beauty of crepes is they pair with both savory and sweet applications. You can serve crepes with ice cream and fruit. You can serve crepes with bacon and eggs. You can even stack a bunch of them into a mille crepe cake. 
Tools Required
To make crepes you will need a mixing bowl, measuring cups and spoons, a whisk or spatula, and a non-stick pan.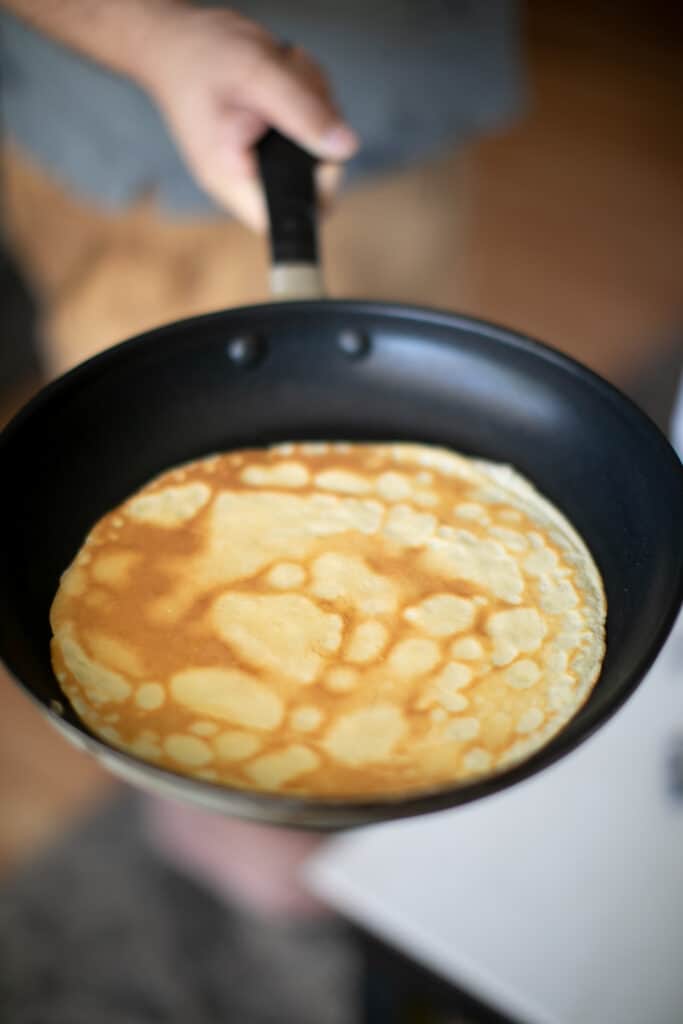 Do I Need a Crepe Pan to Make Crepes?
No, you do not need a crepe pan to make crepes. You do need a non-stick pan though. The lower the sides and flatter, the better. I have made crepes in stainless steel and cast iron, but it is not easy and I do not recommend it.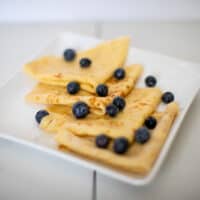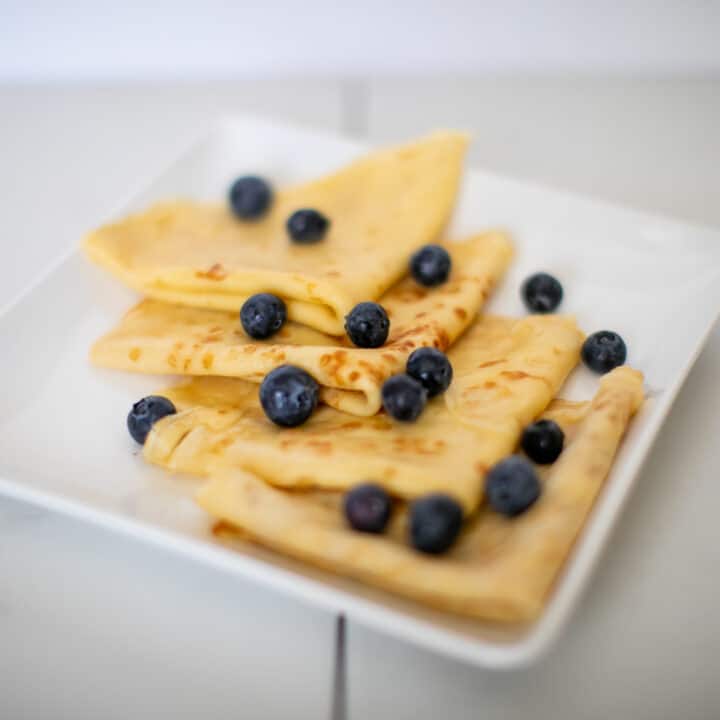 Ingredients
3

eggs

1

cup

milk

1

cup

flour

1

tablespoon

oil

1

pinch

salt

1/4

cup

water
Instructions
Mix together eggs, milk, flour, salt, oil, and water

Heat non-stick pan on medium

Pur 1/4 cup of batter into the pan per crepe

Rotate pan to coat thinly

Flip when solid (about 2 minutes)

Cook until the second side is solidified (roughly another 2 minutes)

Serve
Nutrition
Calories:
228
kcal
|
Carbohydrates:
27
g
|
Protein:
9
g
|
Fat:
9
g
|
Saturated Fat:
2
g
|
Polyunsaturated Fat:
2
g
|
Monounsaturated Fat:
4
g
|
Trans Fat:
0.03
g
|
Cholesterol:
130
mg
|
Sodium:
81
mg
|
Potassium:
170
mg
|
Fiber:
1
g
|
Sugar:
3
g
|
Vitamin A:
277
IU
|
Calcium:
99
mg
|
Iron:
2
mg
8 Beginner Cooking Tips I Wish I Had Known