As an Amazon Associate we earn from qualifying purchases.
For me, the ultimate flatbread is naan. I think it is something about the neutral flavor, along with it being the perfect texture between soft and chewy. Unfortunately, even in California with a large Indian and Middle Eastern community, getting good naan can be hard to come by. Also, a side of naan can cost you $4 or more per piece, which is more than I'd prefer to spend. 
I'm going to go over how to make naan bread from scratch at a fraction of the cost. Better yet, you can adjust the recipe to your liking so you have the perfect flatbread recipe. 
What is Naan?
Naan is a leavened flatbread from India, traditionally cooked in a tandoor. Naan is the accepted and most popular English spelling of the word. You may also know naan as nan, nayan, n'n, nyn or ngn in other languages. That said, there are a lot of flatbreads called naan. The most important characteristic for the naan I am discussing is that it is leavened with yeast.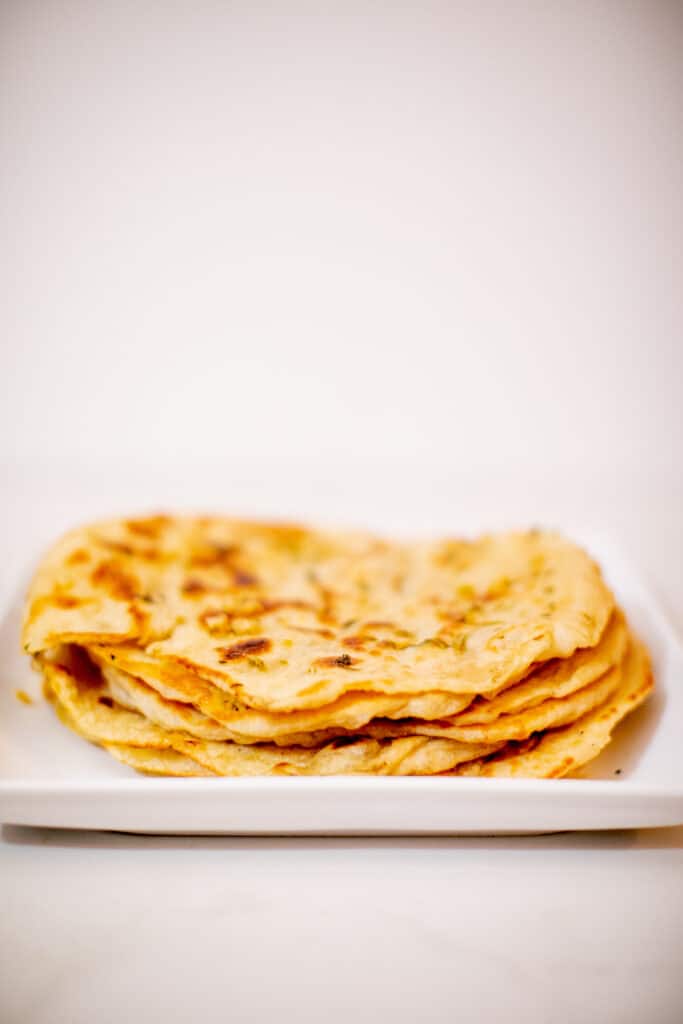 Why Are There So Many Indian Flatbreads?
If you have ever been into an Indian restaurant you will have probably noticed there are several kinds of flatbreads. If you have been to multiple restaurants, you will also have noticed the names change. 
The reason there are so many flatbreads is because India is a large and diverse country with 1,000+ languages and cultures. They also take additional culinary influences from the Middle East and China. All this goes to say there are a lot of different kinds of flatbreads, and each type has a different name based on the region you are from. 
To help with this confusion, I'm going to focus on what makes up naan rather than what naan bread is called or not called in other regions and languages.  
Ingredients in Naan Bread
The main ingredients in naan bread are white flour, water, yeast, and salt. This core group of ingredients should sound pretty familiar to bakers, as these ingredients are the basis of pretty much all bread and there is a reason for this. 
In many regions like Iran and other parts of the former Persian empire, the word nan encompasses all bread, not just the flatbread I am accustomed to.   
The Challenge with Making Naan
For all new bakers, the challenge with naan is the yeast. The #1 thing to check is the expiration date. If the yeast is too old it won't work so don't even try it! 
The next biggest issue is keeping your yeast alive. If your water is too hot, your yeast will die and your bread will be hard as hockey pucks.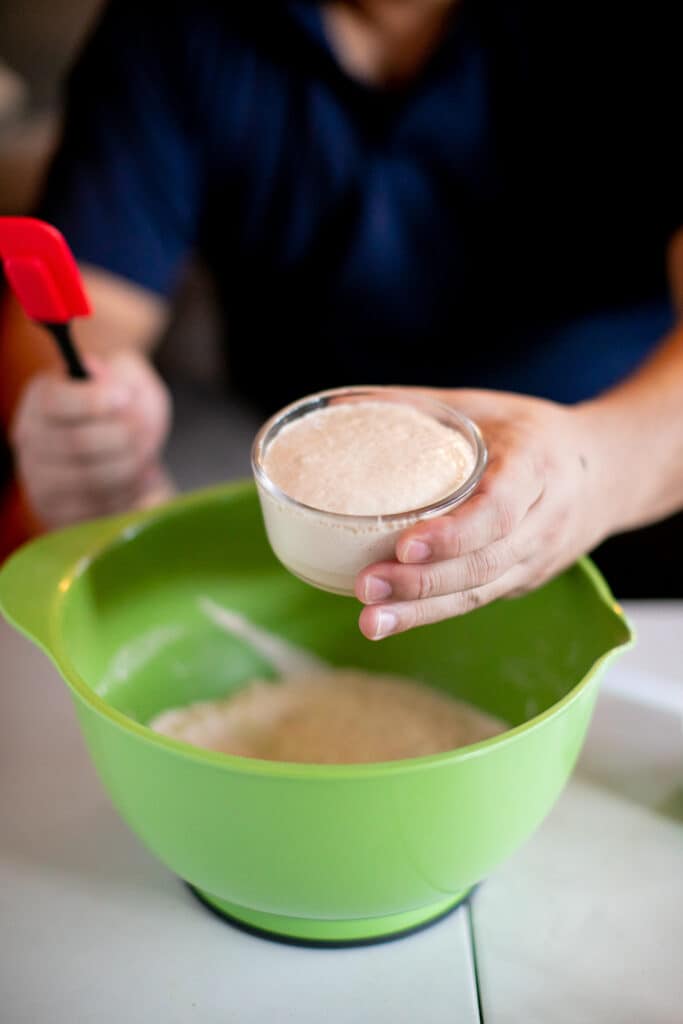 To prevent this, use water between 90-110°F degrees. Yeast also cannot come in direct contact with salt. I know this sounds crazy because there is salt in basically every bread recipe. What you want to do is just make sure you don't have a pile of salt for the yeast to land on or it will be too concentrated, and thus, kill the yeast. 
Finally, you just need to give your yeast time to act. If your yeast are alive and you keep them at a happy 70-80°F degrees in the dough, your bread will rise. 
Why is My Naan Bread Hard?
If your naan bread is hard, one of a few things have likely happened: 
Your yeast did not activate and rise your dough
You did not have enough water in the dough
You did not give adequate time for the dough to rest  
Developing Flavors in Naan
My naan recipe will have a little more flavor and texture than the basic flour, water, yeast, and salt version. I am going to be incorporating a little bit of yogurt into my recipe as well as topping it with melted butter. Some other very common additions are:
Ghee (a clarified butter that when cooked, has a slightly sweet and nutty flavor to it)
Garlic
Green onions
Cheese (both traditional paneer as well as cheddar can work)
Zatar (a middle eastern spice mix)
When it comes to flavors, you can add anything you want after the naan is cooked. After all, bread is bread so the sky's the limit!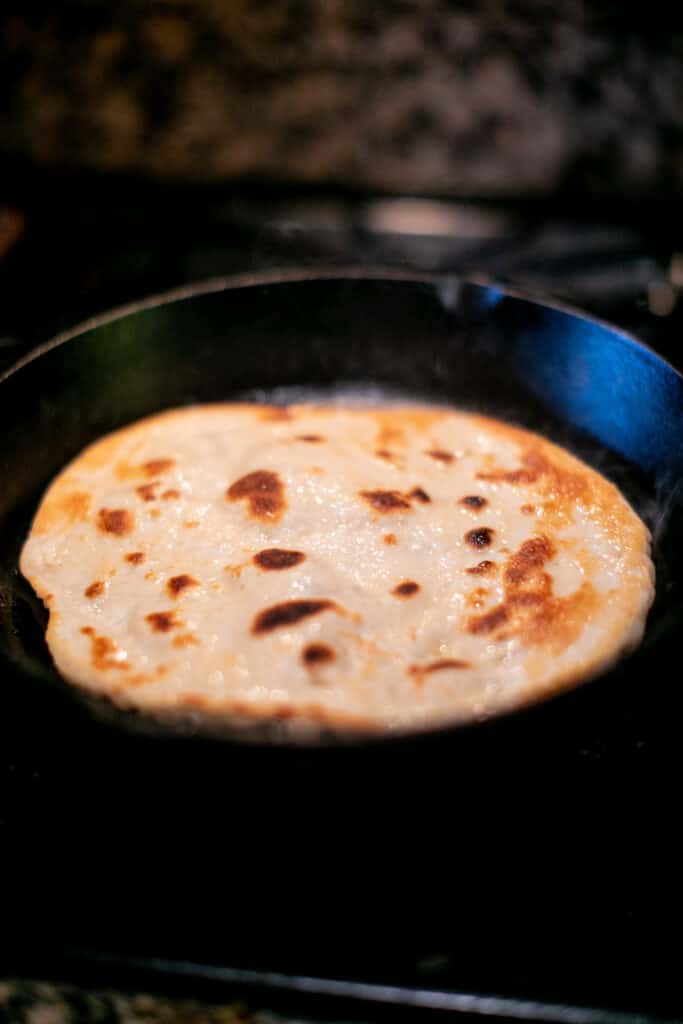 What Pairs with Naan?
Naan is the ultimate partner to curries, even though curry isn't even a real Indian dish. There are few joys in cooking better than dipping a piece of fresh garlic naan into a hot chicken tikka masala. That said, naan goes with anything with "gravy" in Indian cuisines. 
Outside of its hometurf, I think naan goes really well with grilled meats. Also in a pinch, it makes a pretty good platform for pizzas.   
Tools Required
People have been making naan for thousands of years so you don't need much to make it. The main tools required will be a mixing bowl, measuring cup, and a rolling pin.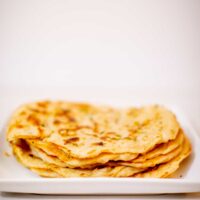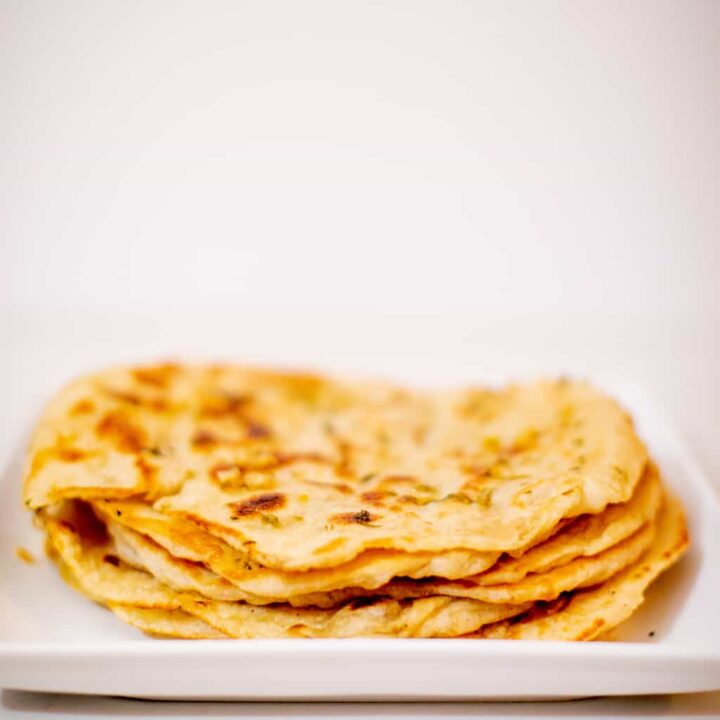 Ingredients
1/4

cup

warm water

1/4

ounces

active dry yeast

2 1/4 teaspoons

2

cups

all-purpose flour

1/3

cup

plain yogurt

1/2

teaspoon

salt

1

tablespoon

oil

1

teaspoon

sugar

Some oil for greasing the skillet

3

tablespoons

melted butter
Instructions
Activate the yeast by dissolving it in the warm water and sugar and letting stand for about 10 minutes. If it foams it is activated, if it does not throw it away and try again. 

Add 2 cups AP flour, salt, yogurt, activated yeast (and the water you activated it in) in a mixing bowl and combine

Knead for 10 minutes

Cover with plastic wrap or a clean damp towel and allow to proof for at least 30 minutes, 1-3 hours preferred. 

Knock (beat some of the air out of it) the dough back to a ball about half the size it was

Cut it into 8 pieces and roll into balls 

Roll the balls out into circles

Cook on medium high skillet or non stick pan with a little bit of butter or oil

Flip when golden brown 

Bread is done when it is golden brown on both sides 
Nutrition
Calories:
178
kcal
|
Carbohydrates:
25
g
|
Protein:
4
g
|
Fat:
7
g
|
Saturated Fat:
3
g
|
Polyunsaturated Fat:
1
g
|
Monounsaturated Fat:
2
g
|
Trans Fat:
0.2
g
|
Cholesterol:
13
mg
|
Sodium:
185
mg
|
Potassium:
59
mg
|
Fiber:
1
g
|
Sugar:
1
g
|
Vitamin A:
141
IU
|
Vitamin C:
0.1
mg
|
Calcium:
19
mg
|
Iron:
1
mg