As an Amazon Associate we earn from qualifying purchases.
Are you looking to take your kitchen game up to the next level? Have you been holding onto that college cookware set even though you're ready to start a family?
Whatever the reason people are jumping on the quality cookware train and in today's article I'll be going over some of the best!
Most Expensive Cookware Reviews
With a high price tag typically comes high quality, and that's what you'll find with the cookware I've reviewed.
All-Clad 60090 Copper Core 5-Ply Bonded Cookware Set
The Copper-Core collection provides great sets of cookware that make you feel like a professional and seasoned chef. This All-Clad 60090 Copper Core Set cookware is an excellent transmitter of heat, giving heat transmission to all parts of the pot or pan, allowing for even cooking of food materials.
This 14-piece cookware set includes versatile 3 and 6-quart saute pans with lids, 10 and 12-inch fry pans for fast frying, 2 and 3-quart saucepans with lids for sauces, a multi-use 12-inch chef's pan with a lid, and an 8-quart stockpot with a lid.
The Copper-Core ware is compatible with all cooking tops such as gas, induction, stoves, and other cooking tips. It can also be inserted in the oven containing and absorbing the heat of up to 600°F giving you versatility in your cooking and not just dependant on a particular cooking method.
The material and manufacturing metals used are very durable, able to last as long as a lifetime. However, the durability of this more substantial ware is determined by what your maintenance practice is. A good detergent must be utilized to scrub the surface of the product.
This is a great product that will make cooking faster and easier. So even though the cookware is expensive, the quality it possesses is a good argument for its cost.
PROS
Cleans easily
Lifetime warranty
Handle is heat-proof
CONS
Do not use harsh abrasives for cleaning
Calphalon Premier Space-Saving Pots and Pans Set
Another expensive cookware is the Calphalon Premier Space Saving Pots and Pans Set. The beautiful thing about this cookware is that it can be perfectly stacked up so that an ample amount of space is saved (about 30% of space is saved).
The Calphalon Premier Space-Saving Hard-Anodized Cookware 15-Piece Set includes 8″, 10″, and 12″ diameter cookware, forming three stacks to keep enough space in the kitchen.
This cookware is highly durable, and its anodized construction allows for even heating across the cookware without any hotspots available. This reduces the risk of burns while cooking.
Also, since food cooked will not stick to the pot, it makes washing the cookware after cooking simple. Finally, it is oven-safe for up to 450°F.
It is highly versatile. This cookware can be utilized in all forms of cooking and stovetop; ranges, ovens, gas cookers, electric stoves, electric coils, and so much more. You are not limited to using just one method, and you can use any other when the primary is unavailable or when the primary method will not be suitable for the food to be prepared.
The layers of the cookware are about 3-layers strong, which allows for the involvement of the nonstick technology. This Nonstick characteristic of the cookware allows for easy release of foods without using extra oil or fat. It also allows for easy cleaning in a dishwasher without any breaks or accidents while in the dishwashing machine.
PROS
Unrivaled durability
Super strength product
CONS
Clean softly for better durability
Viking Culinary Hard-Anodized Nonstick Cookware Set
Another expensive cookware is the Viking Culinary Hard-Anodized Nonstick Cookware Set. This particular cookware contains 10 and 12-inch fry pans, 2 and 3-quart sauce pans with lids, a 5-quart dutch oven with a lid, and a 4.5-quart sauté pan with a lid.
For over 25 years, the Viking Culinary company has been helping households and companies by providing great cooking utensils for use at home and in commercial places. They are always proven to develop products that meet standards and beat the expectations of their customers.
It possesses a steel covering beneath it, which enables even heating of the whole cookware and makes it suitable for any kind of cooktops and induction. In addition, they are coated with 3 layers of induction coating, which easily removes food items without much oil or extra fat released into the pot or pan.
The design of the lids allows for 'looking and cooking.' Why? This is simply because the lids are made of glass, transparent enough to make you monitor the food while it cooks. The cookware can be used on all cooking surfaces including ovens and grills, with a heat absorber of up to 500°F.
PROS
Easy to clean
Cooks meals fast
Even heat circulation
CONS
Wash in warm soapy water before  use
Ruffoni Symphonia Prima Stainless Steel Triply Cookware Set
The Ruffoni Symphonia Prima Stainless Steel Triply Cookware Set prides itself to be one of the most expensive cookware sets. This particular cookware consists of a 1.5-Quart Saucepan with a Lid, 3.5-Quart Covered Soup Pot, 10.25-Inch Fry Pan, and a 5-Quart Covered Braiser.
Since 1931, Rufonni has constantly rolled out great kitchen utensils for use by all households, and that has not stopped to date. At least this particular product is proof that great expertise goes into the making of this cookware by Ruffoni.
This cookware can be used only cooktop at all, including ovens, where it can absorb heat temperature of up to 450°F without causing any damage to its internal nor external compartments. In addition, it possesses a superior aluminum core that allows for proper heat conduction across the whole pan and pots with no hot spots.
The lids of this particular product are deeply pitted with no escape route for heat, but the heat saturates the entire pan or pot, ensuring that the food item is well-cooked, quickly, and easily done.
The design, structure, material, and metal utilized in making this cookware shoots its stock up the market and adds to its expensive nature.
PROS
Even weight distribution
No burning and  sticking
Better durability as internal and external are damage-proof
CONS
Soft cleaning agents must be used
All-Clad BD005714 D5 Brushed 18/10 Stainless Steel Cookware Set
This All-Clad BD005714 D5 Brushed 18/10 Stainless Steel Cookware Set consists of 8 and 10-inch fry pans, 2 and 4-quart saucepans with lids, 3-quart saute pan with a lid, 5.5-quart dutch oven with a lid, 8 and 12-quart stockpots with lids.
It follows through with a 5-Ply construction having layers of steel and aluminum alternating between the 5 layers – one coming after the next. This style of the building allows for better heat conductivity and warp-free durability.
This collection of cookware works perfectly with all types of cooktops without any damage caused to the interior or external surfaces. It can be used with stoves, ranges, gas cookers, inductions, and even ovens. In addition, it is oven-proof up to 600°F.
This cookware was not made to last for just a few years, it was made to last a lifetime. Take care of a set like this and it will take care of you.
PROS
Suitable for all stovetops
Proper cooking of meals
Even heat distribution
CONS
Not meant for oven cooking more than 600°F
Mauviel M'heritage M200CI 9-piece 2mm Copper Cookware Set
This Mauviel M'heritage M200CI 9-piece 2mm Copper Cookware Set is made and designed in France, and it's best suited to handle most of your cooking needs.
It has a 2.5-mm thick copper with the brushed exterior; the set comprises of a 10.2″ Skillset, 1.9 Quart Saucepan with a Lid, a 2.6-quart Saucepan with a Lid, 6.3-quart Stock Pot with a Lid, and a 3.4-quart Saute Pan with a Lid.
Guess what? The heat surrounds the Copper quicker than other metals, ensuring that the user enjoys superior control during cooking.
Aside from the fact that the product is made in France, it comes with a lifetime warranty. This warranty covers its usage on gas, electric, halogen, and oven.
However, it is not induction friendly, and the safe oven level is at 680°F. It is also advisable you wash your hands during usage.
Unlike its other counterparts, the cast stainless steel handle, which comes with a textured matte finish, stays cool, and this often includes a domed copper lid with a matching stainless steel handle.
PROS
Equal circulation of heat and moisture
Lifetime warranty
No sticking and resistance to stain
CONS
Do not use metallic pads and harsh abrasives
Dirties easily
Is Expensive Cookware Worth the Price?
Yes and no. When it comes to the pure beauty of pieces like copper or cast iron enamels the cost is often justified right there. For the technical cook, features like a 3mm+ copper core with 5-ply all clad construction and rivetless handles may be the kicker.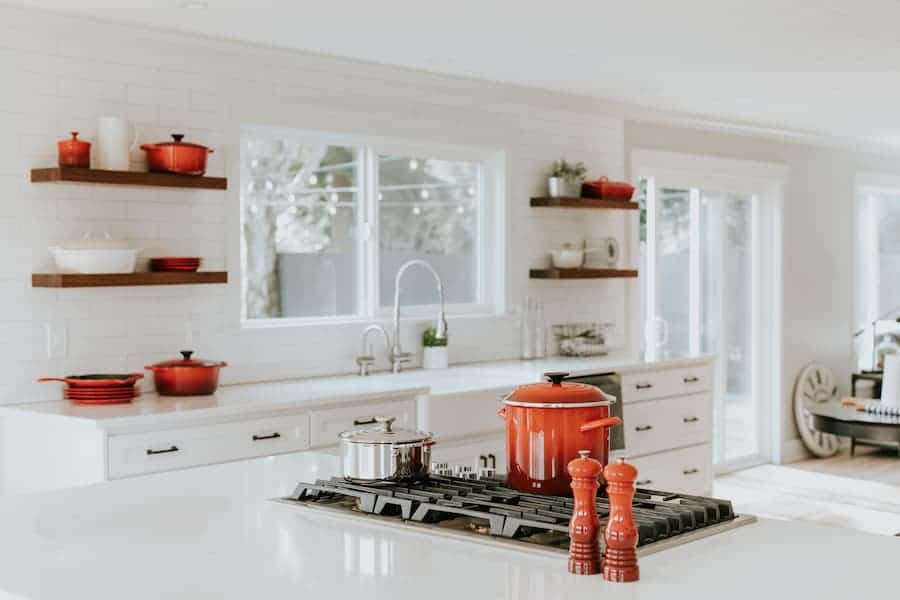 Will expensive cookware make your food better? Yes, it definitely can. For example, if you cannot go from the stovetop to a 600°F broiler then you cannot make certain dishes as they were intended. Will expensive cookware make food 10x better? Subjective, but probably not.
What I do know is expensive cookware is constructed better, with better materials, and lasts a long time (when taken care of). Expensive cookware is not always more durable, but they are all pieces that can be considered heirloom quality when cared for.
How Do You Keep Expensive Cookware in Good Condition?
The following precautions must be taken with expensive cookware:
Clean the cookware immediately after use. Let it cool completely, then wipe them by hand with mild detergent and hang dry.
Do not use beyond the stipulated temperature allowed.
Regular hand washing should be done to reduce the effect of a dishwasher on the cookware.
What Cookware Do You Actually Need?
Conclusion
These are very expensive cookware capable of not just helping you cook healthy meals more conveniently but help bring beauty to your kitchen. It is not enough to want to acquire these products, but you must ensure proper care is taken in using these ware.
Anyone of these sets will bring a sense of quality, beauty, and serious culinary clout to your kitchen. Whether you are diving into today or building up to your next upgrade, consider these top end cookware sets.