As an Amazon Associate we earn from qualifying purchases.
Creamy, luxurious, seasonal, and yet so guilt free – butternut squash soup  is the perfect treat for a cold winter night. 
What Is Butternut Squash Soup?
Butternut squash is a soup made from pureed butternut squash. It's very popular in the wintertime, and butternut squash soup can be made with vegetarian and vegan preparations. A common variation is a butternut squash bisque which is made from pureed butternut squash and cream.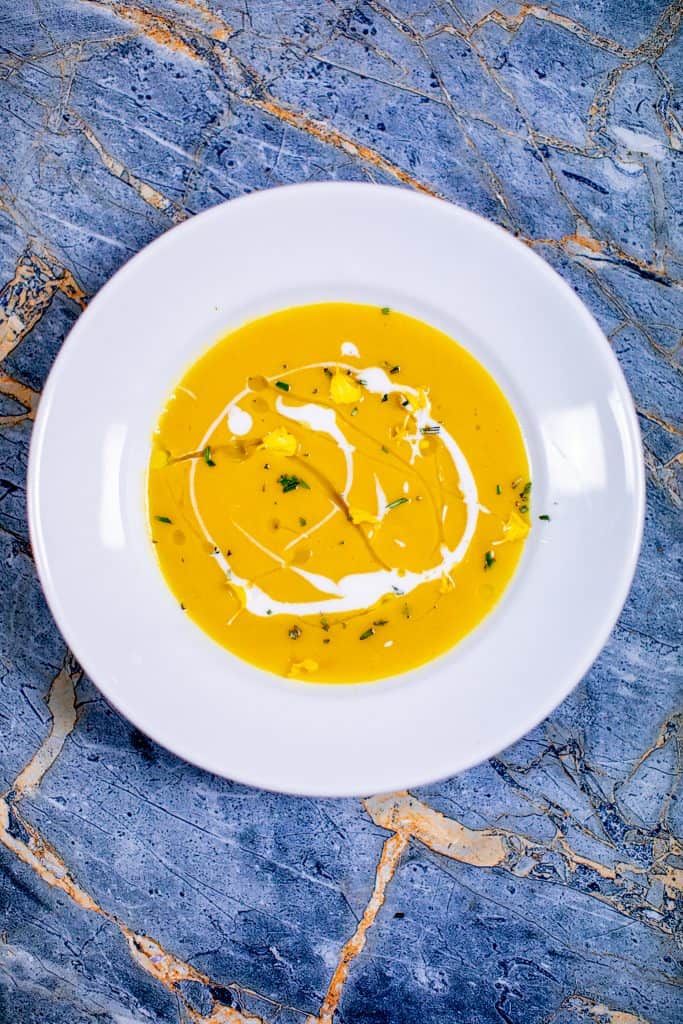 My Approach to Butternut Squash Soup
In my approach to butternut squash soup, I will oven roast my squash before pureeing it and heating it to finish. Since most readers are unlikely to have an immersion blender, I designed this recipe to use a good ol' fashion blender. Don't worry, you won't need a crazy high powered one with a plunger. 
By roasting the butternut squash and aromatics first I'm softening them up, where the blender is really just mixing everything up.

In the earliest versions of this recipe I had 1 inch cubes of butternut squash, and if you are buying pre cut squash go with these. 
If you are not buying pre cut squash, don't worry. Cut the squash in half the long way before roasting and you will still be able to easily spoon out the squash meat. 
What Makes a Good Butternut Squash Soup
A good butternut squash soup has a mild to sweet flavor to it. Butternut squash is not a very strong flavor and so I don't want to use too many spices or additives that could make it harder to taste. 
By roasting the squash and reducing the final soup down I develop and concentrate those flavors making them more intense.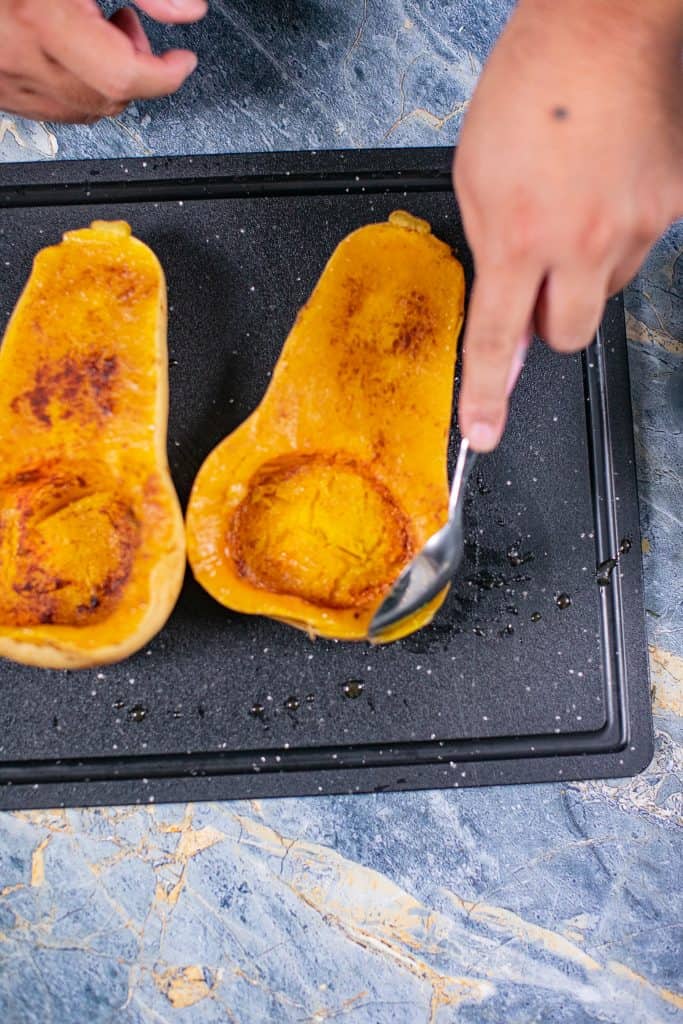 The Challenge with Butternut Squash Soup
The main challenge with butternut squash is breaking them down. If you don't work with squash very often or if your knives are not sharp, breaking down a squash is going to be very difficult. 
To counteract this, I am asking for only one cut in the squash. Cut the squash the long ways before scooping out the seeds. This one cut will give enough surface area to brown and develop flavor while severely limiting the need for good knives or knife skills. 
Developing Flavors
Flavor in this butternut squash soup comes from the roasting of the squash. By caramelizing the sugars in the squash and reducing the overall water content I increase the flavor strength and complexity. 
What Pairs with Butternut Squash Soup?
Butternut squash soup pairs great with your white meat sandwiches like ham, turkey, chicken, or pork.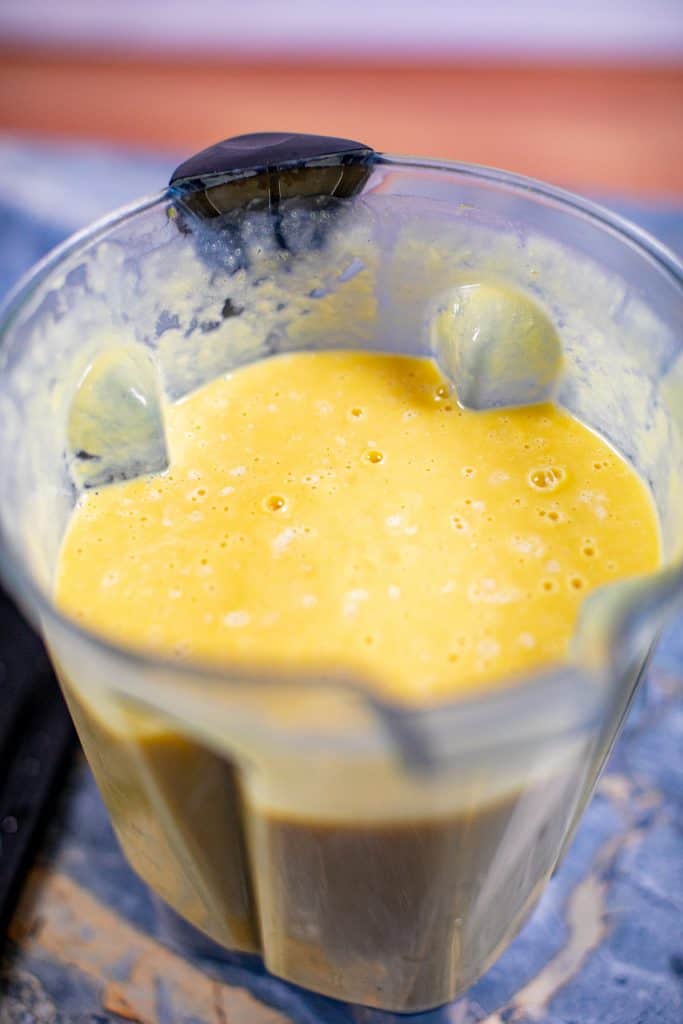 Tools Required
To make this butternut squash soup recipe you will need a roasting pan or baking sheet. You will also need a good sturdy knife to cut the squash. And finally, you will want a blender to mix together the ingredients. You do not necessarily need one, but it is helpful to have a big pot to pour the final product into and reduce.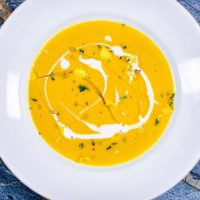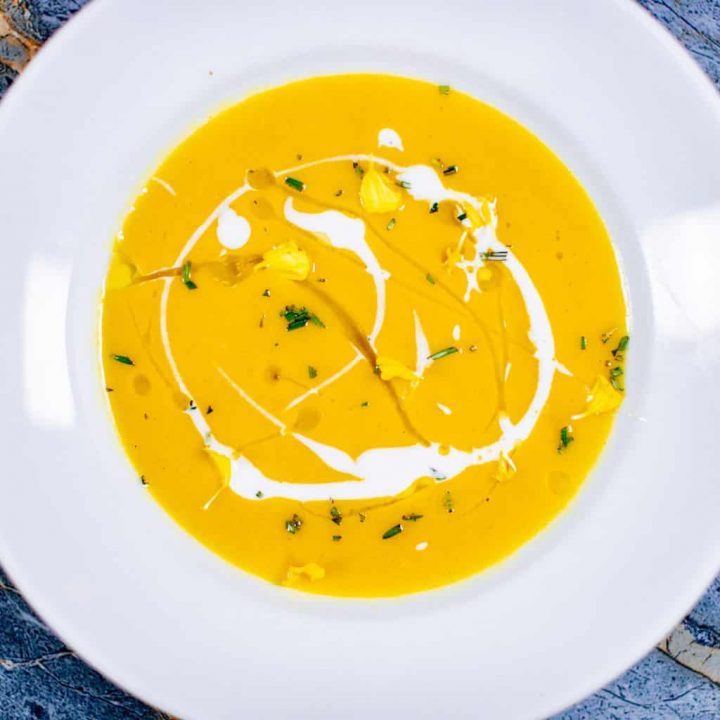 Ingredients
1/2

yellow onion

1

whole butternut squash

1

can coconut milk

1

teaspoon

ginger powder

1

teaspoon

cinnamon

2

cups

chicken broth

2

tablespoon

olive oil

1

heavy pinch salt
Instructions
Preheat oven to 350°F

Wash the  butternut squash

Cut in half the long way

Dice the onion

Add the squash and onion to baking sheet

Coat with olive oil, salt, and cinnamon, ginger

Bake for 1 hour

Add to blender with the broth 3/4th of the coconut milk

Blend on high

Dish out and drizzle with some of the leftover coconut milk
Nutrition
Calories:
392
kcal
|
Carbohydrates:
30
g
|
Protein:
5
g
|
Fat:
31
g
|
Saturated Fat:
22
g
|
Polyunsaturated Fat:
1
g
|
Monounsaturated Fat:
6
g
|
Cholesterol:
2
mg
|
Sodium:
459
mg
|
Potassium:
973
mg
|
Fiber:
7
g
|
Sugar:
9
g
|
Vitamin A:
19936
IU
|
Vitamin C:
43
mg
|
Calcium:
120
mg
|
Iron:
3
mg