As an Amazon Associate we earn from qualifying purchases.
Moon fish is a versatile and adaptable creature with many culinary applications. It can be prepared in different ways, from grilled to pan-fried or seared on the surface before being cooked through later in an oven dish – it's even suitable for raw consumption! Let's take this opportunity to explore how you might cook up your next moon steak…
How to Cook Moonfish Steaks
Moon fish is one of the most delicious fish in existence. In this guide, you'll learn new recipes to cook up some tasty moon-hunting goodness that will make your friends go crazy for it! The goodness of the entire ocean combined into just a few steps–so easy even a new chef can make it.
Tarragon Moonfish Steak
Also known as opah, moonfish tastes a bit like a cross tuna and salmon. With that flavor profile in mind, what could be better than a moonfish steak? Following this recipe will allow you to make delicious moonfish steak for yourself.
Ingredients
Moonfish filets 400 grams
1 tablespoon Ginger chopped
3 cloves chopped garlic
1 medium-sized chopped onion
100 grams unsalted cream
2 tablespoons soya sauce
Tarragon leaves 1 tablespoon
Butter 250 grams
Salt as per your taste
Pepper as per your taste
Chili flakes 1 tablespoon
10 grams chicken stock cube
1 lemon
Method
Marinate whole roast fish fillets with salt, pepper, chili flakes, chopped ginger and garlic and, soya sauce. Mix them well and leave them for a minimum of half an hour.
For the sauce: on medium heat, take a sloped saucepan, add butter and wait until it melts, now; add chopped onion and let it get translucent, now add a chicken cube and cream and mix it well so that all the ingredients are compiled, now add tarragon leaves, salt and, pepper and let it cook for 2 minutes.
To grill the fish fillets, take a grilling pan and add 150 grams butter; grill the fillets firmly on medium-high heat.
In a dish, serve the fish steaks surrounded by creamy tarragon sauce and sprinkle some black pepper on the top to give it a presentable look.
Now enjoy your dish with any sideline you want to have; steamed rice and mashed potatoes are perfect for these creamy fish steaks. Garlic mashed potatoes can also be a great combination.
Fried Moon Fish Recipe
Fried Moon Fish will turn out to be just perfect if you follow the exact method.
Ingredients
Salt as per your taste
Black pepper as per your taste
4 tablespoons Soy sauce
2 teaspoons vinegar
3 tablespoons cornflour
1 tablespoon ginger garlic paste
2 tablespoons all-purpose flour
Oil for frying
400 grams of moonfish fillets
Method
In a mixing bowl, add corn flour and flour, add water and make a thick mixture for the coating.
In a large bowl, take fish fillets and sprinkle salt, pepper, add soya sauce, vinegar, ginger-garlic paste and brush it well on the fish.
Now one by one, take fish fillets and dip them in the flour mixture for coating.
Now take a sloped frying pan and fry 3 to 4 fillets in batches for 10 minutes on medium heat until light brown.
You may enjoy it with your favorite sauces.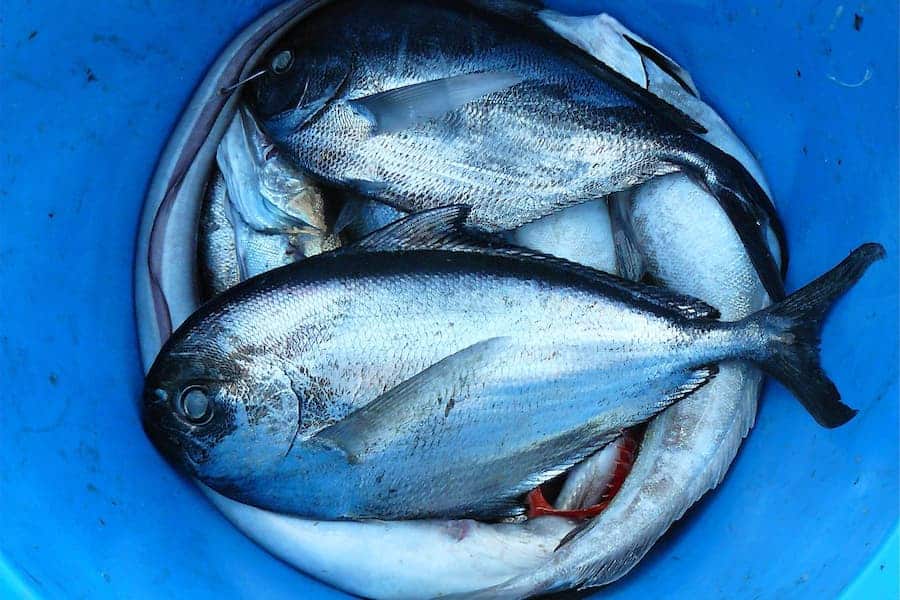 Steamed Fish Recipe
You definitely should have an air-tight pot or a steamer for this recipe.
Add spices such as salt, pepper, chopped garlic, soya sauce, and brush garlic butter on the fish fillets.
For 10 to 12 minutes, steam the fish.
Once the fish is steamed, sprinkle some mixed herbs or seasoning to give it a rich flavor.
For the Sauce
Take a saucepan, add chopped garlic in melted butter and saute for 2 minutes; after that, add heavy cream, salt, pepper, parsley, and sliced mushrooms and cook for 5 minutes, and your sauce is ready.
A Quick Tip: Eat your fish dishes with a Thousand Island sauce, which you can prepare at home in just 5 minutes.
You just need 2 tablespoons of heavy cream, 2 tablespoons of ketchup, salt, 1 tablespoon vinegar, 1 teaspoon chili flakes. Mix the ingredients well, and your favorite dipping sauce are ready to make your fish tastier. Enjoy your meals!
Lesser Known Facts About Moon Fish
A low-fat-sourced Moon fish can help you in staying fit and healthy. This is similar when you prepare to cook a spice rubbed cod fish.
It is a good source of protein and helps you grow your hair and nails, and is good for your skin.
This moon fish is enriched with nutrients, proteins, and vitamins and keeps you healthy.
It also helps to keep your blood pressure in control and lessens the chances of a heart attack.
Eating Moon fish keep your bones healthy and is a good source of vitamin D.
It helps to reduce the chances of mental decline while helping in the good functioning of your brain.
Fresh moon fish can be distinguished by the way it smells. If it smells like the river, you have got the fresh one but if it smells alkaline or extremely fishy then the chances are that your moonfish is not fresh.
6 Tips for Cooking Fish (so it Actually Tastes Good!)
Conclusion
Now you have lots of Moon fish recipes in your bucket. Try the recipes above and let me know how that turned out for you in the comments section below. I am looking for your kind suggestions and comments to improve. Happy cooking!