As an Amazon Associate we earn from qualifying purchases.
One of the best uses for an electric skillet is to fry foods like chicken. Electric skillets are not just easier to use for frying; they are safer too. The temperature knob on this tool is perfect for keeping oil at the right heat. Additionally, since these skillets do not have an open flame like many stoves, the chances of a grease fire are much lower. Let's take a look at the best electric skillet for frying chicken.
My Top Electric Skillet Reviews for Frying Chicken
Electric skillets are a great option for shallow frying your food. Not all electric skillets are created equally, though. With each skillet, there are major differences in the size, material, and heating power they can put out. I'll share my top picks for an electric skillet for frying chicken as I consider the key factors to look for.
Product
Product
Product
Product
Cuisinart CSK-150 1500-Watt Nonstick Electric Skillet
My top pick for an Electric skillet for frying chicken is the Cuisinart CSK-150. With a powerful 1500 watt heating element, you can fry up to 450°F. 
The high frying temperatures of the CSK-150 mean that you have more options for what you can cook and how it will turn out. The cooking surface measures 12 x 15 inches, which means you can probably fit about 13-15 chicken wings or drumettes on the surface at once. If you're frying drumsticks, you can cut that estimation in half since they are larger pieces.
The stainless steel construction makes this piece a beautiful, highly durable, and safe cooking appliance. This skillet is built to last, and the construction of it won't rust, stain, or tarnish over time. A downside of this is that the stainless steel surface is not non-stick, so as you fry chicken, the skin could easily get stuck to the skillet. 
The CSK-150 has a 5.5 quarts capacity, non-stick coating, is fully water immersible, and dishwasher safe! A vented lid prevents the build-up of steam and liquid condensation, which can fall back into your hot oil. 
Along with functioning as an electric skillet, it is also nice enough to use as a chaffing dish or serving dish for dinner.
Pros
Made of stainless steel 
1500 watt heating element can go to 450°F
Dishwasher safe for easy clean-up
12 x 15 inch cooking surface, which is enough for 13-15 chicken wings
Cons
Stainless steel is not non-stick
Can take a while to heat up
Cuisinart CSK-150 1500-Watt Nonstick Oval Electric...
1500-watt electric skillet provides 12- by 15-inch nonstick cooking surface
Temperature control dial with indicator light adjusts from warm to 450 degrees F
Glass cover includes stainless-steel rim and handle; side handles ensure safe transport
Presto 06857 16-inch Electric Foldaway Skillet
Do you need to make hot wings or fried chicken for a party? The Presto 06857 16-inch Electric Foldaway Skillet is great for cooking large batches of food. The Presto 06857 Electric Skillet has a cooking surface that measures 16 x 12 inches, tying for the largest surface with the De'Longhi. 
Unlike the Cuisinart which was made of stainless steel, the Presto is made from aluminum. This makes the skillet very light and portable, which is great when you want to be able to fry food somewhere other than your house.
Just like the Cuisinart skillet, the Presto also has 1500 watts. Even though they have the same wattage, since the cooking surface of the Presto is slightly larger, it can take longer to fully heat up. 
Best of all, when you finish cooking your chicken with the Presto, you can fold the unit up into itself for simple storage. This is perfect for smaller kitchens or for people who don't plan to use the skillet on a weekly basis.     
The skillet comes with a tempered glass lid; however, when frying chicken, you won't want to use this. The lid does not have a vent, so condensation can form on the inside of the skillet. Since you are cooking chicken in oil, if the condensation drips into the oil, you risk a small explosion happening. Aside from that, you could also get soggy chicken, which is the opposite of what you want when frying this meat.
Pros
The aluminum build makes this light and portable
The ability to stack and fold away this unit makes it perfect for smaller kitchens 
1500 watt heating element that reaches 450°F
Cons
No vent on the lid
Do not allow the unit to overheat, or the glass lid could shatter
The pan and lid are dishwasher safe but not the entire unit
Presto 06857 16-inch Electric Foldaway Skillet,...
Heavy cast aluminum base features a deluxe nonstick surface, inside & out. skillet pan & cover are...
Built-in spout for pouring liquids from skillet doubles as a spoon & spatula holder when cooking &...
Fold down handles to detach skillet pan from base. with handles folded in, the base & handles store...
Nesco ES-08 Electric Skillet
The best electric skillet for frying in small kitchens or just for a couple of servings is the Nesco ES-08. This unit is compact but powerful with 800 watts and heating to 425°F. Its non-stick 8 x 8 inch cooktop makes it ideal for making small batches of fried chicken for 1-2 people. You can cook about 8 chicken wings at a time on this.
Even though this has the lowest wattage out of all of the electric skillets I reviewed, don't be too quick to dismiss this as a good product. Since the cooking surface is also the smallest one on my list, it does not need as many watts to heat up and get the cooktop to the desired temperature.
Featuring a simple temperature dial from 175°F to 425°F, you can easily select the temperature you need for frying or sauteing. While you cannot put the entire thing in the dishwasher, the non-stick coating makes clean up easy, and the lid is dishwasher safe. 
If you do not fry, often you may not realize how much oil it takes to fill a pot or pan. With the small form factor of the Nesco-ES-08, you can use less oil to get started frying smaller batches of chicken and other food. If you are looking to deep fry foods or make larger batches, you can consider the ES-08's big brother, the ES-12, which features a 12×12 high walled vessel.    
Pros
Requires less oil to start frying since it's a smaller device
Perfect for cooking for 1-2 portions of chicken
Non-stick for easy cleanup
Heat resistant handles
800-watt uses less power and can still achieve 425°F 
Cons
Only the lid is dishwasher safe
Cannot cook large meals in it
Starting temperature of 175°F may be too high for some
The dial is pretty tiny, so getting an exact temperature can be more complicated than on other units
De'Longhi Electric Skillet with Tempered Glass Lid
Another great aluminum skillet is the De'Longhi Electric Skillet. This has 1500 watts, just like the Cuisinart and the Presto skillet, making it powerful enough to fry chicken. Also, since the skillet has a large cooking surface that is 16×12 inches, having that high wattage allows the skillet to heat up quickly and evenly cook food on the entire surface.
In comparing the De'Longhi with the other skillets on my list, this one is actually very similar to the Presto 06857. Both have the same size cooking surface, same wattage and voltage, and are made from the same material. So, how does the De'Longhi differ?
An upside to this skillet compared to the Presto 06857 is that the entire base can go into the dishwasher. This is because the electrical portion plugs into the base, and you just unplug it before placing it into the dishwasher. It is incredibly easy to clean the De'Longhi because of this, and you don't have to spend time manually scrubbing other parts to remove grease, oil, and food splatters.
This cooking device weighs almost 9 pounds, so it's incredibly sturdy. However, since it is so heavy, it can be hard to move it, especially if you generally store it somewhere when you're not cooking with it. 
Pros
Large non-stick cooking surface, measuring 16×12 inches
Entire base is dishwasher safe
Cons
Weighs 8.89 pounds, so it's heavy to move around in the kitchen
De'Longhi Electric Skillet with Tempered Glass...
The embedded heating element guarantees the most efficient and even cooking in the shortest time
Non-stick surface, External dimensions (l x w x h inches):19.29 x 11.81 x 8.47
Adjustable steam vent holes for an easy steam evaporation, Rated voltage/Frequency (V~Hz):110-120 V
Features to Consider for Electric Skillets that Fry Chicken
When looking for a skillet to fry chicken in, you have to look at the size, shape, and parts to decide which will be best for you. If you were living in an RV or tiny home, it wouldn't make much sense to have a 2-foot long electric skillet taking up tons of cabinet and counter space. Conversely, if you have a family of 6 or 8, it won't make much sense to have an 800-watt 8×8 inch unit.  
| Product | Size | Wattage | Material |
| --- | --- | --- | --- |
| Cuisinart CSK-150 | 12" x 15" | 1500 watts | Stainless Steel |
| Presto 06857 | 16″ x 12″ | 1500 watts | Aluminum |
| Nesco ES-08 | 8" x 8" | 800 watts | Aluminum |
| De'Longhi Electric Skillet | 16″ X 12″ | 1500 watts | Aluminum |
Size
The size of your electric skillet impacts more than just what foods you are cooking. When you want to fry food, you will need considerably more oil in large skillets to reach the depth necessary to fry in. 
Larger skillets also mean you need to cook more food at once to prevent hot spots and scorch marks from forming. Finally, as you increase the size of your skillet, you will need more power and time to heat it.  
When you're trying to decide on the size electric skillet to get, think about how much chicken you're planning to realistically fry at one time.
Shape
The higher the sides of the walls are on your unit, the more moisture will be retained while cooking. Additionally, when frying, high-sided walls means less splatter and greater oil depth. 
When it comes to the shape of your electric skillet, deeper is generally better for frying but worse for sauteeing. If you're planning to use your skillet specifically for frying, then selecting one that is deeper will be best. However, if you want one that can be a bit more versatile, then select one that is a bit shallower.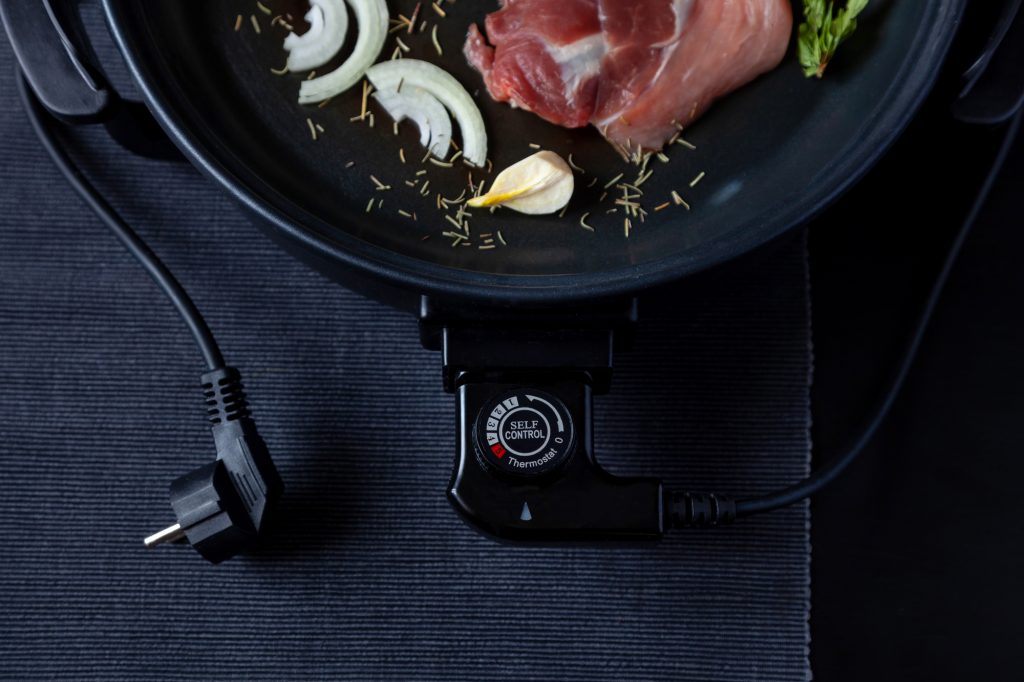 Temperature controls 
Critical to any cooking you do is the temperature you are cooking at. If you can't control the temperature, you can't cook efficiently. Most electric skillets will use a detachable temperature probe to control temperature. With these simple units, the larger the knob, the more granular control you have over the temperature. If you do have a digital probe or controller, that is even better.  
Frequently Asked Questions
What is the Best Temperature to Fry Chicken in an Electric Skillet?
Your target temperature for the oil should be between 325°F and 350°F to fry chicken in an electric skillet. Luckily, cooking on an electric skillet is as simple as setting the knob and letting the probe controller do its work.   
What Brand of Electric Skillet is Best?
The best brands for an electric skillet like Cuisinart or De'Longhi. They are both reputable cookware and appliance manufacturers, respectively. When looking at an electric skillet, you take electronics from a hotplate and weld them to a cooking vessel. As such, the best brands will be companies with experience in one or both of those areas.    
Can You use an Electric Skillet for Deep Frying?
You can typically use an electric skillet for deep frying, but it depends on the depth of your skillet. If you have a tall-sided unit like the Nesco ES-12, you can deep fry pretty much everything, but if you have a wide shallow unit like a Presto Foldaway, you will be much more limited. 
What Cookware Do You Actually Need?
Conclusion
An electric skillet is an excellent option for frying chicken. The consistent temperature and lack of an open flame or exposed heating element make it far safer than frying on your stovetop. With its stainless steel design, powerful 1500-watt heating element, and respectable capacity, the Cuisinart CSK-150 is my favorite for an electric skillet that can fry too!