As an Amazon Associate we earn from qualifying purchases.
Grilling your bratwurst is not as simple as people may think. You have to be very careful not to burn them or leave them undercooked. Knowing how long to cook bratwurst on the grill will help you achieve the perfect texture and taste. 
How Long to Cook Bratwurst on the Grill
Bratwurst is typically minced meat tightly stuffed into a thin casing. This makes it a bit difficult when grilling because the grill can easily burn the casing before the meat has time to cook. 
That's why it's always good to know how long to cook your bratwurst. Bratwurst should take around 20 minutes to cook perfectly on the grill at a temperature of 350 degrees Fahrenheit. 20 minutes should give it enough time to reach an internal temperature of 160 degrees Fahrenheit, which would leave the skin crispy and the meat juicy.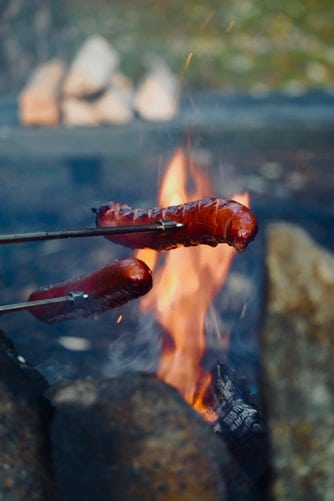 The temperature of your grill is the most important factor in cooking time. If your grill is too hot, your sausages will cook too quickly, leaving them dry and hard. A burning grill can also rip the casing open allowing all the juices and flavor to spill out.
How to Know When Your Brats Are Cooked Through
Leaving your bratwurst undercooked can be dangerous. That's why investing in a cooking thermometer like the ThermoPro TP03 Digital Instant Read Meat Thermometer can come in handy. 
To make sure your bratwurst is cooked through, follow cooking directions and times. Another way is by checking the internal temperature, which should be at 160 degrees Fahrenheit. 
There are bacteria on meat that are killed when cooked. If you leave your meat uncooked, you risk infection from pathogenic bacteria. This can cause food poisoning and can be very harmful. 
Is It Okay for Brats to Be Pink Inside?
Some sausages can have a pink tinge to it and still be cooked. Trying to guess this by the color of your brats is not always accurate. As long as you're sure the bratwurst is cooked thoroughly, either by cooking them long enough or checking their temperature, they're safe to eat.
How Should Bratwurst Look When it's Done?
Once you've grilled your brats for 20 minutes and have checked the internal temperature, they should be ready to eat. It's also good to know how they should look once they are ready. 
Bratwurst can either look golden brown or slightly charred, depending on how you like to eat it. The casing should feel crispy and the inner meat should feel slightly tender.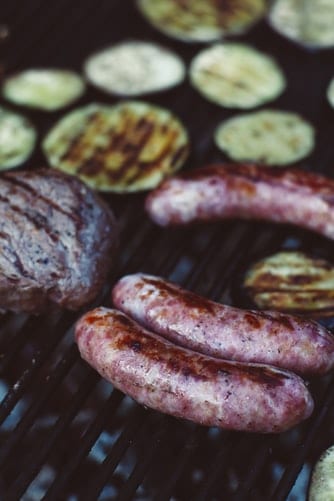 20 minutes on the grill will allow you to get the perfect golden color that most people desire. Some people prefer their brats to be slightly black. If you're one of those people, you can add a few minutes to the grill time. Don't leave them on the grill for too long after 20 minutes or the meat will become dry.
How Should Bratwurst Taste Once it's Done?
Brats should be snappy on the outside and juicy on the inside. When grilling, your brats should have a smokey taste. If you let them soak before grilling, they will most likely have the taste of the "juice" they were in.
How Long Should I Pre Cook Bratwurst Before Grilling?
In addition to the 20 minute grilling time, you should also consider 30 minutes for parboiling.
To ensure that your bratwurst doesn't burn, boil them in either beer or broth for 30 minutes. This will also give them a lot more flavor. 
Bring the broth, beer or water to a boil over medium-high heat and allow the brats to cook for 30 minutes. You can poke holes into your sausage with a fork so they can absorb more flavor. This will also prevent the casing from ripping open when grilled.
Charcoal vs. Propane Grill Time
Using a charcoal or propane grill will also determine the length of time it will take for your brats to cook. The differences between the two contribute greatly when it comes to cooking times.
Unlike traditional charcoal grills that use smoke, propane grills use gas to heat and cook your food.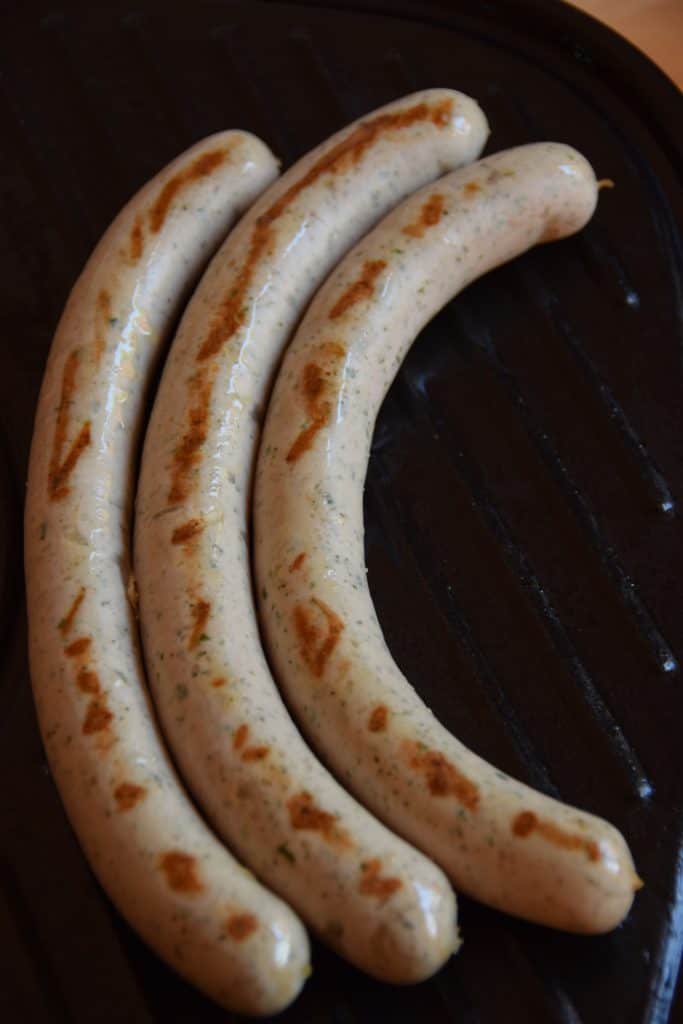 Propane
Propane grills generally get hotter quicker, giving you less time to cook your food.
They are safer when cooking sausage because the fat that drips down will not cause so much smoke and fire.
They produce more steam giving a different taste than a charcoal grill.
Charcoal
A charcoal grill will take some time to heat up. This adds to the 20 minutes it takes to grill your brats.
Charcoal gives a smoky flavor that most people desire when grilling sausage.
Charcoal can be a bit dangerous because it creates more smoke when the fat drips down.
8 Beginner Cooking Tips I Wish I Had Known
Conclusion
Knowing where and how long you should cook bratwurst on the grill will help you achieve the perfect texture and taste. When it comes to charcoal vs. propane, propane is quicker but you won't get that smoky flavor that makes grilled brats so delicious.
If you don't mind adding 10-15 minutes for your grill to get to the right temperature then I'd definitely recommend using charcoal to get the best flavor.