As an Amazon Associate we earn from qualifying purchases.
While you might enjoy sliced turkey throughout the year, there are only a couple select times each year that you probably enjoy a giant turkey meal. Most commonly, this is during Thanksgiving, partially due to needing a bird big enough to feed a large gathering of people. 
If you're in charge of cooking the turkey this year, this easy dry brined roasted turkey recipe is one that people will be craving long after the leftovers are gone.  
What is a Dry Brine Turkey?
A dry brine turkey is where I first prep the turkey by dry brining it (rather than wet brining it). Once this has happened, I then roast the turkey in the oven to fully cook it. This results in a flavorful and juicy turkey.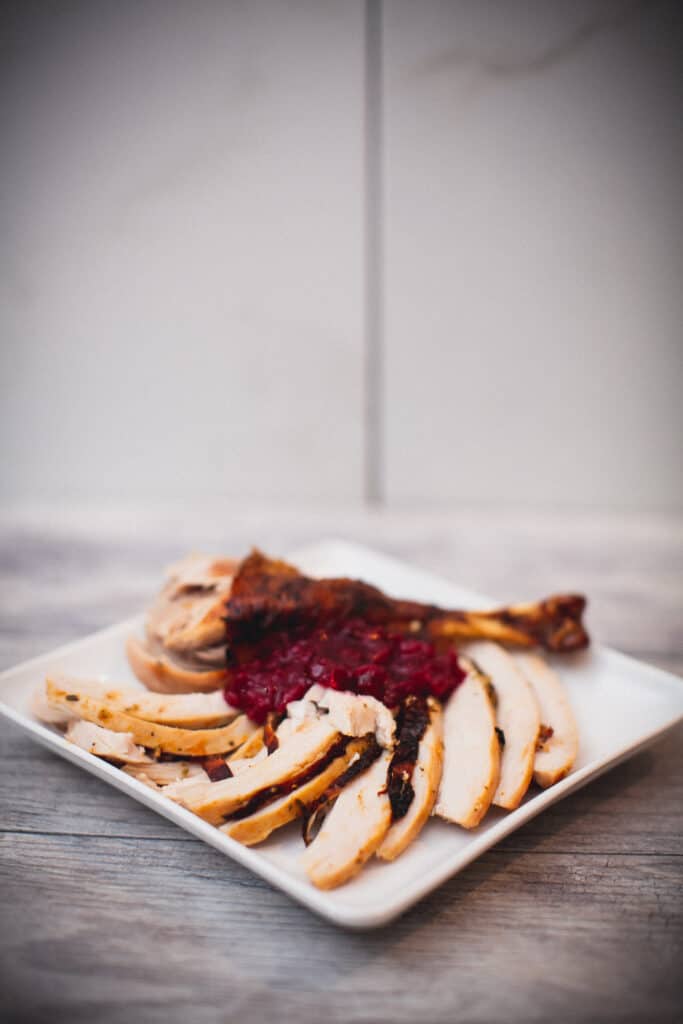 As an important note, if you are planning to dry brine your turkey, you will need to start this process 2-3 days in advance of when you are planning to eat your turkey meal.
When Do You Start Prepping a Turkey for Dry Brining?
A fully thawed turkey or fresh turkey will not last much longer than 3 days in the coolest part of your fridge (<40°F). Since at this point you should know how much turkey you need and how long it will take to thaw the turkey, you need to know how long it is going to take to prepare the turkey for cooking. Use this chart below to help determine when you should start:
| | | |
| --- | --- | --- |
| Turkey Size (lbs) | Days in advance to start with a fresh turkey (time needed to brine) | Days in advance to start with a frozen turkey (assuming you immediately start thawing it) |
| 10 | 2 | 4 |
| 11.25 | 2 | 4.25 |
| 12.5 | 2 | 4.5 |
| 13.75 | 2 | 4.75 |
| 15 | 2 | 5 |
| 16.25 | 3 | 6.25 |
| 17.5 | 3 | 6.5 |
| 18.75 | 3 | 6.75 |
| 20 | 3 | 7 |
| 21.25 | 3 | 7.25 |
| 22.5 | 3 | 7.5 |
| 23.75 | 3 | 7.75 |
| 25 | 3 | 8 |
For a sub 15 pound turkey you will need about 2 days to dry brine the meat. For a larger turkey I'd recommend 3 days. Worried about bacteria? Bacteria hate salt, which is why salt has been used to preserve food for hundreds of years. Also, since I'll be right at 3 days before popping it the oven, I am in range for fresh turkey safety anyways.  
What is a Dry Brine?
A dry brine is basically just coating your meat with salt and refrigerating it rather than dunking it in salt solution. Osmosis will still happen like a normal wet brine, but now there is no dilution of flavor or need for a giant bucket.  
Why Do I Dry Brine Turkeys? 
One of the main reasons turkeys get dry is because they have muscle fibers called myosin that constrict and force juice out of the meat before the meat is at a safe temperature to eat. I brine turkeys to relax and dissolve these fibers so they don't constrict, leaving all that moisture in the bird.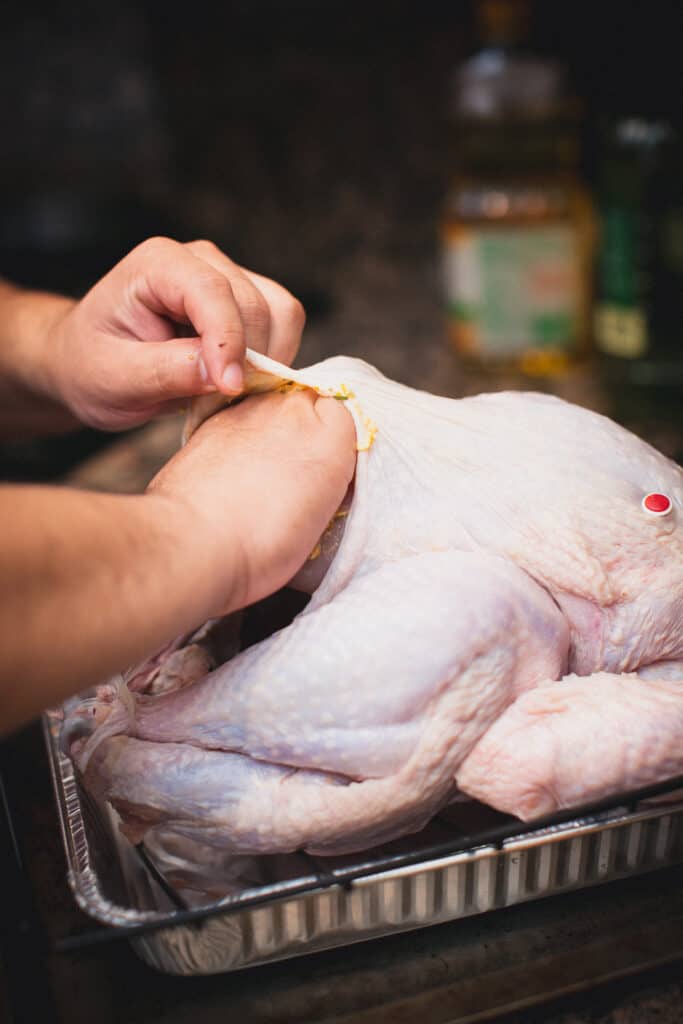 How Does a Dry Brine Work?
In short, you have two processes happening. The first is the physical process of osmosis which moves salt from outside the turkey to inside the turkey. The next is the chemical process of salt acting on the muscle fibers and proteins which denatures them and preventing constriction during cooking. 
My Approach to Dry Brined Roasted Turkey
You have probably heard of brining before. What you probably haven't heard of is dry brining. I am going to dry brine a turkey because it is easier and results in more concentrated turkey flavor. 
One of the big factors for developing this dry brining recipe was ease. I don't own a bucket or cooler to do a full wet brine on a 15-20 pound turkey. But, a 15 pound bird in a disposable baking tray fit just fine in my apartment sized side-by-side fridge. 
For a much longer explanation of this process, I dive more into the details in my wet brined turkey breast recipe. 
Developing Flavors in Your Brine
I do a fairly traditional brine of 1 part salt, 1 part sugar (split half white, half brown sugar). The only added thing I do to mine is add a teaspoon of liquid smoke. 
Ratio wise, I did 1 tablespoon of salt per 5 pounds of turkey. I do not recommend adding anything that isn't water soluble (no spices or herbs since they really just sit on top and absorb moisture which you do not want).   
Tools Required
For dry brining and roasting your turkey you need the following tools: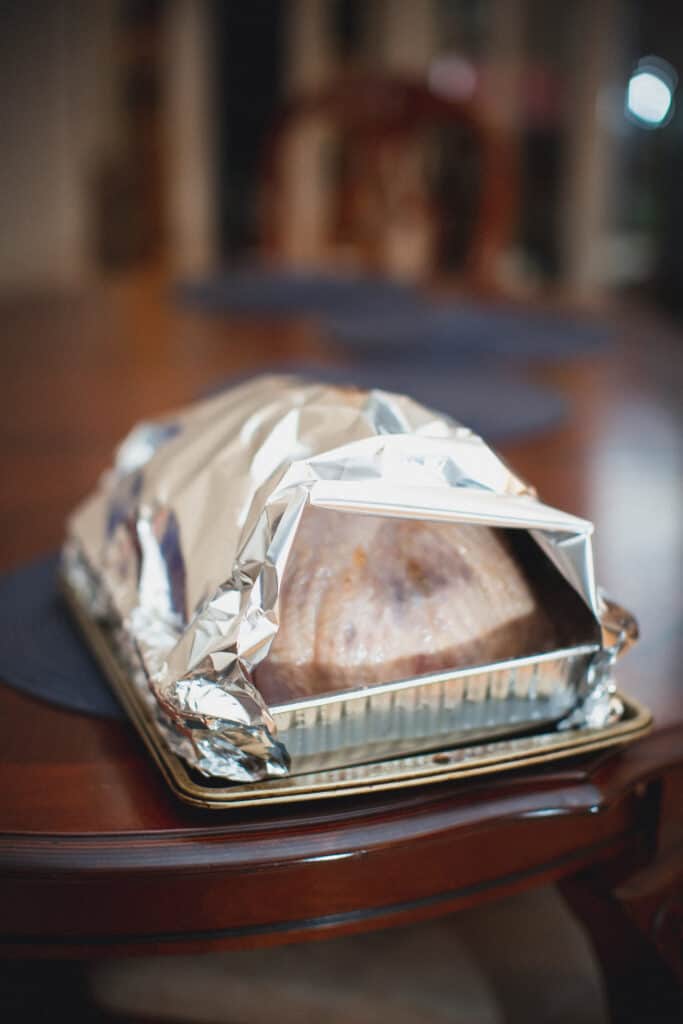 Baking tray and can to hold your turkey
Roasting rack to keep the bottom of the turkey off the tray 
Aluminium foil to control browning 
Thermometer (oven or thermapen, ideally both)
As you can see, I am keeping my tools simple!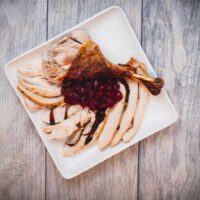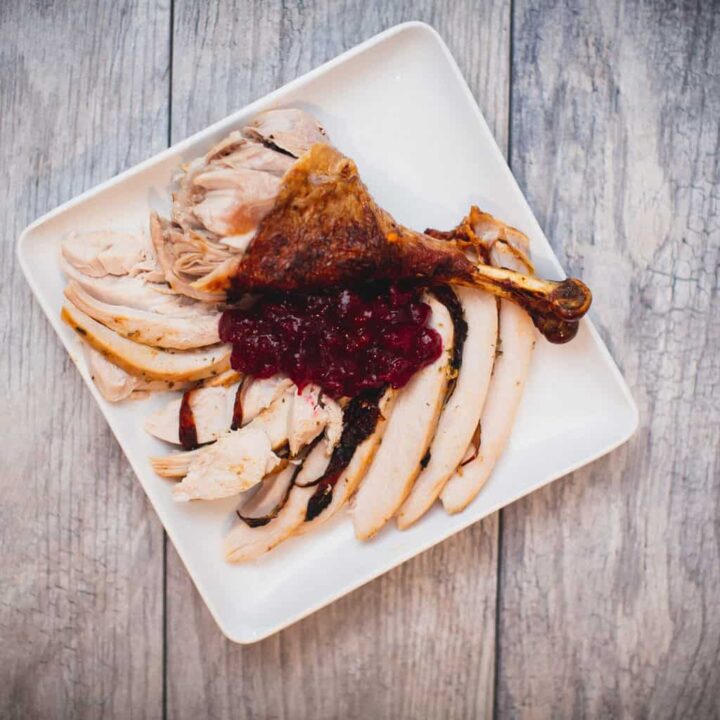 Ingredients
Dry Brine Mixture
1

tablespoon

salt for every 5 pounds of turkey

½

tablespoon

white sugar for every 5 pounds of turkey

½

tablespoon

brown sugar for every 5 pounds of turkey

½

teaspoon

of liquid smoke for every 5 pounds of turkey
Butter Mixture
4

tablespoons

butter

1

tablespoon

zest

(orange or lemon)

1/2

tablespoon

rosemary
Aromatics
½

orange or lemon to stuff into middle
Seasoning
Salt, pepper, paprika (optional) to taste
Instructions
Prep turkey
Thaw turkey according to thawing guide (if needed)

Remove neck (check neck area and cavity)

Remove innards (check neck area and cavity)
Make the dry brine
Mix the salt, sugar, and liquid smoke together in a bowl
Brine the turkey
Place roasting rack in baking tray

Carefully separate the skin on the breast from the meat (do not tear it, do not remove it)

Apply 1/3rd the brine to the breast meat directly (under the skin on the meat)

Apply the rest of the brine liberally to the rest of the turkey

Massage the meat to evenly spread and dissolve the brine mixture (this is critical to not end up with chunks of salt anywhere, it also increases the speed of osmosis as dry salt doesn't go anywhere)

Cover loosely with foil (it should not be airtight)

DO NOT rinse the turkey after brining (it will not be too salty)
Once the turkey has been brined for 2-3 days, make the butter mixture
Wash and cut herbs so they are finely chopped

Mix together with butter (you can microwave butter for a few seconds if you need to soften it)
Cook the turkey
Separate skin from breast and fill with half the butter, spreading evenly

Spread the rest of the butter on the rest of the turkey

Place half the citrus fruit used into the cavity

Bake for 30 minutes or until skin is golden brown

Cover breast loosely with a piece of foil to prevent further browning

Reduce heat to 350°F and continue baking until internal temperature reads 150°F (if you have a 10 pound turkey, this will be approximately 2.5 hours)

Slice the turkey as desired and serve
Nutrition
Calories:
121
kcal
|
Carbohydrates:
5
g
|
Protein:
0.4
g
|
Fat:
11
g
|
Saturated Fat:
7
g
|
Polyunsaturated Fat:
0.4
g
|
Monounsaturated Fat:
3
g
|
Trans Fat:
0.5
g
|
Cholesterol:
30
mg
|
Sodium:
1836
mg
|
Potassium:
41
mg
|
Fiber:
1
g
|
Sugar:
5
g
|
Vitamin A:
395
IU
|
Vitamin C:
11
mg
|
Calcium:
17
mg
|
Iron:
0.1
mg
8 Beginner Cooking Tips I Wish I Had Known