As an Amazon Associate we earn from qualifying purchases.
When it comes to cookies, chocolate chip is king. But close behind for me has always been peanut butter. Not just normal peanut butter cookies, but Butterfinger peanut butter chip cookies are the way to go. 
What are Butterfinger Peanut Butter Chip Cookies?
Butterfinger peanut butter chip cookies take everything I love about chocolate chip cookies and swap them out for peanut butter chips. Not to be confused with peanut butter cookies, the peanut butter chips are like candy peanut butter found in Reese's. From there, I add in Butterfingers for an added crunch.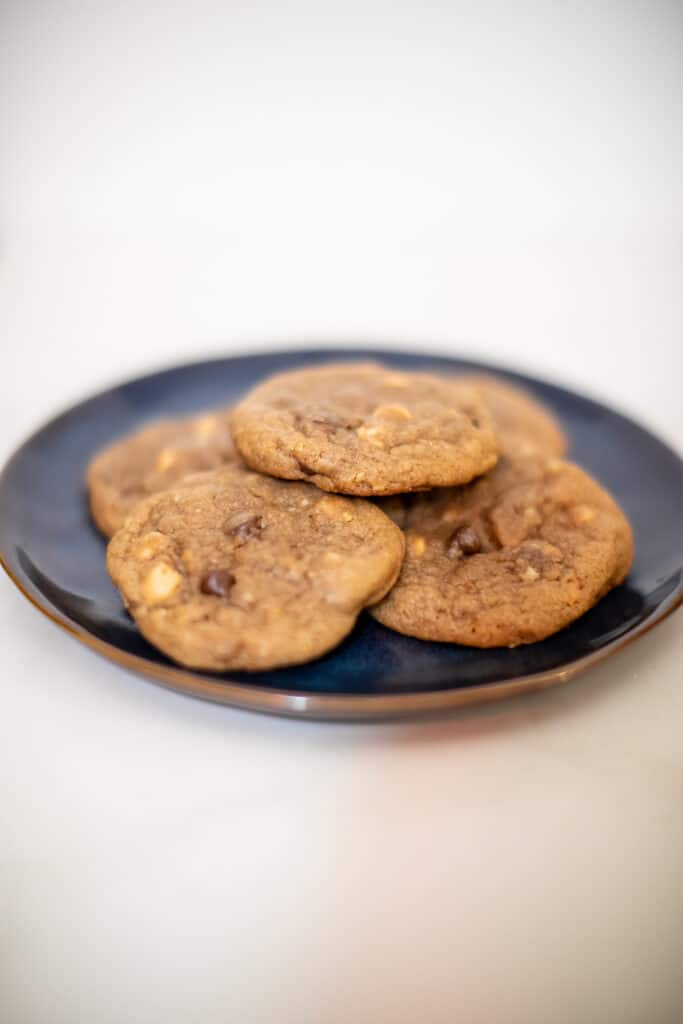 My Approach to Peanut Butter Chip Cookies
My approach to peanut butter chip cookies is to max out the candy peanut butter flavor. I'll be using Reese's peanut butter chips for the toppings. But to really kick up the peanut buttery goodness, I'll be blitzing in butter fingers as well. Butter finger crumble in the dough helps add the perfect texture and extra peanut buttery punch that you want in these cookies. 
Developing Flavors and Texture
I cannot underscore and highlight the perfection that the Butterfingers bring to the mix here. Because Butterfingers are toffee based they melt and incorporate into the end cookie's texture and flavor. If you want the perfect chew to your cookies then blitz them to fine dust. If you want pockets of toffee peanut buttery goodness then chop into ¼ in pieces and mix in like the chips. 
What Pairs with Peanut Butter Chip Cookies?
Few things pair better with peanut butter than chocolate. So chocolate chip ice cream, chocolate ice cream, or chocolate milk are all great pairs with peanut butter chip cookies.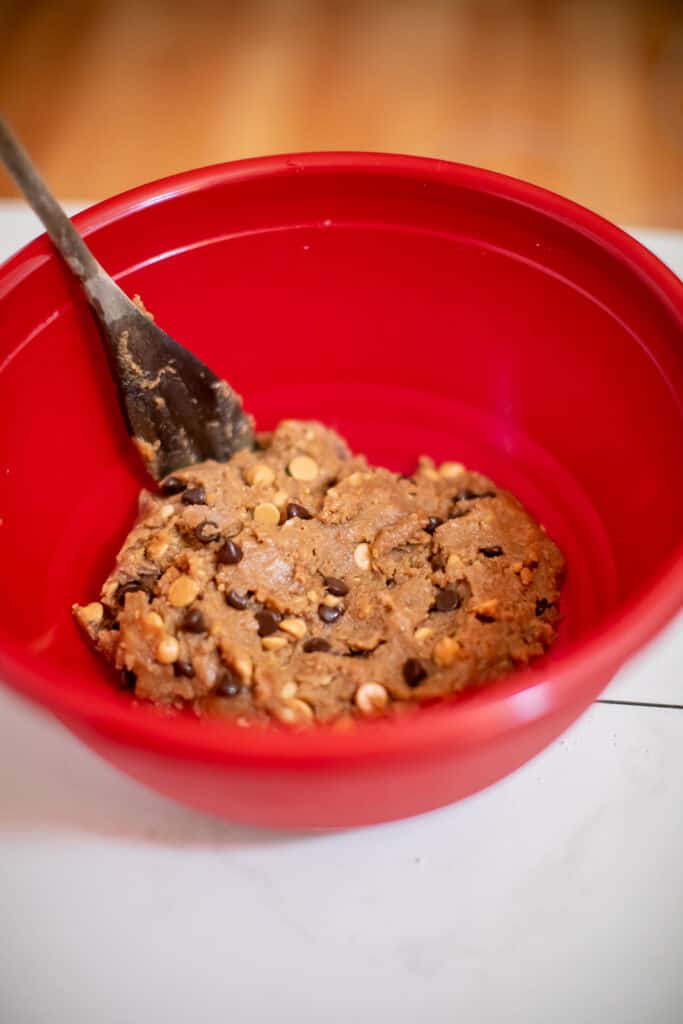 Tools Required
To make these peanut butter chip cookies you are going to need measuring cups, measuring spoons, a wooden spoon, and a mixing bowl.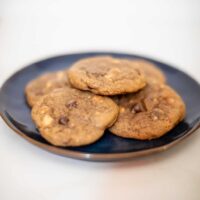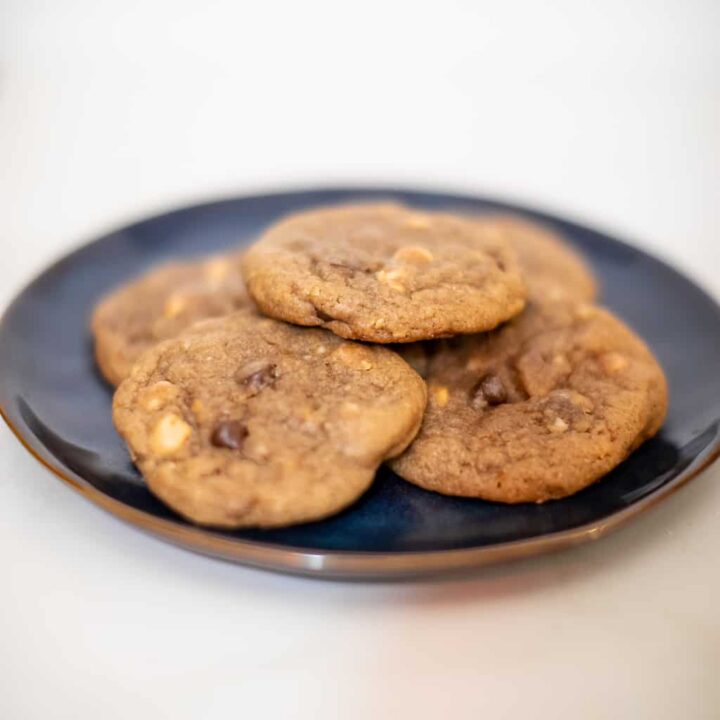 Ingredients
Wet Ingredients
1/2

cup

butter

2

tablespoons

maple syrup or corn syrup

1

teaspoon

vanilla extract

1

egg
Dry Ingredients
1

teaspoon

salt

1/2

cup

white sugar

1/2

cup

brown sugar

1/2

teaspoon

baking soda

1.5

cups

all-purpose flour

1/2

Cup

Dark Chocolate

1/2

Cup

Peanut Butter Chips

3

Butterfingers
Instructions
Blitz Butterfingers in a food processor or cut them up as small as possible with a knife

Soften butter, syrup, and vanilla in microwave for 30 seconds

Add together all dry ingredients in a large bowl and mix them together

Add the butter mixture to the dry ingredients, along with the egg and mix until combined

Put in freezer for 30 minutes

Preheat oven 350°F

Remove dough from freezer

Separate into 12 balls and space evenly on cookie tray

Bake for 10-12 minutes, cookies will be VERY soft when you take them out

For best results, let chill for at least 20 minutes (optional)

Enjoy
Nutrition
Calories:
319
kcal
|
Carbohydrates:
46
g
|
Protein:
4
g
|
Fat:
14
g
|
Saturated Fat:
8
g
|
Polyunsaturated Fat:
1
g
|
Monounsaturated Fat:
4
g
|
Trans Fat:
0.3
g
|
Cholesterol:
34
mg
|
Sodium:
345
mg
|
Potassium:
130
mg
|
Fiber:
2
g
|
Sugar:
28
g
|
Vitamin A:
259
IU
|
Calcium:
29
mg
|
Iron:
2
mg
8 Beginner Cooking Tips I Wish I Had Known