As an Amazon Associate we earn from qualifying purchases.
Sticky Chicken Wings originated somewhere in Asia and have now grown as a wildly popular street food globally. However, cooking tasty wings is a complex process, and the most common mistake people make is improper breading. We ask, how to make sticky wings?
Remember, it is not the sauce but the breading that brings flavor to the wings. So, learning multiple methods on how to make sticky wings will come in handy.
How to Make Sticky Wings?
Slow-cooked wings or over-cooked wings can ruin the taste of this delicacy. Therefore, here is the guide to help you learn how to make sticky wings the right way.
Method 1: Making Sticky Chicken Wings by Baking
When you are learning how to make sticky chicken wings, the best method to start with is 'baking' instead of 'frying .' It is a healthy alternative and is less messy. Baking the wings over frying drops the calorie intake to 162 from 309. So, follow the below steps: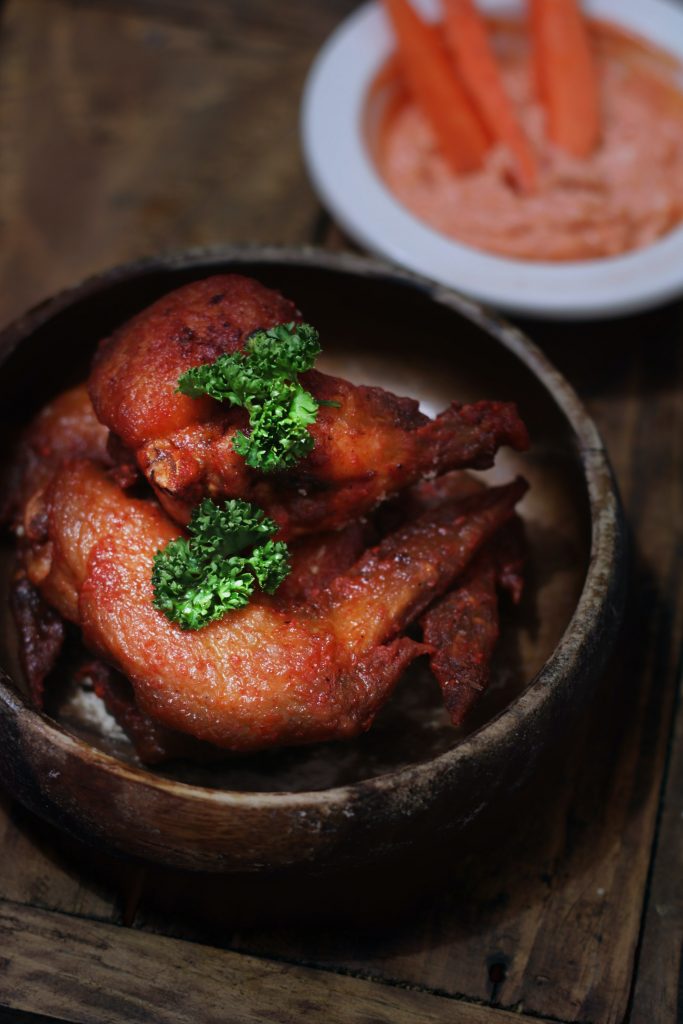 Step 1: Get the Ingredients Ready
Get the desirable amount of chicken wings, and remove the tips.
Get oil for greasing purposes.
Keep salt for taste.
Crushed black peppercorns to enhance the taste
Two teaspoons of sesame oil.
One tablespoon of chopped garlic.
½ tablespoon chopped-ginger.
One tablespoon soy sauce.
½ paprika for cooking
One tablespoon honey
Two tablespoons of cornflour slurry
One teaspoon of vinegar
Chopped onion greens for garnishing.
Step 2: Prepare the Chicken Wings for Baking
Use some oil for greasing the baking tray.
Place the chicken wings in a bowl.
Add peppercorns (crushed) and salt to the bowl, and mix it well.
Now, shift the chicken wings onto the tray.
Leave it for 10 to 15 minutes.
Step 3: Prepare the Oven and Bake the Chicken Wings
Preheat the oven to 180 degrees Celsius.
Place the tray with wings into the oven.
Let it bake for around 40 minutes.
Step 4: Prepare the Sauce (Utilize the Baking Time)
Use a non-stick pan and heat sesame oil over it.
Add ginger garlic to the pan.
Sauté until you get the fragrance.
Add paprika, soy sauce, and ¼ cup of water to the pan, and mix it well.
Now, add honey and mix it well further.
Add cornflour slurry to the mixture and blend it well.
Let the sauce cook until it gives out a thick texture.
Step 5: Get the Chicken Wings Ready to Serve
Bring the chicken wings out of the oven.
Add them into the pan with sauce.
Mix the wings entirely with the sauce to get a proper sauce coating over them.
Add vinegar into the mixture, and remix it.
Add salt (as per necessity), mix it, and cook for more minutes.
Serve the sticky chicken wings on a plate, and garnish it with onion greens.
Method 2: Making Sticky BBQ Wings With BBQ Sauce
Previously, we showed you how to make a sauce and then coat it over the wings to serve. But for this method, you can use feisty BBQ sauce to coat the wings and then cook them in the oven together for extra crispiness and juiciness. Here is how to make sticky BBQ wings: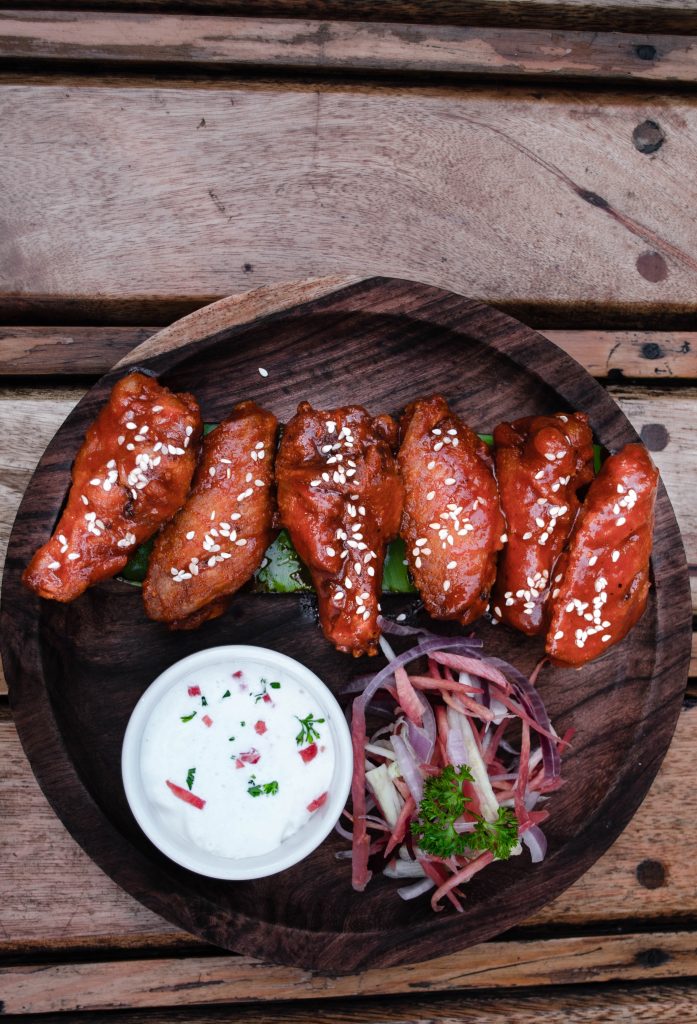 Step 1: Get the Ingredients for 20 Wings
125 grams of 1 cup flour
One teaspoon of chili powder
Use one teaspoon of salt
One teaspoon of black pepper
One teaspoon of paprika.
290 gram or one cup of BBQ sauce
½ cup or 170 grams of honey
Step 2: Prepare the Chicken Wings
Get the desirable amount of chicken wings and remove the tips. (The ingredients in the above step are for 20 wings, so adjust accordingly)
Take a bowl with a mixture of flour, salt, paprika, garlic powder, chili powder, and pepper.
Coat the chicken wings in the mixture properly, and shake off the excess.
Place the wings on a baking sheet.
Spread them in a single layer.
Step 3: Get the Oven Ready For Initial Baking
Preheat the oven to a temperature of 220 degrees Celsius.
Bake the prepared chicken wings for around 45 minutes.
Flip the wings after 23 minutes approximately.
Check for the crispy texture and the golden brown color before you take them out.
Now, after you have taken out the wings, preheat the oven to 250 degrees Celsius.
Step 4: Blend BBQ Sauce & Honey Over the Chicken Wings
Take a separate bowl and mix BBQ sauce and honey.
Dip the cooked chicken wings into the bowl.
Coat all the wings evenly with the BBQ sauce & honey mixture.
Step 5: Bake It Again For Final Cooking
Place the BBQ sauce-coated chicken wings on a baking sheet.
Spread them in a single layer.
Put it into the oven and let it bake for around 10 minutes.
Check if the sauce is caramelized and has a thick texture.
Bring it out, and let it cool down to consumable temperature, then serve.
You can check out this video to know how to make oven bbq chicken wings. 
Frequently Asked Questions (FAQs)
What Other Food Items Can I Eat With My Sticky Chicken Wings?
You can eat it with simple onion rings, sweet potatoes, cornbread, and a range of other sides. Furthermore, this article will give you a list of side dishes that taste wonderful with sticky wings.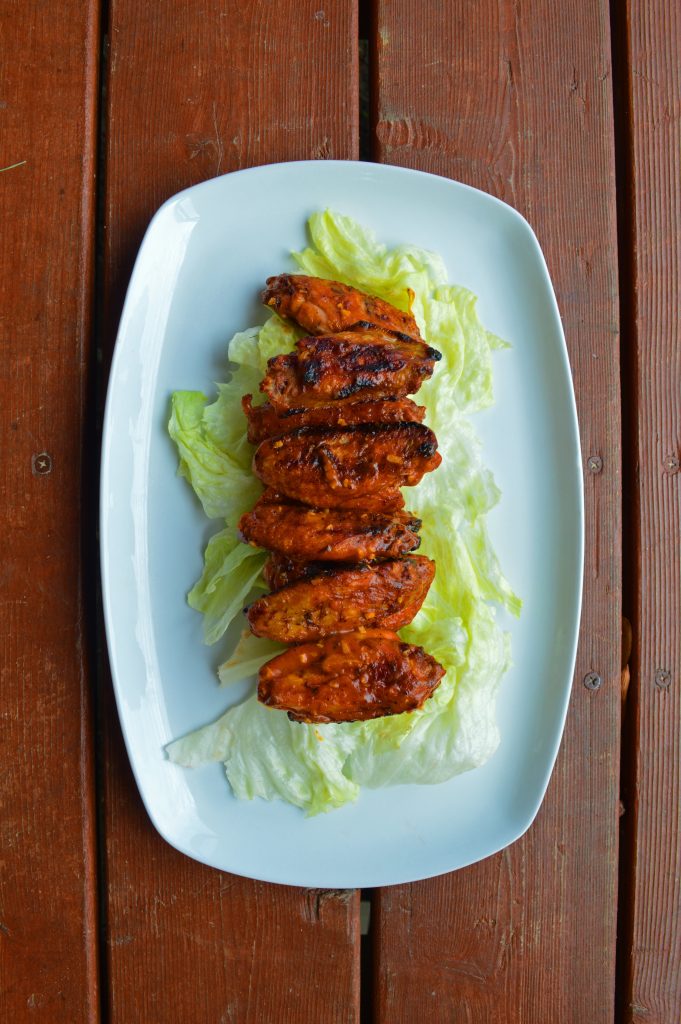 How Much Time Will It Take to Cook Chicken Wings if I Set My Oven at 400 Degrees F?
If you have preheated the oven to 400 degrees Fahrenheit, it will take around 45 minutes for the wings to turn golden brown. Read this article for more thorough insights into baking chicken wings at different degrees.
In addition to that, you know the wings are ready if they turn out to have that crispy texture. Meanwhile, you need to turn sides and keep an eye on the seasoning essentials to avoid the burning of chicken wings.
Conclusion
While it is quite challenging to make fish tasty, making sticky wings are just as worth when it reaches the taste buds. With the use of oven, you could even explore different recipes, such as ham and cheese sliders. Although you could use some wings in the grill, grilling a chicken inside is a different story.
Now that you know the steps of making sticky chicken wings go to your kitchen and get into your chef mode. Moreover, the steps mentioned in the above methods are pretty much easy and convenient for you to cook chicken wings and enjoy them with your friends, family, or beloved ones.